Planning
Click here for how to participate in the appeal RE BHCC's refusal to remove car-free conditions on 28A Crescent Road development.
See latest Round Hill E-Petition RE junction of Crescent Road and Princes Crescent (link to picture). Please sign if you share the pedestrian safety concern.
The Academic Corridor: [ 2007 Regeneration Strategy 3.3 ]
2017 update. Building "the neighbourhood of knowledge"
This section includes details about planning policy, issues and particular applications affecting the Round Hill area. Use the
site directory
(scroll down to the heading "Planning") to research
specific properties
.
search & view planning applications Brighton and Hove City Council's Planning Register
KEEPING TRACK OF HOW MUCH IS BEING BUILT LOCALLY
You will need to open the document labelled "Application Form" to keep track of the amount of accommodation already approved in the case of "applications to vary conditions not needing the Council's permission": e.g. to learn that BH2019/01268 relates to permission already given - 205 student rooms already under construction at 52 & 54 Hollingdean Road.
Taking part in the planning process

Planning applications are best supported or opposed - not through petitions, but by online comment after accessing proposals via the The Council's Planning Register. Don't forget that you can also email members of the planning committee 7-10 days before the proposals come before them. Use links (below) for further detail:
10 Multiple Choice questions on the planning process
What requires planning permission in The Round Hill conservation area? See: Article 4 Direction - A4/22 - Round Hill Conservation Area
E-Petition: narrowing Crescent Rd junction
See Google Earth for recent view junction of Crescent Rd and Princes Crescent. Click here to view the petition and what its authors are proposing.
The e-petition seeks the support of residents who share safety concerns about the width and adverse camber of the junction. Prince's Crescent and Wakefield Road form a rat run used by drivers to avoid the traffic lights at the bottom of Ditchling Road. Traffic speeds through these two streets despite the 20mph limit.
View &/or make comments on Council website

Applications which local residents in Round Hill have been monitoring:
Properties to rear of Crescent Road now being marketed.

BH2019/01353 extension of patio approved
BH2019/00072
eligibility for on-street parking
BH2018/00881
BH2017/01873

Support BHCC's refusal of BH2019/00072
Parking stress understated by the Crescent Rd developer is well over the recommended limit
In order to make a representation, you first have to register at https://acp.planninginspectorate.gov.uk/myportal/default.aspx giving name & address, email address and creating a password.
You need the last 7 digits only of the appeal reference, so. enter 3231412 into the planning inspectorate's search engine at https://acp.planninginspectorate.gov.uk/myportal/default.aspx to find the appeal at 28a Crescent Road Brighton BN2 3RP.
Once you have found the appeal APP/Q1445/W/19/3231412, clicking SAVE & CONTINUE takes you through some tick box pages where you can describe yourself as an "Interested Party / Person" and identify the kind of comment as "Interested Party/Person Correspondence". SAVE & CONTINUE again and you arrive at a page with an input box where you can copy & paste a pre-written represention or write your comments directly.
The sample representation is based on what I feel are the main weaknesses in the developer's recent appeal statement which is more thorough than the technical note belonging to the refused (Application BH2019/00072) supporting the removal of conditions 7 and 12 imposed on the approved car-free application BH2018/00433. Credit should be given to local resident Dominic for his research using the developer's own data on the true level of parking stress in Crescent Road (110%) and the eight streets surveyed in Round Hill (105%) - not the 95% claimed in both the refused Application BH2019/0072 and Section 6.7 of the developer's appeal statement.
When permit uptake reaches 80% or over within a controlled parking zone, BHCC requires applicants hoping for on-street parking space to submit a parking survey.
See also Applications to increase parking stress
52 and 54 Hollingdean Road being built
STUDENT ROOMS
BH2019/01268 not needing the Council's permission just north east of the Victorian railway bridge.
Application BH2019/01268 is for variation of Condition 2 of application BH2016/06576 (Application for variation of condition 2 of application BH2014/01637 (Demolition of all buildings at 54 Hollingdean Road and erection of a part 3, 4, 5 and 6 storey building (plus basement) to form 205 student rooms with kitchen and common room facilities. Demolition of 46 Freehold Terrace and erection of a 4 storey building comprising 8 affordable housing units. Change of use and refurbishment of 52 Hollingdean Road to form an associated management suite). Changes to internal layout including bringing fire escape and sub-station within main building resulting in reduction of student rooms from 205 to 192 units). Amendments propose relocating management office from No. 52 to main student building and retaining ancillary laundry room with separate class C3 dwelling. Document Annex 1 shows site plan.
45 - 47 Hollingdean Road Brighton BN2 4AA
PROPOSED STUDENT ROOMS
Brighton and Hove City Council has REFUSED BH2017/01873
Proposed demolition of existing buildings and erection of a part 2,3,4 and 5 storey building including basement to form 87 student rooms (Sui Generis), communal student facilities, plant room, cycle storage, 2no disabled parking spaces, recycling and refuse facilities, vehicular access and associated works.
Open the DECISION DOCUMENT for reasons which relate to excessive amount: dominance of design, potential for overlooking and overshadowing and excessive coverage of the site.
The location of this proposed scheme (the former Gerry Ingram site) is very close to residents at the east end of Richmond Road and the north end of D'Aubigny Road. The site is on the far side of the service road from the mouth of Hughes Road into Sainsbury.
Round Hill residents (interested in seeing that their conservation area is not boxed in by high buildings) will recall a 138-room scheme on the near side of the same service road which would have involved the demolition of Richmond House.
CKC Properties Ltd are involved in several major schemes locally to provide purpose-built accommodation for students: e.g. Pelham Terrace, £42m conversion of the Lectern Pub on Lewes Road and the University of Brighton's £150m plans for Preston Barracks
Safe crossing for Upper Lewes Road
If they can do it in Ditchling Road, why can't they make a safe crossing point in Upper Lewes Road?
Policies which aim to protect conservation areas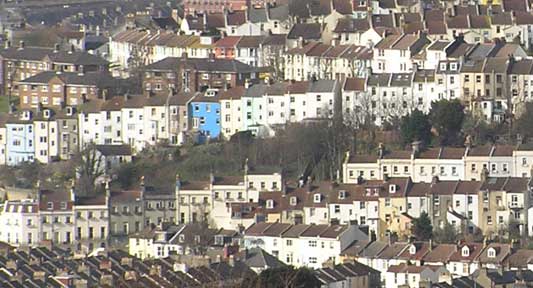 picture taken from Tenantry Down near Brighton Race Course
LIVING NEAR A WASTE TRANSFER STATION
The fire at the Waste Transfer Station on 25th & 26th August 2019 may have raised further concerns. See background to Hollingdean Depot .
6th September 2019:
Argus Report: Demand for answers after Waste Depot fire
The above row of buttons relates to subjects where some background information might prove interesting or helpful. The button on Community Policing would be relevant to residents wanting to run a Neighbourhood Watch or to lobby for more Police Community Support Officers.