Princes Road on the morning of Monday 2nd February 2009.
Crescent Road and the snow is thickening.
Wakefield Road and not many cars moving.
The Cats Creep steps and no sign of any cats.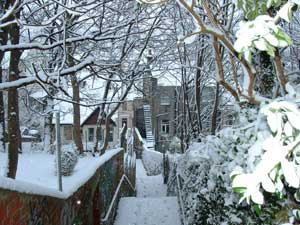 East of the Cats Creep and the sycamores still standing.
West of the Cats Creep and an orchard still waiting.
Roundhill Crescent and a quiet Upper Lewes Road.
A red telephone box, perculiar in its Regency setting, collects snow.
People playing in the street - peculiar these days.
Ashdown Road - reclaimed by pedestrians.
The snow spells DEFEAT for vans and cars.
The joys of public open space come to Round Hill.
The former Victoria Pub awaits possible conversion into two houses.
The former Esso Garage site awaits its fate.
D'Aubigny Road has decided to go nowhere.
Nothing stirs and it would normally be a working day.
But Roundhill Crescent has rediscovered play.
They're taking on the residents of Upper Lewes Road.
The battle lines have been drawn.
Even the main roads have been reclaimed.
And quantities of snow collected for the fight.
No buses, so there are an unusual number of walkers.