12th & 13th June 2005: Diggers move in on wildlife habitat before any permission for development has been granted
Council's require
Biodiveristy Statements
from developers wishing to change the use of previously undeveloped greenfield sites to residential.
But, what is the use of

Biodiveristy Statements

when developers can reduce a greenfield site to bare earth and then fill in "NONE" alongside any reference to flora and fauna?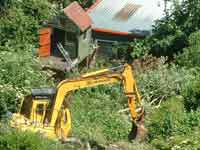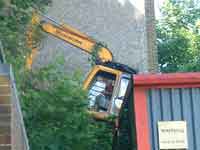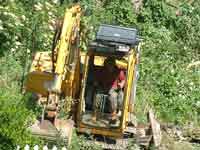 Carelet's proposals were REFUSED - nevertheless, digging equipment has now appeared on the site.
Update: Carelet has now demolished the tree-house that they claim inspired their building design
LEFT: how it looks now | RIGHT: how it looked in summer 2004
ABOVE: pictured from the rear in 2004
How the site looked under previous owner
Used for organic gardening & wildlife education by the family who also owned the completely separate freehold at 67 Princes Road
This greenfield site, never previously developed, was sold to Carelet in January 2004 after they had been in informal discussion with Brighton and Hove City Council as to what they might be permitted to do with it. The Council omitted to involve local residents in an open space assessment before giving the interested developer informal advice
2003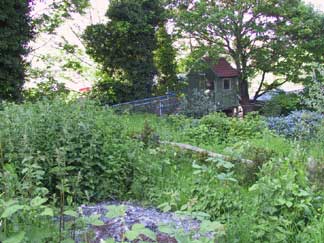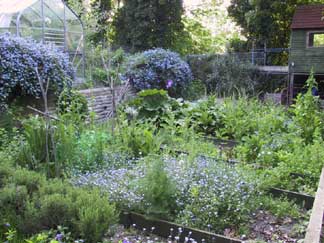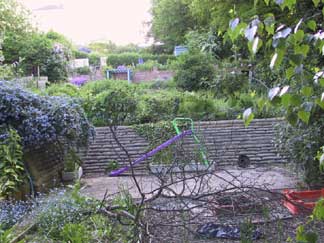 2005: Carelet's earthdigger and chainsaws
Smashing the steps to get an earthdigger onto the site
Destroying the vegetation and tree-felling on the boundary of the Centenary Industrial Estate
Reducing the brick steps at the access to the plot to unsightly rubble and ensuring the mess was visible from the street to invite fly-tippers to add to it
Two days destruction of wildlife habitat and the developer is now ready for the ecologist to report that there is nothing of interest to biodiversity on this site!
No Council open spaces policy
By 2009 when Carelet was first granted permission to turn this valued open space into a building site, open spaces policy had sunk low down on Brighton and Hove City Council's agenda in spite of an acknowledged shortage of open space in the city. Round Hill has no public green spaces at all within its boundaries so our hillside boundary and green ribbons (privately owned plots) are very important to us.
The
Plans List
for Carelet's successful 2009 permission for 4 two-storey houses (where the Case Officer's recommendation is "to grant") fails to value Carelet's plot as open space in spite of its previous inclusion in an open spaces study. The message which this
Plans List
sends is that Brighton and Hove City Council has not got an open spaces policy at all, in relation to privately owned hillside plots. Together with our period architecture (far removed from Carelet's designs) the latter define the distinctive character / appearance of The Round Hill Conservation Area.
However, private open spaces are still covered in the Government's Planning Policy Guidance.
PPG17 paragraph 2.4 recognises that plots, including privately owned ones which are inaccessible, can offer wide-ranging environmental benefits, visual amenity and can contribute to the health and well-being of those who overlook them.
Diagram 1 and paragraph 10 of PPG17 show how community feeling ought to be taken into account in relation to open space needs.
The search by an ecologist for slowworm
and
drawing up a landscaping plan as an apology to the community for conceding the principle of development
, just do not add up to an Open Spaces policy.