Advent Calendars Seasonal Singing
See related article on how to organise advent windows from Belton Road residents.
December 2018?
A map of households in other Round Hill streets displaying advent calendar windows appears on page 2 of [Issue 74] December 2018 of The Round Hill Reporter, which will be coming through local letter-boxes soon.
Round Hill Advent Calendar December 2017
If you are a member of the Round Hill Community Facebook Group, click here for photos of those created in previous years.
Click here for a report on seasonal singing 14 Dec 2017.
Miriam from The Round Hill Society committee has been co-ordinating a Round Hill Advent Calendar for 2017 using The Round Hill Community Noticeboard Facebook Group [275 members] as a point of contact.
Thank you to all those residents who have offered to take part. Here is the map which Miriam has now produced.
Pictures of 2016 Advent Windows can be viewed on:
The Round Hill Community Noticeboard (a closed Facebook Group created for the amenity of those with a connection to our neighbourhood).
Round Hill Advent Windows: Dec 2016
Look forward to a December 2016 of decorated windows across Round Hill. It is not too late to participate, though at this stage availability will probably be for a duplicate date with a resident already marked on the calendar. This does not matter, as the more the merrier. See front cover of our printed newsletter The Round Hill Reporter (delivered through letterboxes) for the contact details of the organiser Cathryn Kronhamn.
December 2015
Thank you to Kate and Cath of Richmond Road for co-ordinating the 2015 advent calendar event featured in the table below.
Within Round Hill, the advent calendar tradition was first most widely observed by residents living in the west of our neighbourhood, notably households in Belton Road. However, as witnessed below, there is growing participation from other Round Hill streets.
See related article: organising an advent calendar in your street
| | | Residents |
| --- | --- | --- |
| 3rd | Richmond Road | Sue and Andrew |
| 6th | Crescent Road | Laura |
| 7th | Princes Road | Sachiko |
| 8th | Princes Road | Jane D |
| 9th | Richmond Road | Heather |
| 10th | Upper Lewes Road | Rob & Jacky |
| 11th | Princes Road | Elaine |
| 12th | Richmond Road | Kate |
| 13th | Ashdown Road | Paul and Fiona |
| 14th | Richmond Road | Audrey |
| 15th | Richmond Road | Cath |
| 16th | Princes Road | Jane P |
| 17th | D'Aubigny Road | Annie |
| 18th | Mayo Road | Barbara |
| 19th | The Cedars, Princes Cr | Natalie |
| 20th | Princes Crescent | Anna |
| 21th | Richmond Road | Sarah |
| 22th | Richmond Road | Zara |
December 2014
The sight of these colourful windows and the decorated mountain ash tree, which sadly was recently vandalised, certainly added value and pleasure to last year's seasonal singing
Reaching the junction of Richmond Road and Mayo Road by the former Victoria Pub, we sang In The Bleak Mid Winter by the lamp post and the rowan tree (mountain ash) which is now missed.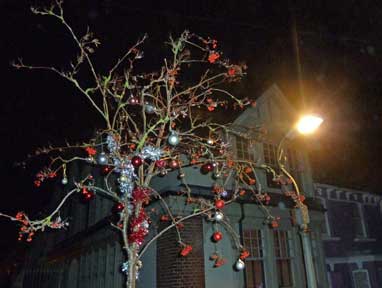 Our last carol in Round Hill Crescent had been O Little Town of Bethlehem and residents in Ashdown Road were treated to Once in Royal David's City.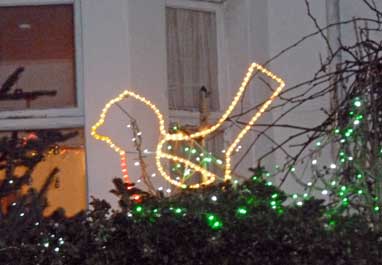 On arriving at the junction with Richmond Road, we sang Rudolph the Red Nosed Reindeer twice! We were offered a different key for the second rendition, but did not take it, instead focusing on some of the lovely advent window displays which have appeared this year in this part of our neighbourhood.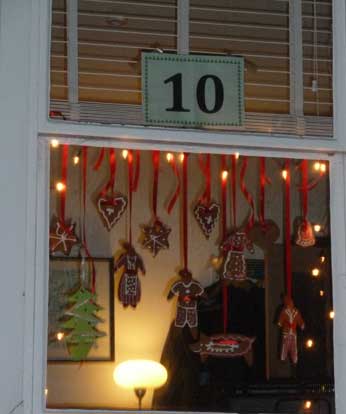 We witnessed some lovely advent window displays as we passed residents' homes. Houses near the junctions of in Richmond/Ashdown and Richmond/Mayo roads had made a special attempt to replicate some of the lovely advent window displays which have become part of the Belton Road scene in Round Hill over the last six years.
Further up Richmond Road, there were equally impressive advent window displays, some with an animal theme.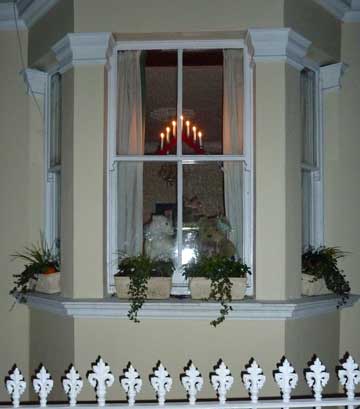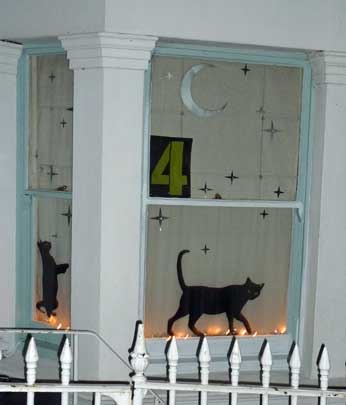 We sang White Christmas twice followed by While Shepherds Watched.
True to the 'animal theme', we soon arrived at the top of the Cat Creep where we sang We Wish You A Merry Christmas. Then the chair of our residents' association pointed the way along Princes Crescent towards Belton Road, the local inspiration for all these displays.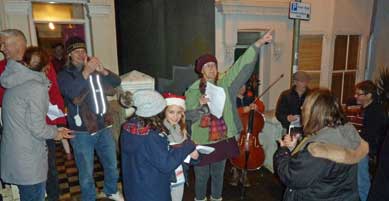 In Princes Crescent we sang Here We Come A-Wassailing.
Belton Road displays
We announced our presence in Belton Road with O Come, all ye fathful. We were given a very friendly reception from the residents who came to their doors in Belton Road and the window displays lived up to local expectations.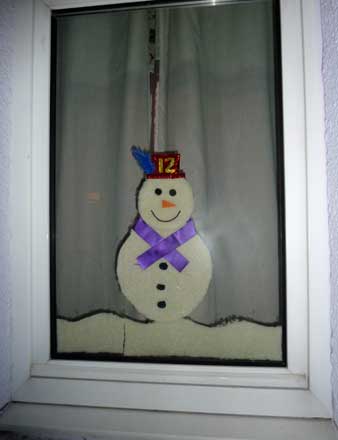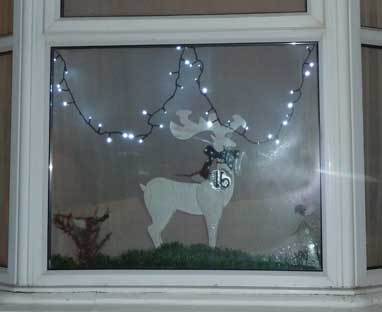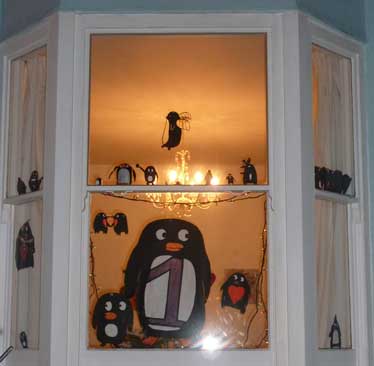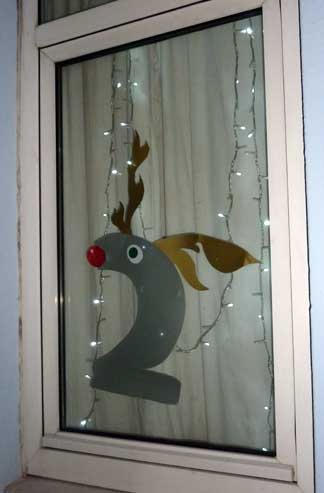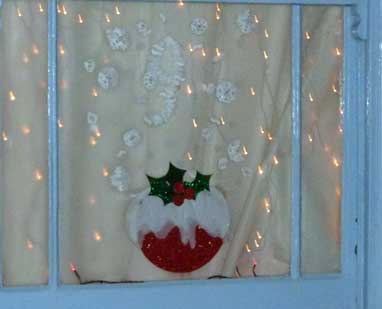 By the time we got to the north end of Belton Road where Tower Windmill had once stood, we'd also managed Ding Dong Merrily On High and Hark the Herald Angels Sing.
We then doubled back to our finishing place at the junction of Mayo Road and Richmond Road, singing Good King Wenceslas and Away in a Manger en route.
We added I Saw Three Ships Come Sailing In and The Holly and The Ivy on our arrival.
We managed to get through all 20 carols!
Having sung them all, our reward was hot punch and mince pies served by Rob and Jackie.