Community
Research results from our Round Hill Community Survey performed four years ago as part of Brighton University's Community Partnership Programme were published in the June 2012 Round Hill Reporter. A detailed report was presented by Yi-Chun Chen, an MA student in Community Psychology.

The design of the survey form took several drafts. The success of the project will have depended significantly on how The Round Hill Society has responded to the survey results i.e. residents' feedback. Our responses to date (2017) have been through:
[1] action
Miriam from The Round Hill Society committee has offered to co-ordinate a Round Hill Advent Calendar for 2017 using The Round Hill Community Noticeboard Facebook Group [269 members] as a point of contact. Belton Road usually does its own event. Review the other Round Hill Advent Windows displayed from 2015
[2] information in support of the community
Police Community Support

To report an emergency call: 999
To report a non-emergency call:101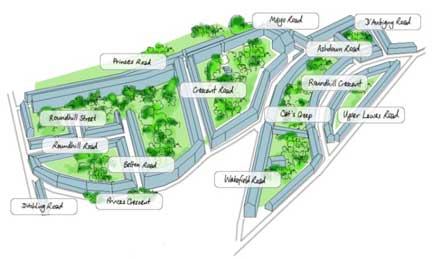 CRIME and ANTI-SOCIAL BEHAVIOUR is more of a problem now than it was a year ago, survey results suggest. Read more on this.
Click here for info on the University Police Liaison Officer
Policing - our concerns in Round Hill
Following severe cuts to local policing including the loss of the Police Community Support Officer dedicated to our area, Sandy Thomas from The Round Hill Society wrote to Katy Bourne's office. Click HERE to read
Policing - actions for residents to consider
Possible bid for money from The Community Safety Fund For this, we would need to offer a project to reduce crime &/or improve community safety in Round Hill. This might be something akin to a Neighbourhood Watch. The advantage of Neighbourhood Watch is that groups around the UK have applied themselves to finding solutions for many concerns which we share in Round Hill. Also, it offers a structure which the police is used to working with. See the following links to research concerns and solutions currently publicised by UK Neighbourhood Watch groups:
Bidding for Funding
What are the Round Hill neighbourhoods needs in relation to both crime and community security?
Click here to review a list of needs and concerns which has emerged from posts on Round Hill's social media and in conversations with local residents.
Which kinds of projects have received the awards to date?
Click here for a list of organisations and projects in Sussex which have received money through the Community Safety Fund.
Brighton and Hove City Council
KEEP IN TOUCH WITH YOUR LOCAL COUNCIL

Houses of Multiple Occupation: HMOs
What are the Council's rules on Houses of Multiple Occupation?
2017 Map of Houses of Multiple Occupation in Brighton & Hove
Brighton and Hove City Council updates the above every 6 months.
HMO BULLETIN April 2017 for latest information on Houses of Multiple Occupation.
When do I put out my reyclables?
As from Tue 10th January 2017, recyclables are collected fortnightly on Tuesdays in Round Hill.
Click here for City Clean's service update e.g. the Tuesday date your next recycling collection! Visit the Facebook Page for Recycling & Refuse in Brighton & Hove.
Reporting pollution from The Dump
ODOUR FROM WTS? Tel. 0800 80 70 60 The Environment Agency
The design of the Hollingdean Waste Transfer Station building allows escapes of odour (smell) and fugitive particles (dust) to take place.
In a letter to affected residents outlining the results of their investigation, the government's Environment Agency disclosed: "The building was built without an Antranra airlock system, so there is no barrier between the waste and the open air when the doors are opened and this allows odour to escape. Veolia have also identified that odour has been escaping through the vents designed to let air into the building." The re-location of facilities for processing food waste is not a goal which could be achieved overnight without bringing the city's refuse collection services to a standstill.
A survey to measure how much dust is escaping into our homes and gardens is also long overdue, though it is as if Veolia's main client would prefer this not to be known.
Dog fouling & what to do about it

Failure to pick up after a dog has fouled a public open space (such as a pavement, road, park, field, or the beach) could cost the owner a fine of up to £1000. Our Council's Animal Warden Team page links to PDF posters which residents are invited to print and display.
Information on what to do about regular problems with dog waste is given here. Incident reporting can be done at this link under the category 'cleaning'.
Click on the mini-picture to the left for a large PDF version which can be printed and displayed.
Highlighting unremoved dog poo
Pictured on The Cats Creep: Annie Rimington & 2 RH children.
Neil Pringle from BBC Radio Sussex interviewed Sandy Hawkins from The Round Hill Society on the above idea to encourage owners to clean up after their dogs. The newspaper article focuses on the health risks (TOXOCARIASIS) posed - especially to young children with the habit of putting their hands in their mouth - by roundworm parasites found in mess from cats, dogs and foxes.
Both reports emphasize the need to find a good solution which does not prove counterproductive by leading to ill-tempered confrontation.
Learning from thermal images
Thank you to all Round Hill residents who helped the University of Brighton (School of Environment and Technology) with their research. They have used their findings to produce a peer-reviewed publication which was presented at a conference held by the Association of Researchers in Construction Management (ARCOM) in Fitzwilliam College in Cambridge University.
Using a special camera, thermal images were taken of participating Round Hill households in February 2017.
The image reveals where heat is escaping. The University of Brighton carries out wide and varied research in the field of environmental sustainability and the performance of buildings, including evaluation of their environmental impact.
Next reading group event: Wed 1st Nov 8pm at The Martha Gunn
There is an existing Book Group called Roundhill Readers which has been holding monthly meetings for circa 15 years. It was last publicised on Page 6 of The Round Hill Reporter March 2014.
The idea of the new Book Club was circulated recently on The Round Hill Community Noticeboard Facebook Group when a new resident to the area asked if there was a local reading group she could join. See The Round Hill Community Noticeboard Facebook Group for updates on what has been planned.
Steam trains pass the north of Round Hill

Click on the three links (below) for Mov clips
[suitable for email attachments]
The Oliver Cromwell Sat 7th June from Ditchling Road
Black V Sun 8th June from London Road Station footbridge
The Oliver Cromwell steam locomotive, running somewhat late, passed Round Hill in both directions (2pm and 2.15pm) on Sat 7th June leading at the front on its return journey eastwards. Another steam locotive, Black V, did the same, but running to time, on Sun 8th June 2014.
These special excursions were to mark the 150th anniversary of the Brighton to Seaford line.
Local markets

Open Market & London Road regeneration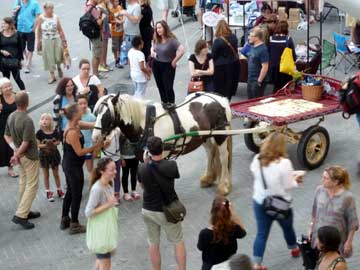 Florence Road Farmers Market Every Saturday from 9.30am to 1.30pm One Church Courtyard near London Road Station. Fruit & veg, meat & fish, bread & dairy, street food, espresso bar, etc. Sat 9:30-1:30. BN1 6DL

Local fruit & veg., fresh bread, home roasted coffee, handmade crafts, artisan foods, cakes & more. Links to their Twitter and Facebook pages.

Community Base is a registered charity operating from 113 Queens Road, Brighton BN1 3XG, provides a home for community and voluntary groups in Brighton and Hove.