Community
Research results from our Round Hill Community Survey performed four years ago as part of Brighton University's Community Partnership Programme were published in the June 2012 Round Hill Reporter. A detailed report was presented by Yi-Chun Chen, an MA student in Community Psychology.

The design of the survey form took several drafts. The success of the project will have depended significantly on how The Round Hill Society has responded to the survey results i.e. residents' feedback. Our responses to date (2017) have been through:
action - scroll to events such as community clean-ups
information - see the community support section (below)
Police Community Support | Recent events

To report an emergency call: 999
To report a non-emergency call:101
Go to Sussex Police or https://www.police.uk. From here you can find out about events taking place in your area &/or check your local crime figures by clicking the 'your neighbourhood link' and typing the area postcode, or area name, into the search bar.
Click here for the most recent Crime Statistics for Round Hill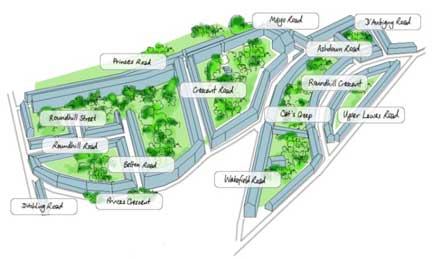 Read about the changing role of Police Community Support Officers
Click here for info on the University Police Liaison Officer
"Support for older people" Page





Dog fouling & what to do about it

Failure to pick up after a dog has fouled a public open space (such as a pavement, road, park, field, or the beach) could cost the owner a fine of up to £1000. Our Council's Animal Warden Team page links to PDF posters which residents are invited to print and display.
Information on what to do about regular problems with dog waste is given here. Incident reporting can be done at this link under the category 'cleaning'.
Click on the mini-picture to the left for a large PDF version which can be printed and displayed.
Houses of Multiple Occupation HMOs
Within St Peter's and North Laine Council ward (which includes both Round Hill & Triangle to the east of the ward), planning permission is now required for a change of use to a small HMO. Under the Council's current planning policy, HMO licencing should be refused if there is already more than 10 per cent saturation in the surrounding areas.
The Council can remove individuals from a building and board up in the absence of the owner when
the building is unsafe, which would be covered by building regulations



when the building is condemned as unfit for human habitation by the environmental health department


Short-term Holiday Lets (Party Houses)
Final Scrutiny Panel Report on Short-term Holiday Lets [26-page PDF document] completed October 2014
The aim of the scrutiny panel was to establish a set of 'gold standards' for short-term holiday let properties aimed at the hen and stag market, so that they could be operated as successful businesses, while minimising disruption to neighbours and local residents.
Panel summary and panel members - Councillor Geoffrey Bowden(Chair), Councillor Jayne Bennett and Councillor Alan Robins.
Minutes of the meeting of the scrutiny panel on 20 February 2014 in which Inspector Gareth Davies, Safe in the City Policing Team, explained how the police would address any complaints that they received about nuisance caused by short term holiday lets.
Learn &/or benefit from a thermal image
An opportunity to have a Thermal imaging of your home without cost if you live in Round Hill, Brighton UK. Act soon!
The thermal image will be taken with a special camera, in the evening (probably) when its cold and the house is occupied. The imaging is likely to be done on 13th February 2017 with follow-up one week later. The University does not expect to have to approach your house when surveying, and you wil receive the image by e-mail. The follow-up (questions and chat) is most likely to be by phone.
The image reveals where heat is escaping. The University of Brighton carries out wide and varied research in the field of environmental sustainability and the performance of buildings, including evaluation of their environmental impact.
They will therefore want to contact you, and hope to do a follow-up survey about (I guess) how you use heating and have made or not made energy-saving changes.
If your home is in Round Hill and you would like this, please contact Rob Stephenson by e-mail (news@roundhill.org.uk) with your address, name and a phone number and e-mail. I will pass this on and hopefully things will happen in the next few weeks. You will get results for your home - which should be interesting, and may be useful.
Recent events
Click on the picture below to see ITV New's report on The Mayor of Brighton and Hove's Cycle Rides.
Gardening at Richmond House - 22nd April 2017 report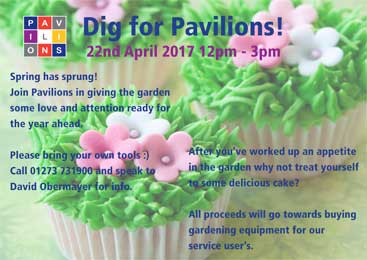 Click here or on the above image to read about continuing efforts (April 2017) to improve the surroundings of Richmond House following the pleasing start made in April 2016 residents. This initiative brings local residents together with staff / volunteers / service users from Pavilions.
Thank you to all Round Hill residents who gave generously to The Round Hill Society's Seasonal Singing on 15th December 2016. You raised £181.40.
The money raised will very shortly be paid by The Round Hill Society to The Mayor's charities.
The current Mayor of Brighton and Hove is Round Hill's ward Councillor Pete West. See The Mayor's Facebook Page for details of his fundraising actvities.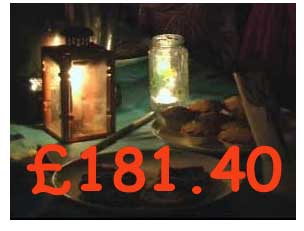 Report on our Eleventh Street Play event
held on Sunday 30th October 2016 from 3pm to 5pm.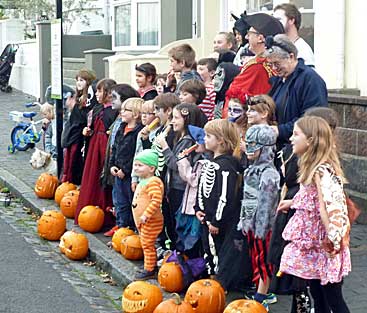 On the morning of Sunday, 30th October, The Round Hill Society (with much appreciated help from City Clean) held an Autumn Clean-Up, so there was a little less vegetation in places which become overgrown when children and adults took to the streets for one of the highlights of our neighbourhood's year: THE HALLOWE'EN STREET PLAY.
Pictures and a 2-minute video of this enjoyable event are posted onThe Round Hill Community Noticeboard. Round Hill residents will need to join this Facebook Group to view the posts. There is content here from several different neighbours, including excellent photos of "carved pumpkins outside homes" on Hallowe'en Night itself. Once a member of the group, you can post as well as view. Since the group now has nearly 100 members, it is becoming a good vehicle for seeing what Round Hill neighbours are doing and hold to be important in their lives.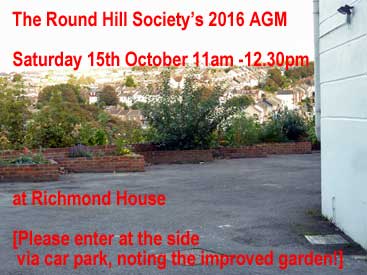 Friends of William Clarke Park's festival on 16th July 2016
Click on the above picture for a short video clip of this well supported summer event. Our ward councillor, currently Mayor of Brighton & Hove was among those who attended so check for more pictures on The Mayor's and Patchfest@William Clarke Park's Facebook sites.
Visit Friends of William Clarke's website for the railway history of the Kemp Town branch line which ran on a tall viaduct across Lewes Road and the Patch linking Lewes Rd Station (now the car park & garden of Richmond House to Hartington Halt before tunnelling under Elm Grove ending near the Bingo Hall in Eastern Road.
RH Garden Party at 58 Richmond Road
Report on The Round Hill Society's picnic of 3rd July 2016
A short video clip of The Mayor of Brighton's address at this event in support of our local residents' association, is posted on The Round Hill Society's Facebook Page
Other video clips featuring the certificates of appreciation awarded to young residents, the generous offering from local musicians and the spectacular scenery of the garden itself, can be viewed by local residents who have joined Round Hill Community Noticeboard (76 members to date).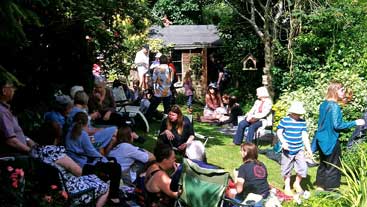 Click on the above picture for an illustrated report on this, our main event of summer 2016. Special thanks are due to Jan and Rusty Curry for sharing their garden on a pleasant summer afternoon, to Imaginary Friends duo (Michael & Liz) and members of Jan & Rusty's family (including Rusty himself) for music, neighbours of Jan & Rusty (Wendy for singing and Jo for art activities), and to Barbara for her cake & drinks service which continued throughout the event adding £85 to Round Hill Society funds.
Events at Richmond House with Pavilions Partnership
Report on the latest open day on 15th June 2016 showcasing the work of this drug & alcohol recovery service much after six months in its Round Hill location.
Two open days for the public have been held at Richmond House since the building's re-opening on 14th December 2015 as a drug and alcohol recovery centre. The first was on Sunday 13th December 2015.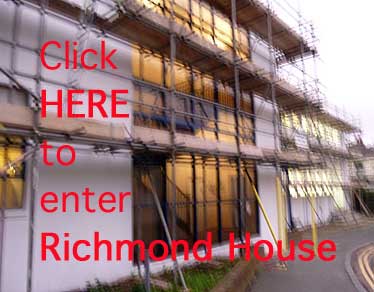 You can also follow Pavilions at Richmond House on Twitter by clicking on @Pavilions_org.
Keeping Round Hill clean - 3 ways:
1. Don't miss Round Hill's refuse and recycling collections:
refuse = Tuesday weekly
recycling = Tuesday fortnightly (as from Tue 10th January 2017)

Click here for City Clean's service update.
The Council can help in cases of items left on pavements:
Local authorities, including Brighton and Hove City Council, regard placing articles on pavements in the hope that they will find new owners as fly-tipping: a criminal offence which can carry an unlimited fine.
See the RNIB's Who put that there campaign?
Please use social media or recycling outlets to dispose of unwanted items. Have them collected from off-street locations such as your home or deliver them yourself. Small-scale flytipping (pavement donations) establish practices which can encourage larger-scale flytipping.
3. Highlight unremoved dog poo
Neil Pringle [for BBC Radio Sussex] interviewed Sandy Hawkins from The Round Hill Society on the above idea to encourage owners to clean up after their dogs.
The story was also reported by Joel Adams in The Argus on Thursday 24th September 2015 (online version not yet present in archive), this time featuring our chair, Annie Rimington, and two Round Hill children, pictured on The Cats Creep (above). The newspaper article focuses on the health risks (TOXOCARIASIS) posed - especially to young children with the habit of putting their hands in their mouth - by roundworm parasites found in mess from cats, dogs and foxes.
Both reports emphasize the need to find a good solution which does not prove counterproductive by leading to ill-tempered confrontation.
Steam trains pass the north of Round Hill

Click on the three links (below) for Mov clips
[suitable for email attachments]
The Oliver Cromwell Sat 7th June from Ditchling Road
Black V Sun 8th June from London Road Station footbridge
The Oliver Cromwell steam locomotive, running somewhat late, passed Round Hill in both directions (2pm and 2.15pm) on Sat 7th June leading at the front on its return journey eastwards. Another steam locotive, Black V, did the same, but running to time, on Sun 8th June 2014.
These special excursions were to mark the 150th anniversary of the Brighton to Seaford line.
Local markets

Open Market & London Road regeneration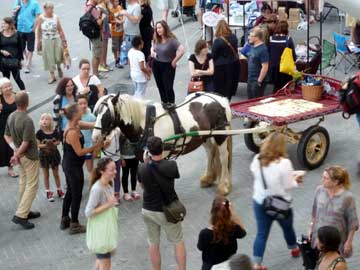 Florence Road Farmers Market Every Saturday from 9am to 1.30pm One Church Courtyard near London Road Station. Fruit & veg, meat & fish, bread & dairy, street food, espresso bar, etc. Sat 9:30-1:30. BN1 6DL

Local fruit & veg., fresh bread, home roasted coffee, handmade crafts, artisan foods, cakes & more. Links to their Twitter and Facebook pages.

Community Base is a registered charity operating from 113 Queens Road, Brighton BN1 3XG, provides a home for community and voluntary groups in Brighton and Hove.