A new hand-rail has been installed at the junction (SE) of Ditchling Road and Princes Road.
The hand-rail was requested by a 94-year-old resident living in Princes Road.
Her request to The Round Hill Society was relayed to CityClean and Tracy Davison.
It was also copied to local Councillor Keith Taylor, who has recently retired as one of our three local Councillors to fill the position as Member for The European Parliament (South) vacated by Brighton Pavilion's new MP, Caroline Lucas.
Thank you to all who have brought about this quick result.
The Council's Walking and Cycling Officer
Tracy Davison, Brighton and Hove City Council's Walking and Cycling Officer, recognised immediately that extension of the old hand-rail would benefit local residents. However, she advised that the extreme weather experienced over the pervious winter had resulted in a number of similar requests, each placed on a waiting list before being assessed since the Council's budgets (ultimately paid for by us!) are limited.
Ms Davison disclosed that over the last year her department had managed to make over fifty-seven walking facilities improvements of this nature, promising that ours would be investigated "in the coming months".
Happiness at quick result
The Round Hill Society is delighted that action has been taken within just two months.
The 94-year-old resident who initiated the request is also very happy with this quick result. She had reported to The Round Hill Society that
she was housebound for 5 days during the second of last winter's icy spells, because the hand-rail did not extend round onto the east side of Ditchling Road
.
She recalled a safer situation before the construction of the flats (Princes Gate) when there used to be a telephone box on the Ditchling Rd part of the junction and better street furniture to hold onto.
She also reported that other pedestrians, including immediate residents, in the street felt unsafe when turning this corner during the icy spell, and all of those she has talked to supported the extension of the hand-rail.
She emphasizes the need for the hand-rail to extend right around the junction (on which the newer Princes Gate flats are located), giving her something to hold on to.
The steep gradient of Princes Road, descending to the junction of the busy Ditchling Road is tricky for a pedestrian to contend with during icy conditions. During the very worst of the cold spells, buses were withdrawn from Ditchling Road, but when the service was resumed residents both in Princes Road and Crescent Road naturally wanted to get to the corner shop (Shakti Stores) for essential provisions &/or the bus stop at The Round Hill.
The importance of safe pedestrian access
During the recent icy spells, hundreds of patients came through the accident and emergency departments of local hospitals with broken hips, ankles, wrists and legs caused by slips and falls on ungritted pavements and roads.
Our local community has several residents in their 90s as well as those experiencing disability or visual impairment, who regularly take the bus from The Round Hill stop to the London Road shopping centre. If the first or final leg of a journey is made difficult through inconsiderate parking, unsafe pavements or other obstacles to pedestrain access, non-drivers can end up being housebound.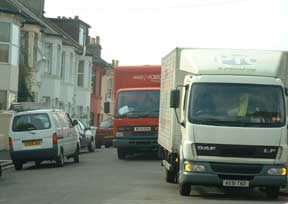 Obstacles to pedestrian access
There is now a National movement, championed by
Living Streets
, for a complete ban on pavement parking everywhere in the UK in line with the recommendations of the
2006 Transport Select Committee's Report
. Parking close to or around junctions is contrary to The Highway Code and residents in neighbouring suburbs such as St Peter's have succeeded in getting Traffic Regulation Orders to make double parking subject to a fine of up to £30.
Obstacles to pedestrian access create great frustration to non car-drivers who find Internet ordering too expensive or too complex and who depend on getting out to the local shop(s) to obtain essential provisions. Family, friends or neighbours are sometimes around to help, if they are aware of the problems of less mobile residents, but during extreme weather conditions they may be struggling themselves to cope.
Street Furniture Requests
Street furniture requests
, which may both involve the installation of useful items or the removal of unnecessary street clutter, can be made by any resident of Brighton and Hove via The Council's website. [
Council's Online Application Page
] for Street Furniture Requests.