Round Hill Playsafe Session
Round Hill held its first Playsafe session on Sunday 6th April 2-4pm in Mayo Road. About 40 children attended watched over fairly discretely by parents and neighbours (seen in the background).
NEW!!! - click here or on picture below for 2-minute video clip
[Thank you to Jade Roberts for the excellent quality of production]
Thank you to all the residents (especially those in Mayo Road) who accommodated this event. It was much enjoyed by children and their parents. The Round Hill Society is fortunate now to have at least three committee members with school-aged children. A particular 'thank you' is due to Boo, Cath and Kate for getting the event together.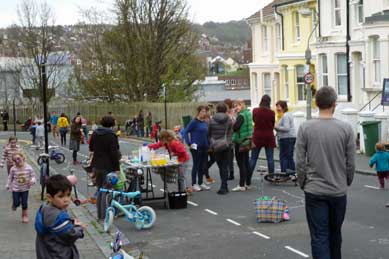 The Round Hill Society would also like to thank Brighton and Hove City Council's Transport Department, which cooperated in the two-hour road closure and producing high vis signs to warn motorists and keep the event safe. A big 'thank you' as well to Damian and the crew from City Clean for clearing the street.
We do hope that it will be possible to make this event a regular part of Round Hill life. It was good to see so openly that we do have children in Round Hill and to share with them some of the outdoor amenity of our public open space. A temporarily closed road, though not a recreation ground or village green, provided a canvas for several forms of play.
Most children interpreted this as an opportunity to get out their own sets of wheels: roller skates, skateboards, scooters and bicycles. There were also a few balls, which became the secondary attraction once children realised the potential of the sloping junction at Princes and Mayo Roads for skating and scooting.
Do let The Round Hill Society have your ideas on children's street games & play activities likely to work within the available space. One resident has already suggested a Park & Slide activity (involving a giant water chute down the length of a street) such as been held in Bristol!
Sunflower challege
If you managed to collect a free packet of sunflower seeds, which were being distributed by our organisers, do have a go at growing them. It's the right time of year to plant them if you want them to grow high. Do send photos to the email address on The Round Hill Reporter if you manage to grow any taller than yourself. It would be nice to see some sunflowers in front gardens if you've got one.
Chalk and face art
My article on The history of street games proved somewhat irrelevant. since traditional activities such as hopscotch and skipping were not much in evidence. However, one group of children chalked some attractive art on the roadway and there were also some good examples of face-painting.
See also the Playingout.net website from which the following bullet points are taken:
10 good reasons for playing out
Children need to play. It is vital for their physical and emotional development and for their social learning.
Play England defines play as "what children and young people do when they follow their own ideas and interests, in their own way and for their own reasons". This implies a degree of freedom and independence, which cannot be satisfied by organised or over- supervised play.
Children like to play near home and have traditionally done so. A 2007 poll found that 71% of adults played out on their street every day compared to only 21% of children today. (Play England).
Children need space to play energetically. Parks are great but children don't always have independent access to these so the street is a convenient place for everyday play.
Playing in the street increases a sense of community by bringing neighbours of all ages together. It encourages feelings of belonging and shared responsibility.
It enables children to meet and develop friendships outside school and also increases contact between children and adults, helping to build up familiarity and trust.
Through dealing with situations that arise independently, children can learn valuable social skills and gain understanding about the world around them.
Playing in the street allows for 4 semi-supervised' play. Parents can get on with responsibilities inside the house while allowing children to play outside.
The street is the "starting point for all journeys" (Tim Gill, 2007) and the ability to play out in the street is an important step towards greater independence and self-reliance.
Streets make up the major part of public space in the city. To limit them to being only places to drive and park cars is to massively undervalue them. Streets can and should be places where people can sit, talk, read, play and walk - and even sing and dance if they want to! The only way this will happen is if we start to use them differently.
Playsafe is a scheme that enables children to play outdoors without traffic.