Richmond Road in 1891
PRINCES CRESCENT meets these roads HERE ->
Continues into WAKEFIELD ROAD

formerly LENNOX ROAD (1860s), to become LENNOX PASSAGE (when steps laid in 1900) and known now as THE CATS CREEP leading to ROUND HILL CRESCENT.

Click on the picture to relate history to conservation today: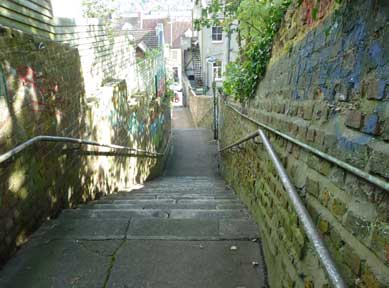 Properties in Richmond Road 128 years ago
Click on an occupied house number to find the occupants within.
1897 Map showing the coal sidings on the Kemptown branchline
Click on the picture (below) to enlarge.
Notice that the Kemptown branchline leaves the Brighon to Lewes line at the points just after the Ditchling Road tunnel.
Watch the local freight train cross the points onto the Kemptown branchline on Video.
The signalbox - see picture - was at the far NE corner of the Carelet site.
First stop on the Kemptown branchline was LEWES ROAD STATION at the back of where Richmond House stands now. Notice the coal sidings located between the junction and the station, which provided access to the coal wharfs identified in the above list.