Round Hill Park Estate
Click on picture of Round Hill Park Estate 1853 to enlarge Will open in an new tab. Then to further enlarge to see extra detail:
Hold down Ctrl and press + (Windows PC) or
hold down Command and press + (OS MAC).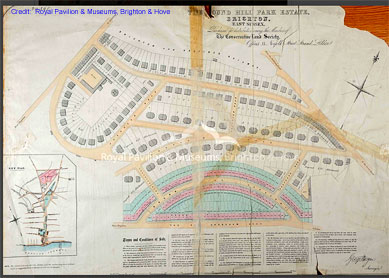 BANKERS' CIRCULAR
AND GAZETTE OF BANKING, AGRICULTURE, COMMERCE, MINING, AND FINANCE.
ESTABLISHED 1828.
No. 1442. Vol. XXVI.] SATURDAY, JUNE 24, 1854. [New Series]
BRIGHTON ESTATE, EAST SUSSEX.
THE CONSERVATIVE LAND SOCIETY.--The allotment of tho Valuable Round I Park Estate (second portion) will take place at the offices. 33. Norfolk-Street, Strand, London, on Wednesday, the 6th of July, between 11 and 4-o'clock. There arc SEVENTY FOUR plots to be allotted, of which one is a £400 lot, one £100 ditto, one £75, fifty eight £50 lots, and thirteen £37 10s ditto. The present picturesque portion is situated on the Ditchling-road, and is admirably adapted for villa residence, commanding splendid views of tho sea, the town, the race-oourse, the downs, and surrounding country. The Round Hill Park Estate is within the precincts of the town of Brighton, just beyond the level, on the way to Lewes, and has a considerable frontage on tho high rood. Plans of the Estate price 6d or 10d, if sent by post, mid prospectuses mav be had of
CHARLES LEWIS GRUNEISEN,
Secretary.
On Wednesday, tho 28th of June, at 3 o'clock, at the SEVENTH QUARTERLY GENERAL MEETING of the MEMBERS in Freemasons' Hall, Viscount RANELAGH in the Chair, the NINETEENTH PUBLIC DRAWING will take place for One Hundred Rights of Choice and Fifty Shares will ho added to tho Book of Rights by seniority
From our HISTORY section

Round Hill 100 years ago...
from The Round Hill Reporter February 2000

Discovering Round Hill's history by Andrew Partington
from The Round Hill Reporter December 2000


Rose Hill Park - the history of the Sylvan Hall Estate by Chris Tullett uploaded to this site in December 2005