Welcome
Click here to scroll to Regular Listings & Upcoming Events
or enter your postcode on The FED's page: Things to do near you.
Crime stats & neighbourhood policing
Click on eWatch for local crime statistics for August 2016 and contact details of our local police community support officer. You can report crime and incidents online at www.sussex.police.uk/reportonline. Not sure of the law?: AskThePolice online answers to FAQs.
Contact your local Council about a range of concerns.
Odour from WTS? Tel. 0800 80 70 60 The Environment Agency
Odour nuisance from The Waste Transfer Station at Hollingdean Depot has been making streets in the north of Round Hill very smelly. This should not be accepted as "the norm". Please let the Environment Agency know if you encounter unreasonably smelly escapes. They will investigate if there are 3 or more complaints on the same day. It is the EA (not The Council: Veolia's main client) which sets the terms of the "license to operate" at Hollingdean Depot.
Planning applications to be decided in October
28 and Land Rear of including 28B, 28C & 28D, Crescent Road
There have been late amendments to the application at the above link, which amount to tinkering with some of the hallmarks of overdevelopment without significantly reducing the amount.
Land to the rear of 101 Roundhill Crescent
There is new content at the above link about overshadowing & loss of afternoon sunlight to neighbouring properties.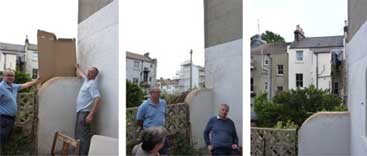 Also discussed is the discord which could result between neighbours if our Local Council starts to waive planning policies (e.g. QD27) relating to protection of amenity.
Round Hill's online and printed resources

Past issues of our printed newsletter 'The Round Hill Reporter' can be downloaded (in PDF format) from here. The most recent issue is