Welcome
Click here to scroll to Regular Listings & Upcoming Events
Links to printed & online resources to explore Round Hill's history

Useful information
Round Hill Advent Calendar December 2017
Miriam from The Round Hill Society committee has offered to co-ordinate a Round Hill Advent Calendar for 2017 using The Round Hill Community Noticeboard Facebook Group [269 members] as a point of contact.
Belton Road usually does its own event. Review the other Round Hill Advent Windows displayed from 2015
The six houses built by Carelet on the greenfield site to the NE of Princes Road are now on sale. However, it isn't immediately visible in the marketing that this is a car-free development. See the planning conditions.
Illustrated report: Halloween Street Play
See pictures of this well supported event which took place in Mayo Road on Sunday 29th October 2017. Thank you to all who helped, participated and cooperated in the success of this fun event.
Our next read is One Moment, One Morning by Sarah Rayner. All Round Hill readers welcome.
Report on Round Hill's annual get-together
We had a most encouraging open meeting for Round Hill residents at Richmond House on 19th October. Click here for a report or click here to read The Minutes of this meeting.
If you missed the meeting or want the documentation on two of the main issues discussed [as a PDF file], click on graphics [below]: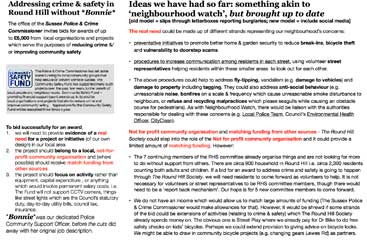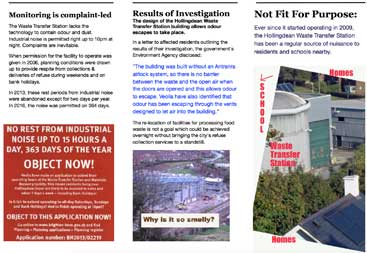 Policing concerns in Round Hill
Following severe cuts to local policing including the loss of the Police Community Support Officer dedicated to our area, Sandy Thomas from The Round Hill Society wrote to Katy Bourne's office. Click HERE to read
Sandy Thomas's expression of Round Hill's concerns on the severity of cuts to front-line neighbourhood policing (e.g. PCSOs' jobs) in the context of the overall policing budget and delays experienced by several Round Hill resident in getting through to Sussex Police on their non-emergency 101 line.
Possible bid for money from The Community Safety Fund For this, we would need to offer a project to reduce crime &/or improve community safety in Round Hill. This might be something akin to a Neighbourhood Watch, though it does not have to be exactly the same.
We could discuss this at the Round Hill Annual Get-Together - we welcome suggestions / ideas / offers of participation from local residents
Dog fouling & what to do about it yourself

Failure to pick up after a dog has fouled a public open space (such as a pavement, road, park, field, or the beach) could cost the owner a fine of up to £1000. Our Council's Animal Warden Team page links to PDF posters which residents are invited to print and display.
Information on what to do about regular problems with dog waste is given here. Incident reporting can be done at this link under the category 'cleaning'.
Click on the mini-picture to the left for a large PDF version which can be printed and displayed.
If you are thinking of displaying the above PDF near a site where dog poo is becoming a persistent problem, the use of a laminator (they only cost about £30 now) will ensure that it is weather-proof. The Round Hill Society also has a pavement stencil, which can issue a reminder.
Regular listings & Upcoming Events
Walking
Active for Life Programme including Healthwalks
Swimming
Click on the picture below to find your nearest swimming pool
Online Pool & Class Timetable
for today at the
Prince Regent Pool Brighton.
Social Group Cycle rides

* Bike for Life* see also Facebook Page.
Neighbourhoods across Brighton and Hove
For daily updates on other neighbourhoods' news & campaigns
across the city, please go to CivicBrightonandHove.co.uk

1. Odour from WTS? Tel. 0800 80 70 60 The Environment Agency
2. The Open Market and The Level Upcoming Events
3. Visit London Road website | blog
4. The Duke of York's Picture House Preston Circus
5. Emporium, Brighton - what's on - 88 London Road
6. Brighton Open Air Theatre - what's on - Dyke Rd Park [map]
7. Free University Brighton - upcoming events
8. Brighton & Hove Arts Diary
9. Arts | Music | Theatre | Cinema
10. Folk Clubs Calendar | Lewes Saturday Folk Club
11. Sussex Concerts
12. Sunday Chamber Concerts 5pm-6pm by Brighton Philharmonic Orchestra
13. East Sussex CC: Music, Art & Cultural Events
14. The Brighton Society - talks, lectures & exhibitions.
15. Regency Society 2016 lectures and events
16. Hove Civic Society - lectures & events.
17. Sussex Industrial Archeology Society own meetings & similar
18. English Speaking Union lectures at The Hove Club, Fourth Av.
19. Walks - unguided, guided, longer and shorter
20. Active for Life Programme Summer 2017 including Healthwalks
21. walk & bus circuits from Round Hill
22. Friends of Hollingbury Woods
23. Sussex Wildlife Trust What's on
24. Brighton & Lewes Downs Biosphere - Events Calendar
25. Digital map of Brighton & Lewes Downs Biosphere
26. Prince Regent Online Pool & Class Timetable
Free swimming for children aged 16 and under
27. See also The Argus - events page
28. The People's Republic of Brighton and Hove: Facebook page
29. Brighton & Hove Food Partnership
30. Brighton Food Assembly collect Saturdays 2-4pm Open Market
31. List of twenty-five lunch clubs in Brighton and Hove