Welcome
Click here to scroll to Regular Listings & Upcoming Events
or enter your postcode on The FED's page: Things to do near you.
Links to printed & online resources to explore Round Hill's history

Slow worm challenge to development of valued open space opp plat 1 of London Rd Station
The planning application BH2012/03286 to build 4 houses on land rear of 140-146 Springfield Road - a well appreciated railway corridor wildlife haven - was was last extended on 14th March 2014 (see decision document: valid for 3 years) until 14th March 2017.
Will the developer be required to apply for a third extension? Note that on 18th June 2015 London Road Station was added to our city's list of heritage assets so the planning context has recently changed. Appreciation of the setting of this heritage asset ought to be taken into account before any new extension to planning permission is decided.
ADD YOUR OBJECTION TO SIGNING OFF CONDITIONS:
Note also the application currently under consideration. Application BH2017/00236 requests Approval of Details Reserved by Conditions 4, 10, 11, 12 and 13 of application BH2012/03286 (for 4 houses).
Click here, then select the Documents tab to read a large number of objections to signing off the above conditions, including failure to follow the correct procedure to provide a valid survey ruling out the presence of reptiles such as slow worm.
Select the Comments tab to add your own objection. .
The Mayor's Walk: Sun 30th April 2017
The current mayor is Pete West, our local ward councillor.
A great chance to get fit for a good cause.
Click here or on the picture below for tickets (£5.90 each)
Join the Mayor of Brighton & Hove on 27 km walk around the city boundary and help pioneer a new designated pathway.
Support one or all of the Mayor's 27 chosen charities.
Donate or raise sponsorship while enjoying and exploring the beautiful city we live in.
You don't have to walk the whole 27 k (18 miles) – you could walk one or more sections. Click on any of the following STAGEs for route details:
Useful bus routes to/from above places from/to Central Brighton.
See also Sunday 23rd April The Mayor's Charity Bike Ride - a 50 mile cycle ride around the Biosphere boundary in the beautiful Sussex countryside. Visit the Mayor's Facebook Page
Regular listings & Upcoming Events
For daily updates on other neighbourhoods' news & campaigns
across the city, please go to CivicBrightonandHove.co.uk

1. Odour from WTS? Tel. 0800 80 70 60 The Environment Agency
2. The Open Market and The Level Upcoming Events
3. Visit London Road website | blog
4. The Duke of York's Picture House Preston Circus
5. Emporium, Brighton - what's on - 88 London Road
6. Brighton Open Air Theatre - what's on - Dyke Rd Park [map]
7. Free University Brighton - upcoming events
8. Brighton & Hove Arts Diary
9. Arts | Music | Theatre | Cinema
10. Sussex Concerts
11. Sunday Chamber Concerts 5pm-6pm by Brighton Philharmonic Orchestra
12. East Sussex CC: Music, Art & Cultural Events
13. The Brighton Society - talks, lectures & exhibitions.
14. Regency Society 2016 lectures and events
15. Hove Civic Society - lectures & events.
16. Sussex Industrial Archeology Society own meetings & similar
17. English Speaking Union lectures at The Hove Club, Fourth Av.
18. Walks - unguided, guided, longer and shorter
19. Healthwalks 2016 programme plain text | colour
20. walk & bus circuits from Round Hill
21. Friends of Hollingbury Woods
22. Brighton & Lewes Downs Biosphere - Events Calendar
23. Digital map of Brighton & Lewes Downs Biosphere
24. Prince Regent Online Pool & Class Timetable
Free swimming for children aged 16 and under
25. See also The Argus - events page
26. The People's Republic of Brighton and Hove: Facebook page
27. Brighton & Hove Food Partnership
28. List of twenty-five lunch clubs in Brighton and Hove
Click on the picture below to find your nearest swimming pool
Online Pool & Class Timetable
for today at the
Prince Regent Pool Brighton.
Friday 24th March 2017 12.30 - 1.15 pm - Unitarian Church New Road, Brighton, BN1 1UF - Stephen Raine returns with a programme of J S Bach and Chopin including Bach's intense Partita in C minor BWV 826 and Chopin's virtuosic Ballade No. 1 in G Minor
Friday 24th March 2017 7.30 pm - St Luke's Church, Queens Park Road BN2 0GG - Dryads Duo (Violin and Piano)
Saturday 25th March (10:30-17:00) - Green Architecture Day, Sallis Benney Theatre, 58-67 Grand Parade, Brighton BN2 0JY Brighton, £10-85 (BPT). This event will benefit anyone interested in sustainability and buildings, e.g. students, home renovators, self builders, landlords, tenants, developers, builders, architects, engineers, planners and academics.
Sunday 26th March 2017 2.45 to 4.45pm - Brighton Dome, Church Street Brighton, BN1 1UE - Brighton Philharmonic Orchestra 2016/17 Concert Season. Brighton Dome Concert Hall. BARRY WORDSWORTH Conductor MARTIN ROSCOE Piano KODÁLY Dances of Galanta SCHUMANN Piano Concerto in A Minor Op.54 SCRIABIN Symphony No. 2 in C Minor Op.29
Wed 29th March (09:00-16:30) - South Downs Annual Teachers' Conference, Plumpton College, Ditchling Road, Plumpton, East Sussex - A gathering of Teachers and Learning Outside the Classroom Providers to share ideas and inspiration to use the South Downs National Park to enhance learning.
Key notes from Natural Connections and Park Discovers
Over 15 workshops for primary and secondary teachers
Meet a range of providers in the marketplace
Curriculum-linked learning outside the classroom Free event.
Wed 29th March (10:00-12:00) - Stroll around Big Park Peacehaven and beyond: Gateway Cafe, Big Park, Piddinghoe Avenue, Peacehaven - followed by a cup of tea afterwards at the Gateway Cafe. For more info contact Health Champion Volunteer Leader, Dawn.Paul99@btopenworld.com.
Saturday 1st April 2017, 10am-1pm - Friends of Hollingbury and Burstead Woods -
Work session

Easy access trail. Click here to learn about Hollingbury Hillfort. FHBW's Facebook Page.
Tuesday, 4th April 2017 10:15am - Silver Strings - it's never too late to learn! - The Brighthelm Centre, North Road, BN1 1YD. The first Tuesday of each month is an open session, where newcomers can try an instrument and meet the players. No previous musical experience is necessary and most of our group were complete beginners when they first came along. We even provide the instruments: choose violin, viola or cello - or try all three! The sessions are facilitated by professional cellist and Goldsmiths-trained music leader Isabel Emerson, and kindly supported by the Brighthelm Small Grants Scheme. Cost: the first session's FREE - come and try us out! If you want to join Silver Strings, it's £12/wk (payable monthly) thereafter, inclusive of instrument use.
See video clip on activities run by the parent group: Open Strings
Wed 5th April (10:00-12:30) - Signs of Spring children's activity day, Lewes. The Linklater Pavilion, Station Road, Lewes. Make a bird feeder, a bug hotel, go for a guided walk through the woodlands, enjoy all sorts of arts and crafts. Suggested donation £3 per child; 3-11 year olds.
Tuesday, 11th April 2017 7pm-10.30pm - Brighton Sustainable Building Meeting (Pub evening) at The Battle of Trafalgar, 34 Guildford Road, Brighton BN1 3LW - an informal opportunity to discuss sustainable building practices, techniques and technical issues. Useful for architects, building contractors, and associated trades, people looking to have sustainable building works carried out (new build or renovation), as well as self-builders, DIYers etc. Every second Tuesday of the month. AECB [Association for Environment Conscious Building].
Sat 15 April (11.00-17.00) - Brighton Easter Boutique market. Brighthelm Church & Community Centre, North Rd, Brighton BN1 1YD, UK. Inside Brighthelm Centre will be a marketplace of quality products, food and drinks with focus on a one stop boutique, lifestyle, handmade shopping experience with selected local traders and craftsmen from across the region. The garden area will focus on street food, outdoor living and live music. There will also be face painting and children's activities. Admission is free.
Sat 15th April (11.00-15.00) - Easter Egg Hunt, Saddlescombe, £3 National Trust - Saddlescombe Farm and Newtimber Hill, Saddlescombe Rd, near Brighton BN45 7DE, UK. Fun for all the family. Come along anytime between 11am and 3pm to collect your quiz sheet and map. Find the plastic eggs around the Dyke to solve the clues. All participants receive a Cadbury chocolate bunny. Booking not needed £3.00. Suitability children welcomeDogs on leads are welcome.Meeting pointPlease meet near the stone seat, Devil's Dyke car park map ref TQ 258110AccessibilityThe route is slightly challenging with some steep climbs. Easier routes are available.OtherDistance 1.5 miles maximum time 2 hours.
Sun 16th April (11.00-15.00) - Easter Egg Hunt, Saddlescombe, £3 National Trust - details as above.
Mon 17th April (10.45-12.15) - Easter Egg Rolling, Devil's Dyke, 7FH, S Downs Way, Brighton BN45, UK. Bring your own hand decorated hard boiled egg and try your luck at this Easter custom. The egg that gets furthest down the Dyke valley wins. We will also judge the Best Decorated Egg. £1.00 Suitability All ages welcomeDogs on leads are welcome.Meeting pointPlease meet near the stone seat, Devil's Dyke car park, map ref TQ 258110. Miss the queues and take the no 77 Bus from Brighton.
Monday 17th April (11.00-15.00) - Easter Egg Hunt, Saddlescombe, £3 National Trust - details as on Sat 15th and Sun 16th, Saddlescombe Farm and Newtimber Hill, Saddlescombe Rd, near Brighton BN45 7DE.
Sunday 23rd April (09:00+), MAYOR"S CHARITY BIKE RIDE - Join Brighton & Hove Mayor Councillor Pete West on an epic 50 mile cycle ride around the Biosphere boundary in the Sussex countryside; start & finish at Hove Lawns. £5-20 Register. £20, £25 on the day.
Free refreshments at waterstops.
Sun 23rd April (10:00-14:00) - Family Charity Bike Ride. Bring the kids on the Family ride. It's nearly all on cycle paths from Hove to Saltdean and back. 12 miles with shorter routes available. Supported by Bike It Ben and Lucy from Sustrans. All riders will be entered into a prize draw to win one of 20 goodie bags to include lights, bells, slap bands, water bottles and more. £5 per person, £15 per family. Register here.
Artists Open Houses, Open Market Art Trail, The Level, & Brighton Open Air Theatre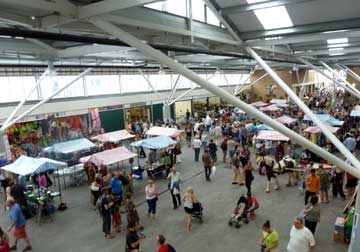 Click on the picture above for an illustrated list of all the stalls in Brighton's Open Market.
Education (for adults)

The Brighton Free University


The Friends' Centre

Adult Education. Download their PDF brochure on Courses & Workshops for 2016-2017
Cornerstone Community Centre - Adult Education
Church Road, Hove, East Sussex BN3 2FL
includes Poetry for Pleasure on Mondays
Environment
1. Odour from WTS? Tel. 0800 80 70 60 The Environment Agency
Nuisance continues from The Waste Transfer Station. Please phone if you smell unreasonable odour so that we can continue to highlight:

[A] the unsuitable location at Hollingdean Depot for processing food waste so near to residents homes and gardens

[B] the unsuitable building design of the Waste Transfer Station: i.e. not fit for purpose as it cannot prevent escapes of dust particles and odour.
The operating licence issued by The Environment Agency also covers unreasonable noise. Phone them about this and not The Council (Veolia's main client).
2. Landlords and Letting Agents - a need for accreditation
£20,000 / £14,000 fines unlicensed landlords of shared houses
Read our article on Houses of Multiple Occupation [HMOs]
See the The Debrief's campaign calling for the end of letting agent fees.
Music
Please see events listings for music currently on. Many music venues re-open in the spring.
Learn a musical instrument - since the time of the Prince Regent, Brighton has gained a reputation for music teaching and performance. The abundance of teachers in our city means that it is easy to find help in learning an instrument.
St Bartholomew's Concerts
Wednesday Lunch time recitals back in 2017
lasting for half an hour from 12:30pm at
St Nicholas's Church Dyke Road, Brighton, East Sussex BN1 3LJ map
Louise Cournarie - Piano
Thursday 1st June 2017 at 1pm - Lunchtime Recitals at All Saints Church Hove - Lunchtime Recitals programme offers weekly music concerts from Thursday, 1st June 2017 at 1pm through to October 2017. The first concert of the 2017 season will feature various performers who will be playing during the season.
News & Events at The Park Crescent Pub, 39 Park Crescent Terrace, BN2 3HE.
Recreation

Walking in the sussex countryside
Click on picture below for circular bus ride / walk from Round Hill:
Get Active programme (includes healthwalks) winter 2016/17
Click on picture below for index of local walks/walking groups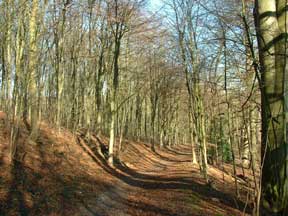 Why not get together with neighbours for a weekend walk - you may like to try the two bus-aided circular walks below:
Voting patterns in Round Hill
Local and National and European Election Results