Welcome
Click here to scroll to Regular Listings & Upcoming Events
or enter your postcode on The FED's page: Things to do near you.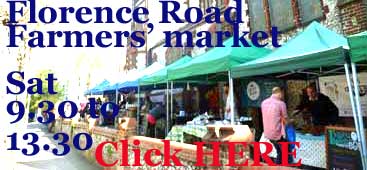 Links to printed & online resources to explore Round Hill's history

Odour from WTS? Tel. 0800 80 70 60 The Environment Agency
This facility has become unacceptably smelly every year from mid April through to autumn since it was located near residents' homes in 2009. The building design is too basic to contain escapes of odour from food waste. The stench reaches peaks of unpleasantness during hot spells when large quantities of food waste are being imported and exported. Three separate complaints on 1 day prompt a call-out from the EA, which gives Hollingdean Dep its licence to operate & sets conditions.
Click here to see ITV New's report on The Mayor of Brighton and Hove's Cycle Rides which took place on Sunday 23rd April 2017.
First Street Play of 2017: 30th April 3-5pm
With the cooperation of local residents, a very temporary street closure has already been organised for Mayo Road on Sunday 30th April 3pm to 5pm.
Children (and at least one parent present to supervise their child/children) merely need to step outside their door or walk a short distance to participate.
Bring the usual things, especially kids' bicycles since "DR BIKE" will be present throughout the two-hour session. He can check bikes out for safety and perform a quick service e.g. by dealing with things like squeaky brakes or rusty chains.
The Mayor's Walk: Sun 30th April 2017
The current mayor is Pete West, our local ward councillor.
A great chance to get fit for a good cause.
Click here or on the picture below for tickets (£5.90 each)
Join the Mayor of Brighton & Hove on 27 km walk around the city boundary and help pioneer a new designated pathway.
Support one or all of the Mayor's 27 chosen charities.
Donate or raise sponsorship while enjoying and exploring the beautiful city we live in.
You don't have to walk the whole 27 k (18 miles) – you could walk one or more sections. Click on any of the following STAGEs for route details or download whole route and timings as PDF:
Useful bus routes to/from above places from/to Central Brighton.
See also Sunday 23rd April The Mayor's Charity Bike Ride - a 50 mile cycle ride around the Biosphere boundary in the beautiful Sussex countryside. Visit the Mayor's Facebook Page
Regular listings & Upcoming Events
For daily updates on other neighbourhoods' news & campaigns
across the city, please go to CivicBrightonandHove.co.uk

1. Odour from WTS? Tel. 0800 80 70 60 The Environment Agency
2. The Open Market and The Level Upcoming Events
3. Visit London Road website | blog
4. The Duke of York's Picture House Preston Circus
5. Emporium, Brighton - what's on - 88 London Road
6. Brighton Open Air Theatre - what's on - Dyke Rd Park [map]
7. Free University Brighton - upcoming events
8. Brighton & Hove Arts Diary
9. Arts | Music | Theatre | Cinema
10. Sussex Concerts
11. Sunday Chamber Concerts 5pm-6pm by Brighton Philharmonic Orchestra
12. East Sussex CC: Music, Art & Cultural Events
13. The Brighton Society - talks, lectures & exhibitions.
14. Regency Society 2016 lectures and events
15. Hove Civic Society - lectures & events.
16. Sussex Industrial Archeology Society own meetings & similar
17. English Speaking Union lectures at The Hove Club, Fourth Av.
18. Walks - unguided, guided, longer and shorter
19. Healthwalks 2016 programme plain text | colour
20. walk & bus circuits from Round Hill
21. Friends of Hollingbury Woods
22. Brighton & Lewes Downs Biosphere - Events Calendar
23. Digital map of Brighton & Lewes Downs Biosphere
24. Prince Regent Online Pool & Class Timetable
Free swimming for children aged 16 and under
25. See also The Argus - events page
26. The People's Republic of Brighton and Hove: Facebook page
27. Brighton & Hove Food Partnership
28. List of twenty-five lunch clubs in Brighton and Hove
Click on the picture below to find your nearest swimming pool
Online Pool & Class Timetable
for today at the
Prince Regent Pool Brighton.
Friday 28th April 2017 12.30 - 1.15 pm - Unitarian Church New Road, Brighton, BN1 1UF - Baroque Masterpieces. Nick Andrews is joined by Philippa Aspey, soprano, and Cat Stead, mezzo soprano, for a baroque concert featuring Pergolesi's extraordinary Stabat Mater.
Sat 29 and Sun 30th April 2017 11am to 4pm National Garden Scheme Open Day at The Garden House, 5 Warleigh Road - OPEN WEEKEND – The Garden House is tucked away in the heart of the city and really is a secret garden – in Victorian times a working market garden. The garden is organic and gives interest all year round, supporting cut flowers, vegetables, fruit, old climbing roses, a pond – and hens! There will be plants, dahlias and seeds for sale. Plus, of course, a range of delicious homemade cakes and refreshments!
Sunday 30th April 2017 - The Mayor's Walk, 9am start from Saltean Oval. Those who walk the whole way or the last leg will finish at 18.30 at Emmaus, Porstlade.
Join the Mayor of Brighton & Hove on 27 km walk around the city boundary and help pioneer a new designated pathway.
Support one or all of the Mayor's 27 chosen charities.
Download whole route and timings as PDF:
Donate or raise sponsorship while enjoying and exploring the beautiful city we live in.
You don't have to walk the whole 27 k (18 miles) – you could walk one or more sections.
Tuesday, 2nd May 2017 10:15am - Silver Strings - it's never too late to learn! - The Brighthelm Centre, North Road, BN1 1YD. The first Tuesday of each month is an open session, where newcomers can try an instrument and meet the players. No previous musical experience is necessary and most of our group were complete beginners when they first came along. We even provide the instruments: choose violin, viola or cello - or try all three! The sessions are facilitated by professional cellist and Goldsmiths-trained music leader Isabel Emerson, and kindly supported by the Brighthelm Small Grants Scheme. Cost: the first session's FREE - come and try us out! If you want to join Silver Strings, it's £12/wk (payable monthly) thereafter, inclusive of instrument use.
See video clip on activities run by the parent group: Open Strings
Tuesday 2nd May 2017 1.10 - 1.55 pm Chapel Royal, North St, Brighton - The Spike Wells Jazz Trio. Jazz repertoire
Wednesday 3rd May 2017 12.30-13.15
at St Nicholas's Church Dyke Road, Brighton, East Sussex BN1 3LJ map - 3 Songs of Love and Loss - Annabelle Pepper (mezzo-soprano) & Joe Ward piano (UK)
Sunday 7th May 2017, 10am-1pm - Friends of Hollingbury and Burstead Woods -
Work session

Easy access trail. Click here to learn about Hollingbury Hillfort. FHBW's Facebook Page.
Tuesday, 9th May 2017 7pm-10.30pm - Brighton Sustainable Building Meeting (Pub evening) at The Battle of Trafalgar, 34 Guildford Road, Brighton BN1 3LW - an informal opportunity to discuss sustainable building practices, techniques and technical issues. Useful for architects, building contractors, and associated trades, people looking to have sustainable building works carried out (new build or renovation), as well as self-builders, DIYers etc. Every second Tuesday of the month. AECB [Association for Environment Conscious Building].
Thursday 1st June 2017 at 1pm - Lunchtime Recitals at All Saints Church Hove - Michael Leach (classical piano) and Joss Peach (jazz piano)
Map: corner of The Drive (south end) and Eaton Road, Hove BN3 3PD
Friday 2nd June 2017 7.30 pm - St Luke's Church, Queens Park Road BN2 0GG - Horn Trio opus 40 (violin, horn and piano)
Artists Open Houses, Open Market Art Trail, The Level, & Brighton Open Air Theatre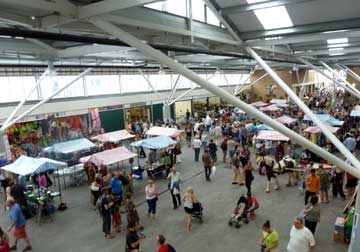 Click on the picture above for an illustrated list of all the stalls in Brighton's Open Market.
Education (for adults)

The Brighton Free University


The Friends' Centre

Adult Education. Download their PDF brochure on Courses & Workshops for 2016-2017
Cornerstone Community Centre - Adult Education
Church Road, Hove, East Sussex BN3 2FL
includes Poetry for Pleasure on Mondays
Environment
1. Odour from WTS? Tel. 0800 80 70 60 The Environment Agency
Nuisance continues from The Waste Transfer Station. Please phone if you smell unreasonable odour so that we can continue to highlight:

[A] the unsuitable location at Hollingdean Depot for processing food waste so near to residents homes and gardens

[B] the unsuitable building design of the Waste Transfer Station: i.e. not fit for purpose as it cannot prevent escapes of dust particles and odour.
The operating licence issued by The Environment Agency also covers unreasonable noise. Phone them about this and not The Council (Veolia's main client).
2. Landlords and Letting Agents - a need for accreditation
£20,000 / £14,000 fines unlicensed landlords of shared houses
Read our article on Houses of Multiple Occupation [HMOs]
See the The Debrief's campaign calling for the end of letting agent fees.
Music
Please see events listings for music currently on. Many music venues re-open in the spring.
Learn a musical instrument - since the time of the Prince Regent, Brighton has gained a reputation for music teaching and performance. The abundance of teachers in our city means that it is easy to find help in learning an instrument.
St Bartholomew's Concerts
Brighton Philharmonic Orchestra - Brighton Dome, Church Street Brighton, BN1 1UE - 2017 Concert Season. Brighton Dome Concert Hall.
News & Events at The Park Crescent Pub, 39 Park Crescent Terrace, BN2 3HE.
Recreation

Walking in the sussex countryside
Click on picture below for circular bus ride / walk from Round Hill:
Get Active programme (includes healthwalks) winter 2016/17
Click on picture below for index of local walks/walking groups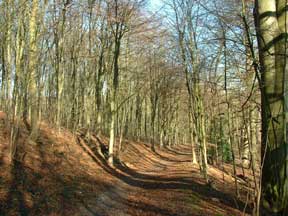 Why not get together with neighbours for a weekend walk - you may like to try the two bus-aided circular walks below:
Voting patterns in Round Hill
Local and National and European Election Results