Welcome
Click here to scroll to Regular Listings & Upcoming Events
Links to printed & online resources to explore Round Hill's history
Why not research your own street, example: D'Aubigny Road

Comment now on Local Planning Concerns:
1. New owner (28 Crescent Road)'s attempt to make additions (windows and rooms) to the permission they purchased along with the narrow strip of land west of Crescent Rd and east of Belton Rd.
2. Attempt to reverse CAR-FREE planning condition for Carelet site. If this is successful, it could create a precedent for reversing the similar condition written into the existing permission for 28 Crescent Road.
Useful information
Playing out in Round Hill 2018
Mayo Road on Sunday 3 to 5pm Sunday 16th September

Is anyone able to help with marshalling? Just half an hour really help keep these events going.
16th September 2018 and
28th October 2018 (Halloween theme).
At our AGM we agreed to open the event up to people who might like to run table-top sales such as plants, books, good toys and games your children may have outgrown. This needs to be organised by others but if you can plan to get involved please let Kate Rice know (contact details on back of Round Hill Reporter) so that you can be included in publicity for event.
As always we need volunteers to make these events happen (marshalling, baking, etc) so please let me know if you can help - even 30 minutes at one session is valuable.
We'd like to thank the whole community, and in particular the residents of Mayo Road for supporting Street Play, and allowing the road closure to keep the children safe. Kate Rice
Safe crossing for Upper Lewes Road
If they can do it in Ditchling Road, why can't they make a safe crossing point in Upper Lewes Road?
Jolly Poacher social shows pub's potential
The above photo was taken circa 10 years ago when our local pub was called THE ROUNDHILL. Many local residents would be pleased if THE JOLLY POACHER reverted to the old name. Click here to see extract of LEAFLET FROM NEW LANDLORDS
Regular listings & Upcoming Events
Walking - Active for Life Programme including Healthwalks
The Living Coast - What's on? Programme
Swimming Click on the picture to find your nearest swimming pool
Online Pool & Class Timetable
for today at the
Prince Regent Pool Brighton.
Social Group Cycle rides * Bike for Life* see also Facebook Page.

CivicBrightonandHove.co.uk for daily updates on other neighbourhoods

1. Odour from WTS? Tel. 0800 80 70 60 The Environment Agency
2. The Open Market and The Level Upcoming Events
3. The Duke of York's Picture House Preston Circus
4. The Living Coast - what's on?
5. Brighton Open Air Theatre - what's on - Dyke Rd Park [map]
6. Free University Brighton - upcoming events
7. Brighton & Hove Arts Diary
8. Arts | Music | Theatre | Cinema
9. Folk Clubs Calendar | Lewes Saturday Folk Club
10. Sussex Concerts
11. Sunday Chamber Concerts 5pm-6pm by Brighton Philharmonic Orchestra
12. East Sussex CC: Music, Art & Cultural Events
13. The Brighton Society - talks, lectures & exhibitions.
14. Regency Society 2016 lectures and events
15. Hove Civic Society - lectures & events.
16. Sussex Industrial Archeology Society own meetings & similar
17. English Speaking Union lectures at The Hove Club, Fourth Av.
18. Walks - unguided, guided, longer and shorter
19. Active for Life Programme Summer 2017 including Healthwalks
20. walk & bus circuits from Round Hill
21. Friends of Hollingbury Woods
22. Sussex Wildlife Trust What's on
23. Brighton & Lewes Downs Biosphere - Events Calendar
24. Digital map of Brighton & Lewes Downs Biosphere
25. Prince Regent Online Pool & Class Timetable
Free swimming for children aged 16 and under
26. See also The Argus - events page
27. The People's Republic of Brighton and Hove: Facebook page
28. Brighton & Hove Food Partnership
29. Brighton Food Assembly collect Saturdays 2-4pm Open Market
30. List of twenty-five lunch clubs in Brighton and Hove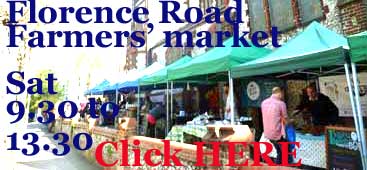 If they can do it in Ditchling Road, why can't they make a safe crossing point in Upper Lewes Road?
How many of you have had to grasp a little gap between streams of vehicles when waiting to cross the Upper Lewes Road? As I accompany my daughter on her daily walk to school I wonder: "When will I be able to trust her to cross this treacherous road by herself while there is no safe crossing point?" Read on ....in March 2018 Round Hill Reporter
Saturday 4th August 2018, 10am to 1 pm - Friends of Hollingbury and Burstead Woods:
Clear Forget-Me-Not Glade and both hazel coppices.
Easy access trail. Click hereto learn about Hollingbury Hillfort. FHBW's Facebook Page.
Artists Open Houses, Open Market Art Trail, The Level, & Brighton Open Air Theatre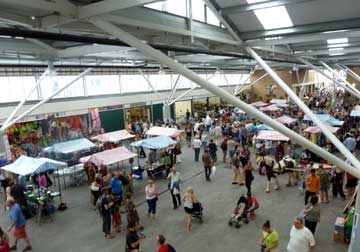 Click on the picture above for an illustrated list of all the stalls in Brighton's Open Market.
Education (for adults)

The Brighton Free University


The Friends' Centre

Adult Education. Download their PDF brochure on Courses & Workshops for 2016-2017
Cornerstone Community Centre - Adult Education
Church Road, Hove, East Sussex BN3 2FL
includes Poetry for Pleasure on Mondays
Environment
1. Odour from WTS? Tel. 0800 80 70 60 The Environment Agency
Nuisance continues from The Waste Transfer Station. Please phone if you smell unreasonable odour so that we can continue to highlight:

[A] the unsuitable location at Hollingdean Depot for processing food waste so near to residents homes and gardens

[B] the unsuitable building design of the Waste Transfer Station: i.e. not fit for purpose as it cannot prevent escapes of dust particles and odour.
The operating licence issued by The Environment Agency also covers unreasonable noise. Phone them about this and not The Council (Veolia's main client).
2. Landlords and Letting Agents - a need for accreditation
£20,000 / £14,000 fines unlicensed landlords of shared houses
Read our article on Houses of Multiple Occupation [HMOs]
See the The Debrief's campaign calling for the end of letting agent fees.
Music - including classical concerts
Wednesdays12.30-13.15
at St Nicholas's Church Dyke Road, Brighton, East Sussex BN1 3LJ map - Lunchtime concerts
AThursday weeekly at All Saints Church Hove - Lunchtime Recitals from June to October 2018. These are begin at 1pm and last about 1 hour.
Map: corner of The Drive (south end) and Eaton Road, Hove BN3 3PD
Fridays weekly Unitarian Church New Road, Brighton, BN1 1UF lunchtime concerts
Fridays fortnightly St Luke's Church Queens Park Road.
evening concerts
St Bartholomew's Concerts
Brighton Philharmonic Orchestra - Brighton Dome, Church Street Brighton, BN1 1UE - 2018 Concert Season. Brighton Dome Concert Hall.
Learn a musical instrument - since the time of the Prince Regent, Brighton has gained a reputation for music teaching and performance. The abundance of teachers in our city means that it is easy to find help in learning an instrument.
Saturdays weekly
Lewes Saturday Folk Club meets every Saturday at 8pm at Elephant & Castle, White Hill, Lewes BN7 2DJ. LOYALTY CARD: 6 visits = £5 credit
News & Events at The Park Crescent Pub, 39 Park Crescent Terrace, BN2 3HE.
Recreation

Walking in the sussex countryside
Active for Life events forthcoming.)
The Big Lemon Walks - Meet Old Steine, Brighton BN1, UK. Take The Big Lemon bus into the countryside, walk for about 3 hours, lunch at a nice old country pub. All buses leave Old Steine (South) Stop S, Brighton. £8 book in advance.
Click on picture below for circular bus ride / walk from Round Hill:
Click on picture below for index of local walks/walking groups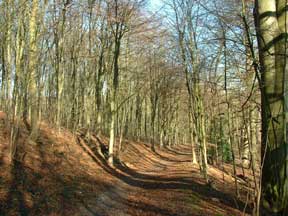 Why not get together with neighbours for a weekend walk - you may like to try the two bus-aided circular walks below:
Voting patterns in Round Hill
Local and National and European Election Results