Crescent Road 2015 Liaison
Object to planning application BH2018/00433
Click HERE to access COMMENTS TAB & new proposal on the Council's website.
Before commenting yourself, you may access existing comments from the DOCUMENTS TAB (scroll down)
SAMPLE OBJECTION (THE ROUND HILL SOCIETY)
[Feel free to use or adapt in formulating your own comment]
City Development & Regeneration Hove Town Hall Norton Rd Hove BN3 3BQ
Application: BN2018/00433
Applicant: AMF Investments
Site address: 28b/28e Crescent Rd BN2 2RP
Variations to application BH2016/00862
Dear Sir/Madam
This letter represents the views of the Round Hill Society who object to the above application.
The site is unusual in that access is severely limited and the site is also higher than most surrounding houses, so any development is potentially overbearing. In addition, most neighbours adjoining the site have very small courtyard gardens, so overlooking and loss of privacy is a real concern.
BHCC Planning Committee approved the original application, BH2016/00862, in October 2016 at the end of a very long meeting giving them little time left to scrutinise it. CAG voiced their concern, but the original applicant had met with and had extensive discussions with local residents. He did work hard to limit the negative impact on those living nearby. Despite disappointment at the decision, we accepted that local people's concern had been listened to and to some degree addressed in the accepted planning permission.
This new application is different in several ways. Firstly the applicant, in our view, has failed to provide sufficient clear information about his proposed changes (eg no elevations showing changes to size, position and number of windows). This has made it very difficult for residents to truly understand what changes are proposed. We believe this is unfair and undemocratic and request that the application is declared invalid and the applicant is required to resubmit all of the myriad of proposed changes with appropriate clearly presented information.
As it stands we believe the applicant is seeking 50% increase in bedrooms, with resulting in very small rooms, and potentially a far higher number of people living at the site. There seems to be a loss of planned green roofs, photovoltaic panels and roof lights. Loss of wheelchair accessibility, and the moved windows resulting in greater overlooking. The relocated communal bin areas close to existing residents' boundary walls and windows would result in nuisance and loss of amenity. There is also a new basement proposed to the 'new' build house, making it a two storey rather than one storey house.
Overall we believe that these new proposals are an overdevelopment resulting in over looking and loss of privacy and amenity for residents.
Should the Planning Officer be minded to grant this application, we request that .....
Yours faithfully
SAMPLE OBJECTION 1 from Belton Road resident
I wish to object to the planning application BH2018/00433 that seeks to vary the conditions of the granted application BH2016/00862.
The original application was a much more sympathetic treatment of the site, arrived at through discussions between the developer and residents whose properties adjoin the site, initiated because of the concerns of those residents. Overlooking and loss of privacy was a major concern, and this was addressed through careful design of windows to reduce overlooking, for instance by making the windows high-level.
The new drawing (28 B GA Plan) shows windows in No. 28b but does not specify whether they will remain as high-level windows, or whether they will be standard windows that will increase overlooking and reduce my privacy. Similarly, a window in No. 28c has been enlarged, and another window has been added to No. 28e: these changes will increase overlooking. The poor documentation that accompanies the application does not include elevation drawings of these properties, which might have made the details of these changes clear.
Refuse bin sheds were originally sited away against the site boundary walls, but the developer agreed to move these away from the walls to reduce nuisance.
These are now proposed to be sited where originally proposed, against the wall of the rear garden of 40 Belton Road. The sheds would be a source of offensive odours which would greatly reduce amenity for existing residents. The granted application is for a total of 8 bedrooms on the development.
The increase to a total of 12 bedrooms constitutes overdevelopment in this already crowded conservation area. In summary, I object to the application on the grounds of overdevelopment, loss of privacy and overlooking.
SAMPLE OBJECTION 2 from Belton Road resident
With regard to application no. BH2018/00433 (proposed variation of condition 1 of BH2016/00862) I wish to object on the following grounds:
1) We live at no. 34 Belton Road and I am extremely concerned that the plans now show a new window in the west-facing ground floor living room of dwelling 28E (see dwg.no. D.004 based on old dwg.no.208/J). As you can see from the attached photograph, this will overlook our rear garden (top of our boundary trellis can be seen). Also the window will be higher than our window levels, so the problem is compounded. The exact position and height of this window is not known as the architect has failed to provide amended elevations.
2) Another bedroom has been added to the upper floor of 28E, this will increase the chance of overlooking/ acoustic disturbance for us, and heighten our loss of privacy.
3) The roof over the living room was described as a sedum roof with rooflight and photovoltaic panels, is this no longer the case?).
Generally
Four bedrooms have been added to this scheme.
This is a blatant attempt to increase revenue from sale of the buildings, and a clear case of overdevelopment of the site after existing criteria had been established during the planning process.
Several changes have been made to windows and doors in 28B, 28C & 28E but no amended elevations have been submitted. All the amendments should have been described in the Revisions box on the right hand side of each of the new drawings so that residents can understand what is being proposed. These are quite complex drawings and differences between old and new are difficult to see.
SAMPLE OBJECTION 3 from Belton Road resident
We object to application BH2018/00433 on the following grounds: The original approved application was for: 'Part demolition and conversion of existing commercial buildings and erection of two new buildings to provide 4no two bedroom houses (C3) with associated landscaping.' Whilst not explicitly stated on the application, the variation is such that it now seeks to encompass 4no three bedroom houses - an increase of 50% on the bedspaces encompassed in the original application. This, we believe, will certainly lead to overdevelopment and loss of privacy for neighbouring properties on an already marginal site.
The variation on unit 28C, which abuts our property at 44 Belton Road, sees an accessible bathroom lost, which we believe was an intrinsic element of the initial design, meaning it allowed disabled persons access. This bathroom been forsaken for an additional bedroom, meaning it is no longer accessible.
The bathroom in the previous iteration had a small obscured window, which is situated 1m from our joint boundary wall. The variation sees the bathroom replaced by a bedroom with a large window (no measurements are included to specify the size of this window) which presumably, unlike the previously agreed bathroom window, will not be obscured. Given the location of this window, it will lead to a loss of privacy and overlooking of our property.
Increasing the number of bedrooms from two to three in this unit will lead to a significant increase in the noise and disturbance we experience once the property is inhabited given the very close proximity to our boundary wall.
The original grant of planning permission BHC2016/00862 expressly stated: 'No extension, enlargement, alteration or provision within the curtilage of the dwellinghouse(s) as provided for within Schedule 2, Part 1, Classes A-E of the Town and Country Planning (General Permitted Development) (England) Order 2015, as amended (or any order revoking and re-enacting that Order with or without modification) other than that expressly authorised by this permission shall be carried out without planning permission obtained from the Local Planning Authority.
Reason: The Local Planning Authority considers that further development could cause detriment to the amenities of the occupiers of nearby properties and to the character of the area and for this reason would wish to control any future development to comply with policies QD14, HE6 and QD27 of the Brighton & Hove Local Plan.' Hence, BHCC acknowledged in October 2016 that further development could cause detriment to the amenities of the occupiers of nearby properties and to the character of the area - I would suggest this variation in planning, increasing the number of bedrooms in the overall scheme by 50%, 17 months after planning permission was granted, constitutes further development and thus causes detriment to the amenities of the occupiers of nearby properties and to the character of the area.
For these reasons we object to application ref: BH2018/00433.
Kind regards
RECOMMENDATION ( by the Council's Conservation Advisory Group)
The Round Hill Society asked Brighton and Hove City Council's Conservation Advisory Group to look at application 2018/00433 (28A Crescent Road) at their meeting on 6th March and make a recommendation to the planning committee (which is what they exist to do). The planning committee notes the recommendation but is not obliged to follow it. The Conservation Advisory Group has recommended refusal. Read on to see their reasons:
BH2018/00433 28A Crescent Road
ROUND HILL CA
Variation of condition 1 of application BH2016/00862 (Part demolition and conversion of existing commercial buildings and erection of two new buildings to provide 4no two bedroom houses (C3) with associated landscaping.) to allow amendments to approved drawings This application was introduced by Jeremy Mustoe representing the Brighton Society
The Group recommends REFUSAL. Whilst noting the lack of information in this application the Group considers the proposal an increased overdevelopment which will harm the character of the Round Hill Conservation Area.
BH2016/00862 has been approved

Application BH2016/00862, registered on 29th March 2016 and amended several times (requiring two public consultations) was approved Brighton and Hove City Council's planning committee on 12th October 2016.
However, the site owner is now attempting to sell on the land / existing buildings + permission for four houses for £975,000 - over double the cost (£425,000) paid for this property in 2014.
Was BH2016/00862 made as clear as this to the planning committee?
See http://www.rightmove.co.uk/commercial-property-for-sale/property-64385669.html
The Round Hill Society is grateful both to Chris Morley and Cllr Louisa Greenbaum for speaking against the application on behalf of the many residents affected by it.
Round Hill residents, especially those in Crescent Rd and Belton Rd whose homes and gardens surround this site, were very disappointed to see 4 houses approved, three occupying a narrow strip which has previously acted as a green lung with trees and vegetation (much has already been removed) helping to prevent overlooking between existing properties.
The elevated terrain on part of this strip, where a very small amount of green space will remain, compounds the problem of close overlooking since two of the new homes will have the use of this area as gardens.
The hope, now that such a high density has been permitted, is that neighbours will get on with one another, in spite of the tight space standards on this site. I felt that the individual instances of overlooking (relevant to savend local policy QD27) deserved more highlighting than they got at the planning meeting.
Members of the planning committee did question the developer's agent about the new front gate (claimed by the applicant as a reference to the site's history) and expressed concerns about access for disabled and emergency services, though this line of questioning is usually answered.
I noted that the question as to whether a car-free development is sustainable in this location, was not raised.
It was unfortunate that the application got pushed to the penultimate one on the agenda of a meeting lasting from 2pm to nearly 9pm. Clearly, people want to go home as the evening proceeds, though time was given when individual members of the planning committee supplied leads.
Absence of any debate on the application
The Chair's invitation to debate the application did not result in any such leads.
This was not entirely down to time. Even in the final hour of a seven hour meeting, most members (though a few had departed) showed considerable stamina and willingness to take time. I felt that the absence of debate was equally a consequence of
the complexity of the application (documents had been added months after the 3-week public consultation closed adding even more confusion to already untidy plans) and
the difficulty in getting to grips with the warren of structures proposed in the design.
My own hope was that the very design concept, which resulted in such difficult drawings to read, would be recognised as flawed and that the architects would be told to go "back to the drawing-board", reduce the amount, and to refrain from using poorly sited sheds and add-on sprawl as the footprints for proposed new homes.
The key problem with BH2016/00862 is the applicant's concept of the scheme as a "conversion of an urban infill site from a derelict commercial / light industrial use into residential" . This misleading description is offered as a justification for using the footprints of poorly sited add-ons (annex / garage / shed) as the templates for homes. See The Round Hill Society's letter of objection for more on this.
The majority of members took the view that "residential" would be better than "commercial" or "open space" on a site where structures had already been untidily erected. 7 FOR; 1 AGAINST; Others LEFT THE MEETING or ABSTAIN.
Sample objections to poorly sited development alien to the area in design & character, and damaging to the amenity of numerous existing homes and gardens
Read just a few of the several objections :-
Summary of recent amendments (Sep 2016)
taken from Sally Wright's email, but see them for yourself by selecting the documents tab on the Council's planning register entry for BH2016/00862 and opening recent documents (posted between July and Sep 2016)
getting rid of a terrace area at the south end of the site
the land in between the proposed 2 dwellings to be split into 2 gardens that would belong to the respective dwellings.
one of the 3 bedroom flats reduced to 2 bedrooms
a further (small reduction) to windows
The above amendments still leave the application wanting as they do not remove the main concerns voiced in the objections submitted to date:
overdevelopment of very narrow strip of land. This small open space is needed due to high level of housing density around the application site. The proposal adversely affects circa 50 neighbouring properties. Some would be very closely overlooked.
proposed buildings not in keeping with character of this historic part of the conservation area - laundry drying fields, windmill etc). The existing houses reflect the period history of the area.
BH2016/00862 before above changes
Instead of 3 houses + 2 flats (refused last year), the 2016 application is for 4 houses. There is some reduction in window area of the proposed houses, but canted windows and a sunken garden - common signs of overdevelopment - are still offered to address the problem of overlooking.

Read objection 1 and objection 2 from Belton Rd residents
objections from Crescent Rd and The Round Hill Society
The previous reasons for refusal bear reading again, since the new proposal fails to make more than a token response to them. This is disappointing and somewhat surprising in the absence of an appeal against refusal.
The Round Hill Society is grateful to those residents who have already communicated their concerns. Feedback from immediate residents includes:
over development, loss of privacy, loss of security & not in keeping with area. Compare the amount now proposed (crammed within the long narrow site outlined in red) block plan BH2016/00862 with that proposed in block plan BH2015/03013. No significant reduction in site coverage in response to

the Nov 2015 refusal

on the ground of overdevelopment.
Large chunks of the existing office building units retained in the proposal are so out of scale with the existing Victorian houses that it is impossible to make a development fit in. As evidenced in E-08 View East, large areas of buff brickwork and even larger areas of white render can never be in sympathy with the existing houses with their decorative detailing and relatively small widths. The proposed roofs are predominantly flat with no relieving features. Architecturally, existing roofs in this area of Round Hill are tiled and usually pitched at around 30 degrees. Most of the original chimney stacks are retained, adding interest to the roofscape.
lack of privacy, overlooking, overcrowding and out of character. In the developer's drawing E-11 View North 28E the existing boundary wall of 34 Belton Road to the west of proposed house 28E is made to look nearly three times higher than it actually is. The top two thirds of the structure is an open grid (i.e. a trellis which allows light into the existing property). Window to window overlooking would therefore be as close as 11 M from master bedroom window 1 and 12.5 M from master bedroom window 2.
for bins to be collected, occupants of 28D - the infill house proposed for the south of the site (to the west of 60 Crescent Road) - would have to move recycling and rubbish a distance of about '15 houses up' to the sole entrance beside 28 Crescent Road. See proposed block plan
Pressure on parking space which is already tight in Crescent Road and surrounding streets. 4 houses are likely to generate a demand for 6 extra spaces. A condition withdrawing eligibility of a select group of residents to hold parking permits might be tenable in the city centre, but it would prove discriminatory in our hilly neignbourhood and would be unsustainable in the long run.
Previous grounds for refusal
Application BH2015/03013 was REFUSED on 30 November 2015.
The reasons for refusal (see The Council's decision) are as follows:
Notwithstanding the lack of detail submitted the proposed development, by reason of its design, detailing, form and materials, would fail to provide a suitable standard of design and appearance, resulting in a development that would fail to reflect the character of historic backland sites within the Round Hill Conservation Area. As such the proposal would compromise the quality of the local environment. This identified harm would outweigh the benefit of additional housing and as such is contrary to policies QD1, QD2, QD3, QD4, QD14 and HE6 of the Brighton & Hove Local Plan.
The proposed development would lead to increased noise disturbance and significant levels of actual and perceived overlooking and loss of privacy to neighbouring properties located on Crescent Road and Belton Road. The proposal would therefore be contrary to policy QD27 of the Brighton & Hove Local Plan.
The applicant has failed to demonstrate that the proposed basement level accommodation would receive adequate levels of daylight / sunlight. Some of the habitable rooms would also suffer from a poor outlook as result of the proposed vertical fixed brise soleil, which would result in a sense of enclosure. As such it is considered that the units would provide a poor standard of accommodation harmful to the amenity of future occupiers. The proposed development is therefore contrary to policy QD27 of the Brighton & Hove Local Plan.
This is a case of overdevelopment which would affect many neighbours had it not been refused. Thank you to all local residents who submitted objections. Much of The Round Hill Society's Objection is supported by the Case Officer's decision.
Background to refusal
28 and Land Rear of including 28B, 28C & 28D, Crescent Road Brighton - the site mainly consists of the narrow strip of land which separates most of the small rear gardens on the east side of Belton Road from most of the rear gardens on the west side of Crescent Road. There is already overlooking between these existing homes since the narrow strip, once the drying fields for three laundries, is no greater in width than the width of Crescent Road + its two pavements.
Overdevelopment affecting many neighbours


The felling of trees has not helped, but the developer now wants to overdevelop this valued open space with three houses and two flats (two new-builds and three conversions of buildings only previously used in daytime from Monday to Friday i.e.: not 24/7).
Although the proposal is for a car-free development, it is most unlikely that in a hilly area such as Round Hill disqualification of selective residents from holding parking permits could be sustained. The CPZ cuts out between 8pm and 9am and there is nothing to stop new residents from owning cars. Additional pressure could be a demand for 7 extra parking spaces in & around Crescent Road.
Several concerns remain. See our planning section for advice on how to participate in the planning process.
Brutal box-shaped structures would ruin this open space and make living in a conservation area meaningless for many RH residents.
Click here or on the picture below to review some of the drawings submitted with BH2015/03013 picturing
designs modelled on poorly conceived add-ons to commercial buildings, and
proposed materials which are totally out of keeping with the character & appearance of existing homes in Crescen Rd and Belton Rd.
How to protect open spaces - index
Residents in areas like Round Hill, which already have twice the average population density of an average UK city suburb while lacking in any public parks or recreation grounds, are clearly going to value the visual amenity of green space and wildlife habitat on private land and the feel-good factor in being able to see in & out of conservation areas appreciated too for their history and period architecture. Infill and overdevelopment of Round Hill's precious 'green ribbons' and former drying fields is unwanted by the large majority of our residents.
How long would 4 new homes remain car-free?
Would this add to our parking problems?
If the anticipated Crescent Road proposal aims to be authenticated by the Council as a "genuine example of car-free housing", look to see if the planning application offers the following supporting document :-

An on-street parking survey including data observed after the 8pm cut-off time of the CPZ when pressures are at their peak?
Residents wondering whether 'claimed car-free developments' are genuine or will merely end up increasing the demand for Round Hill's limited on-street parking space, may wish to refer to Brighton and Hove City Council's emerging policy document SPD13 Feb 2015.
Emerging policy requires parking survey
Under Supplementary Planning Document SPD13 (pages 6 - 7), applicants who claim they can offer car-free housing will need to demonstrate capacity for on-street parking in the immediate vicinity of the site and in the surrounding area. This should be demonstrated by the applicant through an on-street parking survey. It has been recognised by planning inspectors - who have dismissed appeals in the Round Hill neighbourhood on the grounds of our limited supply of on-street parking spaces - that competition for space reaches its peak in the evenings. These pressures continue past the 8pm cut-off time of the CPZ.
Must we accept the developer's survey?
Even if the anticipated Crescent Road application does include an on-street parking survey, performed by the applicant's transport consultant, residents opposing the application on parking grounds do not have to accept it. We may counter the developer's parking survey with our own:
Previous success.....
In July 2010, using methodology (e.g. radius from the application site) and definitions (e.g. the length of a parking space) procured by our ward Councillor Ian Davey from the Council's Transport Department, a small group of Round Hill residents performed their own Community Parking Survey in the Princes Road area to counter a survey which a transport consultant acting for Carelet had offered planning inspector Isobel McCretton. Our concerns prevailed and on 15th February 2011, Carelet's appeal against refusal of its plan to build 6 houses was dismissed on the parking ground alone. Read more about what a small group of residents can achieve here.
.....but short lived!
However, winning a battle isn't the same as winning a war. Regrettably, the Council's planning committee made no reference to the planning inspectors' support for our parking concerns in first reversing the 2010 decision on 25th January 2013, using the mistaken pretext that the imminence of the CPZ (soon to be implemented on Monday 1st July 2013) gave them sufficient policy grounds for this U-turn. On 12th March 2014, they compounded their earlier mistake by granting approval to an even bulkier development on the Carelet site without giving the application any debating time. Discussion of the application could have been used to consider whether disqualifying a specific group of households in hilly Princes Road from holding parking permits could really be sustained over the long-term, as saved Local Plan policy HO7 on the conditions for genuine car-free parking requires. The whole application was wrapped up in less than 10 minutes of the planning committee meeting, as if their hands were tied by the risk of losing an appeal at the ratepayers' cost. However, J Mansell Jagger, the planning inspector who dismissed Carelet's very first appeal commented in his decision that "Prince's Road and several of the surrounding streets slope steeply and are not ideal terrain for cyclists or pedestrians" [APP/Q1445/A/05/1178381].
The Council's recent efforts to draw up clearer eligibility criteria for car-free housing have resulted in emerging policy document Supplementary Planning Document SPD13 - an attempt to bring its policies on car-free housing into line with the government's National Planning Policy Framework (NPPF). Note that the Council's new criteria for deciding the sustainability of car-free housing are applied on a case-by-case basis, so residents opposing further car-free developments in Round Hill will need to convince planners that the disqualification of selective households (i.e. those on the application site) from entitlement to parking permits is likely to prove unsustainable.
Proposed new parking standards 2015
Would a car-free development be sustainable at 28 Crescent Road?

Residents' parking has been operating in Round Hill since Monday 1st July 2013, but is the CPZ now being used as a means to grant approval to development proposals which would otherwise have failed because of their pressures on our limited parking space?
There has recently been a consultation on the draft Parking Standards SPD - see SPD13 February 2015. The public Consultation ran from 13 February to 27 March 2015. As most draft SPDs (Supplementary Planning Documents) are adopted, this means that the criteria for judging whether a proposed car free development is genuine will soon become more precise. See bullet points (below) and on pages 6 and 7 of SPD13.
Furthermore, under the proposed supplementary policy document SPD13, Brighton and Hove City Council will adopt a case-by-case approach in ruling whether an application site is suitable for a car-free development. See a summary of the proposed criteria operating within a Controlled Parking Zone. These criteria include:
Scale of development (number of units)
Type of development (unit types and sizes)
Sustainability of location / accessibility to sustainable transport modes and local services
Capacity for on-street parking in the immediate vicinity of the site and in the surrounding area. This should be demonstrated by the applicant through an on-street parking survey.
The level of vehicular parking which is proposed on site (if any)
Developer's parking survey?
It is worth checking to see if the Crescent Road developer includes an on-street parking survey (as prescribed in the fourth bullet point above) as a supporting document with his application. However, even if he does, residents worried about extra pressure on Round Hill on-street parking do not have to accept it:
In July 2010, using methodology (e.g. radius from the application site) and definitions (e.g. the length of a parking space) procured by our ward Councillor Ian Davey from the Council's Transport Department, a small group of Round Hill residents performed their own Community Parking Survey in the Princes Road area to counter a survey which a transport consultant acting for Carelet had offered planning inspector Isobel McCretton. Our concerns prevailed and Carelet's appeal against refusal of its plan to build 6 houses was dismissed on the parking ground alone. Read more about what a small group of residents can achieve here.
Only genuine if tenable over the longer term
If an application site fails to meet the criteria for car-free housing, a planning application could then be refused on the familiar grounds that it fails to provide for the travel demand it creates and is likely to put unreasonable pressure on the limited supply of on-street parking space in the area.
Until the proposed supplementary policy document SPD13 is adopted, planning proposals which claim "car-free housing" could still be deemed untenable (i.e. not genuine examples) under Brighton and Hove City Council's existing policies TR1 and HO7.
Will "car-free proposals" remain car-free over the longer term?
Previous policies were careful not to undermine the benefits of Controlled Parking Zones:-
Transport policy TR1 [Development proposals should provide for the demand for travel they create] was used to refuse applications which created a demand for on-street parking, but offered no space for parking on the application site.
Housing policy HO7 was used to set out the conditions for genuine car-free housing.
Reversing the benefits of CPZ?
What residents in their right minds would be willing to pay in order to park near their homes with greater ease and frequency, if Councils prove foolish enough to use the existence of CPZs to create a false argument to mitigate what previous transport & housing policies rightly identified as development which would put intolerable pressures on local transport infrastructure? Granting unsustainable car-free developments reverses the very benefits which CPZs are intended to deliver by creating extra on-street parking demand.
Under the previous Local Plan policy HO7, a key pre-condition for genuine car free housing is that the development should remain car-free over the longer term.
Carelet's six tall houses, now being erected, were granted on condition that the occupants would not be entitled to parking permits.
3 planning inspectors' views on RH parking
All three planning inspectors made afternoon site visits to Round Hill, but also appreciated through residents' representations that peak pressure on our neighbourhood's on-street parking resources occurred in the evenings. Having observed first-hand the demand for parking in our hilly neighbourhood where so many families "have & use cars", three separate appeal inspectors (J Mansell Jagger, Roger Mather and Isobel McCretton) came to very similar conclusions. They emphasized the unsustainability of car-free developments (which would involve disqualifying a selective group of residents from applying for parking permits and obtaining visitors' permits) over the longer term, all quoting Local Plan Policy HO7) in dismissing Carelet's appeals against refusal.
J Mansell Jagger's 2005 appeal decision
APPEAL DECISION Site visit made on 15th August 2005.
by J Mansell Jagger MA(Cantab) DipTP MRTPI IHBC
Note that this decision was 10 years ago! - we now have a CPZ, but...
the CPZ does not operate between 8pm and 9am and
residents did not support the CPZ in order then to have their open spaces built on and extra demand for on-street parking created.
Appeal Ref; APP/Q1445/A/05/1178381 Land behind No's 67-81 Princes Road, Brighton BN2 3RH. J Mansell Jagger observes:
"Local residents are particularly concerned regarding traffic and pressure on parking in the area. I have to say that I share some of these concerns. It is not clear that the development could be guaranteed to remain 'traffic free' and that none of the residents would own or use cars. The existing residents rely heavily on on-street parking and any significant additional car usage would exacerbate the pressure for parking in the area, with the concomitant additional hazards to road safety stemming from possible indiscriminate parking and the circulation of vehicle drivers seeking a parking space. Prince's Road and several of the surrounding streets slope steeply and are not ideal terrain for cyclists or pedestrians. I note that the Highway Authority does not object, providing the details of the car club are pursued further, but the lack of a guaranteed traffic-free solution reinforces my view that the proposed development is unacceptable."
In spite of the similar observations of two other planning inspectors about the Round Hill neighbourhood's parking problems, Brighton and Hove City Council's planning committee went on to grant Carelet a car-free development for 6 houses (5 of which are to be three-storeys in height).
If disqualification from holding permits is ruled "out of order" for Carelet's residents:
Pressures on Princes Rd, Crescent Rd & adjoining streets:
This planning decision, contradicting the arguments of the inspectors, could very soon lead to a demand for 9 or more extra parking spaces in Princes Road if the car-free condition is successfully challenged by new residents experiencing the unfairness of "parking permit apartheid". If the "car-free" mitigation strategy is used again by a planning committee - to pretend that there will be no pressure on transport infrastructure - in relation to the application site at 28 Crescent Road, this could lead to an additional demand for circa 7 more parking spaces in & around Crescent Road, unless the Council can resist legal challenge from new residents possibly claiming discrimination.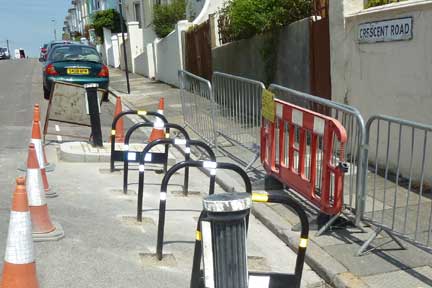 See also: The fallacy of genuine car-free developments in Round Hill

Traffic Surveys conducted by local residents
July 2010 Community Parking Survey in the Princes Road area
June 2010 Ditchling Rise Traffic Survey and Supporting Data
Cost of running petrol cars 2010
Without incorporating fuel costs the average car ( worth 12-16 k) appears to cost about £75 per week to keep on the road, all costs considered.
Cost of residents' parking permits
£108 per year (£2.30 per week). Your Council's plans to improve local transport : PDF: 5 pages.
Liaison with 28 Crescent Road developer
Residents living in the vicinity of the narrow strip of land, which separates properties on the east side of Belton Road from those on the west side of Crescent Road, had two meeting (Monday 16th March and Wednesday 24th June 2015) with the developer - one on the application site at 28 Crescent Road and the other at The Jolly Poacher.
At the second meeting, the solicitor said that his applicant was keen to address neighbours' concerns and would do their best to alter windows so that they could perhaps be recessed so that overlooking wasn't so much of an issue and perhaps some bricked off.
Failure to make more than token gestures to address residents' concerns:
the new application is for AN EVEN GREATER AMOUNT OF UNWANTED INFILL
Residents living in the vicinity of the site still have the same concerns as they expressed powerfully before the last full planning application was WITHDRAWN just over one year ago.
It was felt, then, and it is still felt that as many as 5 residential flats within a small plot (offering a limited but valued amount of green space) surrounded by numerous existing homes, was overdevelopment and would involve overlooking, loss of privacy and loss of a small green lung which contributes to a feel-good factor to living in a very densely developed conservation area.
Why was the last full planning application withdrawn?
Shortly before the last full planning application (BH2014/00124) to locate five residential flats on this site was withdrawn, the Council's Conservation Advisory Group recommended that it should be refused as the proposed design and poor quality materials were not acceptable and that the proposal was an overdevelopment of the area.
Both the latter recommendation and residents' comments to The Case Officer (objecting to the scheme) may have indicated that the application was likely to be REFUSED. An actual refusal would have specified "grounds for refusal" which could have set limits for successive applications.
Why would a developer withdraw a planning application if they felt that it had a good chance of being APPROVED?
Review Round Hill residents' campaign to get the first full planning application refused, before it was WITHDRAWN.
Another explanation

It is possible that BH2014/00124 was withdrawn simply because the applicant thought that an application for "prior approval" claiming permitted development rights (under government planning policies temporarily in place until 2016) would succeed.
Through entitlement to the government's grant of permitted development, the developer could have by-passed local opposition to the intended scheme.
Under these temporary rules designed to boost development, residents' main concerns would not have counted as valid grounds for refusal.
Review the applicant's attempts to use the grant of permitted development.
A full planning application, however, will return our normal democratic rights.
Further background when a smaller amount than in the current application was expected:
Reading the report of the meeting on Monday 16th March 2015, it is difficult to observe that the developer has made any significant adjustment to the concerns relating to the full planning application "WITHDRAWN" over one year ago. On asking for more information, I am now aware that he is no longer considering one of the annexes to the west of the site as a suitable footprint for a flat, but instead he does seem to want to erect a flat on the footprint of the lock-up/outhouse on the southern perimeter of the site. It looks as if the proposal in the pipeline or his future intention is still to erect five flats.
There has been no undertaking to reduce the amount of development to a maximum of two or three flats - perhaps a "REFUSAL" is needed for this adjustment to happen. Nor has there been any commitment up front to use high quality materials and a design which is sensitive to the period-look of the houses around. This would be how those wanting the Round Hill conservation area to be "preserved or enhanced" would wish the developer to respond.
UPDATE: I learn (on further enquiry) that when reminded about The Conservation Advisory Group's assessment of his first full planning application, the developer did speak about the possibility of a type of cladding that could be used to both help with energy ratings and to help the appearance sympathise with the surrounding area.This is an area which The Round Hill Society will want to look at when we see the actual plans and which will come under scrutiny again if the designs are so unsympathetic that we ask for the new proposal to go to CAG. The conversion of office buildings to residential accommodation will not only require planning permission, but it will involve building regulations. A Building Regulations Inspector will specify the cladding or insulation needed to meet today's energy efficiency standards for residential accommodation. The Council's Heritage Team (who can choose to take CAG's advice or not in giving their own recommendation to the Case Officer) involve themselves in whether the materials, window and door designs, roofing etc are of a high quality (not off-the-shelf) and whether they blend with the character and appearance of a conservation area with an Article 4 Direction.
A new footprint for a 5th flat?
Instead of undertaking to reduce the amount of development, the applicant disclosed that he would like to make the outhouse/lock up at the bottom of the site into a residential flat too. The location of this is on raised ground near to the garden walls of residents living to the south of the site. The prospect of residential accommodation on the footprint of the outhouse, a terrain where a larger structure would stand out, gave little reassurance to those at the meeting. The developer's suggestion that he could dig out some of the raised terrain to reduce the levels, caused further disquiet in relation to the garden walls.
There was general concern about the green space being used as a communal garden for the proposed flats in terms of noise pollution/nuisance etc.


The developer initially said that he intends to landscape it (possibly once it's been dug out) and make it into a garden that would be fully managed for the use of the residents of the flats.
He was considering how to reduce loss of privacy there and talked about possibly putting up trees etc around the border to aid this. There was concern about loss of light. He also suggested he could in fact keep it as a wild garden, leave the levels as they are, and not allow residents use of it (other than access to the proposed flat at the outhouse end). There was a lot of support for this, but it was noted that this could be hard to police.
The main issue
In summary, the concern is OVERDEVELOPMENT of land, more of which needs to be retained as open space if the application site is going to be put to residential use without compromising the privacy and living conditions of both newcomers and existing residents in the several properties all around.
While it would be welcomed if the developer's new proposal avoids use of the footprint of 'the office building in the foreground of the picture (below)' for residential accommodation, the high-level of the terrain nearest to the Belton Road gardens which are on lower land (immediate foreground) needs to be tightly managed to respect the amenity of existing residents.
Cars on the site? - permission most unlikely
The developer gave those present his word that cars will never be allowed on the site, though this is something that the Council would probably ensure anyway in relation to a new scheme. The Council is currently revising its standards for parking provision and clarifying its guidance on when car free housing developments will be approved. Neither onus is likely to be put on the developer nor permission given for cars to be garaged on the narrow strip of land between rear gardens to the east of Belton Road and to the west of Crescent Road.
Related articles
Campaign to get the first full planning application refused, before it was WITHDRAWN.
The applicant's attempts to use the grant of permitted development.