Group Action via Environmental Solicitors
Odour from WTS? Tel. 0800 80 70 60 The Environment Agency
Note: there is a growing feeling among Round Hill residents that The Environment Agency's hands are tied and that help from environmental solicitors offers the only remaining hope of tackling odour / noise and dust pollution. However, please continue to report unreasonable levels of nuisance to The Environment Agency.
Residents living in the vicinity of Hollingdean Waste Transfer Station have been canvassed at least twice by the Cardiff-based solicitors, Hugh James, who describe themselves as "one of the country's leading specialists in environmental law and group actions" acting on behalf of "communities across the UK both large and small affected by various forms of environmental pollution and nuisance".
In their first communication with local residents (dated 15th March 2017), Hugh James refers us to their video An Environmental Odour Nuisance Story - a testimonial from residents in another part of the UK who have benefited from their help - as well as written testimonials from residents in Hampshire, South Yorkshire and Manchester.
Hugh James environmental law solicitors state on their Environmental Compensation page that they deal with most cases on conditional fee agreements ('no win no fee').
What is notable about the video An Environmental Odour Nuisance Story, was that the outcome was a complete end to the odour nuisance. There is no indication that the residents were merely "bought off" through a one-off compensation payment.
Should we now be considering a group action?
What would lawyers be able to change?
Since unfit for the purpose of storing refuse containing food waste
What are the key factors to consider before promoting group action?
A conditional fee agreements ('no win no fee' or a clear limit to the sum which each person in the group risks) would need to be established.
The primary goal should be an end to unreasonable levels of odour and noise pollution. However, the report following the government's Environment Agency investigation into the problem of odour escape at Hollingdean Depot states that the only possible way to remove the primary odorous source (i.e. the food waste contained within domestic refuse) is for the local council to instigate separate waste collections for food waste, which would be a huge undertaking for them.
Furthermore, the design of the Hollingdean Waste Transfer Station building allows odour escapes to take place. In a letter to affected residents outlining the results of their investigation, the government's Environment Agency disclosed: "The building was built without an Antranra airlock system, so there is no barrier between the waste and the open air when the doors are opened and this allows odour to escape. Veolia have also identified that odour has been escaping through the vents designed to let air into the building." The re-location of facilities for processing food waste is not a goal which could be achieved overnight without bringing the city's refuse collection services to a standstill.
Therefore, we need clarity in requesting any legal injunction as to its scope, when it is going to take effect and how it is going to be achieved. In my own view, financial compensation to local residents should be secondary to the main objective of relocating the odorous waste.
But if there are compensation payments, perhaps they should be tied to a realistic timescale for the primary aim (less odour / noise & dust) to be achieved.
Noise and the level of fugitive particles (escapes of dust) should be investigated in addition to odour, for a reasonable level of amenity to be restored to homes and gardens nearby.
Are the interests of Hugh James environmental law solicitors compatible with our own?
A firm of law solicitors will need to obtain financial reward for their services. If legal action is successful both Veolia and Brighton and Hove City Council will be faced with extra costs. As plaintiffs, we would remain rate-payers.
It would be better use of public money for Brighton and Hove City Council to take the sole course of action deemed by The Environment Agency as a complete solution, rather than having to pay lawyers and compensate local residents as well.
This solution is to purchase more suitable services from Veolia. This would involve transfer of food waste to suitably located anaerobic digestors (which Veolia already owns) rather than transfer first to an intermediate store near homes & gardens and then to incineration in Newhaven which pollutes The Ouse Valley. Composting food waste at a different location is a job which Veolia already does for other local authorities. The Government's own Department for Environment, Food and Rural Affairs (Defra) recommends the composting of food waste as best practice. Taking food waste out of general refuse would also give opportunities for better separation of recyclables, thus to raise our Council's performance in that area.
If the solution is so clear, why haven't successive administrations (Labour / Green / Conservative) acted towards better environmental practice and sparing residents in the vicinity of Hollingdean Depot from pollution?
The answer comes down to MONEY! The government's Environment Agency recognises that it would be a massive undertaking for Brighton and Hove City Council to be compelled to implement separate food waste collections as well as a political challenge to incentivise residents into further separating their waste. It is a rare occurrence in Brighton & Hove when political parties have outright control over our City Council. Every political party knows that the sight of "rubbish piling up on the streets" is the very scenario which will get them kicked out of Council seats in the next election.
Therefore, Conservative and Labour votes approved Veolia's Waste Transfer Station at Hollingdean Depot in 2006 in spite of over two thousand letters of objection.
In 2013, the Council (under a Green administration and with all Party Support on its planning committee) increased The Waste Transfer Station's operating hours to 7am to 10pm allowing operation on 363 days in the year and scrapping the weekend and Bank Holiday respite from import & export of recyclables & refuse (including the food waste) (agreed in 2006 as a concession to residents trying to enjoy their homes and gardens nearby).
The argument that "increasing the hours would facilitate the minimisation of the odour escapes" has been contradicted by the experience of the residents who suffer them. All political parties on the planning committee voted for Boxing Day respite to be removed in 2016, increasing the disturbance in that year to 364 days.
Now there seems to be tacit agreement on The Council not to do anything that would disrupt the status quo (rotting food waste in the vicinity of homes) in case citywide disturbance to rubbish collection gets adminstrations voted out. However, the bottom line is that political priorities leave no MONEY to affect change.
The argument for private litigation, apart from being a just cause, is to compel Veolia, The Environment Agency and The Council to affect change, which they seem to have no intention of doing otherwise.
What evidence is there of Hugh James's experience and understanding of odour / noise / dust nuisances?
Anybody combining the terms "odour", "noise" or "dust" with the phrase "Waste Transfer Station" in a Google Search would return plenty of authentic description not to mention the numerous articles about these nuisances posted on The Round Hill Society's website.
View Site Index then scroll to the PLANNING section of the list, clicking on items commencing with the word "Veolia".
However, it also remains true that Hugh James' descriptions of how residents experience these nuisances ring true.
Hugh James discloses that the majority of their cases involve an odour nuisance and that they have acted for thousands of residents who complain that the odour from various sites affects them in their own homes. It would be interesting if they know of a method of measuring odour escape or odour nuisance, because the complaint-led system adopted by Environment Agency (please rate the odour on a scale of 1 - 6) focuses the minds of local residents on the very sickly smells which they would like to put out of their minds.
What clues are there to Hugh James' methodology for uncovering the information needed to win a case?
The Scotsman (10th May 2010) mentions a cases handled by both Lawford Kidd and Hugh James against Scottish Water and Thames Water in which large groups of residents living close to water treatment works were claiming compensation of between 2,000 and 3,000 a year. These cases affected both Edinburgh City Council and the London Borough of Hounslow.
It would be useful to know what the outcome of these cases were, before considering similar action, though the newspaper report gives a little insight into the methodology of compiling a case.
Lawford-Kidd used the Freedom of Information Act several times to request documentation from Edinburgh City Council, Scottish Water, and also SEPA (Scottish Environment Protection Agency) for documentation.
The equivalent bodies in relation to our problems with the Hollingdean Waste Transfer Station would be Brighton and Hove City Council, Veolia, and The Environment Agency.
I can think of several uses of The Freedom of Information Act to request documentation on concerns where information has been lacking or where the answer to the question signals omission and neglect.
SAMPLE FREEDOM OF INFORMATION REQUESTS
[1] Has any survey ever been done on dust emissions from The Waste Transfer Station? i.e. Why don't our windows stay clean for very long?
[2] What was the reason for measuring the noise impacts of Hollingdean Materials Recovery Facility and Waste Transfer Station [red blob] from locations [yellow blobs] far more distant than the households (e.g. Princes Road / Mayo Road) experiencing the most noise nuisance?
Why weren't microphones placed at locations closest to the pollution source (e.g. the gardens to the N of Princes Road & the E of Mayo Road) when Clarke Saunders Associates conducted their Hollingdean MRF & WTS Brighton Noise Impact Assessment on 3rd July 2013?
The Indicative Site Plan (picture above) following the conclusion in the impact assessment shows that the nearest mics were as far away as the Richmond Road / D'Aubigny Road junction and Wakefield Road / Richmond Road / Princes Crescent - i.e. why does The Council's Environmental Health Officer refer to this noise impact assessment as "robust" when the noise I hear from my home and garden was never measured?
There are a lot of similar questions which require answers. Perhaps the skill, methodology and motivation of a company of environmental solicitors is what is now needed to extract them.
What successful outcomes have been reported on Internet sites other than HJ's own?
In addition to the cases based in Edinburgh and London reported in
The Scotsman (10th May 2010), search results also include
The Manchester Evening News (19th April 2010), which refers to a compensation claim by 60 Saddleworth residents, and an item (19 August 2003) on
www.letsrecycle.com referring to a claim by 231 residents for compensation resulting from historical problems associated with the Trecatti landfill site at Dowlais, north east of Merthyr Tydfil.
Hugh James environmental solicitors assisted in both the above cases. Although I have only done a preliminary search, finding details of claims, it would be good to know the outcomes of these cases. We could ask the company for testimonials which include a summary of outcomes.
Have residents groups been named with which we could make contact?
Help in this purpose would be greatly appreciated by The Round Hill Society. In addition to asking Hugh James for further testimonials providing details of outcomes, we could get in touch with residents groups mentioned in the reports for feedback on whether they feel that their group actions achieved their intended goals.
100 residents in Hedon, near Preston, Hull [Yorkshire Water] odour from sewage treatment works
1,000 residents living close to a water treatment works in the London borough of Hounslow
The Leith Links Residents Association (Scottish Water/ plant operated by Veolia Water UK) involving Edinburgh City Council) odour nuisance
60 Saddleworth (Manchester) residents: pollution (odours, gas fumes, dust, noise, fly infestation, litter, birds and vermin) from Onyx Highmoor Ltd part of Veolia Environmental Services Group.
231 residents living near the Trecatti landfill site at Dowlais, north east of Merthyr Tydfil
Are sufficient numbers of residents affected by odour/noise/dust nuisances to make group action viable?
Clearly, Hugh James environmental solicitors feel that it is worth canvassing the level of support for Group Action.
2157 letters were received by Brighton and Hove City Council objecting to planning permission being granted in 2006 for the Hollingdean Depot Waste Transfer Station which has continued to be a source of unwanted noise / odour / dust since it came into operation in 2009. These nuisances continue to affect residents in
Hollingdean,
The Downs Infants' School and a section of Ditchling Road,
as well as residents who live in the north of Round Hill.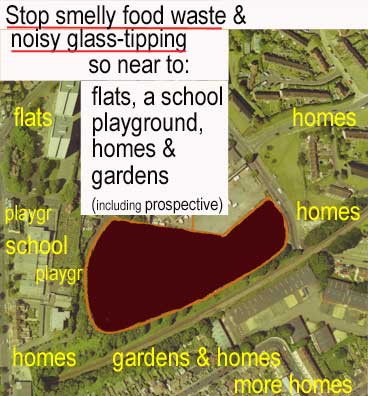 The nuisances clearly exist, so a case clearly exists. Three factors will decide whether it goes forward:
1. Whether Hugh James (or a company like them) can

both

win trust

and

offer "low-risk" or "no-risk" terms which get residents on board
2. Whether local organisers exist who can capture the level of community participation last evidenced during The 2005/2006 Dump The Dump Campaign
3. Whether The Environment Agency & Brighton and Hove City Council are prepared to make a real effort to relocate the food waste and act to limit unreasonable noise. I sense that the mood among residents is that they have given up hope of any effective action from these bodies. Some will indeed be drawn now to seeking help from environmental solicitors. Brighton and Hove City Council is an interested party as Veolia's main customer at Hollingdean Depot, but it could also act to purchase re-located services from Veolia.