"Affordable homes"

at any social cost?
Redevelopment of the the
former Esso Petrol Filling Station
Hollingdean Road site is set to provide 24 affordable homes, but they are unlikely to be considered by any prospective residents as "
Homes for Life
".
Lessons from other Local Authorities, which have been too accepting of sub-standard
living conditions
in their rush to increase the supply of
affordable accommodation
, have not yet been learnt in Brighton and Hove.
"

Decent homes

" comprise buildings where residents are happy to stay and where community has a chance to grow.
A large block, dovetailed onto The Centenary Industrial Estate in a location noted for poor air quality (windows will have to be non-opening at ground floor level), traffic problems (with Veolia's 44 tonne lorries passing by) and industrial noise (from Hollingdean Depot as well as the lighter industrial estate), does not represent adequate standards for "Homes for Life". Experience shows that better conditions are required to meet the challenge of long-term housing for people whose social needs go beyond
any roof over their heads
.
"

Any home will do

" overlooks "

communities

"
Whether engaged in slum clearance or provision of homes to those who have never had one, erecting buildings which cannot be part of any community has nothing to do with "Homes for Life" and can be very costly both socially and economically.
In Ladywood Birmingham in the 1960s, under a well intentioned Council, architects created island settlements by erecting tall blocks near to busy inner city ring roads, dividing the neighbourhood by fencing in residents and committing families who had been used to socialising at street-level to the parameters of high-rise accommodation.
These mistakes were documented in
The Forgotten People
by the then vicar of St John's Ladywood, after whom a state-of-the-art Care Home,
The Norman Power Centre
has recently been named.
After two decades of costly social problems (
high instances of
drug & alcohol abuse, muggings, crime, fear of going out, loneliness, ill physical & mental health and suicides) Ladywood had to pull down these blocks and revert to much lower density accommodation
The 5-storey block to be built
in Brighton's Hollingdean Road
is unpleasantly fenced in and could easily be the kind of enclave which repeats the mistakes of
The Forgotten People
50 years on.
The new development will be somewhat "out on a limb" i.e. it is neither really part of the Hollingdean nor the Lewes Road communities. Saunders Park is on the wrong side of the busy Hollingdean Road (nearest safe crossing point is The Vogue Gyratory) to offer younger or more elderly residents easily accessible amenity space; the onsite "associated residential amenity space" is hardly generous enough to make up for the deficiency of public open space in the area. It is difficult to see this as suitable for family accommodation. Compared with inner-city ring road pollution during Ladywood Birmingham's hey-day of high-rise homes (1965-1985), the air quality of Brighton's Hollingdean Road, now home to some of the heaviest lorries on the UK's roads, is sufficiently poor to make non-opening windows on the ground floor a new planning condition.
One 44-tonne truck passes every eleven minutes: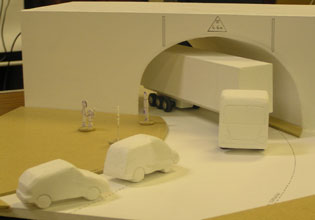 Related article
Redevelopment of the
former Esso Petrol Filling Station
Hollingdean Road site.