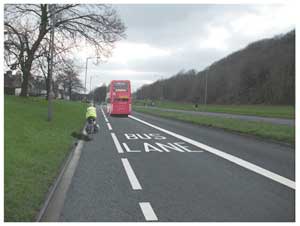 Lewes Road Sustainable Transport Fund Project, and Personal Travel Planning
This Scheme has already made a range of streetscape changes to the Lewes Road near Round Hill, and is now exploring ways of affecting our choices in travelling. You may have had their reps on your doorstep already.
There is a short piece by
Simon Hickmott
of
Brighton and Hove City Council's Travel Planning Team
in the
Sep 2012 issue
of our printed magazine, 'The Round Hill Reporter'.
Simon Hickmott
attended
The Round Hill Society's 2012 AGM
in person to update Round Hill residents on the various works being planned and carried out with money won from a Governemnt pot on the Lewes Road from the Level to Falmer.
The works include:
[1] clearing away old signage, adding new seats and planters, rationalising the number of crossing points south of the Gyratory, and adding a new one near Cockroft Building.
[2] building new cyclelanes and paths at the Coldean to Falmer section, and reducing the dual carriageway section beyond the Gyratory to one lane plus a bus lane and a bike lane, and some detailed improvements to the Gyratory itself, which should make it safer for cyclists.
Simon's particular role is
Personalised Travel Planning
i.e. trying to change the way we travel, helping residents to reduce car trips, and increase walking, bus and cycling trips.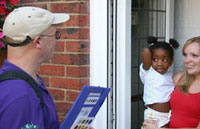 To this end every door in Round Hill (and another 25000 doors inside the Lewes Road Travel area) is being knocked in an attempt to discuss modes of travel with residents.
This engagement package covers issues such as the £3m local NHS budget spent on ailments caused by lack of exercise, reflection on personal travel choices, use of new Key Cards on the buses, handing out new bus timetables, and even offering gifts in exchange for completing travel diaries.
Simon is particularly keen to know how the City can help us make changes towards sustainability, and invited us to come up with ideas – perhaps workshops on maintaining a cycle, some one-to-one cycle support to help us use our bikes more, perhaps help in selecting the right bike, with an opportunity to try out a few. Maybe supporting a short-term road closure for play, such as happened in Hanover last weekend, or some cycle training for small children.
He told us that the most popular gifts for completing a travel diary in the Round Hill area were, first with 40% - kit relating to bikes, and equal second and third, at 20%, were a one week bus pass and Eco-driver training.
After his presentation discussion included the hazard of cycling on the Gyratory, the CPZ consultation and the possible anti-CPZ effect of the student vote in the area, and the need to ensure young children playing in the area know about avoiding cycling into the road without looking. Annie drew our attention to the fact that daily users of the Lewes Road are typically 35,000 bus trips, 18,500 car trips and 1500 cycle trips– in other words cars constitute half the total trips along the Lewes Road. Several people offered to complete Travel Diaries.
Forthcoming Event
:
Sunday 23 September Breaking Away - free film event
3pm at Hollingdean Community Centre, Thompson Road. Come along on the day. Buddy Bikers presents the 1979 Oscar winning film for best screenplay. Breaking Away is a witty film about a teen cycling enthusiast. Come along to this free event and meet our personal travel planning team, see an electric bike demonstration and get advice from our bike mechanic. Light refreshments provided.
Background
Brighton and Hove City Council together with external partners has won a bid for £4m to be used to transform the heavily polluted Lewes Road to provide a more eco-friendly transport system.
Lewes Road Transport Improvements
•upgrades to public transport facilities such as real time bus signs, bus shelters and accessible bus stops
•improvements to Lewes Road for pedestrians, buses and cyclists
•better links to the new South Downs National Park
•provision of sustainable travel information and incentives to residents, school children and university students
Read a full copy of The Local Sustainable Transport Fund Bid
(PDF Format)
Residents are being asked to tell Brighton and Hove City Council what you think about transport in the Lewes Road area. These comments will help the Council to consider improvements to benefit local people:
Have your say
Background to the £4m bid
The partners in the bid include providers of public transport (Southern Rail, Brighton & Hove Buses) and parties with an interest in health, education and research (The Primary Care Trust, the universities of Sussex and Brighton, and the Engineering and Physical Research Council).
It is hoped that improving air quality and reducing congestion will set beneficial challenges to residential and business communities alike.
Work on the project is expected to start later this year. The involvement of the Local Council and the external partners is expected to increase the £4m, awarded by the government's Local Sustainable Transport Fund to circa £6.
Part of the most congested section of Lewes Road is already a corridor for trains and buses. This important access route has sometimes been referred to as "The Academic Corridor" since it links the centre of Brighton where their are already a few university buildings with the main campuses of Brighton and Sussex Universities.
See
Brighton and Hove City Council's website
for further information on the successful bid.
Four years ago, members of the local community, including a few Round Hill residents, participated in the local regeneration study for both London Road and Lewes Road by attending workshops run by Urban Initiatives, a group of architects acting as consultants for Brighton and Hove City Council.
Although the findings of this study will not necessarily form the agenda for the latest attempt to improve the transport infrastructure, there is likely to be some overlap in issues and ideas.
See
The Lewes Road local regeneration study
for this earlier set of proposals for Lewes Road.