See
Planning application to develop Brighton's Open Market
between London Road and Ditchling Road.
Master Plan and other proposals for the London Road shopping area
Plans are converging on the London Road, with the City Council consulting on their "Master Plan".
Although St James's Investments, have announced that they have severed their links with Tesco, both the property developer and Tesco have bought up buildings in the area. These buildings are still under their ownership, and some of them are examples of the city's historic architecture which we might like to see preserved i.e. renovation rather than demolition.
The area to the NW of the London Road, centred on New England House, has been encircled both for development and as a location which could accommodate tall buildings. The Master Plan uses vague comparisons, involving the rooflines of St Bartholomew's and the Multi-Storey Car Park, to hint at how tall new buildings could be, without guaranteeing that new development on London Road would not exceed the height of existing buildings. The latter promise should be sought.
Consideration of the quality of existing buildings is also needed. There are fine historic buildings within the area defined for development. These buildings best features, which are seen on the two upper floors, are compromised by less beautiful shop fronts which have been erected on previously elegant front gardens.
Visit the junction of London Road and York Hill to see the architectural detail on the upper floors above
Richer Sounds
and on the buildings immediately to the north. Alternatively see pictures of these on
a website
.
A high-rise London Road?
Development proposals could replace these historic buildings with tall office blocks. As a result, our High Street would no longer have the historic-feel associated with Brighton, but could go the same way as the once pleasant
Hagley Road
in Birmingham, spoilt first by traffic volume and then by the appearance of ugly glass offices which make the feel of this important throughfare even more alien to pedestrians.
Although the present volume of traffic makes the street less people-friendly than shopping areas like George St in Hove, it is not clear in proposals to improve the pedestrian environment where the traffic would go. We are told that there are transport planners reflecting on this, but no experts are magicians.
Public consultation on BH City Council's
Draft London Rd Central Masterplan SPD
Brighton & Hove City Council has recently approved the
Draft London Road Central Masterplan Supplementary Planning Document (SPD)
for the purpose of
public consultation
.
The Draft SPD has been informed by earlier stakeholder consultation held in June 2008.
The public consultation on this document ended on
Mon 6 July 2009
.
TESCOPOLY AUTHOR TALKS TO BRIGHTON MEETING
Andrew Simms, Policy Director of the award-winning think-tank
The New Economics Foundation
(NEF) and author of Tescopoly:
How one shop came out on top and why it matters
spoke at ANOTHER LONDON ROAD, a public meeting in Brighton, which was well attended.
A packed meeting of residents, traders and community representatives was held in May 2008 following the news that St James Investments were buying up properties in the London Road area on behalf of Tescos, with a view to a comprehensive redevelopment including a large retail outlet and car park.
"
Residents spoke to me of their concerns over any major redevelopment of the northern end of London Road, especially one that attracted even more cars into the area, which will inevitably be the case if Tescos ever got permission to demolish and build here
", said Keith Taylor
Keith continued I heard that, while people acknowledged the area looks a bit run down, it remains popular one of the few bits of real Brighton left as one person put it. It needs investment yes, but what residents were telling me is that whats already there needs improving and not replacing. They also want to see significant environmental improvement and traffic reduction
Top of residents list of invitees for speakers was Andrew Simms. Andrew talked about his book which looks at the way supermarkets work to dominate the retail and food production scene, swallowing up previously diverse town centres. Particularly relevant to Brighton, Andrew also explained that he uncovered no fewer than 175 active local campaigns against supermarkets across the UK. Out of that number 138 were against Tescos. *
ANOTHER LONDON ROAD also featured the latest news and developments and discussed alternative regeneration strategies informed by Andrew's
The New Economics Foundation
(NEF)
work around Clone Town Britain
Further info from Keith Taylor 07780 528990
Notes
1. * Figures as at the 12 months leading to Oct 2006
2. Copies of Tescopoly will be available for purchase at the meeting, courtesy of City Books
Say 'Yes' to an

alternative vision

to St James's investments'

large new Tesco's department store and car park
The Open Market traders envisage a different way of regenerating the area
: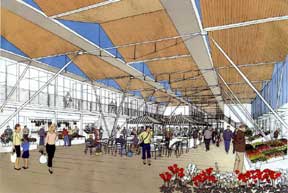 Keith Taylor, City Councillor for St Peter's & North Laine Ward (which includes London Road) held a public meeting on 9th May 2008 to consider alternative viewpoints and priorities for the London Road area where St James's investments envisage a large new Tesco's department store and car park (northern end).
From talking to a number of people who staffed and attended the recent 'Bright New London Road' exhibition, he observed that the Tesco superstore and the car-park are the only non-negotiable element in the developer's vision for a new London Road.
Many local residents, who gave feedback through "post-its", shared the local Councillor's concern about the prospect of moving closer to a 'clone-town Brighton & Hove'. Councillor Taylor's meeting was organised on an initial non party-political basis, to allow those of a similar view start a dialogue as to how the arguments against such developments might best be composed.
What is St James's investments' vision?
The area between New England Street, New England Road (Circus Parade) and the west of London Rd (just south of Preston Circus) has been earmarked for a
Tesco superstore
, to be the centrepiece of major development proposed by St James's Investments for The London Road Shopping Centre.
North-South view of proposed development site (shown in red)
within the junction of New England Road and London Road
St James's Investments state on their recently launched website at
www.brightnewlondonroad.co.uk
that they want to kick start the regeneration of London Road town centre and put it back on the map as the thriving area it was in years gone by.
East-West view showing the proposed development site (in red)
to the SW of Preston Circus (one of Brighton's busiest intersections)
Report on Public exhibition
St James's Investments invited residents to come and see them at their Bright New London Road Shop at
11 Vantage Point, Circus Parade, New England Road, Brighton, BN1 4GW
from 24th-26th April. Many residents attended and talked to the developer's representatives, who were obliging and pleasant.
Although "post-it" forms were well in evidence, the developer's official
feedback form
allowed negligible space for open comment. Instead, tick boxes were inserted adjacent to leading statements, some cherry-picked from
the study on regenerating London Road
recently carried by
Urban Initiatives
for Brighton and Hove City Council. Other statements, which St James's investments planted next to their tick-boxes had far more to do with sustaining a large Tesco superstore.
"insufficient parking" was planted in one feedback section and "improved parking" in another.
Increased traffic volume is
the last thing which The London Road area needs
, according to
the regeneration study
completed for The Council by
Urban Initiatives
. The regeneration studies, prepared for The Council by planners
Urban Initiatives
and transport consultants
Peter Brett Associates
, envisage
a one-way, bus-only London Road
: see The Argus report (25.07.2007)
New-look gateways To the city
. Improvements to the run-down car-park to the west of London Road are mentioned, as well as the possible creation of a car-park to the east (it is hard to envisage where the latter would go), but there is no suggestion that the area around Preston Circus should be made any more congested by inviting more cars.
St James's investments
feedback form
also included a section on PROTECTING THE ENVIRONMENT, inviting respondents to tick things like "Solar and wind energy" and "central power generation".
However, as the developer well knows, measures to minimize carbon emissions would be required anyway to comply with The Council's planning policies on
Sustainable Building Design
.
Preston Circus is already one of Brighton's busiest traffic intersections. Creating something similar to The Vogue Gyratory, regarded as 'a barrier to regeneration of the Lewes Road area', would surely have a very negative impact on London Road.
Urban Initiatives
suggested (The Argus: 9.01.2007 -
Gyratory Out Of Vogue
and
Too Much Traffic
) that this "brutal" traffic system could be bulldozed along with Lewes Road Sainsbury's to allow for traffic reduction and greening. Poorer air quality and more congested roads, which would pose even greater risks and obstacles to pedestrians and cyclists for the convenience of access for private cars, is surely not the way forward.
The developer's poster display might possibly have led some residents to imagine that their intentions had the blessing of Brighton and Hove City Council.
The actual report
on the regeneration of London Road, provided for The Council by
Urban Initiatives
indeed considers this shopping centre as in need of regeneration, but the posters presented by St James's investments introduce bullet points of their own:
"London Road as a destination is almost impossible to get to" (St James's Investments)
Some of these posters suggest that the area is difficult to get to, when London Road is one of the easiest places to reach if you are prepared to take the bus or walk. It has countless major bus routes to & from the A23 (5, 5a, 5b), Ditchling Road (26,46A,50,50A), the A27 Lewes Rd (49, 49A, 21,22). Pedestrian access to Brighton railway station is better than ever before, and the 10-minute walk from Preston Circus to London Road Station does not involve much climbing. Buses to and from Gatwick & Heathrow Airports, London, Stansted Airport and Cambridge all stop at Preston Circus.
London Road, itself, is extremely well used by walkers, regardless of how many of them use the shops. Apart from having its own residential flats, London Road is a thoroughfare connecting the centre of Brighton (Old Steine/the main bus station / Brighton Pier) with several densely populated residential suburbs. Indeed, the pressure on pavement space near bus stops is a current problem which the Council needs to address by reclaiming more road or by reverting to the original building line (where add-on facades have encroached) to enable pavement widening.
There are plenty of taxis in evidence in London Road for people (e.g. those with mobility problems or heavy shopping) who are prepared to be collected or dropped off.
The area is
only somewhat inconvenient to get to
for people who would only consider approaching it in their own car. Private motorists could possibly identify with St James's investments assertion, because of two main obstacles:
1) the current level of congestion with the priority given to bus lanes, and
2) the available car parks are located in back streets on the steep incline leading towards the main London to Brighton railway.
Although there are arguments for improving run-down car parks, St James's Investments appear to be making their own case for "more parking", which runs contrary to what is envisaged in the
Urban Initiatives
report. The Council's
official regeneration report
concerns itself with the whole of the London Road shopping centre and not with the viability of a Tesco Superstore at the (Preston Circus) end of London Road.
[A] The developer's case
To review the developer's case, go to their website at
www.brightnewlondonroad.co.uk
. Note that you may need to install Adobe Flash Player to access the developer's website, which has recently been redesigned.
Bright New London Road
The City Council wants to revitalise the London Road area and create a high quality commercial quarter for Brighton and Hove, connecting London Road with the New England Road area.
As a major landowner in London Road town centre and as a mixed-use developer, we at St James's Investments see great potential to create an exciting,
vibrant
, sustainable community right here.
St James's Investments already own Vantage Point and some of the shops in London Road. They also lease part of New England House
We want to kick-start the regeneration of
London Road town centre
and
help
put it back on the map as the
thriving
area it was in years gone by.
Work with us to create a bright new London Road so that together we can get it
right
.
London Road is officially one of two town centres in the city – London Road and Hove – but in recent years has been in economic decline, shops are closing, both Sainsburys and the Coop have left, there is little choice for clothing and household goods – the balance has shifted away from convenience and now only 20% of the catchment are shopping locally.
In order to create a thriving town centre, the area needs new investment to attract local people to this town centre.
Vantage Point is already owned by St James's Investments
Brighter things are already on the horizon – the planned new Open Market, City College's new development, the connections through New England Street, the variety of small independent shops…but more is needed.
Existing problems
Traffic congestion
Poor connections
Run down shops
Derelict and vacant buildings
Insufficient parking
Lack of green and amenity space
Dangerous for pedestrians and cyclists
Anti-social behaviour
Lack of choice
Lack of investment
Noise and air pollution
Lack of facilities for the young
It's your future. Let's get it right together
.
Promises
- Improvements to transport network
- Improved environment and linkages for pedestrians and cyclists
- Better shopping.
- Economic regeneration.
- Community facilities.
Sustainability
We could look at using
:
- Sustainable materials
- Solar and wind energy
- Central power generation
- Energy efficient systems throughout
- Rainwater harvesting
- Green rooftops
We are already working for
Forum for The Future
to be as energy efficient as possible.
City College Capital Redevelopment Project
City College Brighton and Hove is consulting the public on a major capital redevelopment plan to transform its accommodation across four sites in the North, South, East and West of the city.
The first exhibition is being held at the Brighthelm Auditorium in North Road, Brighton, on Friday April 25th from noon until 6.30pm and on Saturday April 26th from 10am until 4pm.
The second exhibition will be held in the North Hall at Falmer High School on Friday May 2nd from noon until 6.30pm and on Saturday May 3rd from 10am until 4pm.
A Great Shopping Trip
Since the loss of the Co-op and Sainsburys from London Road, new investment is now needed.
An anchor retailer is vital to attract people back to the area. This would encourage even more businesses to open and create a vibrant economy, uplifting the area for the future.
We have been looking for a store to provide a replacement anchor for the area, and Tesco, Britain's number 1 retailer, has shown interest in coming to London Road.
NEW LONDON ROAD will include
:
- New independent shop units
- A brand new anchor store on your doorstep
Tesco Superstore
An exciting combination of food and comparison goods under one roof – building on the Tesco reputation for quality and prices:
- A wide variety of fresh foods and groceries, with dedicated counters for delicatessen products along with fresh meats, wet fish, hot chicken, and some of the finest supermarket beers, wines and spirits.
- Upstairs, customers will be able to shop for clothes, beauty accessories, home furnishings, cooking products, goods for the home, electricals, toys, sports goods, CDs, DVDs, clothing range, cosmetics department, books, magazines and greeting cards.
A better place to live
OPEN SPACES, NEW HOMES, JOBS, CAFES & RESTAURANTS
A town centre needs to be a better place to live too, with lots of public space and things to do on your doorstep. Would you like facilities such as these?
- Cafés and restaurants
- Better community facilities
- Better health facilities
- Attractive open spaces
- Linking in with other developments on London Road
- New jobs for local people
- Safe and secure environment
- Entertainments and leisure
- Improved educational facilities
A place for business to grow
If we get this right, other businesses will want to be here. This could include:
- offices for media and creative businesses
- workshops for arts and crafts busineses
- an art gallery
- large corporate offices
- standard office units for small to medium-sized business units
- small business start up units
Problems getting there?
The one-way systems, through roads and the railway line cutting the community in half, traffic congestion, difficult access routes for pedestrians and cyclists – just a few of the problems which make London Road as a destination almost impossible to get to!
But on the plus side, the area has frequent public transport linkages, which we can build on, to make this route in and out of the city easier to get to.
If we can make it easier to get to London Road, then we can start to think of building a really exciting future.
*************************************************************
Residents can now make their views known to St James's Investments, and also question them about their plans.
*************************************************************
[B] Comments and reactions
What is happening about The Open Market?
The proposal for the £11 million makeover of The Open Market is yet to be registered. The Tesco proposal could clearly effect the trading environment, though the proposed location is not going to involve the former Coop Department store, as originally rumoured, so the effects may not be so direct.
Could increased traffic volume turn Preston Circus into something akin to The Vogue Gyratory on Lewes Road, causing further congestion, pollution and risk to the detriment of pedestrians and cyclists?
Preston Circus is already one of Brighton's busiest traffic intersections. Residents may remember that when Cruise missiles arrived in Greenham in 1983, demonstraters brought traffic in Brighton to a halt by blocking both The Clock Tower and Preston Circus intersections.
Tesco would very likely want some integral parking, resulting in more motor traffic being drawn into the area.
Two years ago, residents who took part in the
Urban Initiatives
consultation on regeneration of London Road shopping area, identified the existing volume of traffic as the major obstacle in making London Road user-friendly to pedestrians and shoppers. The stakeholders who attended the three sessions, organised by
Urban Initiatives
are likely to watch this new proposal very closely.
Will this be a sustainable development?
St James's Investment has trailed the possibility of incorporating some sustainability features into their proposal. Local campaigns and community groups which are concerned about the environment, are also likely to scrutinize the actual plans, if and when they come to be registered.
Some residents already sense that Tesco is keeping a low profile, even though they have been earmarked as the "anchor company" in this development proposal.
Why might it be unwelcomed by those with environmental concerns?
With the enlarged Sainsburys having led the New England development, and Waitrose interested in The Preston Barracks site on Lewes Road, residents who prefer to support small traders, green box deliveries, Fair Traded products, and companies which source more of their stock locally, may not welcome another large supermarket development.
The supermarkets may respond by promising to support local suppliers, but their drive to capture market share will not be welcomed by some small retailers.
Conservation Groups' Reactions
The Brighton Society
is among the local Groups which have already raised concerns. They note
on their website
that St James's Investments, the developer, has said that sufficient car parking would be needed to make the area (a Tesco superstore?) financially viable.
1) 'how many spaces' is 'sufficient' car parking?
2) How will London Road, already congested, cope with the extra traffic which would be generated?
The Brighton Society
also hopes for:
a) "an open and honest public consultation, which helps guide proposals for the area"
b) "a genuine opportunity to influence those proposals"
Will the new proposal promote the use of public transport?
When St James's Investments register their planning application, residents will have (at least) a 3-week consultation period in which to make our views known to the Council. If local residents feel that a proposal involving another large supermarket (with provision for more car-parking) would be detrimental to the area, as several felt in relation to the Sainsburys Store which opened last year within the New England Quarter, then there is likely to be a campaign.
Residents' Reactions
1. Some regeneration is clearly needed to make London Road a pleasanter area to shop. It will be interesting to see if the plans proposed by St James's investments favour public transport users & pedestrians or invite more car-users into the area.
2. I think that the area is run down, and I believe the Open Market will thrive if people want it, whatever Tesco do. But I do have some thoughts on the type of development:
- There should be lots of homes, and every one should have a southern quadrant facing open space of 10% of the internal floor space and a minimum of 5 square metres, to include soil for growing stuff.
Almost none of the homes will be ground floor, but above other uses, set back one above the other.
- All the developments should have photovoltaic panels and a mixture of ground source heat pumps and solar water heating for hot water and space heating.
- The London Road should retain and improve at least half of the existing architecturally pleasing buildings, but push back the building line to the original one, not the front of the property line as now.
This will widen the pedestrian area, allow for small squares and outdoor leisure areas, plus planting and probably a new cycle lane adjacent to the road, but not on it, nor on the pavement.
- Private personal transport should be for the elderly, frail and disabled, and its access should be kept to the margins, though I would retain the parking built beneath Mayflower Court (this is an example of homes over another use, though not as clever as it could be).
Please let The Round Hill Society know your views
_______________________________________________
Closure of the Coop Department Store 1906-2007
The Coop Department Store ended over one hundred years of trading in London Road Brighton in mid-February 2007. This was followed by the closure of Sainsburys at the junction of London Road and Cheapside, which moved to the New England Quarter on 1st March 2007.
The London Road Shopping Centre has a good range of banks and building societies and is especially useful to shoppers looking for toiletries, pharmaceuticals and household products (Coop Pharmacy, Boots, Superdrug, Poundstretcher ).
Electrical and electronic items are also well catered for (Maplin, Richer Sounds, Briant Communications, The Sony Shop).
Shops such as Party Time, Woolworths and Sussex Stationers help to cater for miscellaneous needs and Pound & Charity shops (Right Price, British Heart Foundation, Age Concern, Books & Music) allow small items to be obtained very cheaply. Cartridge World towards Preston Circus completes many shoppers office needs.
Small food shops provide for Thai (Marshalls Row) and Turkish (London Road) produce/products i.e. including stock which you cannot find at Somerfields, The Coop or Sainsburys.
Pedestrians who are willing to climb Ann Street to the new Sainsburys in the New England Quarter may bring more trade to Ransoms, one of the best traditional hardware/ironmongers stores in the city, maintaining a comprehensive range and a good balance between price and quality.
Another beneficiary from pedestrians attempting the New England trail may be St Bartholomews Parish Church, often used as a venue for classical music concerts and other community events.
St Bartholomews keeps its (side) door open for passers-by and may be a good place to sit for a while to recover from the burden of supermarket shopping on foot before making for a bus in London Road.
St Bartholomews: the key to the history of the New England Quarter and the London Road area, which have seen many changes
Early settlement, the Railway Estate (from 1841), the arrival of many London Road shops, The Open Market (post 1918) and now The New England Quarter................
Residents interested in the local history of the London Road area and New England Quarter (indeed how this tall church resembling Noah's Arc came to be built) should look for a
50-page pamphlet by Round Hill resident Christopher R. Tullet
.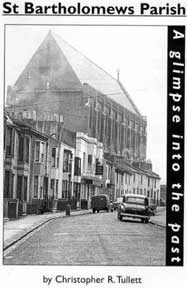 Published by St Bartholomews Church (Ann Street) with support from The Regency Society and Duncan McNeil
The pamphlet,
"St Bartholomews Parish - A glimpse into the past"
documents the history of the area from Earliest Settlement, through to the expansion of The Railway Estate on the arrival of the London-Brighton line in 1841 and the construction and engineering it brought to the area to the arrival of many retail shops in London Road and the Open Market between London Road and the Level.