New Cats Creep Proposal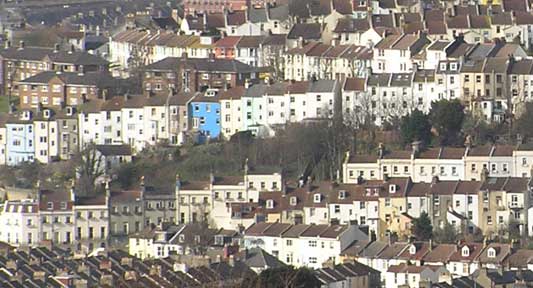 picture taken from Tenantry Down near Brighton Race Course
Round Hill's most precious green ribbon, which is the most important green spatial aspect of the original design of the neighbourhood (since 1977: a conservation area) could easily be ruined if permitted development extended to large garden outbuildings. A row of annexes could remove the relief offered by greenspace and detract from the distinctive period architecture just as easily as structures which could not be taken down so easily.
The setting of Fern Villa, the only house on this green ribbon (dating from 1879) has remained intact for getting on for 150 years. Fern Villa is contemporary with the late 19th century period properties in Wakefield Road and has never been accepted as a precedent for putting new development on Round Hill's best green ribbon, even though unsuccessful applicants have attempted to use it as such. Creating a building line from this period property by flanking it on any side with new development would set a precedent for infill.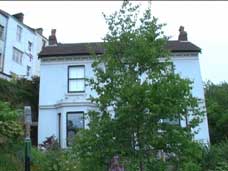 This could soon mean that the long views into our conservation area are much less pleasing and the geometric patterns carefully thought out by Round Hill's original designers less recognisable.

Policies protecting conservation areas
There would be no point in designating parts of Brighton and Hove as conservation areas, if permitted development rights were so liberal that they by-passed all the protections in the Council's strategy for Brighton and Hove's historic built environment.
What are permitted development rights, how are they limited, and which areas are excluded?
See https://www.gov.uk/guidance/when-is-permission-required#What-are-permitted-development-rights and note the exclusions.
However, also be aware that one of the main instruments for protecting the Round Hill conservation area our Article 4 Direction has specific coverage:
"most Article 4 directions relate to the facades of buildings that face onto a street, public footpath or open space. Sometimes they cover alterations and extensions at the rear of a building or back garden."
Home owners who are not sure whether the type of work thet are proposing (or work that has already taken place) does or does not require planning permission, may wish to apply for a Lawful Development Certificate (Proposed) or (Existing). Possession of these certificates make it possible for residents to prove to anyone, such as a prospective buyer, that building work they've done is lawful.
Residents (or prospective buyers!) can enter street names and application types into search fields on Brighton and Hove City Council's Planning Register to see which properties in their streets have had applications for Lawful Development Certificates APPROVED or REFUSED i.e. to test out whether claims of permitted development rights are deemed lawful by the Council.
Several residents in Round Hill have already applied for Lawful Development Certificates in relation to proposals for single storey rear extensions. Some of these applications have been APPROVED; others have been REFUSED, though sometimes a few modifications to plans can make them acceptable on re-application. Decisions can be found on the Council's Planning Register under the DOCUMENTS tab as well as the case officer's report, which specifies any factors which have resulted in refusal.
What is worth protecting in Round Hill?
Each of our city's 34 conservation areas has its own character statement, outlining what is being conserved.
There are spectacular long views into the Round Hill conservation area from Race Hill, Tenantry Down, many parts of Woodvale and several other public vantage points.
It is therefore to be expected that Round Hill's Conservation Area character statement emphasises the heritage significance of the spaces and vistas as well as our neighbourhood's period architecture. Extract from
ROUND HILL'S CONSERVATION AREA CHARACTER STATEMENT
There are further green ribbons of land not visible from the street, which also define the unaltered Victorian street plan of the conservation area from a distance. The more southerly of these ribbons include some unusually large gardens which extend across the steep escarpment between the south side of Richmond Road and the north side of Round Hill Crescent.

It is in the long views of the conservation area that its greenness can be appreciated - a characteristic not evident from the streets within the area. There are no public open spaces and the only visibly accessible gardens are glimpses into private land from the stepped footway (known locally as a catcreep) which cuts steeply down the hill from the side of no. 2 Richmond Road to Round Hill Crescent. The green ribbons provided by private gardens and the railway remain valuable habitats for wildlife. Many of these linear green lungs originated as the breezy drying fields associated with Victorian laundries (away from the smoky town below), and the land attached to nurseries and small-holdings. These private back gardens contribute visual amenities to residents in this area, who do not benefit from the availability of communal parks or play areas nearby."
The policies relevant to our heritage, especially conservation areas, are those retained from The Brighton and Hove Local Plan scroll to page 119 together with section CP15 of The Brighton and Hove City Plan Part 1 scroll to page 197
Protection of trees in conservation areas
Felling or other work on trees in conservation areas also requires notification by letter 6 weeks in advance if the stem diameter (when measured at 1.5m above ground level) exceeds 75mm = circa 3 inches). The purpose of this legal requirement is to to give the Council's Arboricultural Service an opportunity to consider whether a Tree Preservation Order should be made in respect of the tree. See https://www.brighton-hove.gov.uk/content/leisure-and-libraries/parks-and-green-spaces/tree-preservation-orders.
2011 attempt to develop the green ribbon
Application Number BH2011/03323 at
Site Address: 24 Wakefield Road.
Description: Erection of a detached two-storey outbuilding
This was decided at The Planning Committe Meeting on

Wednesday 22nd February 2012 commencing 2pm at the Council Chamber in Hove Town Hall



The application was refused by

10 votes AGAINST and 2 FOR
It is common for applicants to minimise the impact of their planning applications, especially when proposals are located in the heart of conservation areas.
However, application BH2011/03323, extends wishful thinking to the extreme in its denial that the proposed development is "in a conservation area
per se
".
It most clearly

is
A visual introduction to Round Hill
A high resolution photo, illustrating the value of Round Hill's most spectacular green corridor to our conservation area can be downloaded from roundhill_green_corridor.jpg 2.63 MB. The photo includes scores of Round Hill homes.

roundhill_green_corridor.jpg 2.63 MB shows the care taken in the early development of Round Hill to construct a in street layout which is still pleasing to the eye with its deliberate arcs, segments and restful 'green ribbons' in between.

Why objecting to BH2011/03323 is so important

Overdevelopment through infill in a neighbourhood which already has 2300 residents living within an area of half a square km (double the average population density of suburbs in medium-sized UK cities) will not only increase the pressure on shared infrastructure such as on-street parking, but will rob Round Hill of the very green lungs which allow people living in a tight street network still to have good visual amenity, access to wildlife and feelings of openness & well-being.

Generally, I support developments which respect the environment, but this proposed 2-storey earthship (BH2011/03323) starts a new building line next to a uniquely situated Victorian house, digging a big hole in a greenway which hasn't seen new-build for 132 years, creating a precedent for more new-build to be added at the cost of greenbelt visible from both sides of the Lewes Road valley.

Jan Curry's award-winning wildlife garden (and several other gardens which have been opened for community events and charitable fundraising) is on the same greenway. This long stretch is well visited by residents from throughout our city who participate in Open Gardens events. Designation as a Site of Nature Conservation Importance is well overdue.

Within the applicant's several attempts to minimise what is intended on a plot noted for its trees, lie the main reasons why we should urge Brighton and Hove City Council to refuse it and protect the most substantial 'green ribbon' in our conservation area - something which is unique over a much wider geographical area.

Minimisation strategies
just "an outbuilding"? i. The Public notice displayed in Wakefield Road mentions "a detached two storey outbuilding". This does not make it clear that the proposal is for "a modern earthship" which will have almost the same footprint as the Victorian house (Fern Villa) which could become its neighbour.

a replacement for "a derelict shed"? ii. In the Design and access statement as well as in the Application form, the proposal to demolish a "derelict garden shed" and to replace it with "a single sustainable Earthship" is made clear. To find out the actual scale of the existing garden shed and the proposed 2-storey earthship we have to open two separate PDF documents:

ONE: OS Extract - site location existing and
TWO: OS Extract site loction proposed.
The former shows a garden shed (existing) which is truly "an outbuilding" in dimensions. The latter shows the earthship (proposed).

However, in TWO, we find that the earthship which was first introduced as "an outbuilding" is comparable in footprint to the two-storey house (Fern Villa) which might be unlucky enough to have the incongruous structure proposed as its neighbour.

some replacement! iii. Few would object to home owners within conservation areas replacing "a derelict garden shed" with "a similarly sized garden shed".

However, in the Design and access statement for Application number BH2011/03323, we learn that ""the annex will be used as an office, reading and writing room, studio and for various non-residential purposes including storage, a darkroom and a ping-pong table." The lower floor is connected to the upper by an internal staircase. The front of the building will have solar cells attached for power. We learn on the last page of the Application form that there will also be a WC.

Access? iv. It is stated within the Design and access statement that "the annex will be within a few metres of the rear door of the house".

It does not say categorically that "access will be from the rear door of the house".

Nor is it mentioned anywhere in the Design and Access Statement that there are two points of access to the application site from gateways within the wall of the Cats Creep steps (leading down from the join of Wakefield Rd and Richmond Rd to Roundhill Crescent. These could easily be brought into use, allowing independent access.

what is it and who will end up using it? v. Application BH2011/03323 is notably elusive.
Is what is actually being proposed a "replacement shed", an "outbuilding", an "annex", an "earthship"?

With a similar footprint to Fern Villa, how far off is it from being "a second home"? i.e. an additional house on undeveloped land valued for its biodiversity where building has not been permitted since 1879.

Is this elusive structure really an attempt to start a new residential building line running parallel between Wakefield Road and Roundhill Crescent?

Can the structure really have non-residential uses if the sole access is through the applicant's terraced home?

Will all future occupants share an interest in table-tennis? How might the uses change if they didn't? Would there be bedrooms?

Are the "non-residential" uses quoted somewhat arbitrary given the amount of the proposal and the flexibility as to what the proposed structure could be used for?

Are these "non-residential" uses (storage, ping pong, dark room, office space) sufficient to justify development in the heart of Round Hill's greenway and in the middle of the conservation area?

will the development remain non-residential? vi. When a proposal to replace a derelict garden shed assumes a scale much more indicative of a plan to build an additional house, it is necessary to ask what the uses of the proposed structure would be in the future. Would there be subsequent applications for change of use and separate access to a residential unit, perhaps from the middle of The Cats Creep steps?

It would be difficult for a Council to stipulate that one of the main rooms should only be used for table-tennis and not as a bedroom or living space in the future. In relation to what the proposed development could become, issues such as Design and access statement access for emergency and access to public transport remain unadressed.

not in a conservation area per se? vii. One of the most surprising claims in the Design and access statement is: "we do not believe that the annex will be in a conservation area per se"

This shows lack of knowledge of Round Hill's conservation area character statement: our conservation area is bounded by Upper Lewes Road to the south-east, a modern estate of flats to the south, the Ditchling Road to the west, and the railway line and industrial estate to the north.

proposed annex almost invisible from any nearby housing ? viii. Equally surprising is the claim in the Design and access statement that: "the annex is built so as to be almost invisible from any nearby housing"



I took the above picture from Tenantry Down (up near Brighton Race Course) almost a mile away. The windows of the proposed earthship would face east towards where my photo was taken.

However, residents living in Roundhill Crescent, who value the green open space directly to the west of their homes, would not need a zoom lens to see the incongruity of the earthship with its windows and solar cells in line with Victorian Fern Villa.

Fern Villa (1879), as many who have participated in Open Gardens events will know, is uniquely located in the heart of Round Hill's most impressive "green ribbon", stretching almost the length of the conservation area and remarkably free of modern development. The same "green ribbon", a haven for wildlife, contains Jan Curry's award-winning wildlife garden and several other private gardens which have been regularly opened to the public as part of community and charitable fundraising events.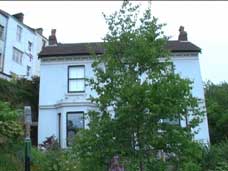 Fern Villa, built in the same 19th century period as the houses along Wakefield Road, well known to the community through Open Gardens.

Character and appearance of Round Hill Granting permission to proposal BH2011/03323 would involve a clash of architectural styles which would be completely incompatible with the Council's Supplementary Planning Document (SPD09) on architectural features as well as the Government Planning Policy Guidance PPG17 on Open Spaces.

Start of a new building line: the beginning of the end for RH's best open space
As well as the incongruity of placing a modern development right next to one of Round Hill's most valued Victorian buildings, starting a new building line next to Fern Villa will spell the end of protection of the only green open space we have in Round Hill. This space is totally within our conservation area and gets a special mention in Round Hill's conservation area character statement.

Fern Villa, itself, is well featured in "Rose Hill to Roundhill: a Brighton Community, ISBN 1-901454-08-8 [Brighton Books Publishing].






Application BH2011/03323
1. Application form

2. Drawings - proposed floor plans and roof

3. Drawings - section a-a

4. Drawings proposed south & west elevations (west faces Wakefield Rd and owner's house).

5. Drawings proposed north & east elevations (east faces Roundhill Crescent / Upper Lewes Rd / Lewes Rd and streets on the opposite side of the valley)

6. OS Extract - site location existing

7. OS Extract site loction proposed

8. Photos

9 Design and access statement

10. Public notice

A previous proposal BH2006/01501
affecting this much valued "green ribbon"
Many residents will recall that in June 2006 a proposal to develop part of one of Round Hill's much valued "green ribbons" to the Richmond Rd side of The Cats Creep steps, was refused by our local Council.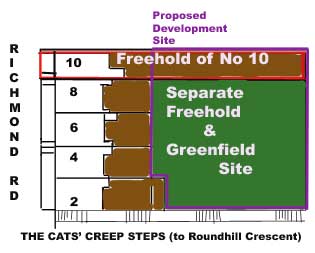 The Council's reasons for refusing it
The first two reasons given for refusing BH2006/01501, which relate to protection of valued open space within conservation areas, may equally be applied to BH2011/03323:

Reason 1
The development would fail to preserve or enhance the character and appearance of the Round Hill Conservation Area. The loss of the green open space would fail to protect or enhance the historic street layout of the area and would seriously harm the quality of views into the conservation area. Furthermore the design and siting of the buildings fails to take into account the developed background into which the development is set. This is contrary to Policies QD1, QD2, QD4 and HE6 of the Brighton and Hove Local Plan.

Reason 2
The development would lead to an unacceptable loss of urban open space which is considered important in the context of the conservation area and for its high amenity value which is enjoyed by local residents. Furthermore the applicant has failed to demonstrate that the development is of national importance or essential to meet social, environmental and economical needs and that it can not be located elsewhere. This is contrary to policies QD20, QD3 and HE6 of the Brighton and Hove Local Plan.

Since the refusal of BH2006/01501, the Council has adopted a Supplementary Planning Document (SPD09) on architectural features, which has been cited in reasons given for refusing other applications in the area (e.g. BH2011/02324).

Planting a modern 2-storey earthship (described by the applicant as "an outbuilding") next to a 2-storey Victorian house, and using the existence of the 1879 building to justify building on a historic green ribbon gives little regard to either architectural features or the character of The Round Hill conservation area.