Fight for the future of Round Hill's open spaces
Local residents' comments on Round Hill's Open Spaces provision
Undertaking local assessments of open spaces
New study on open spaces overlooks the needs of Round Hill
Brighton and Hove City Council has commissioned PMP, one of the world's largest consultancies (specialising in sport, leisure and culture) to deliver a study on open spaces within the city.

The consultation is in the form of a questionnaire, provided by PMP. This is being sent only to a random selection of householders. To encourage them to fill it in, PMP is offering a FREE PRIZE DRAW with a chance to win a wind up radio. This is described as an Open Spaces Prize Giveaway

The sad thing is that the main Giveaway appears to be Round Hill's open spaces, which do not fall within this survey at all, with the possible exception of our green railway corridor as enjoyed from a Coastways train.

The outcome of such a limited survey will fail to represent Round Hill residents' open space needs, increasing the risk of loss of these greenspaces to development.

We are a densely populated neighbourhood with none of the public open spaces in PMP's catalogue. Their survey could spell disaster for Round Hill through omission and The Round Hill Society may have to fight proposal after proposal from developers who see their chance.

The PMP Questionnaire on Open Spaces
Unlike the Council's 2005 in-house open spaces study, which was limited mainly to parks and recreation grounds, PMP's survey appears to cover many different types of open spaces, including the following categories:

(i) parks and gardens
(ii) natural areas
(iii) amenity areas
(iv) play areas for children
(v) teenage facilities
(vi) outdoor sports facilities
(vii) allotments
(viii) beaches and seafront
(ix) civic spaces
(x) cemeteries and churchyards
(xi) green corridors
(xii) The Downs

What's the catch?
The problem with PMP's questionnaire is that every question asks about open spaces which residents use.

Apart from the Coastways railway corridor (only legally accessible to train users!) on the very boundary of the Conservation area, Round Hill has not got any of the 12 categories of open space listed above, at least not for PUBLIC USE.

The treasured greenway which runs to the east and west of the Cats Creep steps, which includes Jan Curry´s award-winning wildlife garden, is not accessible to the public (except by invitation of the landowners). It therefore does not get represented at all in PMP´s survey, which in this respect is no better for Round Hill than Brighton and Hove Council's 2005 in-house survey, focusing mainly on parks and recreation grounds.

PMP's questionnaire also fails to comply FULLY with the Government's Planning Policy Guidance PPG17, since it excludes greenfield sites on PRIVATELY-OWNED land, which are recognised under PPG17 paragraph 2.4 (scroll down to page 9) since they can contribute to the appearance, environmental quality and amenity of an area as well as to biodiversity. Such sites, which are INACESSIBLE TO THE PUBLIC include:

1) The green strip of land to the east and west of The Cats Creep, running between Richmond & Wakefield Roads and Round Hill Crescent.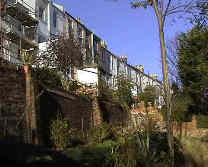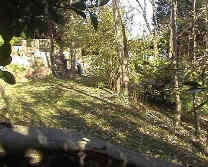 PPG17 also states that just because an open space is inaccessible (such as the green ribbon east and west of the Cats Creep or Carelet's plot adjacent to the railway corridor) it does not mean that it is irrelevant to the health and well-being of communities and therefore to be excluded from Open Space Studies.

2) The greenfield site on the northern boundary of our conservation area and not previously developed, currently owned by the developer Carelet.



With the development that is happening outside the conservation area on the other side of the railway, this green lung is more important to us than ever. Residents want to see tree-lines and the boundary features of Round Hill restored, whether by Carelet or Network Rail.


Both the Council's 2005 Open Spaces Study and the current PMP survey fall short of the Government's Planning Policy Guidance PPG17 by overlooking the contribution of private open spaces to wildlife, biodiversity, green vistas across private gardens, boundary features and views from afar (such as the spectacular view of Round Hill from the top of Bear Road):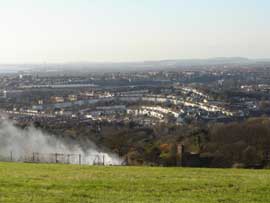 If the open spaces within Round Hill go, so does the above view. The period-architecture of our area is likely to be diluted by incompatible designs, as the offerings detailed in recent development proposals indicate.

Background information

Residents were asked in March 2005 to share their views on how they use open spaces and how often. Unfortunately, the Council's questionnaire focused on public parks and recreation grounds and made it very difficult for residents in areas depending mainly on private open spaces to say how they valued these.

The survey is expected to include open spaces on private land
Under the Government's Planning Policy Guidance PPG17, the contribution of open spaces to communities is recognised regardless of whether they are publicly or privately owned.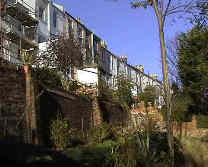 The survey is expected to value the functions of inaccessible open spaces - very relevant in hillside locations with a shortage of public open spaces
PPG17 also states that just because an open space is inaccessible (such as the green ribbon east and west of the Cats Creep or Carelet's plot adjacent to the railway corridor) it does not mean that it is irrelevant to the health and well-being of communities and therefore to be excluded from Open Space Studies.
Our local plan (QD28 Planning Obligations) gives priority to protection of greenfield sites, but the planning status of land is not being made clear to developers, leading to inaccurate claims


The first objective in The Council's action plan on land use in line with its sustainability strategy see page 6 of this PDF document is to:

Make the best use of the land
available for development and secure
the re-use of vacant, derelict and
under-used sites.

Ensure that new development takes place on
'brownfield' rather than 'greenfield' sites with
derelict land re-used for development. Where
practicable the re-use of polluted land and
buildings will be promoted.

The fifth objective is to:

Maintain, protect and enhance
the natural and built environment
Promote an integrated approach to nature
conservation which preserves and enhances
existing features of nature conservation
importance, provides new opportunities for
nature conservation and contributes to achieving
Biodiversity Action Plan targets. Maintain and
enhance the built heritage.

The worst neglect in Round Hill has been in the context of planning proposals affecting privately-owned open spaces on land which has NEVER BEEN PREVIOUSLY DEVELOPED. Paragraph 10 of the Government's PPG17 Planning Policy Guidance requires an OPEN SPACE ASSESSMENT before proposals affecting open spaces should even be considered.

PPG 17 Diagram 1 on redevelopment of an existing open space, shows the procedure which the Government recommends Councils to follow before considering planning applications involving the loss of open spaces to the community, whether accessible or inaccessible or on public or privately owned land.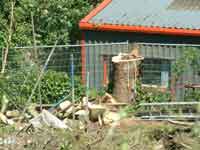 These PPG17-compliant assessments involve consultation with residents on the value of the open spaces concerned. Not one of them has been carried out in the contexts of Carelet's proposals and also the proposal to develop Round Hill's "jewel in the crown": the green ribbon running to the east of the Cats Creep.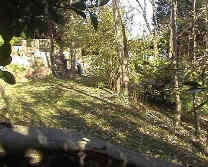 Lobby our local Councillors
Voting in the Round Hill side of the city in the May 2007 elections, emphasized local residents' concern for protecting their environment. It is hoped that the successful Councillors will urge planning officers in the Council's Open Spaces and Conservation Departments to do better in consulting us properly on our Open Space Needs.

Remind the Council of the Government Planning Inspectorate's 2004 criticisms, which still haven't been corrected
The Council's policy on Open Spaces was criticized by the Government Inspector who reviewed the Second Draft Deposit of the Brighton and Hove Local Plan.

The 2004 report by the Government's Planning Inspector, Mr C. Hoilen (in his Appraisal of the second deposit draft of the Local Plan), highlights weaknesses in The Council's Open Space Policies (see the criticisms in paragraphs 4.46 and 4.49, which have clearly not been corrected).

Although Mr Hoilen tells the Council that it needs to be hard-headed in allocating some of the least valuable open space to housing and employment, he certainly does not say that PPG17-compliant open space assessments should be omitted altogether, after failing to make developers and local residents aware of the planning status of the main freeholds under threat.

Mr Hoilen states in paragraph 4.46 that "The Council says in paragraph 3.90 (2nd Deposit Draft) that it is preparing an open space strategy, but gives no indication about the vigour with which it is preparing this strategy, or what precisely the strategy would do. PPG17 of July 2002 is quite clear that the needs of local communities should be known through assessment, the local authority undertaking audits of open space, sports and recreational facilities, their use etc. This work is said to be the starting point for establishing an effective strategy for open space, sport and recreation at the local level. It has not yet been done, and the defective policy in the Second Deposit Draft is the result."

An open space strategy, embodying the vigour which Mr Hoilen requires, will put pressure on the Council's limited resources, but omitting the recommended procedures (see PPG 17 Diagram 1) means that both the Council and Round Hill residents have to give endless attention to applications from developers which fall 'ridiculously wide of the mark' in terms of protecting and enhancing our conservation area. That is a gigantic waste of everybody's time and money.

Local residents can play their part in making the Council take note of the Planning Inspectorate's critisims, by being vocal about the value that we place on private open spaces in Round Hill (e.g. the tree-filled green ribbons and hillside plots) and suggesting how public open spaces could be improved (e.g. the trees and landscaping in Wakefield Road/Princes Crescent).

Under the Government's PPG17, We are entitled to a Neighbourhood-specific Open Space Survey. You may think that there are insufficient facilities in the area for children to use without having to negotiate busy roads. Should the City's planners be attempting to identify sites in Round Hill for public open spaces? Please feel free to add your comments to this page (see below).

Comments
"The facilities in the Level represent a fairly good balance. It's great to see so much open space filled with people playing football and cricket in the summer. The skate-park is clearly well-used and well screened off. Whenever I go into town, I try to make sure my route takes me down some of the tree-lined avenues."
Dave, Wakefield Road

"The Council's Open Space Questionnaire asks: Q1 Is there a PARK or OPEN SPACE in your local area (within 10 minutes walking time from your home)? As a disabled resident in Princes Road, I'd be pushed to walk to The Level in 10 minutes and it would be quite a climb back. There is a deficiency of public open space in Round Hill. Q1 does not specify 'public' or 'private' open space. However, it is very important that we register both the "PUBLIC deficiency" and the value we attach to the PRIVATELY owned OPEN SPACES i.e. Round Hill's 'green ribbons'. A properly designed PPG17 Survey should also invite comment on PRIVATE open spaces. Point this flaw out when submitting the form - otherwise, the 'green ribbons' might just as well be future development sites, since they will not figure in the Council's Open Spaces policy. In the absence of rare species, nor is the Council's Ecologist likely to find anything of worth (i.e. relevant to biodiversity) on these green plots."
Ted, Princes Road

"Try getting to a local park with a young child and a baby in 10 minutes and it's impossible from Princes Road. We need the carelet plot on Princes Road for a playground facility. It will allow local children to play together and get to know each other and help the local community. We don't need more houses that's for sure. I don't go to the level. Too scared of my kids picking up junkies needles."
Caroline, Princes Road

"I'm in complete agreement with you Ted! The private spaces must also be considered. I'd like to take this opportunity to draw local residents' attention to the following information regarding our existing private green spaces:
http://groups.yahoo.com/group/roundhill/message/340."
Jake Collins, Roundhill Crescent

Please add your comments about our open spaces.



This page was last updated by Ted on 27-Feb-2008