Click HERE to see the result of Carelet's Appeal.
Enter Case Reference: 2131115
The developer's appeal against refusal of their application to build six 3-storey houses on the greenfield site & garden land to the NE of Princes Road was dismissed on 15th February 2011.
The Planning Inspector based her decision to dismiss the appeal on the first reason for refusal (given below).
Main focus of our campaign
This was:
to defend Council's three reasons for refusal
:
PARKING/TRAVEL DEMAND
1. The proposed development does not provide for the travel demands it creates, contrary to policy TR1 of the Brighton & Hove Local Plan.

OVERDEVELOPMENT
2. The proposal, by reason of it having six dwellings on site, would result in a cramped standard of accommodation for future residents, contrary to policies QD27 and HO4 of the Brighton & Hove Local Plan.

PROXIMITY OF HOLLINGDEAN WASTE FACILITY
3. The proposed development, by reason of its close proximity to the Hollingdean Waste Facility, would lead to unacceptable noise exposure to residents of the scheme, both inside and outside their dwellings, contrary to policies SU9, SU10 and QD27 of the Brighton & Hove Local Plan.
Defending the reasons for refusal
1. PARKING/TRAVEL DEMAND


1a) the developer's claim that there is no current demand for on-street parking spaces to the east of 81 Princes Road (on the northern side of the street) is untrue.

1b) the developer's claim that 6 Legal/Safe on-street parking spaces are available opposite the Mayo Road and Princes Road frontages of the corner house at 1 Mayo Road, would involve parking on the junction, which does not conform either with Highway Code Regulation 217 (specifying 10M clearances) or The Council's own guidance in relation to junctions (specifying 5M clearances). We have recent memories of icy conditions at this junction.



Regulation 217




DO NOT park your vehicle or trailer on the road where it would endanger, inconvenience or obstruct pedestrians or other road users. For example, do not stop - opposite or within 10 metres (32 feet) of a junction, except in an authorised parking space

.



NOTE

: THE HIGHWAY CODE does not have the status of LAW. It is only "advice", but many people / authorities / organisations back it as "good advice" generally or specifically. It is up to individuals making comments to The Planning Inspectorate whether we subscribe to HIGHWAY CODE Regulation 217 as our safety standard or whether we are happy for safety to consist of the 5 metre clearances each side of junctions (measured from where the streets straighten out) which the Council's Highways Department is willing to tolerate. Either way, parking around The Princes Rd/Mayo Rd junction (Carelet's solution for its prospective residents' transport needs) is likely to be dangerous and to obstruct access for emergency and service vehicles (including the recycling collection vehicle which sometimes has to reverse up Princes Road when either this junction or the one at the other end of Mayo Road is blocked).



NOTE

: A standard parking space is defined as "6 metres long". 5 x standard parking spaces (30 metres) would stretch all round the bollarded area of the Princes Rd/Mayo Rd junction, in fact exceeding the whole outer curve.

1c) the CPZ which starts operating in September 2010 in the VIADUCT RISE AREA (the streets bounded by Ditchling Road, Ditchling Rise, Beaconsfield Road/the A23 into Brighton, and Viaduct Road) will limit the provision of on-street parking within this CPZ (Carelet are claiming legal/safe unoccupied parking space in Ditchling Road, Ditchling Rise and Springfield Road) and increase on-street parking demand (through displacement) in Round Hill. Enforcement RE pavement parking, double parking and parking round junctions WITHIN ROUND HILL, would similarly have a displacement effect, making a nonsense of Carelet's claim that we have surplus on-street parking provision at the moment in Round Hill.

1d) It is worth reviewing Appeal Decision of 21 October 2008: see points 13,14, 15 21. In relation to Carelet's application for 6 three-storey and 2 two-storey houses,

The Appeal Inspector shared our concerns about exacerbation of parking stress.
2. OVERDEVELOPMENT


The AMOUNT OF DEVELOPMENT now proposed (six three-storey houses) is too crammed.

Comments were made at The Planning Meeting (when Carelet's application for 6 three-storey houses was refused on 9th June 2010) that the separations between "proposed" and "existing" propertied were much shorter than CABE's recommended 20M - more like 10M or even shorter in places.

Clues as to parts of the current application where development is still likely to prove too tight, may be obtained by reviewing Appeal Decision of 21 October 2008: see point 16. In relation to Carelet's slightly larger application for 6 three-storey and 2 two-storey houses, the Planning Inspector said: "

The layout of new houses is designed to adhere to a back-to-back distance of 20m separations, but overlooking is a concern, particularly at the western end of the site. occupants of houses on princes Road would have a clear view into first and second floor terraces / balconies below, immediately outside main living areas, where future occupants would most value privacy and seclusion. Two small communal areas would be overlooked too. The loss of privacy would not be overcome by screen planting, suficient to mitigate the harm, due to the height of the neighbouring houses and the topography

."
3. PROXIMITY OF HOLLINGDEAN WASTE FACILITY


In the light of what we have experienced since The Waste Transfer Station started operating in early 2009, conditions for prospective residents living much closer than existing ones would be unreasonable.

See also Appeal Decision of 21 October 2008: see final sentence of point 16. In relation to Carelet's slightly larger application for 6 three-storey and 2 two-storey houses, the Planning Inspector said: "

On the northern side, a consequence of over development is that there is insufficient space to mitigate the poor outlook towards the recently completed waste transfer Station, but on its own this would not warrant withholding permission.

" In relation to the current proposal for 6 x three-storey houses, we have to convince the Planning Inspectorate that, the context now is more than

poor outlook

. Since the facility started operating in early 2009, the noise and odour have constituted positive nuisances to residents much further away than Carelet's new residents would be.
Essential point to communicate:

since

the Planning Inspectorate's 2008 Appeal Decision, we have now evidenced

operation

of the WTS & MRF and

the scale of the nuisances
Many residents are very upset about the destruction of wildlife habitat on a greenfield site and the failure of the Council to involve us in open space assessment on a site which is so important to us as a screen and shield from industrial zones outside of The Round Hill conservation area.
However, we know that the Planning Inspector said in his
Appeal Decision of 21 October 2008: see point 7
that
there was no change sufficient in circumstances
which would compel him to rule out "the principle of development" on Carelet's greenfield site. We need to convince The Planning Inspectorate that
circumstances in the proximity of Hollingdean Depot have changed since October 2008.
As
The Planning Inspectorate
will want to exemplify consistent decision-making, so we need to convince them that:
Since The Waste Transfer Station and Materials Recovery Centre started operating in early 2009, the scale of the nuisances (noise, odour, dust) caused to existing residents

has now been evidenced
. IT IS IMPERATIVE THAT WE LET THE PLANNING INSPECTORATE KNOW HOW THE OPERATION OF THE WASTE TRANSFER STATION ACTUALLY AFFECTS US. In terms of tree cover, the important buffer-zone and greenspace between Round Hill's existing homes and Hollingdean Depot needs to be put back to how it was before Carelet bought it -
The greenfield site now owned by Carelet pictured in 2003
: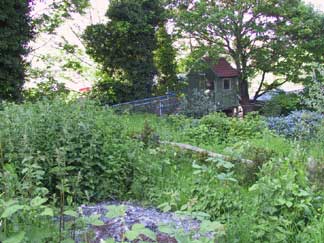 A

need for restoration

rather than

a vision
The grounds for refusing unsuitable residential development do not need to be supported by an alternative vision for this plot of land
.
However, restoring and enhancing the landscaping by planting trees which will (a) grow into an effective screen (b) dampen the noise (c) trap the gusts of wind carrying the objectionable odour
must be better than
putting cramped accommodation and miniature gardens landscaped by no more than a thin hedge at the railway embankment between existing homes and the main yard serving the Materials Recovery Facility and Waste Transfer Station.
Additional planting is needed as well as replacement of The Conservation Area's boundary features, following lines which are well set back from the boundaries of the Brighton to Lewes Railway and The Centenary Industrial Estate to prevent
arguments Re safety &/or blocked gutters blocked gutters
leading to the removal of trees in the future. The location is not suitable for crammed residential development.
Incompatible visions
By the same token, a site so close to a Waste Transfer Station is never going to make a suitable play area for children or the best site for a community garden or new allotment. The 2004 context for development has now changed.
Restoration
Although it is not for us to find a
use
or
alternative owner
for the greenfield site in opposing unsuitable residential development, the wisdom of restoring the landscaping to BETTER THAN IT WAS BEFORE is now greater than ever. The site served a perfectly good function in the context of a less troublesome Hollingdean Depot for many decades. In the context of the Waste Transfer Station, a good steward of the site would restore the boundary features and enhance the landscaping.
Character & Appearance and Open Spaces
If you feel that these points need also to be addressed, in addition to Council's three reasons for refusal, then I would suggest that The Planning Inspectorate could still attach some importance to
saved Local Plan Policy HE6, which concerns protection of the character and appearance of Conservation Areas
.
I am pessimistic about the the level of success we would have through pressing The Planning Inspectorate on Open Spaces. Sadly and in contradiction to Government Guidance on Open Spaces, our Council's Open Spaces Policy fails to extend to privately-owned plot of relatively inaccessible green hillside. The Planning Inspectorate appears to accept this omission.
CHARACTER AND APPEARANCE OF ROUND HILL
See
Appeal Decision of 21 October 2008: points 8 and 10
on the harm that Carelet's slightly larger proposal (also involving three storeys in height) would have done to the
period-look, historic setting and green spaces characteristics
of The Round Hill Conservation Area.
There is no harm in explaining to The Planning Inspectorate that in the absence of any public open spaces in Round Hill, we still value the privately-owned hillside open spaces i.e. (a) their contribution to visual amenity, wildlife habitat (nearness to the railway corridor: a designated greenway), boundary features, the setting of the conservation area; (b) their role as buffer-zones, green-lungs: their potential for screening us from industrial zones.
I feel that we need to speak up for what we value. It is unfortunate that contrary to Government Planning Guidance on how to conduct an Open Spaces Policy PPG17
Diagram 1
and
Paragraph 10
, our Council does not value privately-owned open space, and we have been denied open space assessment even in relation to a hillside greenfield site which forms such an important buffer zone in the presence of Hollingdean Depot.
Councils are free to ignore Government Guidance if they do not value an open space.
Sadly, the abandonment (in approving Carelet's 4 two-storey houses on 22nd July 2009: BH2009/00847) of
saved policy QD28 3.123 in The Brighton & Hove Local Plan
,
undermined everything the Council had done previously to protect greenfield sites
. The Planning Inspectorate noticed this, and did not seem to object when it upheld the Appeal to build four houses on land to the rear of Springfield Road directly opposite platform 1 of London Road Station AFTER the Council's Planning Committee had turned that application down.
There may be some fresh hope for urban green space in the form of the coalition's new plan to give Councils powers to stop garden-grabbing. It remains to be seen if these powers are used. The plan would presumably reverse John Prescott's 2000 classification of domestic gardens as "brownfield sites". This could result in renewed eagerness to protect "greenfield sites" (plots of land like Round Hill's "green ribbons" &/or "former drying fields) which together with gardens form important green vistas.
Note that "gardens with houses on the same freehold are currently "brownfield"; Carelet's main freehold is "greenfield" since it is just a plot of land which has never been previously developed, though they have added the bottom half of the dometic garden at 67 Princes Road to the west side of their application site: a case of garden-grabbing.
Above and below
: Carelet's site clearance on 13th June 2005 before any planning permission for residential development had been given or any open space assessment (to find out the value of this important buffer-zone to local residents) had been performed
Defective Open Spaces Policy
More on the consequences of a defective open spaces policy, including pictures illustrating the the quality of the open space to the rear of Springfield Road, which provides the attactive wildlife habitat opposite platform 1 of London Road Station is described
here
.
Carelet's "noise barrier" for the plot below is

new homes

. A more ethical "noise barrier" would be

restoration & enhancement of the mature tree cover which was there before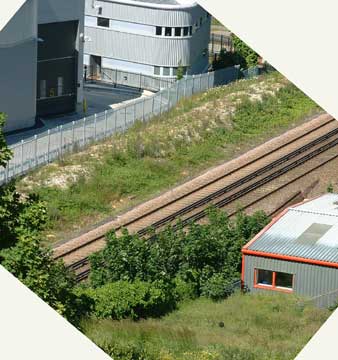 The soil along the railway embankment is chalky and too thin for mature trees - Network Rail would not have them here. New tree cover would need to be set back. Cramming in 6 three-storey homes here, with gardens facing over the railway to The Dump, would not leave room for the landscaping which this boundary site so badly needs.
Click HERE to find out the status of Carelet's Appeal.
Enter Case Reference: 2131115