You can also follow Pavilions at Richmond House on Twitter by clicking on @Pavilions_org
The Brighton and Hove City Plan
Brighton and Hove City Plan Part One [PDF] was adopted by Brighton & Hove City Council on 24th March 2016.
Brighton and Hove Draft City Plan Part Two [PDF] came out in July 2018.
The 10 week period of consultation ended on 13th September 2018. More information can be found on the Brighton and Hove City Plan Part Two webpage.
Download the Old Town Conservation Area Management Plan
It is intended to adopt the final document in November 2018.
Have your say on Old Steine to Palace Pier proposals. Click on picture to watch the video
Download The information [PDF] and the map [PDF] for the above consultation.
Share your views with other Brighton and Hove residents on
Valley Gardens Past & Present Facebook Group
Proposal for 3 small additional flats
Conversion of detached house at the junction of Wakefield Road and Upper Lewes Road (sharp turn)
BH2018/03222 Erection of three storey rear extension to create 3no additional one bedroom flats (C3), associated internal alterations. | 3 Upper Lewes Road & 1A And 1B Wakefield Road Brighton BN2 3FJ.
Now under consideration. There has been one online comment from a neighbour who is requesting confirmation that there will be no increase in roof height. The developer's recognition that the building is in a conservation area - e.g. the proposals to improve the fenestration and to install wooden sash windows - is to be welcomed. Thought about appearance has been put into the planning statement, though while mentioning the heavily graffitied "long wall" on the Upper Lewes Road, it would be good if the proposals could extend to methods to deter unpleasant tagging. Perhaps there is scope for liaison with the developer on whether the rendered wall needs to be present or at its current height since more daylight from the south would benefit living conditions at ground floor level. Your Comments can be useful both to the planning process and to inform other residents. Comments can be "neutral" if you are neither FOR or AGAINST, but have helpful suggestions to offer.
Veolia's Boxing Day Proposal withdrawn
On behalf of Veolia, Owen Dimond Planning Manager (Southern) United Kingdom has emailed Brighton and Hove City Council confirming the withdrawal of application BH2018/02704. Thank you, Veolia.
Application for temporary variation of conditions 4, 5 & 6 of BH2016/05369 (see description) to allow the operation of the Waste Transfer Station (WTS) and the Materials Recycling Facility (MRF) and the importation and export of waste on the 26th December 2018 and each year thereafter. | Veolia Environmental Services Plc Hollingdean Lane Brighton BN1 7BB
Application BH2018/00433 was granted
Planning Committee Agenda Wednesday 7th November 2018 2pm Council Chamber Hove Town Hall
To the disappointment of many residents living near the application site (the narrow strip of land between the rear gardens W of Crescent Road and E of Belton Road, the proposal to vary conditions so that more could be crammed on this small site with limited access was approved.
You can Watch a Webcast of a Planning Committee Meeting online while it is in progress from 2pm on Wed 7th November 2018 or later.
Application to remove car-free condition
Land At Rear of 67 to 81 Princes Road Brighton
View and comment on Application BH2018/00881
Not if car-free conditions on new development to the rear of our terraces (e.g. Princes Road and Crescent Road) are defended.
BH2018/00881 Still under consideration
Safe crossing for Upper Lewes Road
If they can do it in Ditchling Road, why can't they make a safe crossing point in Upper Lewes Road?
Policies protecting conservation areas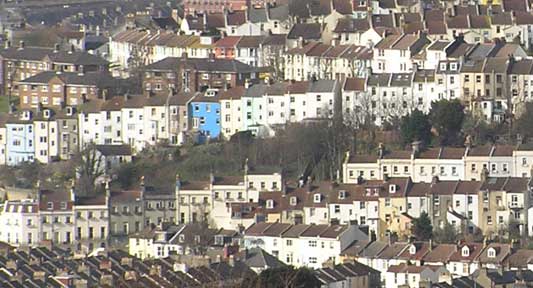 picture taken from Tenantry Down near Brighton Race Course
45 & 47 Hollingdean Road: 87-apartment scheme
'Studentification' OR 'fulfilling a need' ?
Demolition of existing buildings and erection of a part 2,3,4 and 5 storey building including basement to form 87 student rooms (Sui Generis), communal student facilities, plant room, cycle storage, 2no disabled parking spaces, recycling and refuse facilities, vehicular access and associated works. | 45 & 47 Hollingdean Road Brighton BN2 4AA on site of Gerry Ingram, the former motor-cycle shop
The location of this proposed scheme is very close to residents at the east end of Richmond Road and the north end of D'Aubigny Road. The site is on the far side of the service road from the mouth of Hughes Road into Sainsbury. Residents will recall a 138-room scheme on the near side of the same service road which would have involved the demolition of Richmond House.
CKC Properties Ltd are involved in several major schemes locally to provide purpose-built accommodation for students: e.g. Pelham Terrace, £42m conversion of the Lectern Pub on Lewes Road and the University of Brighton's £150m plans for Preston Barracks
Save The Signalman Pub Garden Part Two!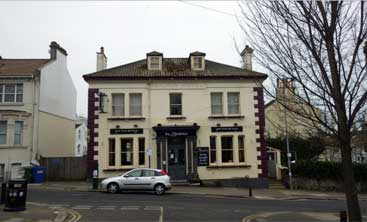 See the entry for The Signalman Pub on Brighton and Hove City Council's Local List of Heritage Assets.
The first application has now been WITHDRAWN: link to Save "The Signalman Garden" Facebook Campaign Site (Celebration?)
Slow worm challenge to developer's plans

Trees were cleared prematurely opposite platform 1 of London Road Station in February 2017 to make way for construction of four houses.
It now appears that the survey claimed to exclude the presence of reptiles (e.g. slow-worm) was inadequate since it was performed at the wrong time of year. The county ecologist advises that the presence of reptiles is likely and local residents say that they have seen slow-worm.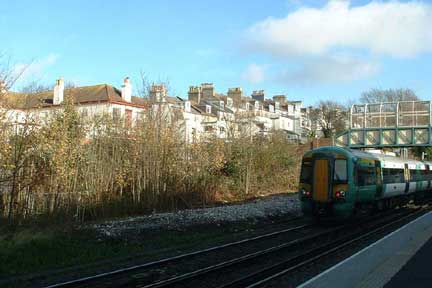 It is a great pity that the drive to meet housing targets now affords so little protection to the public amenity value of any open space which happens to have its footprint on privately owned land. The Council's open space surveys (the most recent was renamed future of our parks consultation!) only seem to want us to comment on the amenity value of public open spaces, of which Round Hill has none! The above (within the context of the Preston Park conservation area as well as a railway station which has been added to the city's list of heritage assets) should concern anybody who assumes that our own neighbourhood's 'green ribbons' are untouchable.
London Road Station - a heritage asset click here or on picture below to read why!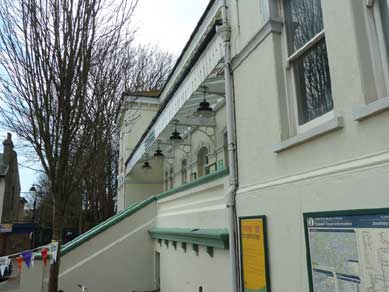 The Round Hill Society gets things done...
Vehicle access to & from Upper Lewes Road
...with help from the Council & residents who report problems!
This has now been solved. Thank you to all who played a part. We are aware that there are road safety concerns which have been raised which will need both more funding and community/political will if they are to be solved.
Update on 2 Ashdown Road
History of the rear yard plot / garden at 2 Ashton Road

The rear garden was converted into a work yard with a series of home built garages over thirty years. Prior to the 2010 planning permission, the site was let by the then developer to Raj Motors whose second-hand car sales business spilled over into the densely parked Ashdown Road. Raj Motors moved on after being served with an enforcement order by Brighton and Hove City Council. There was then an application (BH2008/02170) to divide the house at 2 Ashdown Road into three self-contained flats and in addition to build two new houses on space vacated after the demolition of the garages.
Bored with Estate/Letting Agents' boards?
"why is there one set of conservation rules for Round Hill residents, while estate/letting agents are permitted to erect eye-catching boards which are totally out of keeping with the character & appearance of our conservation area?"
Sainsbury application refused (Oct 2012)
D'Aubigny Road residents are spared further noise


Sainsbury application to double delivery yard activity at their Lewes Road branch on Sundays and Bank Holidays was refused on 5th October 2012.

The Council decided that the increase in the delivery hours and the increase in the number of delivery vehicles would have an unacceptable detrimental impact on the amenity of residents of nearby properties contrary to policies QD27 and SU10 of the issue decision notice.

Those affected live on the east side of D'Aubigny Road. Their rear gardens back onto the supermarket's busy delivery yard. They have been engaged in a long struggle to claim a little garden leisure-time uninterrupted by unreasonable amounts on Sundays and Bank Holidays.