Planning
This section includes details about planning policy, issues and particular applications affecting the Round Hill area.
Use the
site directory
(scroll down to the heading "Planning") to find past applications. I plan to move some of the early ones back from "Archives" to "Planning" and to index all
by year
to show how the neighbourhood has been shaped.
HOT LINKS

Crescent Rd | Open Spaces | Richmond Hse | The Dump | Carelet
Taking part in the planning process
Click here for for full summary. Below are some quick links:.
If a planning application is refused by The Local Authority, the applicant has 'the right of appeal' to the government's planning inspectorate. There is no 'right of appeal' for residents objecting to a planning application which is approved by The Local Authority. However, the Local Authority is expected to be fair.
The planning system does provide a The Local Government Ombudsman who is available to address procedural abuse by local authorities. This provides a safeguard which does not involve the expense and compllcation of the judicial process. Before taking this route, note that complaints must relate to the decision-making process. Disagreement with a planning decision does not provide a ground for complaint if the decision has been properly made. See planninghelp.cpre.org.uk for more information on
Houses of Multiple Occupation - HMOs
LASTEST INFORMATION: click here for HMO BULLETIN April 2017
The HMO forum is a group attended by representatives from each of the residents' associations in the Lewes Road area, plus local councillors, representatives from the universities/students' unions and guests. Cllr Tracey Hill, lead councillor for private rented housing on Brighton and Hove City Council, suggests that the HMO Forum from now on meets twice a year, once in September and once in April, to coincide with university year start and finish. Topics include HMO enforcement and standards as well as community projects to help improve local neighbourhoods.
Carelet's 2017 proposal now Approved
The developer Carelet has submitted Planning application BH2017/00175 - which was APPROVED on 24th April 2017.
Click here to see the planning decision and conditions of approval.
Carelet proposes to add a flat-roofed Gatehouse to the end of the terrace at the NE end of Princes Road, varying the design from the agreed pitched roof structure which was more in character of the conservation area:
This more basic structure would be of significantly smaller size since refuse/recycle/glass bins would be located outside rather than within it.
"The revised design of the gatehouse building is considered to be an inappropriate addition to the existing house at number 81 and out of character with the wider conservation area. It would appear as an overly utilitarian structure in views from the street and in particular the proposed flat roof would be an alien feature."
[Comment by Brighton and Hove City Council's Heritage Team]
Planning decisions: Wed 12th October 2016
Click here for the Agenda of the planning committee meeting.
1. 28 and Land Rear of including 28B, 28C & 28D, Crescent Road
Item 56 I on the planning committee Agenda.
I'm sorry to report that the above application was APPROVED.
The Round Hill Society is grateful both to Chris Morley and Cllr Louisa Greenbaum for speaking against the application on behalf of the many residents affected by it.
Land for sale: Crescent Road Brighton

Following the approval of Application BH2016/00862 by Brighton and Hove City Council's planning committee on 12th October 2016, the site owner is now attempting to sell on the land / existing buildings + permission for four houses for £975,000 - over double the cost (£425,000) paid for this property in 2014.
Was BH2016/00862 made as clear as this to the planning committee?
See http://www.rightmove.co.uk/commercial-property-for-sale/property-64385669.html
As well as showing the asking price, the advert at the above link contains slides attempting to represent what the development would look like - representations which were absent during the planning process.
The grey shading used to draw existing houses in Belton Rd and Crescent Rd is also used to show the massing of the permitted units, masking the differences in the materials/architectural styles of
the existing houses and the sunken, flat-roofed new-build.
These slides also illustrate concerns about accessibility (from the street) and privacy (for both new & existing residents) voiced by those who objected to BH2016/00862. They also highlight the narrowness of the site on the raised strip running so near to the properties on the east side of Belton Road. The final slides dwell on a history of neglect for which neither existing or prospective residents are responsible.
2. Land to the rear of 101 Roundhill Crescent
Items 56 D and 56 E on the planning committee Agenda.
The above applications were REFUSED
At the request of Cllr Hyde, I believe for the first time ever, The Planning Committee used a new procedure allowing them to change the Officers' recommendation from "GRANT" to "REFUSE".
The Round Hill Society is grateful both to Ann Light and Cllr Louisa Greenbaum for speaking against the application on behalf of immediate neighbours and all who enjoy the views from D'Aubigny Road out of The Round Hill conservation area to the neighbouring hillside and the ridge of The Downs.
We also thank Cllr Hyde for the vital part she played in the decision by
reading residents' comments and paying attention to important concerns
instigating a site visit which allowed planning committee members to review concerns (loss of light to neighbours; the long view through the gap) with their own eyes, and
speaking up for Round Hill during the meeting itself, ensuring that the problems of the applications were entered into the debate between members
Slow worm challenge to developer's plans

Trees were cleared prematurely opposite platform 1 of London Road Station in February 2017 to make way for construction of four houses.
It now appears that the survey claimed to exclude the presence of reptiles (e.g. slow-worm) was inadequate since it was performed at the wrong time of year. The county ecologist advises that the presence of reptiles is likely and local residents say that they have seen slow-worm.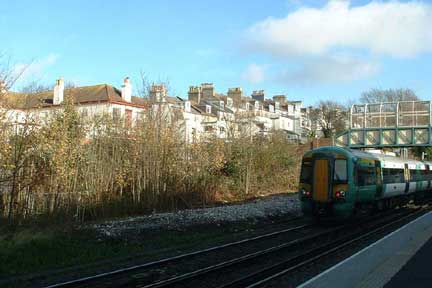 It is a great pity that the drive to meet housing targets now affords so little protection to the public amenity value of any open space which happens to have its footprint on privately owned land. The Council's open space surveys (the most recent was renamed future of our parks consultation!) only seem to want us to comment on the amenity value of public open spaces, of which Round Hill has none! The above (within the context of the Preston Park conservation area as well as a railway station which has been added to the city's list of heritage assets) should concern anybody who assumes that our own neighbourhood's 'green ribbons' are untouchable.
Future of our parks consultation 2017 update
Feedback from the Autumn 2016 consultation on the future of our parks and open spaces is now available on Brighton and Hove City Council's website. The public consultation drew 3,500 responses.
The city has 147 parks including heritage parks, playing fields and green spaces, as well as more than 3,000 allotments, 50 playgrounds and a section of the South Downs National Park. Most are managed by Cityparks and many are supported by volunteers and community and voluntary groups. A video shows some of the parks and details the cuts which the Council is looking to make: a fall from a "parks & open spaces" budget of £4.7m in 2009 to £3.4m in 2020.
Round Hill has no public green spaces, though:
the importance of 'green ribbons' on private land is mentioned within our conservation area character statement.
The importance of long views into and out of our conservation area has also been recognised in appeal decisions - for example: 3 decisions dismissing unsuitable housing schemes to the NE of Princes Road and 1 decision dismissing plans to demolish Richmond House replacing it with a 5-storey block to accommodate adolescent students from overseas.
Planning decisions: Wed 14th December 2016
Anston House proposal approved by 9 to 3
The Council's planning committee approved the major Anston House proposal by 9 votes FOR to 3 AGAINST, in spite of concerns expressed by the representative from The Conservation Advisory Committee highlighting the impact on the south end of Preston Park and neighbouring properties.
Click here to watch the planning process leading to this approval on webcam. Use the AGENDA column on the right of the webcam page to 'locate' and 'start' the relevant discussion.
Boxing day 2016 at Hollingdean Depot

The proposal to allow import & exportation of waste at Hollingdean Depot this Boxing Day (26 Dec 2016) was approved unanimously subject to a planning condition that 'import and exportation of waste should be limited to hours between 9am and 5pm. on Boxing Day itself.'
Houses of Multiple Occupation HMOs
Planning permission is now required for a change of use to a small HMO. Under the Council's current planning policy, HMO licencing should be refused if there is already more than 10 per cent saturation in the surrounding areas. Read more.
City Plan - part 1 Examination
The Inspector has published her report following the examination of the City Plan Part One. The report provides the Inspector's findings, recommendations and conclusions. The council is now publishing the Inspector's report on the council's website.
The Waste and Minerals Site Plan is jointly prepared with East Sussex County Council and the National Park Authority and allocates specific areas of land where it is considered that the management of waste and production of minerals could take place in the future to meet identified needs.
Following Consultation on the Waste and Minerals Site Plan a report was taken to the 17 March 2016 Policy & Resources Committee providing feedback on the consultation and recommending a number of changes to the Plan. Further details on the Waste and Minerals Plan can be found at http://consult.eastsussex.gov.uk/portal/wmsp.
Concerns over possible proposal to use more of Hollingdean Depot site to process commercial and industrial waste
Residents interested in improving our properties and making savings over the longer term through increased energy efficiency could draw from some of the sustainable building policies formulated in previous years. Several of these are now being downplayed - e.g. SPD 08 Sustainable Building Design [adopted in June 2008] has recently been withdrawn. Current government policy in response to the need to build more homes, focuses on removing restrictions and hurdles which may discourage developers.
However, this direction in government policy need not prevent a neighbourhood with predominantely old housing stock, some belonging to the private rental sector, from looking how to create more sustainable homes in better conditions (e.g. without rising damp or cracks certain to appear through mistreatments to bungaroush walls).
This interest could go hand with creation of an accreditation system which values the efforts of good landlords and points those who do not do their maintenance in the right direction by making public the areas of neglect and what needs to be done to achieve a higher rating.
Pavilions Partnership at Richmond House
Three open days for the public have been held at Richmond House since the building's re-opening on 14th December 2015 as a drug and alcohol recovery centre. The first on Sunday 13th December 2015 gave Round Hill residents an opportunity to meet the team and to look around. The latest open day on 15th June 2016 showcased this much needed service after it had been operating in this new location for six months. The third on 30th September 2016 again brought together members of the local community, members of staff within Pavilions, and service users who recounted the progress they have made in their recoveries.
You can also follow Pavilions at Richmond House on Twitter by clicking on @Pavilions_org.
Carelet gatehouse: on-site space for bins?
This application BH2015/01983 has now been APPROVED:
See the Council's decision.
Will the conditions in the Council's decision avoid this?


The Round Hill Society gets things done...
Vehicle access to & from Upper Lewes Road
...with help from the Council & residents who report problems!
This has now been solved. Thank you to all who played a part. We are aware that there are road safety concerns which have been raised which will need both more funding and community/political will if they are to be solved.
Veolia were granted planning permission for their Waste Transfer Station and Materials Recovery Facility at Hollingdean Depot in 2006 in spite of a very large number of objections from residents in nearby neighbourhoods as well as the Downs schools. The facilities started operating early in 2009. Longer operating hours were permitted when conditions made to give periods of respite to nearby residents were dropped in 2013 in spite of ongoing noise nuisance and odour escapes from buildings which are not well enough designed to contain either. The Environment Agency has studied the problem and sees the only really effective solution to odour escapes as separate food processing elsewhere. Unwanted noise, specifically frequent periods of beeping, could be reduced if the Council could be persuaded to enforce its planning condition requiring 'smart reversing alarms' and if there were space on site to design buildings which are really fit for purpose.
Update on 2 Ashdown Road
History of the rear yard plot / garden at 2 Ashton Road

The rear garden was converted into a work yard with a series of home built garages over thirty years. Prior to the 2010 planning permission, the site was let by the then developer to Raj Motors whose second-hand car sales business spilled over into the densely parked Ashdown Road. Raj Motors moved on after being served with an enforcement order by Brighton and Hove City Council. There was then an application (BH2008/02170) to divide the house at 2 Ashdown Road into three self-contained flats and in addition to build two new houses on space vacated after the demolition of the garages.
Bored with Estate/Letting Agents' boards?
"why is there one set of conservation rules for Round Hill residents, while estate/letting agents are permitted to erect eye-catching boards which are totally out of keeping with the character & appearance of our conservation area?"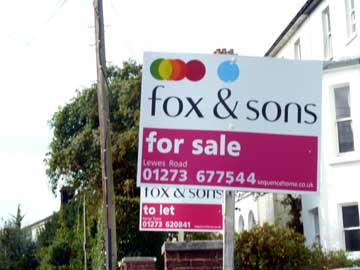 London Road Station - a heritage asset click here or on picture below to read why!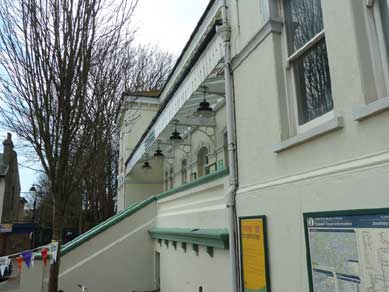 But permission to build extended until 2017
London Road Station open space to remain at risk

Sainsbury application refused (Oct 2012)
D'Aubigny Road residents are spared further noise


Sainsbury application to double delivery yard activity at their Lewes Road branch on Sundays and Bank Holidays was refused on 5th October 2012.

The Council decided that the increase in the delivery hours and the increase in the number of delivery vehicles would have an unacceptable detrimental impact on the amenity of residents of nearby properties contrary to policies QD27 and SU10 of the issue decision notice.

Those affected live on the east side of D'Aubigny Road. Their rear gardens back onto the supermarket's busy delivery yard. They have been engaged in a long struggle to claim a little garden leisure-time uninterrupted by unreasonable amounts on Sundays and Bank Holidays.
Valuing the open-feel of Round Hill
Looking from the summit of Princes Road across Saunders Park into the Lewes Road valley before Hughes Road and the warehouses of The Centenary Industrial Estate were planted in the foreground.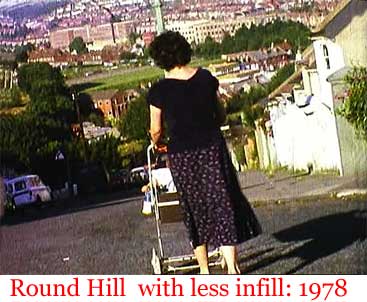 Do we want to stand by while our remaining open spaces are overdeveloped and the remaining gaps between our terraces are plugged, severing connections with surrounding hills and valleys?
Round Hill is already very densely populated, though still (in 2016) this is mitigated by something of an open-feel. Remaining silent about planning applications which are certain to take away the amenity of our neighbourhood is one choice. Responding by submitting a comment is a democratic right. Please review the planning applications at the top of this page.