Demolition of
existing 2no storey building and
construction of
1no
three storey building
and
1no
five storey building
providing 144 rooms of student accommodation, with associated ancillary space, 186 cycle spaces, removal of existing trees, landscaping and other associated works
See also
further evaluation of this proposal
.
BH2013/00197 - Richmond House, Richmond Road, Brighton
Proposed 5-storey and 3-storey building
The developer's
Design & access statement
. The developer,
Matsim Properties Ltd
, seems to have been steered away from their initial plan (see the Richmond House page on
their website
) for 10,000 sq ft of offices with 33 flats over, approached from Richmond Rd.
Existing and proposed floor space (sq metres)
Existing floorspace = 784 sq metres (last used 25 Nov 2011)
Proposed floorspace = 4079 sq metres (over a fivefold increase!)
Site area = 1,662 sq metres (hence the proposed heights)
See pages 4 & 5 of
application form
for source of above data.
Many more windows on RH side
(SE elevation)
than exist in
all the D'Aubigny Rd dwellings put together
Review the developer's drawings:
Ground
,
1st
,
2nd
,
3rd
,
4th
and
NE & SE elevations
i.e. Sainsbury service road (79 proposed windows) & D'Aubigny Rd (45 + 15 = 60 proposed windows).
Proposed floor space would be over five times as much
as what is there at the moment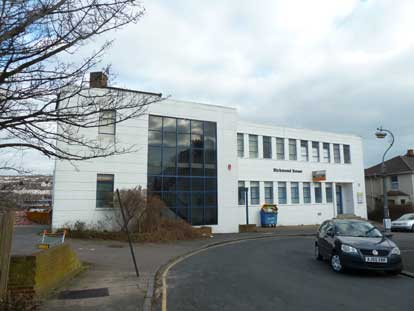 Demolition of
existing 2no storey building and
construction of
1no
three storey building
and
1no
five storey building
providing 144 rooms of student accommodation, with associated ancillary space, 186 cycle spaces, removal of existing trees, landscaping and other associated works
OS Extract
- existing site & block plan
Supporting Document(s)
- design & access statement
Application Form
Correspondence
- agent's letter
Drawing(s)
- existing elevations
Drawing(s)
- topographical survey
Drawing(s)
- proposed level 00 - hughes road level
Drawing(s)
- proposed level 01
Drawing(s)
- proposed level 02 - richmond road level
Drawing(s)
- proposed level 03
Drawing(s)
- proposed level 04
Drawing(s)
- proposed roof plan
Drawing(s)
- proposed elevations
Drawing(s)
- proposed elevations and sections
Drawing(s)
- proposed elevations and sections 2
Drawing(s)
- proposed elevations 1 (building 2)
Drawing(s)
- existing floor plans
OS Extract
- proposed site and block plan
Supporting Document(s)
- sustainability checklist
Supporting Document(s)
- tree survey
Supporting Document(s)
- transport assessment
Supporting Document(s)
- planning statement
Supporting Document(s)
- biodiversity survey and report
Drawing(s)
- proposed bay detail.
Proposed 5-storey building
The proposed
5-storey building
would provide 129 'studio' rooms and would be accessed via Hughes Road through the Centenary Industrial Estate. Level 0 will go down to this level. However, there would be a second entrance to this 5-storey building in Richmond Road. See
Access & Design Statement page 10 of 21 column 1: "Lay Out"
.
Refuse & Recycling collections for the whole development would be serviced from Richmond Rd and D'Aubigny Rd.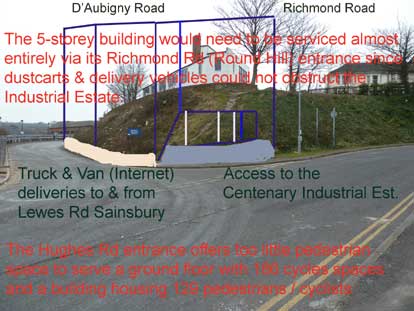 Such are the existing uses of
the delivery road into Sainsbury
and
the sole access to the Industrial Estate
that it is clear that services to meet the needs of all 144 occupants (visitors' & parents' cars or vans, post/delivery/removal vans & lorries, refuse & recycling trucks) could only wait or park within streets in Round Hill.
Our conservation area does not have sufficient transport infrastructure (e.g. pay & display onstreet parking) to cope with the demands which such a massive development would present.
A car-free development does not mean that it will never be visited of serviced by cars or vans in need of places to park. D'Aubigny Road is one of the smaller streets in Round Hill and Richmond Road (closed off at its junction with Mayo Rd) is already very tight for on-street parking space.
The developer describes the proposal as "adjoining the conservation area" since the foundations of the 5-storey building would be on the industrial estate".
However, the proposal requires one of the most densely populated parts of the conservation area to service the whole development.
The two lower floors would be built into the embankment on one side, depriving rooms on this elevation of natural light; on the opposite elevation, the streetscape which occupants would see (but not be able to use) is the service road entrance to a supermarket used by very large trucks and vans fulfilling Internet shopping orders. The junction formed by this service road and the sole entrance to an industrial state offers unsafe and inappropriate access for residents coming and going by bicycle or on foot. There would be no place here for a vehicle to wait or park to drop off or collect a disabled resident.
The supporting documents for this proposal deliberately play down the extent that this development would take its infrastructure from Round Hill.
Page 10 section 5.1 of the
transport assessment
states that The Sussex Police have adviised that there are a high number of collisions in the vicinity of the application site, particularly in and around the Vogue Gyratory. However, section 5.2 continues, under the heading "Accident Analysis" that no further analysis of this data has been considered as the upgrade to the Vogue Gyratory will completely redesign the layout of the road network and thus mitigate for the existing collision statistics.
Rather than considering the safety of students with 186 bicycle storage spaces in their Hughes Road residence, the developer's transport consultant takes it on trust that the lorry service road, the mouth of the industrial estate, Hollingdean Road and the Vogue Gyratory will bevome a safe environment for cyclists before this gigantic development is built.
The Round Hill entrance is clearly going to be safer than its industrial counterpart 8 metres below in Hughes Road
.
The proposed refuse store for the
5-storey building
is sited conveniently near to what is described as "the secondary entrance" onto Richmond Road. It seems to me that the "secondary entrance" would be both safer and more likely to be used than the "primary entrance" in Hughes Road.
Proposed 3-storey building
The
proposed 3 storey building
would consist of
15 'cluster rooms' that will be accessed via D'Aubigny Road. See
transport assessment
.
First impressions are that the scale of this is far too big. The additional height of the 3-storey building accessed via D'Aubigny Road would have an adverse effect on the character and appearance of the conservation area. Occupancy of 15 'cluster rooms' would dramatically change the mix of residents and place an unreasonable burden on the existing street infrastructure, which already serves a very densely populated area.
Please read
The Design & Access statement
and let Round Hill Society committee members know your thoughts.
MAJOR PROPOSAL AFFECTING ROUND HILL
See
further evaluation of the Richmond House proposal
.