Richmond House 2015 The Building
Return to Richmond House Index
Click here for detailed answers on the proposed uses of the building: for example, would it ever be used as a needle exchange? Would drugs ever be stored there overnight?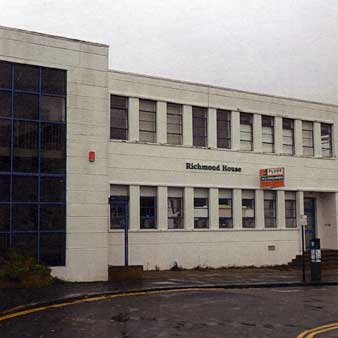 Local residents do not need convincing that the interior of Richmond House is in a sorry state, though the Planning Inspector who dismissed Matsim's appeal did not feel that this provided sufficient cause for demolishing the building.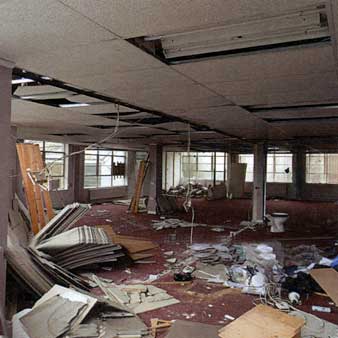 The rundown state of Richmond House has indeed fed concerns that a challenging use of the building might impact negatively on the amenity of residents in the vicinity of D'Aubigny and Richmond Roads.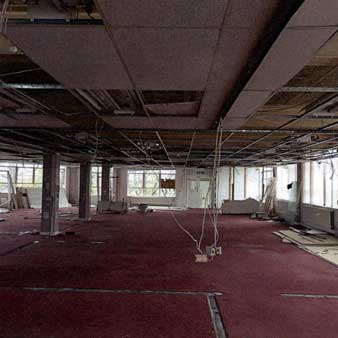 However, Peter Glass, Director of Operations at Cranstoun was keen to stress that quality of environment is an important part of the service which Cranstoun's offered.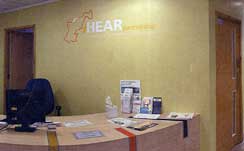 It was for this reason that he showed us pictures of the extensive refurbishment Cranstoun undertook in 2013 with the Kings Fund in opening the iHEAR integrated drug and alcohol treatment and recovery service in Hounslow West London

iHEAR, Hounslow, Refurb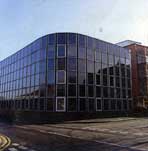 Commissioned in 2012 it currently operates from 2 sites in Hounslow Borough.



DROP-IN versus OPEN ACCESS
Peter drew our attention to the difference between an old-style DROP-IN centre (confirming stereotypes such as a smokey atmosphere, half finished cups of coffee containing cigarette butts) and Cranstoun's proposed OPEN ACCESS centre, where [1] activities would be more structured and [2] those using the service would be clearly attending for a purpose.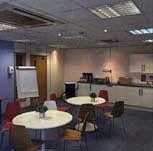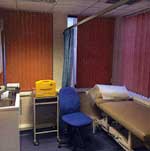 There would be counselling seesions, health education workshops, and not the barriers between staff and clients associated with the old-fashioned drop-in centres.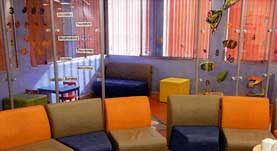 Operating times and numbers using building
Numbers at any one time would be eight to twelve. There would be limited staff at any one time, so numbers using the building would be controlled. Other centres operated by Cranstoun have a well maintained and well managed footfall and they would want the same in Round Hill. Popularity is usually a good sign, since it is usually the result of offering purposeful activities.
Operating hours are likely to be Monday to Friday from 10am to 4pm and Saturdays from 9am to 1pm.
Would people with chaotic lifestyles on the other side of the city ever reach Round Hill on a bus or on foot? Probably not, but there are other services which focus on catering for street drinkers' primary care needs e.g Equinox, Outreach Teams, a health centre in Kemp Town for the homeless. The west side of the city - Hove & Portslade - is also better catered for.
A new centre at Richmond House would be offering a secondary service (i.e. not a hostel where people linger and consume food), but more structured activity. Its catchment area would take in suburbs to the east of the city such as Whitehawk and Moulsecoomb where services currently operating are going to be discontinued. Brighton and Hove City Council is working to put new drug and alcohol service contracts in place from 1st April 2015.
A welcoming environment
If planning application BH2015/00493 is approved, Richmond House would also assume some of the work of the centre on the junction of Ditchling Road and Upper Lewes Road, where people do tend to linger since there is Open Space nearby (e.g. The Level) which makes it easier to remain in the area. Although good work is being done in that centre, the centre proposed for Richmond House would follow a different model. As clients enter through the front door, staff would be totally on offer and not screened off. Cranstoun's philosophy is that if you treat people well in a friendly environment, you are more likely to get a good response. Their approach is about respecting people. Although the Ditchling Road example was cited to illustrate loss of amenity, it was also acknowledged that there are other areas of our city where passers-by are far more likely to encounter problems.
Helping people to recover
It was stressed that the proposed centre was not conceived as a social venue (such as some of the city's Day Centres), but people would come and go. Fears that such a centre would attract drug dealers did not seem very well founded. In Cranstoun's experience, centres working to solve problems of addiction are the last places drug dealers would go to sell their wares. It was also observed that in terms of bad behaviour, people misusing alcohol presented more of a problem than people under the heavy influence of other drugs. Clients would be self-selected and although a proportion of clients may be obliged to attend a centre through court action, the emphasis would be on "addressing a problem" i.e. helping people to recover. People who are in the throws of addiction would be unlikely to attend.

IRis Sandwell Refurb, W. Midlands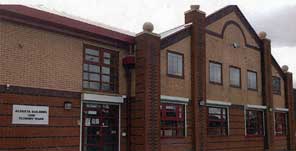 IRis Sandwell was commissioned in 2013 and services the population of one of the most deprived boroughs in the West Midlands. Like iHEAR it offers an integrated partnership approach for those who wish to access treatment and recovery from drug and alcohol addiction. The pictures attached show the building post an extensive refurbishment undertaken by Cranstoun and MBC Sandwell. The service has out-performed since its inception and is now within the best performing integrated services in the UK.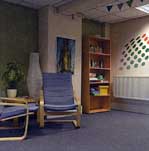 How did IRis look before the refurb?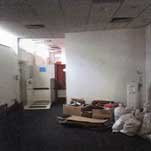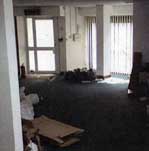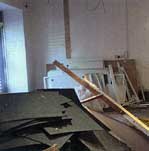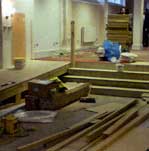 Click here for detailed answers on the proposed uses of the building: for example, would it ever be used as a needle exchange? Would drugs ever be stored there overnight?
Download the PDF document prepared by Pavilions for Round Hill residents.