Has The Council

any planning brief whatsoever

which encourages residential development on the Centenary Industrial Estate?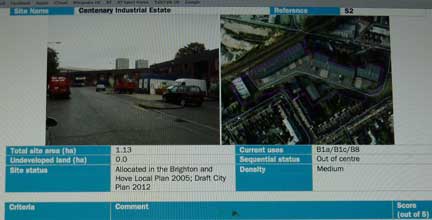 "The existing
Local Plan
protects the site for employment use only (EM1 - industry and business)."
"The
Draft City Plan
will continue to protect the site for B1 (business), B2 (general industrial) and B8 (storage & distribution) uses. Potential uses: B1c/B2/B8. " See
Use Classes Order
.
Source of above
: appendix reference 3079713v3 (printer p173)
EMPLOYMENT LAND STUDY 2012
(Final Report December 2012) prepared for BHCC by Nathaniel Lichfield & Partners (Planning, Design, Economics).

See also within
same document
P42-43 (printer page range 58-59) on Safeguarded Sites i.e. primary industrial estates and business parks for B1, B2 and B8 uses
as well as
P57 (printer p75) which features The Centenary Industrial Estate
within a table of industrial sites
, gives it a score of 24 out of 30, defines it as a Safeguarded Site for B1c, B2, B8 potential uses.
An earlier study
EMPLOYMENT LAND STUDY 2006
prepared by Roger Tym & Partners (Planners and Development Economists) also supports the designation of the Centenary Industrial Estate for employment (business & industrial uses only). Paragraph 6.22 of the 2006 study (pages 58-59) states that
As a relatively modern estate, with no vacancies, the site is fully used and no redevelopment or change of use could be considered appropriate in the short or medium terms.
The designation of The Centenary Industrial Estate
as a site safeguarded for business and industrial uses
(highlighted in both 2006 & 2012 reports) would appear to be
categoric
, unless there has been a recent reversal of policy which has not yet been shared with members of the planning committee and the general public.
How far should we widen our city's

academic corridor

?
Any policy change aimed at expanding English as a Foreign Language delivery in Brighton and Hove which
jeopardises employment within our business parks and industrial estates
would seem a foolish risk to take. The EFL sector is already well catered for in our city, the better schools having long-established departments for placing learners in local families where they can practise their English.
However,
a very small minority of EFL teaching staff in our city are on permanent contracts
as need for their services can vary sharply: currency fluctuations, recession in Europe, Iranian exodus in early 1980s, conflicts over the past 30 years RE The Falklands / Kuwait / former Yugoslavia / Iraq / Egypt / Syria. Education and Tourism have important parts to play in our city's local economy, but the pretence that it would be economically sustainable to offer tenancies (other than short-term ones) in any great number to 16-18 year old learners from overseas is a little far-fetched. To allow such a hope to jeopardise employment in our business and industrial sectors would be outright folly.
The city of Alicante put
too many eggs in one basket
. It appeared to be possible to expand employment by expanding
an international playground
even more. But once hit by international recession many of Alicante's large concrete blocks became redundant and property prices suffered a general decline. Unemployment now soars.