Two points for the appeal inspector
[1] Richmond House and The Centenary Industrial Estate
A residential development on a successful industrial estate is contrary to the draft city plan. Have residents told this to the appeal inspector?
The best possible outcome of the appeal would be if The Centenary Industrial Estate could be ruled out in principle by the inspector as a suitable location for a large residential development
Not only is it right that locations for residential accommodation and dedicated industrial estates are kept apart, but it would also be much better for Round Hill residents if we did not have to spend months/years fighting future planning applications of 100 rooms plus.
The most inappropriate feature of the two Matsim's Richmond House proposals to date is their scale. Both are far too big - so big as to warrant outright refusal. The unsuitable scale and location create 'a nonsense' out of small measures to mitigate the impact of these huge developments on Round Hill, Diamond Court and the operation of a successful industrial estate.
It would be unwise for residents to press for Round Hill to be made into a fortress protected by planning conditions barring access to residents whose windows look out onto our streets. Such conditions are most unlikely to last once Matsim's have got the building they want.
Subsequent planning applications to remove the conditions are certain to follow. The needs of 100+ occupants in "a castle on the industrial estate" would make the needs of home-owners in the vicinity of the current Richmond House look small by comparison. Money would decide whose amenities are valued most. The Centenary Industrial Estate is entirely the wrong location for Matsim's fortress.
1. Rule out the industrial estate for residential
By far the best and most honest strategy for reducing the impact on Round Hill is to get the industrial estate ruled out altogether for residential accommodation. It is this that we should be pressing the appeal inspector to do.
......it is needed for employment!
This outcome is also important for our city on the basis that Matsim's proposal would jeopardise the operation of a successful industrial estate, contrary to Brighton and Hove's policies for protecting employment opportunities in our city. The proposal could destroy sustainable jobs to provide temporary accommodation to '16 to 18-year olds from overseas' who may not be around, when currencies fluctuate, technologies & fashions change, or when it is recognised that there are better ways of learning English than to be housed with 'no native speakers of English'. Matsim's lame justification for their proposal is neither about education, nor about sustainable development in our city. Rather, it is an excuse for erecting a big building in a most unsuitable place.
2. Why no accident statistics & analysis?
[2] Transport assessments which fail the public by putting people at risk

Although the accident statistics were not reported for a reason which I found unconvincing, it was stated in in section 5.1 of the Transport Assessment which accompanied the first of Matsim's proposals that The Sussex Police have advised that there are a high number of collisions in the vicinity of the application site, particularly in and around the Vogue Gyratory.
Note the absence of any Accident Analysis in section 5.2 of the Transport Assessment. The reason for this deliberate omission - the hope that a projected road scheme would make things better - does not impress me and I doubt that it flatters the Council.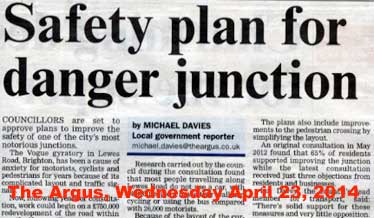 The Vogue Gyratory is a known accident blackspot for pedestrians and cyclists. It has been the subject of numerous reports in The Argus and features prominently in accident statistics held by Sussex Police. How is increasing the volume of cycle traffic in this area going to simplify this overused hub served by far too many accesses and used by 6,000 people per day, including drivers of the heaviest motor vehicles on UK roads?
Valuing the safety of guests from overseas
How is introducing 100+ teenage cyclists who are not used to UK roads going to help congestion on this dangerous section of Lewes Road or go down with their parents if bad planning decisions lead to injuries and fatalities?
Would UK parents be happy to send their children to live in overseas urban zones of similarly risky and confusing design? Presenting 16 to 18-year-olds as pre-university students may make them seem more adult, but risking them as cannon fodder to provide a lame justification to erect a large residential building in the wrong place could not come closer to a definition of folly.
The limited access to the proposed 5-storey building would be at the junction of a a service road for supermarket delivery (currently yellow lined to prevent kerbside parking) and Hughes Roas (the sole entry-point to the industrial estate).
How could this be adequate space for all the service functions which Matsim's proposal would entail: entry-point for pedestrians, mount/dismount point for cyclists, kerbside refuse collection point, drop off point for taxis, service and emergency vehicles etc. It seems to have been entirely ignored that as a thoroughfare for supermarket lorries & vans, the existing service road needs to be kept clear of obstacles and there is already enough going on.
Both the Vogue Gyratory and Holllingdean Road are also in an Air Quality Management Area, not the most inviting part of the city to house teenagers from overseas. Accommodation in host families provides a much better advertisement for our city, a satisfactory level of supervision, and language practice too.