This page is from the Round Hill Society archives which are available for historic interest. Please bear in mind when viewing archived pages that details may no longer be current.
Odour nuisance from Hollingdean WTS
The Environment Agency has recently responded to residents reporting odour nuisance from The Waste Transfer Station during the period August 2013 to August 2014.
Environment Officer, Chris Parkin, writes:
I have identified the 2 biggest problems which cause odour nuisance - the design of the building and the nature of the waste received. The primary odorous source is the food waste contained within domestic refuse. The only possible way to remove that is for the local council to instigate separate waste collections for food waste, which would be a huge undertaking for them. I am planning to arrange a meeting with Brighton City Council in the near future to discuss with them whether this option is feasible/but I must stress it is not within my power to compel them to do this. Veolia would be happy with this option and have the facilities to do so if required.
Read The Environment Officer's full response.
Veolia can offer the complete solution, which is separation of the food waste and composting it using an Aerobic or Anaerobic Digester well away people's homes.
The obstacle is our own Local Authority
Click here to scroll down to what to ask our MP and ward councillors
It is hard for those Local Councillors and Council Officers who supported Hollingdean as the location for The Waste Transfer Station to admit that they have treated the surrounding neighbourhoods unreasonably. However, a half-way house would be consensus among Councillors from all political parties to agree to a change of policy so that food waste processing and glass-tipping take place away from people's homes. The 70% of black bag refuse which is non-food waste could remain at the Hollingdean WTS. Without the food waste, more of this could be sorted and diverted into recyclables at the Hollingdean MRF, increasing our city's embarrassingly low recycling rates.
The turning point will therefore come when there is the political will to implement a change in Council policy so that services which entail good environmental practices are purchased from Veolia instead of cheaper ones which compromise air quality and public amenity (odour / noise / dust) in the neighbourhoods surrounding Hollingdean Depot.
The issues not yet satisfactorily addressed:
1 the design of the building

2 the nature of the waste received
Read The Environment Officer's statement to this effect.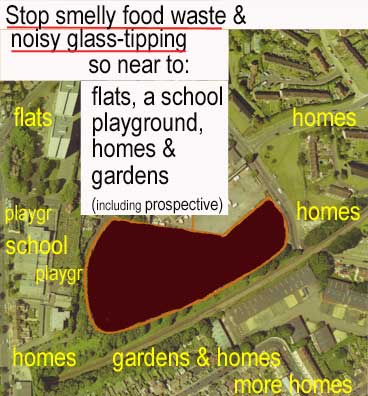 Brighton & Hove City Council presides over a city with two universities as well as one of the largest Community Voluntary Sectors in Europe. The latter includes a large number of groups which dedicate themselves to the betterment of the environment.
In this context, our Council ought both to invest wisely in the future and to be a leading example to other Local Authorities. A policy change is badly needed. All the time our Council finds other priorities, public health & amenity and residential environments suffer. If our Council's example is copied by other Local Authorities, The Environment Agency will need to divert more staff time to management of complaints rather than standing for best practice in the management of the environment.
Examples of poor practice which inevitably lead to complaints contribute poorly to staff morale among (i) those who have to work in facilities which cause odour nuisance to immediate residents and (ii) those who have to pick up phones at the Environment Agency and promise temporary fixes which time and time again prove ineffective (when the problem is as rudimentary as location and buildings which cannot contain the smell of rotten food).
The Environment Agency should actively discourage cheap solutions to managing waste which showcase pollution, creating an odour nuisance to Brighton residents in order to incinerate the food waste at Newhaven instead of using it to produce bio-fertiliser, renewable electricity &/or garden compost.
What to ask of our MP - Caroline Lucas
From the MP representing Brighton Pavilion Constituency, we need
a private members bill making it illegal for food waste to be handled in Waste Transfer Stations located within 400M of residential homes/gardens and places such as schools
government funding to help Local Authorities to cover the cost of good public health and environmental practices such as separate food waste collection and composting. Such a bill is needed both locally and nationally. It could compel the government's Environment Agency to implement the terms of its operating licence more stringently, preventing the mistakes made in giving approval to Veolia's operation at Hollingdean Depot from being repeated in other towns and cities in England and Wales. Councils are able to get cheaper services in the absence of such national laws. The issue here is public health and amenity in Round Hill, Hollingdean and the neighbourhoods adjoining Ditchling Road in the vicinity of the Downs schools.
tightening the design criteria for the installations so that the pollution is contained even when there are no residential areas nearby.

In objecting to the 2006 scheme, The Brighton Society described the buildings housing the MRF and the WTS at Hollingdean Depot as "basic metal sheds, the cheapest form of building". While The Brighton Society was drawing attention to poorly landscaped visual eyesores, it is also true that The Hollingdean Depot site is too constrained and the existing buildings too basic to house the filtration equipment needed to contain oudour escapes.

Nor do such basic buildings indicate that a real effort was made in their conception to contain noise breakout. Booms and echoes which reverberate around Round Hill / Hollingdean / the school playground off Ditchling Road confirm that corners were cut
What to ask of our Ward Councillors
NOISE: - planning condition number 13 in Veolia's 2006 permission, states that all vehicles or machinery associated with the waste facility use of the site under the control of the operator of the development, shall be fitted with a non-audible safety device of "smart" form of reversing alarm, which produces a sound only audible to personnel in the immediate vicinity of the vehicle to which it is fitted. The waste transfer station or materials recovery facility shall not be first brought into use until a design specification for the safety reversing device has been agreed with the Local Planning Authority and implemented.

The assertion of Brighton and Hove City Council's Senior Planning Investigation Officer that this condition - designed to spare residents living nearby from hearing industrial beeping in their homes and gardens - was scrapped under application BH2013/02219 is quite erroneous. The 2013 application extended the operating hours, but did not reference the 2006 condition requiring "smart" reversing alarms at all.
NOISE: - tighter building control for Waste Transfer Stations so that all fugitive particles are contained and
ODOUR:- separate handling of food waste in suitable locations. Separation of food waste would also facilitate higher recycling rates. Food waste accounts for 25%-30% of the waste stream (our black bag waste). Together Kitchen and Garden accounts for betwen 30-35%. By separating out this waste, which should not really be with the rest of the black bag waste, the 65%-70% which remains in the black bag will be a lot cleaner. This will make Materials Recovery and Recycling a lot easier.
To reiterate: the only complete solution
Veolia can offer the complete solution, which is separation of the food waste and composting it using an Aerobic or Anaerobic Digester well away people's homes.
With the right representation, siting noisy/smelly operations near people's homes can be resisted. See North London example involving the Pinkham Way Alliance. Could two of the most anti-social operations at Holliingdean Depot - food waste processing (ODOUR) and glass tipping (NOISE) - be switched to locations away from residents' homes?
We in Round Hill will need to speak up to be heard, especially when some from all the parties represented on our Council can bring themselves to approve the siting of new homes (not yet built) just a few metres from the perimeter fence on the south side of Hollingdean Depot.
We are not alone in being expected to put up with these nuisances. See how The Pinkham Way Alliance, a group of North London residents, resisted a proposed Waste Transfer Station.
Related articles: