Crime statistics
You can report crime and incidents online at www.sussex.police.uk/reportonline. Not sure of the law?: AskThePolice online answers to FAQs.
CRIME and ANTI-SOCIAL BEHAVIOUR is more of a problem now than it was a year ago, survey results suggest. Read more on this.
Previously, this page was for "eWatch magazine" presenting crime reports and statistics up until the end of the most recently completed month.
We have now lost the Police Community Support Officer who sent this data (together with the useful links below) every month to The Round Hill Society and Ditchling Road Area Residents' Association.
However, the third link (bulleted above) is to a "crime map for our neighbourhood". The data displayed goes back about 3 months. Although it is a pity that we cannot still be given a more recent picture, the effort of mapping crime by neighbourhood is nevertheless appreciated.
Police Community Support
Local priorities - Round Hill
Vehicle Crime
Burglaries
Theft of bicycles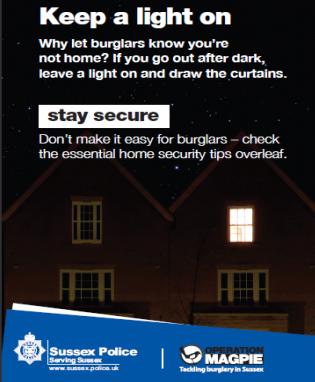 How secure is your home?
Daily security
Keep all wallets, credit cards and car keys out of sight and out of reach.
If you leave your house empty, even if you are in the back garden, lock all the doors and windows
An intruder alarm can be an effective deterrent against burglars
Make it a habit to mark your valuables by using your postcode and house number or name
Some articles are unsuitable for marking so photograph them next to a ruler
Register your property at www.imobolise.com
After Dark
Leave some lights on if it will be dark when you get home
When you go out in the evening, always leave a light on in a room that cannot be peered into from the road
Fit security lighting that can detect movement
Front Door Security
Don't let anyone into your home that you don't know. Always ask for identification – official visitors won't mind being asked
for ID
Fit a door chain or bar and, if you have a solid front door, a wide angle door viewer
In the Garden
Ensure that gates or access to the rear of the house are locked and secure
Trim overgrown plants – don't give burglars a hiding place
Secure garden tools and ladders in a locked shed or garage to prevent them being used to break in to your home.
Report a crime
Report domestic abuse, hate crime, sexual offences, anti-social behaviour, criminal damage, fraud, internet crime and more.
Ask the Police
Not sure of the law? examples: double parking, cars parked on the pavement, dangerous dogs?
Click here for online answers to all FAQs on policing issues
Useful Contacts
Animal Welfare (Dog Warden)
To report any dog related incidents please contact the above on:
01273 292929
Parking Enforcement (NSL).
To report offending vehicles please telephone
0845 6035469
Wildlife Rescue (Roger's Wildlife Rescue)
For sick or injured wildlife contact:
Roger Musselle
37 Downs Valley Road
Woodingdean
Brighton
BN2 6RG
www.rogerswildliferescue.co.uk
01273 308268
RSPCA
0300 1234999
NOISE
Brighton and Hove City Council, Enviromental Health
01273 292929
Email: EHL.environmentalprotection@brighton-hove.gov.uk