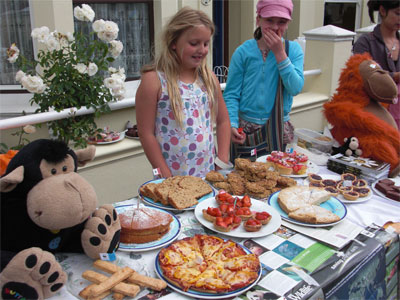 One of Round Hill's streets was closed to traffic from early on Saturday 20th June 2009 and bunting, tables, chairs and astro-turf transformed the place ready for an afternoon of stalls, games, food, drink and music.
The Round Hill Picnic Party began at 2pm with a series of events running through until 6pm.
What did you think?
Please
let us know
what you thought about the party. Your reflections and suggestions are welcome.
Street market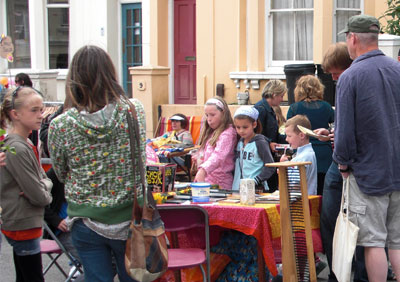 The street market was a roaring success with over twenty tables selling cakes, games, bric-a-brac, books, chutneys or jams, pickles and plants. And there were even taster sessions in massage and auricular acupuncture.
A barbecue sold vegetarian and meat hamburgers and sausage rolls, and visitors could also pick up fresh, line-caught mackerel. A local bakery business,
The Taste of Calabria
were offering delicious expertly-produced breads and pizzas.
Music and entertainment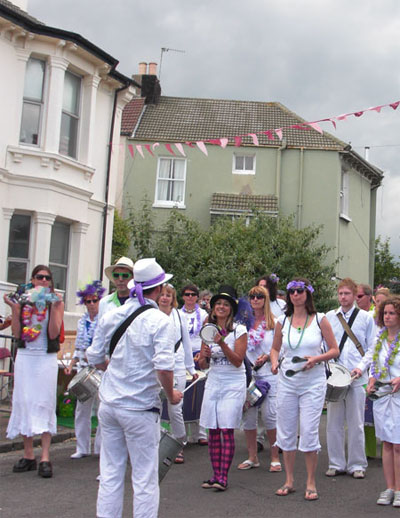 The Curst Sons
with their special country-bluegrass music played a well-received set and the stunning Brighton-based sambistas
Barulho
entertained the crowds, bringing a rousing finale to the afternoon.
Younger folk enjoyed face painting courtesy of a range of talented artists, as well as a dressing up area, giant board games and of course, bouncy castle. Leonardo—Maestro of Magic––entertained Round Hill's children.
An ambulance was also on hand, with paramedics offering guided tours of their kit and talking about their work; and there was a recycling information stall providing advice.
Credits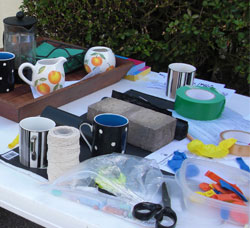 A huge amount of work went into planning and producing the street party. The committee of the Round Hill Society would like to thank the many people who played a part in making the party such a success.
Lead planning team
Rob, Annie, Kevin, Marian, Dave, Robin, Alexia, Carol and Mandy
Road closure command
Steve
Expert assistance and brute force
Rowena, Fiona, Jackie, Emma, Alan, Djan, Darrow, Page and the residents of D'Aubigny Road
Financial support
Brighton and Hove City Council
Barbecue supplies
Thank you to Five Ways Butchers and Shaktis stores for discounts on food supplies and to the kind people of Richmond Road for the loan of their excellent barbecue.
Bunting maestro
Jackie (nifty conversion of old duvet cover)
Greening D'Aubigny
Thanks to Kim Jackson for loan of astro turf and Mark of D'Aubigny road for support and expert installation of grass.
Other credits
Bouncy castle by Bumbles Inflatables
Giant board games by Brighton and Hove Resource Centre
Special thanks go to
the residents of D'Aubigny Road who were unanimous in their support of the event, who ensured that the street was clear of vehicles and who happily endured a day of chaos, responding to the invasion with the utmost neighbourliness.