by Rob Stephenson from
The Round Hill Reporter March 2012
Nature Notes
Whilst working in Belton Road recently I was delighted to see a large, grey-muzzled fox curled up on the roof of a nearby shed enjoying the weak afternoon sunshine .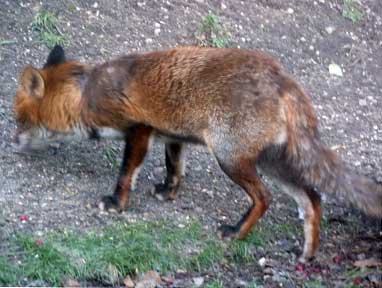 He was trying to relax, and yawned several times, but a pair of magpies seemed determined to ruin the siesta, scolding him from the safety of an adjacent tree, and then hopping down to the roof, just a few yards from him, causing him so sit up and snap his jaws at them.
Only a few weeks ago there were two young foxes wandering along the walls between the Upper Lewes Road and Round Hill Crescent.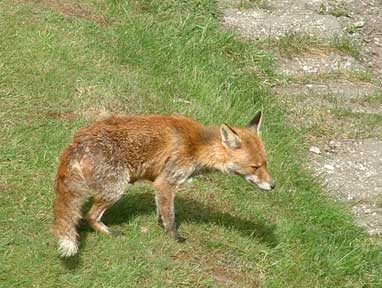 They were travelling in opposite directions, and barely acknowledged each other. One stood on my shed roof and watched a grey squirrel on the ground below.
If you follow the messages on the Roundhill Yahoo site (roundhill-subscribe@yahoogroups.com) you may have read of the fox spotted between Crescent Road and Richmond Road. Seems we have a good population of them now.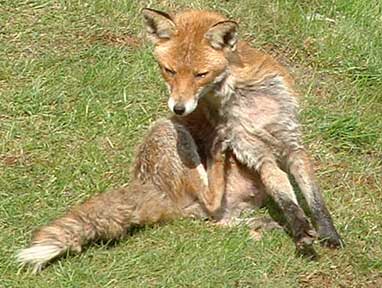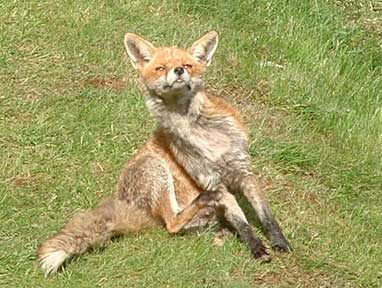 I was watching a group of thrushes taking turns to drink from a shallow bowl of water. Then a cock blackbird arrived, scooted everyone away, and drank. After he'd finished he stuck around stopping any other bird getting to the bowl.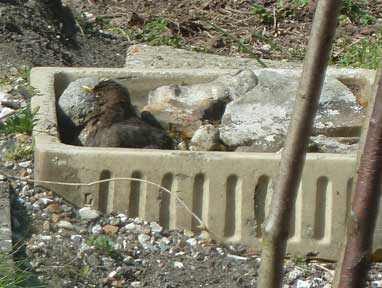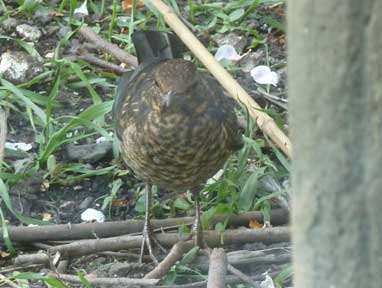 In this cold weather birds need water almost as much as food. It may be cold here, but our weather is milder than in the north European home territory of redwings, which are visiting us now. other bird getting to the bowl.
I saw three of these plump, thrush-like birds perching together in a leafless tree this week, each with a bright red splash of colour on their sides just below their folded wings.
Whilst clearing the front garden I found two caterpillars of the scarlet tiger moth. This surprised me because I thought they had all got their pilots licences last year, and flown away. Perhaps these two didn't get enough to eat to metamorphose last summer, rather like the occasional tadpole that overwinters in the pond. I'm thinking of the summer, and waiting for warm evenings when I hope to spend more time in the garden, and see the bats that a near neighbour said he was watching last summer.