a book review by Rob Stephenson from
The Round Hill Reporter December 2008
The author, Mike Unwin, is a Round Hill resident and wrote the article
Flocking to the neighbourhood
for the June 2005
Round Hill Reporter
, in which he identifies birds he has spotted within our neighbourhood.
RSPB Guide to Birdwatching - a step-by-step approach

by Mike Unwin, pub A & C Black, 2008, £12.99, 176pp.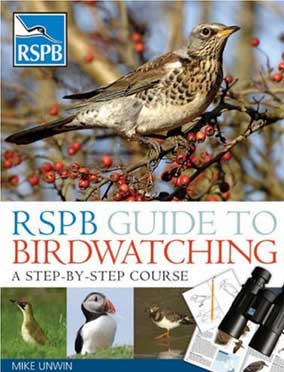 This is a book for the would-be birdwatcher, and it engaged my attention from the very beginning, with references to the Anglo-Saxon name for the wheatear* and the northward extension of the range of the Dartford Warbler as evidence of climate change.
But how can a book encourage that incipient interest in birdwatching?
This one does it with bite-sized portions of fascinating detail on all aspects of birds and watching them, from information of wing and feather types, to bird anatomy and senses and from clues to aid birdsong recall and recognition to the best times of day and seasons for birdwatching. It also makes great use of full colour photographs and drawings of score of birds, with snippets of information about them, which means you are learning as you read, and you can check your progress by trying the regular quick picture quizzes.
I already enjoy walking in the country, now I can see how a little birding could make more of each outing. And the book draws me in further by giving advice on careful observation, and how simple sketches can help with later identification, choosing a field guide and selecting suitable binoculars.
I was particularly taken with the idea of using websites and digital guides to not only look at pictures of birds but also listen to their songs. That will surely help with those annoying little chaps that stay outlined against a bright sky, just far enough away to be no more than a dark spot - but singing all the time.
This is a lovely book that is sure to result in a field-guide and pair of 'bins' by the kitchen window, and could easily lead to visiting local bird reserves, or identifying and regularly walking your own birdwatching patch, keenly looking for avian signs of changing seasons.
*
hwit aers
translates as white arse.