by Rob Stephenson from
The Round Hill Reporter September 2007
The latest edition of the North Laine community newsletter has an article called 'North Laine in the Census'. Closer examination showed that the statistics used are for the much larger area of St Peters and North Laine – the ward of which we are a part. I wondered if it was possible to get more focused.
results from 2001 census data
The City Stats website (hosted by Brighton and Hove's website) allows the user to select smaller 2001 census areas, and one of them is almost entirely in Round Hill (E01016970 if you'd like to look it up).
So what does it reveal? There are 1480 residents in 680 households, being 300 flats and 380 houses.
How many of us own our own homes?
A lucky quarter of the households own their homes outright and a further 270 are still repaying their mortgages (Giving 63% owner- occupiers). Ten percent rent from the Council or a Housing Association but a much larger 26% rent from private landlords.
How many of us have jobs?
Nearly 800 of us are working, 70 from home, whilst over 200 walk or cycle to work, another 200 use the bus or train and the rest (280) drive to work. Those 280 who drive to work do not leave the streets empty of vehicles because we own 560 between us, but they are not evenly shared:
Vehicle possession
36 % of households have 0
49% have 1
14% have 2
1% have 3 or more
Who is living in these 680 households?
A third of them contain just one person (and a third of these are pensioners). Half contain a family – this can be as small as a parent and one child, or as large as a couple with several dependent and non-dependent children.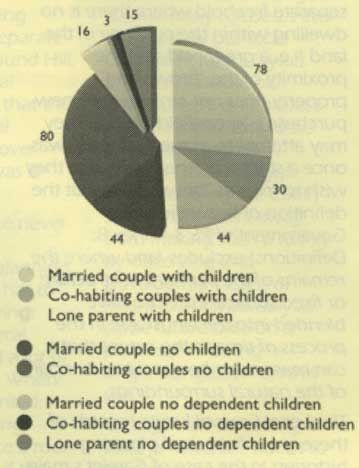 The remaining 15% of households go beyond the family. They include student houses, families with lodgers and shared houses.