Laundries 1891 Princes Road
| | | |
| --- | --- | --- |
| 15 | Mary Fielder Age 43 laundress | =Maurice Age 44 signalman |
| 33 | Emma Allnutt Age 53 laundress | deaf supporting 5 children |
| 37 | Matilda Dows Age 36 laundress | Prince's Laundry=Thms Age 42 |
| 39 | Jane Richardson Age 53 laundress | Jane Age 35 daughter |
| 41 | Emma Hudson Age 63 laundress | & lodger |
| 42 | Ann Atkinson Age 40 laundress | = George Age 45 Tailor |
| 43 | Jane Hobbs Age 25 laundry | = James Age 30 railway porter |
| 48 | John Simmons Age 48 laundryman | assisted by |
| 48 | Eva Simmons Age 38 laundress | Marian Brennan Age 25 boarder |
| 51 | Elizabeth Penfold Age 37 " " | =Henry Penfold Age 42 painter |
| 53 | David Hatelie Age 53 laundryman | |
| 53 | Matilda Hatelie Age 51 laundress | |
| 55 | Thomas Scutt Age 58 laundryman | Charlotte Scutt Age 59 laundress |
| 55 | Ann Shepherd Age 18 | niece and laundry maid |
| 57 | Fanny Jordan Age 66 laundress | =John Jordan Age 67 retired |
| 59 | Elizabeth Tree Age 32 laundress | = George Age 34 labourer |
| 64 | Fanny Heater Age 26 laundress | |
| 68 | Cooper laundress (moves 1891) | up until then Round Hill laundry |
Notes
Although the laundries did not have to contend with wind carrying odour from a smelly Waste Transfer Station, a dust destructor was built to the north of Round Hill in 1866 to enable incineration. An incinerator with a huge chimney became the state-of-the-art addition in 1898. This multiplied complaints from laundry owners, relating not only to the smell from the extractor, but also to dirty debris floating onto laundry.
Laundry sink at 55 Princes Road - now used by wildlife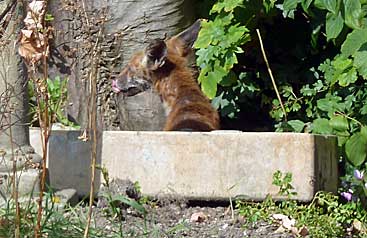 In 1891, surveyors from 105 Gloucester Road Brighton drew up a plan to relay the drains 55 & 57 to accommodate the outriggers labelled "wash-houses" - late 19th century extensions to the houses (as originally built in 1867).
The original underground pipes passed under sole toilets at ground level at the back of the houses. Even as late as 1975, our toilet was windowless, unlit, and accessible only from the back garden i.e. not through the house.
In 1891, sinks were fitted in the narrow stem sections between the kitchens and the wash-houses with main drains moved to garden locations adjacent to these new water courses.
Due to the slope of the hill No 57 needed steps down into the garden. When my father purchased No 55 in 1975, this basement section (level with the back garden) was the only source of running water. A first priority was to bring water to two upper floors to create a ground floor kitchen and a 1st floor bathroom.
There is much evidence of women commonly being the main family supports where there are laundry businesses.
[No 33] Emma Allnutt was deaf. Her oldest child George (Age 17) was a painter's apprentice. Plenty of painting going on at this time.
[No 39] Jane Richardson's daughter Jane (18 years younger) was a Laundress Assistant. The 53-year-old single parent also supported a niece Constance Richardsion Age 11 and had son Thomas (Age 32) who is paralysed. This laundry is also mentioned in the 1884 Street Directory
Neighbour-watching informs us today that the tradition of house-painting still continues in Princes Road. With coal as well as paint in the area, Round Hill was not only doing Brighton's washing but its own.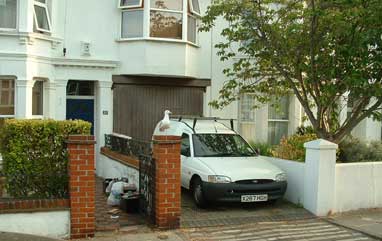 [No 37] In 1883 and 1884, No 37 had been operating as Prince's Laundry under Mrs Paul. Matilda Dows (Age 36) was married to Thomas Dows (Age 42) House painter.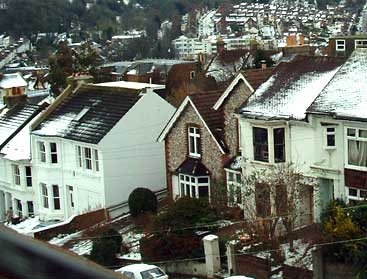 One of the houses with most character in Princes Road is the gabled flint house constructed in 1875 under the name of Hill Cottage with an extension including more flint and an extra gable 20 years later.
[Nos 48 & 50] By 1895, Mrs A Richardson takes over the downstairs laundry business at 48 Princes Road and builds a purpose-made laundry extension in harmony with the appearance of the flint house. The narrow extension which fronts Princes Road becomes No 48 and the original laundry just west of what is now the entrance to "The Copse" becomes No 50. Mrs Richardson's laundry remains in business here until at least 1910.
Perhaps growing competition or advertising from the larger laundries (see full page advertisement from Brighton & Sussex Laundry Works Lewes Road) prompted the smaller laundries in Princes Road to provide more detailed descriptions of the services they offered.
[No 52] Between 1893 until at least 1895, Mrs Lipscombe just east of the entrance to what is now the "The Copse" describes her business as

laundress and lace cleaner

. No 52 remains a laundry under Mrs Rogers (1901), and Mrs Towner (1908) until at least 1910.
[No 53] Mrs Hatelie's business goes from being "laundress" in 1895 to

laundress, shirt and collar dresser

in 1896.
[No 55] Mrs Watts takes over from Mrs Scutt in 1895 and continues the laundry for a short time, simply calling herself

a laundress

.
[No 57] Fanny Jordan (wiith retired husband John) still runs the laundry at 57 Princes Road up until 1896, and by 1896 Mrs Hatelie at 53 Princes Road is describing herself as

a laundress, shirt and collar dresser
Some laundries seem to have preferred less publicity since those who run them are not recorded as "laundresses" in the 1891 population census. This is mainly true of households where there is a husband of working age doing another job, though not necessarily a very well paid one.
[Nos 15, 42, 43 and 59] do not have their occupations as laundresses recorded in the 1891 census. 15 (a signalman), 42 (a tailor), 43 (a railway porter) and 59 (a labourer)
[No 68 Round Hill Laundry was run by Frederick Cooper in the 1888 directory. Although "Cooper laundress" appears in the 1891 street directory, the 1891 census has Ernest and Jane Rowland Ages 22 & 23 living there. Ernest works as an agricultural labourer. Jane's occupation is not given.
What was notable about Round Hill
It is indeed notable that so many women in Round Hill were able to create paid occupations for themselves to be documented in population censuses and street directories. During the post Second World War baby boom, by which time women had gained the right to vote, "housewife" was a common description. That could be regarded as "cleaning without getting paid!" or for housekeeping money which may not have given a feeling of economic independence.
Employment for women during the latter part of Queen Victoria's reign was evident in nursing and teaching jobs, though particularly in Brighton. Both ROSE HILL TO ROUND HILL and THE NORTH LAINE BOOK mention that by the middle of the 19th century, Brighton was nicknamed "School Town", and both publications claim a generous amount of schools (mostly private) in the areas they cover.
Near to both areas was The Diocesan Training College at the junction of Ditchling and Viaduct Road, which by 1875 (shortly after State Education was introduced) described itself as for "young women of eighteen years and upwards ...to be trained as Mistresses of National Schools."
What is intriguing about Round Hill is how enterprises - both the laundries and the Belton Road mill - capitalised on high ground and climatic conditions. In the case of laundries, Round Hill's women were very enterprising in creating occupations for themselves. Evidence of these occupations remains today, but pressure for infill of open spaces has removed a lot of it, wiping out smallholdings and nurseries year by year as we worry about the prospect of having to import chickens soaked in chlorine from distant lands.
With the laundries, the orchards, Lewes Road Station, coal depots, and the windmill, Round Hill was far from being the dormitory neighbourhood it could become if its remaining green ribbons are built on.
Fortunately, there is still private open space and a lot going on. This is discoverable by getting to know your neighbours. Meet some of the enterprising ones on a former laundry drying field at:
Brighton Fringe Event - on 25th, 26th and 27th May 2019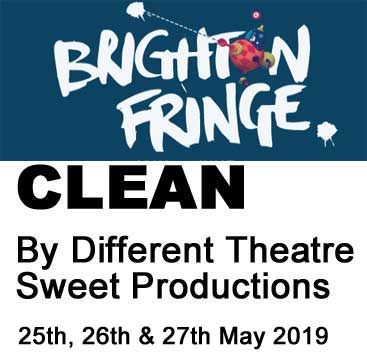 25th, 26th & 27th May 2019. Click on above graphic for ticket information, performance times and venue.
Sam Chittenden's 'Clean' tells the tales of 7 women in the Laundry Hill area of Brighton from 1870-2020.
It explores local history, mental illness, abuse, sexuality, suffrage, & sistership.
It highlights what has changed - and hasn't - in 150 years.
With original live music, 'Clean' is staged in what was once a drying field of the Mayo Laundry.
Doors 30 mins before shows.
Different Theatre create intimate work with a strong theatricality. Past shows include 'Metamorphosis', 'Sary', and 'So You Say'.
"Magical story-telling & a poetic serenity in the face of the dark" (Fringe Review).
Test yourself!
For more about laundries, try this interactive gap-fill quiz.
Occupants of Round Hill homes:
1871
1891
Details of the 15 laundries in Princes Road in 1891
Don't miss Sam Chittenden's play "CLEAN" based in Round Hill