A report by Vivien Eliades
The Round Hill Reporter December 2006
Open market plans unveiled at Round Hill Society's AGM
At the Round Hill Society's AGM on 21 November,
Pat Mears of the Open Market Traders' Association
surprised and amazed all who attended by unveiling exciting new plans for the Open Market, due to go before the Council's Planning department in the new year.
The idea for an £11m European-style market and arts & crafts centre is at the heart of long-term plans to regenerate the London Road shopping area, which has been in decline since the Sixties (see p.5).
The plans have been drawn up by Lomax, Cassidy, Edwards, the architects behind Brighton's award-winning Jubilee Library, in consultation with the Open Market Traders' Association. If approved, the site would have an area for visiting farmers' markets and French markets and could also be used as a venue for street art and entertainment. Visitors would be able to watch crafts people at work and an emphasis would be put on selling fresh and healthy, local produce.
The plans include a range of affordable housing in adjoining Francis Street, which would be built first to fund the rest of the development. A limited number of parking spaces are planned, including about 6 for the disabled.
The proposed Open Market consists of a square stretching from London Road to Ditchling Road, which will be open 24 hours per day. The only closing-time will be on 1 day per year by law to allow the space to be put to another community use. There will be roller shutters on every property to provide security. The closing time of each stall will largely be up to individual traders.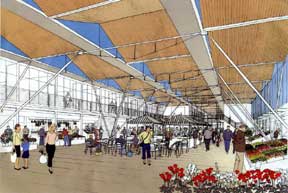 The picture (above) is an artist's impression of the main area of Brighton's proposed Open Market. The roof will be made of metal and glass. The triangular struts have been modified since this drawing, to begin higher up from a vertical pillar, so that people do not knock their heads.
The general concept is "North Laine with a roof on it", so when it is raining people will still come. It is anticipated that some of the enterprises which can no longer afford North Laine rents will be attracted to the new Open Market, though food stores will still be especially well represented.
Priority will be given to local enterprise, rather than multi-national chains. If the planning application is approved, the traders are hoping the new market will be ready in less than two years.
See extended article on
The regeneration of The Open Market