by Andrew Partington from
The Round Hill Reporter June 2001
Tower Mill
, otherwise known as
Round Hill Mill
or
Cutress's Mill
, was one of the largest windmills in the country. [
Click on photo
]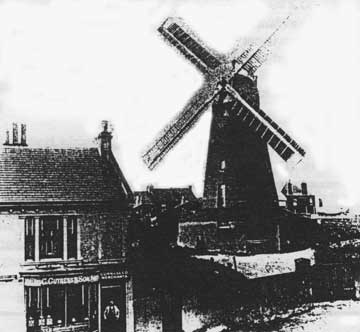 This picture of the Belton Rd Windmill is from a newspaper cutting sent to us by Mr H Ansell of Ditchling Road. It shows the mill in 1888. The houses behind are in Princes Road
Situated at the top of Round Hill Road & Belton Road, it was built in 1834 and changed hands several times before being bought by the Cutress family in 1879.
The mill was dismantled in 1913 and many of it's 50,000 bricks were used in the construction of 10 new houses, which remain on the site in Belton Road today.
The mill may be long gone but is not forgotten, since it is still featured on the many shopfronts and bags of Forfars bakeries.
Here's an old picture of St Peter's Church.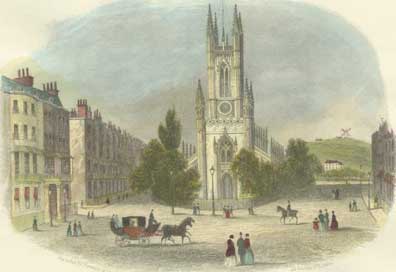 In the background you can see the windmill on top of the Round Hill before the houses were built.