Recycling in Brighton and Hove
Consultation on Communal Bins for Round Hill expected soon.
Don't miss Round Hill's refuse and recycling collections:
refuse = Tuesday weekly recycling = Tuesday fortnightly
Click here for City Clean's service update
e.g. the Tuesday date of your next recycling collection!
Fill in a Do it now form to get Brighton and Hove City Council to solve a problem in relation to recycling or rubbish: e.g. Report a missed collection | Check your recycling and rubbish day | Order recycling boxes, recycling nets or a wheelie bin | Apply for garden waste collection| Request cleaning of a street | Report fly-tipping or dumping of waste | Apply for a commercial waste collection.
Supplements from past issues of The Round Hill Reporter:
Sign up for garden waste collections for just £1 per week.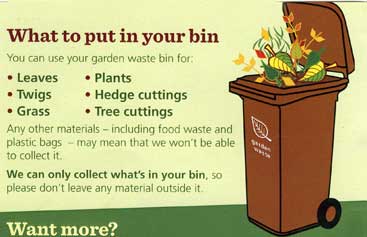 How Green Johanna can compost all your cooked and uncooked food waste. Watch it happen on YouTube
Hot Bin Composters do the same very efficiently, but are quite pricey.
Giving / Selling via local Facebook Groups
Items which residents wish to sell or give away can also be advertised on the
Other recycling outlets
Brighton Freegle (Greencycle)
Brighton Greencycle (Greencycle) started in January 2000, now with over 17,000 members) - we're here to help you give and get stuff for free - anything which could be reused. All items must be legal and appropriate, and free. No loans, swaps or sales please - just free gifts.
I love freegle - this portal to the above site allows you to upload a picture of the item you are offering for free, which helps to attract takers.
Household Recycling Sites (Municipal)
Charities taking miscellaneous items
The Green Centre at Brighton Open Market
Charities taking specific items
Computer Aid International - click here to donate computers & monitors.
Computers for Charities - donate computer equipment. Please Note: Computers for Charities provides a UK & EU collection service for bulk quantities of computer & IT equipment only from Corporates, Universities, Government & Local Government, Charities, Hospitals, Schools. (UK mainland free of charge, min 100 - 1000+ units)
Medicines and Medicine bottles will be accepted by any Boots Chemist store. The medicines are disposed of safely and the bottles are recycled into new bottles.
Postage stamps are of interest to charities such as Oxfam, Guide Dogs for the Blind, Help The Aged (High Street branches) and RSPB Stamps (PO Box 1, Chesham, HP5 2YJ)
Tools: www.tfse.org or www.workaid.org
Wood Recycling - Brighton and Hove Wood Recycling Project. The Project provides a unique (and award-winning) site collection service. Instead of being discarded along with the general rubbish, all "waste" timber can be stacked separately for our collection. We guarantee to collect within 48 hours of notification (we know space is at a premium on most building sites!). On most occasions, we arrive the next day.
Campaigns & information
Twitter Link to Caroline Lucas's question to Environment Secretary Michael Gove on behalf of Brighton and Hove

Caroline Lucas (MP for Brighton Pavilion)

"we are locked into a 30-year PFI contract with Veolia entered into in 2003. Veolia are refusing to change the contract so that a wider range of plastics can be recycled. The Council doesn't have the million pounds that it would apparently cost to put in the new machinery at the Veolia plant in order to enable a wider range of plastics to be recycled and therefore we are in a deadlock. Is that something I can encourage the leader of Brighton and Hove Council to write to you and..."

Michael Gove (The Government's Environment Secretary)

"Oh please do. And I'd be very happy to talk to Veolia about that."
Articles relating to the above from Materials Recycling World [MRW] read by everyone in the recycling and waste management market to recycling officers in local authorities.


Waste Watch Services (Keep Britain Tidy team) specialises in the delivery of waste and recycling community engagement campaigns, monitoring and evaluation and training for local authorities, waste contractors, and other public and private sector clients.
Fly-tipping
Click here for recycling outlets to avoid fly-tipping
Local authorities, including Brighton and Hove City Council, regard placing articles on pavements in the hope that they will find new owners as fly-tipping: a criminal offence which can carry an unlimited fine.
See the RNIB's Who put that there campaign?
Reporting fly-tipping
If you witness flytipping, know who is doing it, or see items left abandoned in public space, reporting options are:
Reporting not only deters dumping, but as the report goes to Cityclean it usually ensures that the offending items are fairly quickly collected.
Please use social media or recycling outlets to dispose of unwanted items. Have them collected from off-street locations such as your home or deliver them yourself. Small-scale flytipping (pavement donations) establish practices which can encourage larger-scale flytipping:
What is wrong with "Please Take" stacks?
On "your own property" nothing at all, but "on public open space" (such as a pavement) Councils are compelled to regard this as fly-tipping, even if the stack is there just for a short time.
The law on flytipping is the same for everyone. It would cost society far too much in legal expenses if, instead of being "a single law for all", there were subtle variations allowing for
the amount left on the pavement,
the perceived usefulness or value of what is deposited,
the intentions of owners to remove unclaimed items after a certain time,
the hope that items tidily stacked against a wall won't be scattered by cherry-pickers etc.
Some residents regard "neighbourhood practice" as the example to follow. The problem here is that larger-scale flytippers, whose actions can trash a street scene and endanger pedestrians, may be led by the same example. If neighbours don't do it, it becomes easy to identify and stop the industrial flytippers.
There is a lot on the news at the moment about illegal tipping on an horrendous scale. The more we can do to discourage it - and to persuade minor players not to take their lead from inconsiderate examples - the more pleasant our streets will look.