Blue Plaque at 101 Roundhill Crescent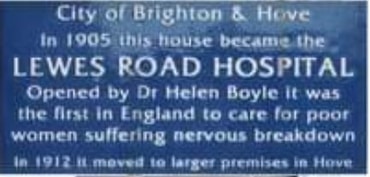 Hospital Blue Plaque unveiling outside 101 Roundhill Crescent
Thursday 10th March 2022 11.30 for noon.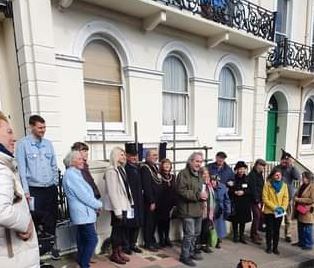 Extract from leaflet produced for those present: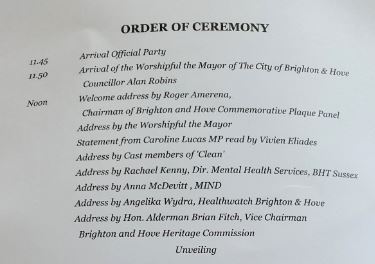 The ceremony was attended by Cllr Alan Robins (the Mayor of Brighton and Hove) and members of the Brighhton and Hove Commemorative Plaque Panel i.e. Rob Stephenson (Secretary of The Round Hill Society) and Roger Amerena (Chair of B & H Heritage Commission).
Also in attendance were Hon. Alderman Brian Fitch (Vice Chair of B & H Heritage Commission), Rachael Kenny (director of Mental Health Services BHT Sussex), Anna McDevitt (MIND), Angelika Wydra (Healthwatch B & H) and members of the cast of 'Clean The Musical'.
The event drew residents from both Round Hill and neighbouring areas. Vivien Eliades (long-term resident and past Secretary of The Round Hill Society) read out a statement from our MP Caroline Lucas.
Photo by local resident and photographer: Alan Roach
The Mayor (Cllr Alan Robins) and Rob Stephenson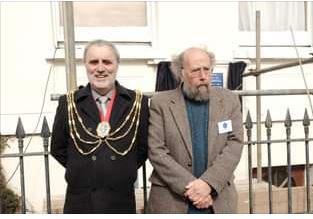 For more photos by Alan Roach identifying those present, please visit The Round Hill Community Noticeboard Facebook Group.
Why this commemorative plaque?
From the Round Hill Reporter [March 2022] by Rob Stephenson.
Why commemorate a short-lived 10 bed hospital in Round Hill Crescent?
Because, although it was small, it was a first step on the long road to learning that 'early nervous disorder' or 'borderline insanity' are real medical conditions deserving of treatment. In the late 19th century and early 20th these conditions were not recognised in England, if you wanted medical support you had to be willing to have a doctor declare you insane - only then was the publically funded lunatic asylum available to you (unless you had money and could be placed in a home or privately run 'madhouse').
As a newly qualified doctor working in an Essex asylum and a clinic in East London Dr Helen Boyle saw that poor housing and diet, combined with stresses of overwork, multiple childbirth and frequent physical ailments could lead to nervous disorders and ultimately insanity.
She was a vigorous proponent of non-asylum treatment with outpatient facilities, which was the antithesis of the care generally available in England at the time because of the strict lunacy laws. From 1904 Dr Boyle travelled to Glasgow, Germany, France and Austria to explore their voluntary admission systems and clinics for mental health care. It was no accident then, that she opened a small hospital right here in 1905 offering comprehensive residential health care. The hospital proved so successful that, in 1912, it moved to bigger premises in Hove.
Many of Helen Boyle's ideas and principles are still valued in today's community care, perinatal psychiatry, and Child and Adolescent Mental Health Services.
Source: Val Brown Women's Hospitals in Brighton and Hove
(ISBN: 9781789017410).
Who was Dr Helen Boyle?
From the Round Hill Reporter [March 2022] by Julia Valentine.
When you first move to an area these days, it's likely you'll search online to find out a bit about it. Try searching for Roundhill and you'll find a great Wikipedia article on the area.
When I did this, what caught my eye, as a feminist, was the story of local hero, Dr Helen Boyle. If you search online again for her name, there's a wealth of information out there.
Dr Boyle was Irish and she moved to Hove in 1897. She became the first female GP in Brighton & Hove and she set up the Lewes Road Hospital in Roundhill Crescent. I can imagine that women at the turn of the century would have been relieved to be treated by a female doctor, although maybe some women would not have trusted her judgement. Dr Boyle would have faced a lot of adversity within her profession and was brave to lead the way for future women to become doctors.
The building later became a hospital for the treatment of mental illness, and this was eventually moved to a building in Hove. At a time when mental illness was often treated with isolation or torture, Dr Boyle's hospital must have improved many lives.
Once you know it's there, it's hard to walk past 101 Roundhill Crescent without considering the people who lived there before. I was thrilled to find out that a blue plaque will be installed on the building to commemorate such an important piece of history - and an inspirational woman.
See also:
The Keep is an archive centre open to anyone. Its three partners are the East Sussex Record Office, Brighton and Hove City Council, and the University of Sussex.