This page is from the Round Hill Society archives which are available for historic interest. Please bear in mind when viewing archived pages that details may no longer be current.
Veolia 2006-campaign meetings2
Scroll to Dr Dick van Steenis's talk:
Fugitive particles (dust escapes) and PM2.5s particulates.
Scroll to Jane Wilde's talk:
Composting as an alternative to incineration.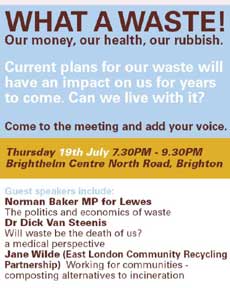 Report on Dump The Dump's Public Meeting on alternative strategies for Waste Management
Thursday 19th July, Brighthelm Centre
About 80 people were in attendance at this important meeting, perhaps the most useful one yet, organised by Dump The Dump to publicize their campaign's commitment to a more sustainable Waste Local Plan. Many in attendance were local to Hollingdean, Round Hill and St Peter's, though there was also a significant presence of 'Defenders' of The Ouse Valley Estuary.

All three Speakers raised awareness of the dangers of dumping rubbish in Hollingdean and then burning it over Newhaven.

1. Norman Baker
Norman Baker, the MP for Lewes, reminded those present that "waste is money". He lamented the irresponsibility of the two Local Authorities which signed the 25-year contract with Veolia, and the low priority given to environmental health in the failure of the Councils to do a proper study of the alternatives to incineration, or even to write the transportation of domestic waste by rail into such a foolishly long contract.
2. Dr Dick van Steenis MBBS
Dr Dick van Steenis MBBS highlighted the risks of particulates, especially PM2.5s which are small enough to get into people's breathing tubes, as well as PM2s which can reach into the bottom of people's lungs. He claimed that incineration of waste causes a shortening of lifespan in human-beings of up to 12 years, by increasing a range of diseases especially cancers. He also described a study in Belgium, which has monitored a 480% rise in cancer in the vicinity of an incinerator.

Concern about PM2.5 particulates was expressed too in the context of construction works going on now at Hollingdean Depot, with particular reference to the Hydrogen Peroxide (rocket fuel) being used to deal with diesel contamination on the site to form a sludge. Local residents at the meeting expressed concern about particulates in the dust on the site, which was being driven by the westerly winds towards their homes.

Dr Dick van Steenis MBBS recommended three measures which concerned residents could take:
1) Move home
2) Acquire a Hepa Filter
3) Take Selenium tablets 200 mg (adequate selenium in your blood neutralises the metals to stop mutations from leading to birth defects and cancers). This webmaster stresses that the latter should not be tried before seeking the advice and guidance of your GP. In larger doses, Selenium is also a poison.

Dr van Steenis lamented the failure of any UK government agency to effectively measure the PM2.5s entering people's lungs. We were reminded that no such monitoring was taking place at Hollingdean Depot and that this may be the subject of a case which the Dump the Dump campaign is currently compiling, which it hopes to take to The High Court.

The medical doctor emphasized that The UK, unlike USA, refuses to measure what goes into your lungs namely PM2.5s to enable companies (like Veolia) to maximise profit.

He cited the downgrading of The Integrated Pollution & Prevention Control Law in 2000 by John Prescott to more or less "anything will do" status.

The UK Government's Department of the Environment, Food and Rural Affiars DEFRA as well as their Primary Care Trusts appear to have no problem with PM2.5s. DEFRA has much looser standards on this than The World Health Organisation. We may in fact have to look to European legislation to safeguard us from the current situation.

As a result of this Laisser-Faire attitude towards our health, Councils only measure irrelevant PMlOs down to PM4s. The Environment Agency & Councils have been told not to bother much with air pollution.

The Environment Agency truthfully states that they know nothing about health. Far worse, the Health Protection Agency follows on from the Guy's Hospital unit director who said "Air pollution does not exist".

So without knowledge of toxicology or possessing adequate data they only heed government "spin" and "reviews" and "diktat", while admitting they really know nothing. The Primary Care Trust Public Health directors in the UK are also totally ignorant of the subject, so pressurised by conflicts of interest or political "spin", they are exposed as not having learnt the subject or checked data on their own computers or checked studies done worldwide.

Dr Dick van Steenis MBBS concluded that it was up to us, the residents who are being subjected to these risks, to challenge the Primary Care Trust public health directors whom the General Medical Council say must know the subject and be up to date and listen to public and colleagues.

The Environment Agency cannot finally authorise any application (from companies such as Veolia) unless the Council and Primary Care Trust public health director have both passed it.

This gives us an insight in the kind of legal challenge which The Dump The Dump campaign are currently compiling. No doubt, Dr van Steenis's expertise will be a component of this challenge.
3. Jane Wilde
The final speaker was Jane Wilde of East London Community Recycling, whose theme was "working for communities - Composting alternatives to incineration".

Jane's presentation focused on what Councils, local residents and community enterprises can do to minimize the problems of waste disposal.

She started by describing the East London Community Recycling Scheme, which collects and composts food waste.

Lottery money is used to fund this scheme and food waste collections are made from 5000 households in Hackney and a lesser number of households in some other neighbouring boroughs.

Local residents are given (EM Bokashi) micro-organisms to break down the food waste, so that 'good microbes' result in no smells and no problems with rats, flies or cats seeking to open black bags.

All the composting is done in the neighbourhoods where the food waste is produced. The compost is then given back to residents and used to green the estate. The scheme, employs over 30 local residents and their uniformed presence has led to reduced 'fear of crime' among Hackney residents.

Jane Wilde emphasized that the very best way is to compost is at home, and it needed an intervention from the floor to satisfy her that Brighton and Hove City Council and CityClean are indeed encouraging Home Composting. Jane also mentioned the efficiency of wormeries from recycled tyres.

She continued her talk by outlining some larger composting schemes, which Councils in other parts of the country are using:

1. Aerobic Digester (Biotel)
Can handle raw meat and fish. Makes liquid fertiliser

2. Vertical Composters (TEG)
Invessel Composter TEG
Valuable compost, decreased odour and pathogens.

3. Anaerobic Digesters
Prevents CH4 methane and CO2 Carbon Dioxide going to landfill, as forbidden now under the Landfill Directive. (methane is 22 times as harmful as CO2 in landfill).
Produces bio-fertilizer
Produces renewable electricity
Greenfinch in Shropshire
Shropshire District Council

Jane Wilde concluded that the very worst thing that we could do with food waste is to incinerate it together with other black bag waste.
For example, the incineration of 3000 tons of food waste requires 870 tonnes of water - water which could be saved for far better uses.

There is great scope here for improving our management of waste in Brighton and Hove. Food waste accounts for 25%-30% of the waste stream (our black bag waste). Together Kitchen and Garden accounts for betwen 30-35%. By separating out this waste, which should not really be with the rest of the black bag waste, the 65%-70% which remains in the black bag will be a lot cleaner. This will make Materials Recovery and Recycling a lot easier.

Background to the Meeting
The above meeting was held by Dump the Dump on 19th July at the Brighthelm Community Centre to publicize their campaign's commitment to a more sustainable Waste Local Plan. Together with other groups in the city, they are demanding:

* a rejection of the current Waste Local Plan – with its dependence on waste-bulking and incineration for waste disposal

* the re-negotiation of the £1 billion 25 year Integrated Waste Contract with Veolia Environmental Services – to deliver technology that is fit for the future in Brighton & Hove and East Sussex

* that the Council should follow the lead of other authorities - who are developing more sustainable alternatives for dealing with their waste.

Posters in local streets call for works to cease on health grounds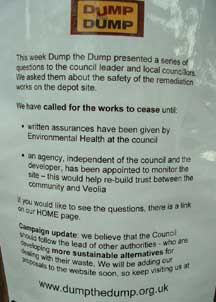 How did the Dump The Dump candidates do in the Council Elections?
St Peter's and North Laine
Debbie Dawes (Dump The Dump/Independent) gained 286 votes, in higher position than one of three Lib Dems. The three elected Councillors for this ward are Keith Taylor 2303 votes, Pete West 2112 votes and Ian Davey 2099 votes, all standing for the Green Party.

Hollingbury and Stanmer
Nick Savvides (Dump The Dump/Independent) gained 408 votes, in higher position than all three Lib Dems. The three elected Councillors for this ward are Jeane Lepper 1326 votes, Christine Simpson 1056 votes and Pat Hawkes 1049 votes, all standing for the Labour Party

Preston Park
Jo Offer (Dump The Dump/Independent) gained 644 votes, in higher position than all three Lib Dems. The three elected Councillors for this ward are Amy Kennedy 1633 votes (who captured this seat for the Green Party), Juliet McCaffery 1630 votes and Kevin Allen 1474 votes (both from the Labour Party).

The fight goes on
Campaigners pledge to fight on The Argus report.

Members of the Dump The Dump Campaign vowed to fight on when members of Brighton and Hove City Council's Planning Applications Sub Committee voted through Veolia's Waste Transfer Station at Hollingdean Depot.
They even put up their own Independent candidates in three Council wards in the May 2007 elections, but are now relying on the winners in these elections to take proper account of public concern.




The cleared site has remained pleasantly empty for a while. Was this levelled plot about to be transformed into playing fields to serve several residential communities? Unfortunately not. The rude awakening is about to take place as heavy machinery again makes its way onto this site. Instead of badly needed open space, Hollingdean and the other surrounding communities stand to enjoy increased levels of traffic congestion, noise and air pollution.

The doubling of the Green Party's representation on the Council on May 3rd together with its success on the Round Hill side of the city, indicates local residents' concern for both public health and the health of the environment.

All successful Councillors will have been out canvassing and will have heard requests to increase recycling targets, looking at methods of waste reduction such as reducing the quantity of unnecessary packaging. Their political colleagues in East Sussex will also have listened to the concerns of residents in Newhaven and the villages in the Ouse Valley Estuary over the damage Veolia's incinerator will do to the health of these communities. We must surely plan for better long-term solutions to the very real problem of managing the city's waste.

The Dump The Dump campaign asks the successful Councillors, whatever their political affiliations, to work towards the following aims in the production of the new Waste Development Framework, which will replace The Waste Local Plan.

1. to stop a dump where people live, work and go to school,
2. to demand a cheaper, greener, safer, cleaner way of dealing with this City's waste
3. to fight the increase in traffic chaos and pollution that will come to our neighbourhood.

Some of the Councillors who voted for Veolia's Waste Transfer Station and Materials Recovery Facility have now been voted out, even the one in Hangleton and Knoll (Note that Hangleton Bottom was short-listed as an alternative site which could be used to prevent the WHOLE operation putting everything on Hollingdean Depot).

What chance now for stopping or mitigating the effects of the Dump on Hollingdean and the surrounding communities?

Campaigners will want successful Councillors to ensure that the 53 planning conditions to which approval of Veolia's Hollingdean proposal is subject, are rigidly enforced.

These Councillors will also have the opportunity to contribute to the new Local Waste Framework to replace the current Waste Local Plan. Higher recycling targets could also affect the profitability of Veolia's Waste Transfer System and Incinerator. The use of incineration itself might be brought into question in a future Framework, especially in the context of changes in Government policy towards taking a greater lead in fighting Climate Change.