Planning
This section includes details about planning policy, issues and particular applications affecting the Round Hill area.
Search & View planning applications
Brighton and Hove City Council's Planning Register
Using policies on Heritage to protect our distinctive green ribbons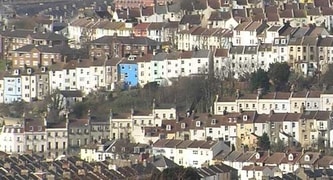 Picture taken from Tenantry Down near Brighton Race Course
What requires planning permission in The Round Hill conservation area? See: Article 4 Direction - A4/22 - Round Hill Conservation Area
Listed buildings in Round Hill.
A Neighbourhood Plan for Round Hill? Could this be your project?
The University of Brighton is developing its Mithras site. For further information on the Big Build development please go to https://www.brighton.ac.uk/bigbuild/about/index.aspx
The Academic Corridor: [ 2007 Regeneration Strategy 3.3 ]
2017 update. Building "the neighbourhood of knowledge"
Click here if you are concerned about an existing or proposed HMO House of Multiple Occupation.
Taking part in the planning process
Planning applications are best supported or opposed - not through petitions, but by online comment after accessing proposals via the The Council's Planning Register. Don't forget that you can also email members of the planning committee 7-10 days before the proposals come before them. Use links (below) for further detail:
10 Multiple Choice questions on the planning process
Communal bins have been proposed for Round Hill and a consultation is expected so that residents views may be taken into account. It is argued that communal bins can bring cost savings since CityClean would no longer need to collect individually from each property. This releases money to improve recycling rates. However, click here to read the arguments against them.
Proposed development within a garden
BH2021/02065 | Erection of 1no single storey, two bedroom dwelling (C3) to the rear with associated works. | 7 Richmond Road Brighton BN2 3RL.
Click here to read the public comments on the application from local residents and to view the applicant's supporting documents. Included in the latter is the applicant's plan of existing backland developments. However, backland sites which were formerly industrial (e.g. laundries) and separate freeholds do not equate with the principle of development being conceded within private gardens. Click here to comment yourself. Read MORE.
The Future of Brighton General
Andrew Partington reports on the redevelopment of the Brighton General Hospital site, which involves a proposal to build a new NHS clinic there for a wide range of outpatient services, releasing most of the rest of site for housing.
Living near a Waste Transfer Station
Click here for notes from the public meeting held on 26th February 2020 following the fire at the Waste Transfer Station on 25th & 26th August 2019 which raised safety concerns among local residents.
See also: Demand for answers after Waste Depot fire
The Argus 6th September 2019
E-Petition: narrowing Crescent Rd junction
See Google Earth for recent view junction of Crescent Rd and Princes Crescent. Click here to view the petition and what its authors are proposing. When I last looked, this petition had achieved 144 signatures and there was a response from the officers, though not what the authors of the petition wanted.
The e-petition seeks the support of residents who share safety concerns about the width and adverse camber of the junction. Prince's Crescent and Wakefield Road form a rat run used by drivers to avoid the traffic lights at the bottom of Ditchling Road. Traffic speeds through these two streets despite the 20mph limit.
Safe crossing for Upper Lewes Road
If they can do it in Ditchling Road, why can't they make a safe crossing point in the middle of Upper Lewes Road?
New development and car-free conditions
3 UPPER LEWES ROAD / 1A & 1B WAKEFIELD ROAD.
Application BH2020/01074 has now been approved subject to conditions which include one on car-free development applied to the two new flats.
Read DECISION document and online comments on BHCC's website. Note the transport policies cited in condition 7.
7. Within 6 months of commencement of the development hereby permitted or prior to occupation, whichever is the sooner, a scheme shall be submitted to the Local Planning Authority for approval to provide that the residents of the two additional flats, other than those residents with disabilities who are Blue Badge Holders, have no entitlement to a resident's parking permit. The approved scheme shall be implemented before occupation. Reason: This condition is imposed in order to allow the Traffic Regulation Order to be amended in a timely manner prior to first occupation to ensure that the development does not result in overspill parking and to comply with policies
TR7
&
QD27
of the
Brighton & Hove Local Plan
and
CP9
of the
Brighton & Hove City Plan Part One
and
SPD14
:
Parking Standards
.
CRESCENT ROAD DEVELOPMENT
Following an appeal decision relating to BH2019/00072, the new Crescent Road development remains car-free.
CARELET DEVELOPMENT
Proposal BH2018/00881 to remove the Car-free condition on the Carelet site was refused. The latter remains car-free.
Credit should be given to local resident Dominic for his research using the developer's own data on the true level of parking stress in Crescent Road (110%) and the eight streets surveyed in Round Hill (105%) - not the 95% claimed in both the refused Application BH2019/0072 and Section 6.7 of the developer's appeal statement.
When permit uptake reaches 80% or over within a controlled parking zone, BHCC requires applicants hoping for on-street parking space to submit a parking survey.
See also Applications to increase parking stress
Round Hill's Controlled Parking Zone
A consultation was held (26 July to 6th September 2021) on proposals which could see the parking scheme split into two separate parking schemes (J1 and J2). The results will be presented to the Environment, Transport & Sustainability committee on 16 November 2021.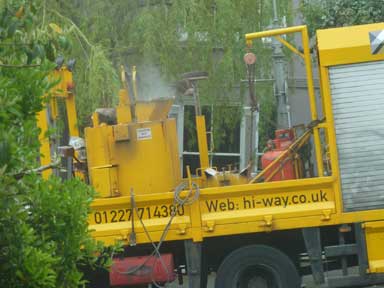 Click on the picture for a look back at the history of how Round Hill became a CPZ, an issue which divided The Round Hill Society committee and residents alike. As neighbouring areas become CPZs, the displacement of vehicles looking for free parking makes it increasingly difficult to park near your home, so it was a question of "when". Round Hill joined the AREA J residents' parking scheme on 1st July 2013. With a finite limit to safe legal parking space in our densely populated neighbourhood, we still experience parking stress. Hence, the concern among many that The Council shouldn't use the CPZ to intensify urban development - not to the extent of overdevelopment sanctioned by planning conditions which may be watered down or abandoned over time.
Proposal BH2019/03700 for 99 student rooms at 39-47 Hollingdean Road. Demolition of existing buildings and redevelopment of site incorporating erection of two buildings of between one and five storeys to provide student accommodation (Sui Generis), with ancillary accommodation facilities arranged around a pedestrian courtyard.
In spite of the officers' recommendation to refuse, this was granted at the Planning Committee meeting on 23rd March 2020 by 2 Votes FOR (Cllrs Miller and Shanks) and one Vote AGAINST (Cllr Hill). The scheme received just two objections.
See the Minutes of the meeting. Scroll to pages 4 & 5
The above row of buttons relates to subjects where some background information might prove interesting or helpful. The button on Community Policing would be relevant to residents wanting to run a Neighbourhood Watch or to lobby for more Police Community Support Officers.