Welcome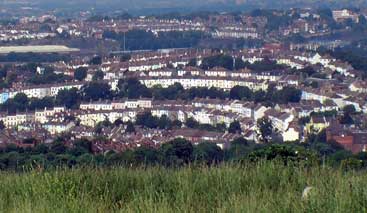 Welcome to the website of The Round Hill Society, Brighton UK.
Try the Search box (within the panel to the left) to find what you're looking for. To get a good overview of what there is, try the
Site Directory to all articles listed by section
Our Visitor Stats show which have had the most and least hits.
CURRENT Local Links or LONG AGO Local History Research pages
Home (this page) publicises EVENTS
SCROLL TO SECTIONS OF THIS PAGE:
Check out the Round Hill Community Noticeboard Facebook Group and its use for "Trader Recommendations" described here. This dedicated FB Group allows over 620 Round Hill residents to share their knowledge as well as their unwanted possessions.
There are about 900 Round Hill households and each receives a printed newsletter 4 times per year:
The Round Hill Reporter
Click here for Past issues downloadable as PDF
Latest Edition March 2021- --------------Issue 83------------
Census Day is coming, The Sylvan Hall orchard, More trees for Round Hill, Carry a torch for toads, Secure bicycle storage, Communal bins proposed for Round Hill, Pavements too narrow for trees, Poetry corner, Remember Christmas 2020, Sylvan Hall Estate.
Our 2020 Annual Meeting
The Round Hill Society's 2020 Annual Meeting was held on 10th November at 7.30 pm on Zoom. There were 25 participants. Click here for more information.
Advent Windows
We are running our annual Roundhill advent window displays again this year. Click here to see the map of those taking part. Note that Belton Road residents run their own event, so don't forget to visit that street.
Heritage Open Door Week [Map]
This household is one of the semi-detached villas in Richmond Rd
Click on the picture below to enlarge.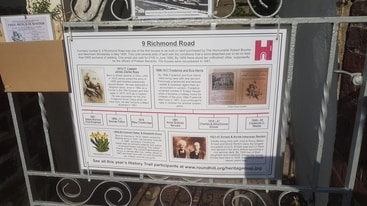 Above is a beautifully designed display prepared by a Round Hill householder as part of Heritage Open Door week 11th - 20th September 2020 - a self guided tour of parts of Round Hill to discover an eclectic collection of local history. It presents a timeline of previous occupants looking at four sets of them in some detail. Among the four is Colonel Heber Drury (see his Wikipedia entry). The longest occupants (1921-47) were Ernest and Annie Renton.
Local history enthusiasts: click here for Free Cen records (1891 & 1871) of Round Hill households (including the villas).
Not Just Weeds
Click here for an inventory of wild flowers thriving in the cracks of walls, footpaths and gutters in the streets of Round Hill.
Upcoming Events & Regular Listings

1. Brighton & Hove Arts Council Diary events & exhibitions
2. Arts | Music | Theatre | Cinema throughout Brighton & Hove
3. The Duke of York's Picture House Preston Circus
4. Sussex Concerts calendar
5. Lewes Folk Club Elephant & Castle, White Hill, Lewes BN7 2DJ
6.The Brighton Society - talks, lectures & exhibitions.
7. The Regency Society - lectures & events
8. Hove Civic Society - lectures & events.
9. Sussex Industrial Archeology Society meetings & events
10. English Speaking Union lectures at The Hove Club, Fourth Av.
11. Walks - unguided, guided, longer and shorter
12. The Living Coast - what's on?
13. What's on at The Level - calendar of events
14. Active for Life Programme including Healthwalks
15. Sussex Wildlife Trust What's on
16. Friends of Hollingbury & Bursted Woods - work sessions
17. Prince Regent Online Pool & Class Timetable
18. See also The Argus - events page
19. Brighton & Hove Food Partnership
Concerts: classical music & folk clubs
Visit www.sussexconcerts.org.uk for info throughout the county
First Monday of month: - Brighton Acoustic Club 8pm-10pm at The Lord Nelson, 36 Trafalgar Street - admission free with donation encouraged.
Tuesdays 1.10 - 1.55 pm Chapel Royal, North St, Brighton - Lunch time concerts
Wednesdays 12.30-13.15 atat St Nicholas's Church Dyke Road, Brighton, East Sussex BN1 3LJ map - Lunchtime concerts
Fridays weekly 12.30 - 1.15 p.m Unitarian Church New Road, Brighton, BN1 1UF lunchtime concerts
Fridays fortnightly 7.30pm St Luke's Church Queens Park Road evening concerts
Saturdays weekly 8pm Lewes Folk Club
meets at Elephant & Castle, White Hill, Lewes BN7 2DJ. Entry is usually £3 for Come-All-Ye's and between £5 and £7 for guest nights.
Some Sundays 2.45-4.45pm Brighton Philharmonic Orchestra - Brighton Dome Concert Hall, Church Street Brighton, BN1 1UE
The Roundhill at its best under Max & Rosi
The Roundhill Facebook site for for latest information
Visit our ARTS / MUSIC / THEATRE / CINEMA page.
Markets in easy reach of Round Hill
Brighton Open Market
Marshalls Row, Brighton BN1 4JU (opposite NW corner of The Level)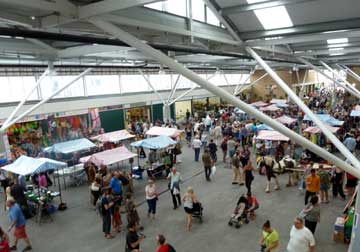 Click on the picture above for an illustrated list of all the stalls in Brighton's Open Market. Click here for Open Market events.
The official Brighton Open Market website is at http://www.brightonopenmarket.co.uk.
It has its own illustrated Meet The Traders page at http://www.brightonopenmarket.co.uk/permanent-traders
Florence Road Farmers' Market Saturdays weekly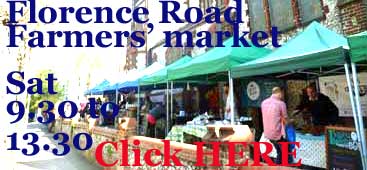 Florence Road Market (see map) is held every Saturday from 9.30am to 1.30pm in One Church courtyard BN1 6DL in part of Southdown Avenue running from Florence Road towards Springfield Road.
The Level - enjoy the park & events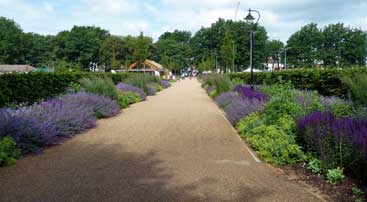 Cycling

Swimming

Find your nearest swimming pool

Online Pool & Class Timetable
for today at the
Prince Regent Pool
Bus-aided circular walks from Round Hill, Active for Life healthwalks, countryside events, outdoor pursuits, conservation volunteers & natural history.
Friends of Hollingbury and Bursted Woods
We meet at the bottom of the Roedale Allotments by our green storage container. To find us, go up Golf Drive to the parking area, turn left, and look for the allotment gates on the right. The Brighton and Hove bus number 50 stops at Burstead Close at the bottom of Golf Drive.
The sessions are held on alternate Saturdays and Sundays on the first weekend of every month from 10:00 AM to 1:00 PM.
Hollingbury and Bursted Woods Facebook site
Education (for adults)
See Brighton and Hove City Council's list of:
Adult learning providers and courses
[The Friends Centre went into administration in July 2020]
Silver Strings for late starters in learning to play an instrument.

Free University Brighton
Migrant English, Welfare Rights, Yoga, Free Software, and degree level courses in Social Science and Humanities, Philosophy, Feminism, Gender & Sexuality.