This page is from the Round Hill Society archives which are available for historic interest. Please bear in mind when viewing archived pages that details may no longer be current.
Veolia 2013 hours Part 07
Veolia index | 1 | 2 | 3 | 4 | 5 | 6 | 7 | 8 | 9 | 10 | 11 | extension of hours
2 days respite per year from industrial noise
[7 of 11] From mid May through to mid July 2013, the amenity of residents in the north of Round Hill has been considerably blighted by high noise levels (catch-up from industrial action?) and some of the smelliest odour escapes since operation of the Waste Transfer Station began early in 2009.

Since it first began to operate, the Waste Transfer Station (an installation with none of the quality of design which Veolia promised and described by The Brighton Society as "basic metal sheds, the cheapest form of building") has never been able to contain odour during hot (&/or windy) weather conditions.


This is NOT what anyone wants to hear, especially when hosting friends &/or family in the garden at weekends / Easter / Christmas or on a spring or summer Bank Holiday.
Details of Veolia's Application BH2013/02219 to extend operating times at The WTS and MRF to periods of 15 hours a day to include Saturdays, Sundays & Bank Holidays as well as weekdays:
i.e. a major relaxation of the planning conditions put in place to protect the amenity of residents living nearby.

It shows little sensitivity to propose to operate on Sundays & Bank Holidays - the one or two days in the week where the existing planning conditions protect residents living nearby from industrial noise. It is not as if the existing protections offered a very generous period of respite from the noise of glass-tipping while you are sitting in your garden in the north of Round Hill or the frequent movement of some of the heaviest goods vehicles on the road if you live in the vicinity of Upper Hollingdean/Hollingdean Road.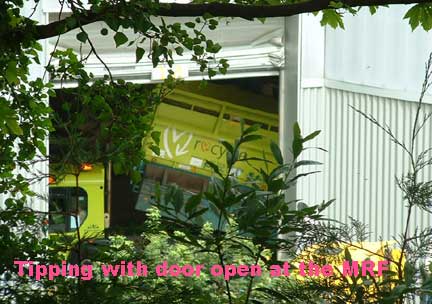 Our political representatives know that
the WTS and MRF are in the wrong place Video Clip Cllr Pete West questions Cllr Theobald on smells from the Hollingdean Dump (29th January 2009, Hove Town Hall).

The audio samples which I have submitted to members of the planning committee (to make the case against extending operation hours at the Dump) are typical of the noises which residents already have to tolerate for long periods of time (i.e. hours rather than seconds!) during normal operation of Veolia's facilities.

Round Hill's ward Councillors know that the facilities are in the wrong place. They have said so both before and after Veolia's permissions were granted in 2006 and have shared our concerns about odour from Hollingdean Depot on several occasions. They have inherited a problem of a poorly located facility.

Cramming both the WTS and the MRF into too tight a space meant that no effective landscaping could be done on the southern perimeter of the site - indeed much of the vegetation along the railway corridor was removed. Space limitations created an excuse for poor building design. If the facilities are to be rebuilt to the quality standards promised (but never achieved) at least one of them (MRF or WTS) would have to go
NEXT 8 of 11: Current protection from unreasonable noise