This page is from the Round Hill Society archives which are available for historic interest. Please bear in mind when viewing archived pages that details may no longer be current.
Veolia 2013 hours Part 08
Veolia index | 1 | 2 | 3 | 4 | 5 | 6 | 7 | 8 | 9 | 10 | 11 | extension of hours
Current protection from unreasonable noise [8 of 11] When planning permission was granted for Veolia's Materials Recovery Facility and Waste Transfer Station in the face of massive opposition from the neighbourhoods surrounding their site, When Veolia's Hollingdean Depot installations were first approved in 2006, 53 planning conditions were put in place to protect immediate residents from odour, noise, fugitive particles & other nuisances. By 2013 there were 21 conditions left. Many of the 53 conditions had been discharged, but several put in place to protect the amenity of residents living nearby were almost eliminated. Veolia's operation also depends on observation of the terms of their licence, granted by The Environment Agency, which require noise / odour / dust to be kept at reasonable levels at all times.
What are the operating terms?Veolia's licence to operate - Licence No. EAWML100185 is conditional on not subjecting local residents to unreasonable levels of ODOUR / NOISE / DUST from their site AT ANY TIME ON ANY DAY OF THE WEEK. Reasonable limits are assessed and controlled by The Environment Agency.
Continued nuisance from Hollingdean Depot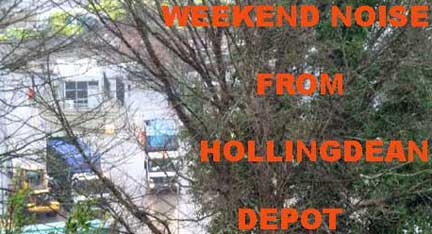 Where to address complaints This is covered within a leaflet put out by The Environment Agency.

Excessive noise from the Hollingdean Depot site has the potential to be a statutory nuisance, which is regulated by the Local Authority.

Complaints about noise from the Hollingdean Depot site should be made to Brighton and Hove City Council (01273 294490)

Complaints about odour should be directed to The Environment Agency (phone 0800 807060)

Application BH2013/02219 - Veolia's claim In point 7.6 of their supporting statement for their proposal to run the WTS & MRD 15 hours per day 363 days per year, Veolia observes whilst there were some noise complaints shortly after the facility opened there have been no recorded incidents since 2010. They add:Notwithstanding these conclusions the facility will continue to be subject to the noise limits set by planning conditions and to be subject to control by the Environment Agency. The Environment Agency's failure to monitor noise nuisance from Hollingdean Depot As acknowledged in point 7.6 of Veolia's supporting statement, the terms of reference of Veolia's licence to operate from the Environment Agency cover keeping industrial noise down to reasonable levels.

Is the following arrangement legal?However, the Environment Agency has made an arrangement with Brighton and Hove City Council (Veolia's main client at Hollingdean Depot) that the Local Authority should handle all complaints about noise from Hollingdean Depot.
The Council's own Environmental Department itself predicted that "complaints about noise would be unlikely" during the planning process. See their 2006 statement and logic.
Why have there been so few recorded complaints about ongoing noise nuisance?
The Local Authority fails to register complaints about noise unless residents are prepared to make the nuisance the focus of their lives. The Council's senior environmental health officer asks the victims of noise pollution for a 2-week noise diary and sufficient description of each incident to form the basis of a private noise abatement action to be heard in a magistrate's court. The attitude now appears to be that living in the north of Round Hill is a personal choice and that residents living near Hollingdean Depot should expect to put up with this disruption to their lives.

Question to put to the Environment Agency and then The Parliamentary & Health Service Ombudsman
Why isn't the Environment Agency carrying out its own responsibility to monitor noise nuisance, instead of leaving this important function to the Local Authority (Veolia's main client) which itself commissioned operation in a location which anyone willing to lend a human ear would find unsuitable?
The parliamentary & Health Service Ombudsman
There is an ombudsman who scrutinises the performance of The Environment Agency. In England, the Local Government Ombudsman can only look at complaints about flood defence and land drainage issues. However, The Parliamentary and Health Service Ombudsman (Telephone: 0345 015 4033) can look at complaints about all other aspects of The Environment Agency's work.

Your complaint must be made through your local Member of Parliament (i.e. Caroline Lucas if you live near to Hollingdean Depot)

If you are unhappy about how the Environment agency has handled your request for information you can also contact the Information Commissioner. More information on both the ombudsman and the information commisioner can be obtained from The Environmentment Agency's website.

Scrutinising the performance of the EA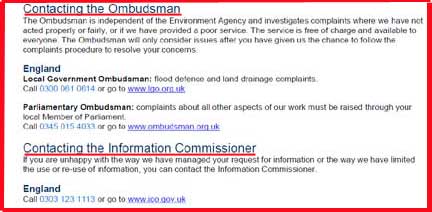 Click HERE or ON THE PICTURE ABOVE to open a 2-page PDF document provided by The Environment Agency on the roles of The Parliamentary & Health Service Ombudsman and the Information Commissioner.


Issues to raise RE the Environment Agency
1. Known problems arising from location and design - the nuisances are not incidents which can be tweaked

Since the beginning of operation in 2009, Veolia's installations at Hollingdean Depot have had known noise and odour management problems. Local residents complied with Council and EA procedures by keeping noise and odour nuisance diaries with detailed descriptions as early as 2009. Describing optimistically-named "incidents" becomes tedious when you find yourself doing it again and again to no avail.

The problems have never been solved because of

[A] the proximity of the WTS & MRF to nearby homes & gardens and

[B] the design and build of the WTS & MRF are not of the quality we were promised by Veolia. Adequate design is precluded by insufficient space on the Hollingdean Depot site for both facilities. There isn't even space for effective landscaping to the south (Round Hill side) of the site.

2. The Environment Agency has abdicated its role in dealing with complaints about industrial noise and could do better on monitoring odour

Under the terms of Veolia's operating licence, the Environment Agency should be dealing with complaints about NOISE NUISANCE as well as odour nuisance. Instead, the only authorised body dealing with complaints about Veolia's noise is Brighton and Hove City Council (Veolia's main client at Hollingdean Depot and the Local Authority which gave the recommendation to grant Veolia's planning permissions). This is not truly independent monitoring. The Environment Agency's private arrangement with Brighton and Hove City Council to leave the noise nuisance monitoring to them is possibly illegal and should be terminated forthwith.

The Environment Agency sent out their own staff to monitor odour nuisance during the June 2013 period of industrial action. I am told that they were satisfied with Hollingdean Depot's operation on that occasion. This contradicts what residents in Princes Road have experienced and continue to suffer time and time again.

3. Complaint-led systems
The Council and the Environment Agency have set up complaint-led systems of monitoring noise and odour nuisances which involve local residents (e.g. through monitoring and paperwork) in very detailed focus on the very nuisances which they want to forget.

Were residents forewarned when Veolia's permissions were granted, that in order to record a complaint about noise, The Council would expect local residents to submit the amount of paperwork equivalent to taking legal action? In the Council's notes on this process, it is made clear that there is a charge to go down this route and that if legal action is unsuccessful, the costs can be awarded against private individuals: a good mechanism to ensure that there are few complaints about Veolia's noisy activities day in and day out!

If residents living near to Hollingdean Depot wish The Council's Senior Environmental Health Officer to formally investigate whether or not there is a statutory noise nuisance, there is a requirement to keep a diary for a 2 week period.

Residents who have already submitted noise and odour diaries have lost confidence in The Council's ability to solve the problems of Hollingdean Depot. We know full well that the generic problem is that the Dump (for which Brighton and Hove City Council is the main client) is too near our homes and gardens. The system their Environmental Health Department is using to respond to known nuisances seems deliberately devised to discourage complaints.

I question the legality of complaint-led monitoring systems where the victims of nuisances are expected to play such a full role in monitoring and describing them. It is like asking the victims of bullying to devote their leisure-time to make a detailed analysis of actions they are desperate to forget.

4. Procedures to discourage repeated complaints
We are asked to describe and rate the nuisances, and when we have done diaries and paperwork once, they ask us to begin the whole process again on the next occasion when the pleasure of a hot spell is ruined by odour escape.

5. Passing the buck
The Envirionment Agency tell us that the inadequate design of the installations is The Council's responsibility, not theirs. If tipping takes place when the doors are left open, that again is a Council planning condition and not the responsibility of The Environment Agency. They even tell us that it is The Council's job to monitor noise nuisance. The Council's Environmental Health department does have a responsibility to do so, yet the terms of the "licence to operate" granted by The Environment Agency also place on Veolia a responsibility to limit industrial noise to reasonable levels. Their abdication of their responisbility to monitor noise, is purely an arrangement they have made with The Council who (as the main client for Veolia's services at Hollingdean Depot) should not be the only monitoring body for a nuisance which can be so disruptive to nearby residents lives.


NEXT 9 of 11: Records of nuisances from noise & odour