Review of 2011 by Matthew Thomas,
Brighton and Hove City Council's ecologist
Another year is almost upon us so it's time for my usual CityWildlife review of the year.
You may recall 2010 ended with a bit of a crisis for CityWildlife as the old web site finally ground to a halt and would not accept or display sightings. Thankfully funding was found to rebuild it and the all new
CityWildlife 2
went live at the end of March.
With a completely new look,
CityWildlife 2
makes it much easier to enter and view wildlife sightings than its predecessor. It's also much easier to navigate around. As a result CityWildlife has started to grow again, with 52 new Naturewardens signing up and around 600 new records entered onto the CityWildlife database since March.
There are a few 'teething problems' to iron out – many thanks for your feedback on those. The council's I.T. web specialists have a list of 'bugs' (not the sap-sucking kind) to deal with!
The next big step forward for CityWildlife will enable Naturewardens to enter and view sightings on their phone, while still outside! Smartphone technology allows your location to be recorded automatically so all you will need to do to record your sighting is choose the species from the drop-down list, type in how many there are and take a photo of it. The app will also allow you to check existing wildlife sightings for a particular location on your phone. The council is working with an IT student from Sussex University and if all goes well, the app will be available in summer 2012.
2012 has been another good year for interesting finds. Highlights include the discovery of a huge colony of several hundred White Helleborine (Cephalanthera damasonium) in Stanmer Woods.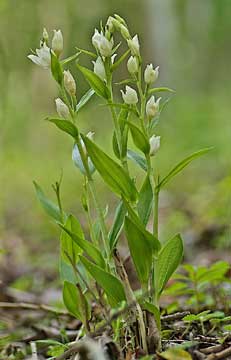 Although still relatively common on chalk in the south, it's still a nice orchid to find and a real specialist, requiring just the right combination of shade, symbiotic fungi and ground cover conditions to thrive.
Adders Tongue (Ophioglossum vulgatum) was also seen again in Stanmer in April. This fern is normally found in the old, flower-rich meadows of the High Weald and is very rare on the chalk, where it seems to mark the routes of ancient track lines.
But the good thing about CityWildlife is that it can be used to record all sorts of oddities – not just the very rare- such as the Pheasant which has clearly taken up residence in central Brighton and the abundant Sticky Groundsel (a rather odd looking and certainly very sticky plant!) which is thriving along the Volks Railway.
The woods on the west side of Whitehawk Hill, at Craven Vale are starting to look like the place to go to see bats next summer, with several records for Serotine, Pipistrelle spp and Noctule. But would you think of going to a road verge to see fungi? Geoff Dan has found around ten different species along the wide verges of the Surrenden Road – many thanks for your records Geoff.
This e-mail is getting far too long – in any case I will be writing again early in the New Year to invite you to help choose Brighton and Hove's most important wildlife sites. It will be a great opportunity to learn more about the natural history of our city as well as to have an important role in protecting these important places. Anyway, more of that next year!
Matthew Thomas, Council Ecologist
Review of 2010 by Matthew Thomas,
Brighton and Hove City Council's ecologist
Welcome to a new year! 2010 ended with a bit of a crisis for CityWildlife as from mid-November, the web site at
www.citywildlife.org.uk
finally ground to a halt and would not accept or display any records. Despite heroic efforts, the problem proved to be unfixable by the I.T. web specialists.
But all is not lost! It seems 2011 will at last be the year when we see the launch of 'CityWildlife 2'. Funding for the new web site and agreement on the expenditure (all external funding) was secured just before Christmas and the plan is to let the contract early this month. I am anticipating we will see an all-new CityWildlife launched during May (but don't hold your breath!).
Despite being out of action for the final month and a half of 2010, CityWildlife continued to grow, with a further 57 people signing up as Naturewardens and over 900 new records being added to the database during 2010. You are now one of 345 registered naturewardens, who have together contributed nearly 6,000 species records to CityWildlife.
January 2010 was very cold and snowy and this was reflected in a large number of winter migrant records for the beginning of the year. Redwing is a red list species because of its long-term breeding decline in the UK, but it is still relatively frequent on the Downs at this time of year. In 2010 the harsh winter weather pushed it right into the urban area in search of food, where several CityWildlife records were made – as far as Hove Town Hall in fact whether it was seen together with flocks of Fieldfare, another red list winter migrant bird.
At the other end of the temperature scale, the Firecrest, arguably our smallest bird, was also recorded during January. Not to be confused with the similar sized, but more common and rather more drab Goldcrest, the Firecrest is at its northern breeding limit in the south of the UK, and has only been breeding here since the 1960s – it likes gardens, so it's always worth keeping an eye out for it in urban Brighton and Hove.
Spring finally arrived from mid-March with several records of Blackcap and a Wheatear from the 18th (although some Blackcap now stay here all year round), Black Redstart on 25th and the first Swallow and Cuckoo records both on 23rd April. But we had to wait until 13th May for our first Swift record, later again than previous years.
Despite the cold start to 2010, a Peacock butterfly was recorded on the wing in January and at the other end of the year, a Comma was seen in the wood above Craven Vale on 16 November, which is two weeks later than the latest Comma sighting recorded in the whole of Sussex by Butterfly Conservation Sussex Branch in 2009. In fact 2010 seems to have been a good year for many butterflies, with comparatively large numbers of the chalk grassland species seen in June particularly, including Chalk Hill Blue, Dark Green Fritillary and Common Blue. There were also several records of Small Tortoiseshell from March, lots of summer records of White Letter Hairstreak and new localities for Small Blue and Adonis Blue. Holy Blue also seemed to be experiencing a peak in its undulating population trend, with several records throughout the city.
A definite highlight of the year was a first breeding record for Adonis Blue butterfly on the 'Butterfly Haven' at Dorothy Stringer School. This entirely artificial chalk grassland habitat, created only 3 years ago, is located at least half a mile from the nearest natural chalk grassland. Small Blue butterfly has been breeding there since 2009.
2010 was the International Year of Biodiversity and in Brighton and Hove we celebrated the year with an exhausting but wonderfully fun and engaging programme of activities, under the banner of 'Big Nature'. A big thank you to Dan Danahar, Big Nature Co-ordinator and Franc Chambers, Ranger Manager, for pulling it all together. Full details of the year are recorded for posterity at www.bigbiodiversitycount.org.uk.
With CityWildlife off air for the next few months you may like to keep up to date with the biological recording world by popping along to the Biological Records Seminar at Adastra Hall, Hassocks on Saturday 5th February, from 9.30am. It's an opportunity meet a wide range of recording devotees and hear talks on subjects as diverse as Sussex's chalk streams, rare plant conservation in Sussex and sites of marine conservation interest. For more info. call the Sussex Biodiversity Record Centre on 01273 497521.
Have a great year and I'll be in touch again when CityWildlife 2 goes live!
Matthew Thomas
Ecologist
Cityparks
Brighton & Hove City Council
Stanmer Nursery
Stanmer Park, Lewes Road, Brighton, BN1 9SE
Review of 2009 by Matthew Thomas, Brighton and Hove City Council's ecologist
Migrant birds
The year started with a smattering of interesting winter migrant records – it seems to have been a good winter for these, including Purple Sandpiper (amber list), Redwing (red list) and Shag (amber list). Brighton and Hove continues to be a great place to see migrant birds and Brighton Marina seems to be a particularly good 'hotspot'. For more information on bird conservation status, see
the RSPB's web site
.
Migrant butterflies
But 2009 wasn't just interesting for migrant birds; migrant butterflies were also extremely active. Most notable, or course, was the deluge of Painted Lady. The first record was made on 18th May and soon there were remarkable anecdotes of bushes in our parks covered with butterflies as thousands arrived from continental Europe . I recall a similar 'invasion' in the early 1990's, but not on the scale seen this year.
There were also a smattering of Small Tortoiseshell records through the spring – heartening as this species has suffered a noticeable decline in recent years (with no definite explanation). For more information see
www.ukbutterflies.co.uk
.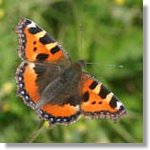 Swifts declining in numbers, but still common in Round Hill
The first Swift was recorded on 11th May this year – somewhat later than in previous years. Brighton and Hove used to be known for Swifts, with their characteristic 'screaming parties' a familiar experience on hot summer evenings.
As the economy of the city improved, buildings were renovated and opportunities for swifts to nest correspondingly dropped. Artificial swift nest boxes are becoming popular as part of new development schemes, although we don't have much information yet on whether they are being used.
You can still see swifts almost anywhere in the city in high summer, particularly in the Roundhill area of Brighton it seems, but in nothing like the numbers they once were. I'd be particularly interested in any records of Swift nesting sites in 2010.
The importance of Elm Trees
2009 was another great year for White-letter Hairstreak butterfly, with over 50 records added to CityWildlife this year. White-letter Hairstreak is of course dependent on Elm and has therefore become a speciality of Brighton and Hove , with our National Elm Collection and some of the largest remaining English Elm trees in the country
See
The Council's website
for more information.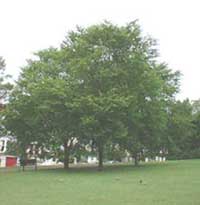 White-letter Hairstreak was seen right down into The Level this year, as well as at its usual haunts around Preston Park and along the London Road .
2009 also even outshone 2008 in its rare arable plant records. You may recall the brilliant red display of poppies in the field between Falmer and Woodingdean in June. Apparently this was caused by the field being left unsprayed, due to the stadium building works.
Beneath the showy poppy plants, interesting scarcities such as Venus's-looking-glass (so named because its ripe seeds look like shiny mirrors – to the imaginative eye in any case!) appeared for the first time here for many years. Other rarities seen in 2009 included Yellow-juiced Poppy and Rough Poppy, but surely the plant find of the year has been a colony of Weasel's Snout – a very rare arable annual, not recorded in Brighton & Hove since 1988.
The plant re-appeared at its previous location, on the allotments off Whitehawk Hill Road , almost certainly from long dormant seed, after soil disturbance. A big thank you to Tessa Pawsey for the record.
2010: International Year of Biodiversity
2010 has lots in store – it is the International Year of Biodiversity (the year when biodiversity loss was supposed to have been halted – ha ha!) and here in Brighton and Hove we are planning a whole host of activities to celebrate it, under the banner of 'Big Nature'.
Look out for the promotions over the year – including a 'Bio Blitz' planned for Springwatch on 6th June, when everyone is invited to record as many different species as possible over a 24 hour period at Stanmer Park . Expert recorders from all over Sussex will be converging on the Park for the event, which promises to be very educational as well as great fun – hope you can make it. For more information see
www.bigbiodiversitycount.org.uk
.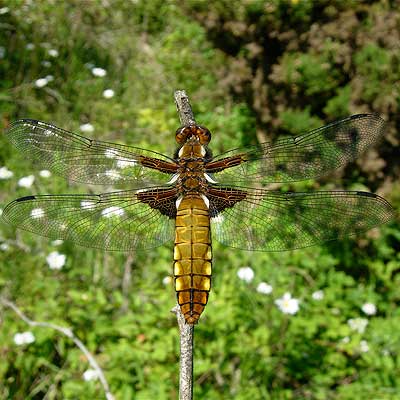 I hope you have a really good Christmas and a happy new year.
Matthew Thomas
Ecologist, Brighton & Hove City Council
Cityparks
Stanmer Nursery, Stanmer Park
Lewes Road, Brighton
BN1 9SE
See
www.citywildlife.org.uk
for information on wildlife in Brighton and Hove
Review of 2008 by Matthew Thomas, Brighton and Hove City Council's ecologist
2008 started with a flush of interesting arable bird records, including Corn Bunting and Linnet which were once common across farmland on the Downs but since the 1970's have been declining nationally at an alarming rate.
Our first record for Swallow was 21st April (earliest reported in any year was 31st March) and for Swift, 3rd May (earliest reported 2nd May). Buzzard has been increasing its range across Sussex in recent years - CityWildlife now has 5 records for this species. There are also now 3 records for Hobby, another Raptor on the increase in the UK.
Other interesting bird records in 2008 include Firecrest, a bird which has just begun to establish itself along the south coast, and Kingfisher seen regularly at Brighton Marina!
2008 was also a good year for Orchid records - White Helleborine and Fly Orchid were both recorded for the first time in Brighton and Hove this year and Early Spider Orchid, a species specially protected under the Wildlife and Countryside Act 1981, was recorded at a previously unknown location in the city.
Midsummer saw an interesting smattering of arable annual records - 'old favourites' such as Corn Chamomile, Corn Buttercup and Cornflower, all now very rare on the Downs (and throughout the UK). These would have been very exciting, but almost all were from a central reservation in Eastern Road, Kemp Town where CityParks had sowed a wild flower mix!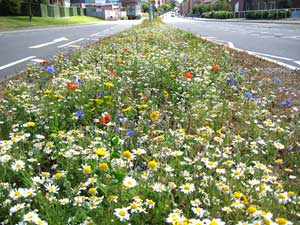 This produced a riot of colour in June and many compliments from local people - so we are planning to do more wild flower sowing in 2009.
Other highlights of the year include several White Letter Hairstreak records (a butterfly which breeds only on Elm trees), a vast number of moth
records with names like Nut-tree Tussock, Flame Shoulder, Buff Ermine and Ruby Tiger (I had never even heard of most of them before!) and strange little critters like Narcissus Bulb Fly, which looks similar to a bee but ruins Daffodil bulbs and the Bee Fly - a fly which does even better at
looking like a small bumble bee!
During the autumn a Red Deer was recorded on the Downs - perhaps a farm escape. But surely the biggest highlight of the year must be the discovery of Dormice by the Friends of Waterhall. It's the first time Dormouse has been officially recorded in the city for a very long time - if ever -
previously it was thought we were too isolated from the woods and shaws of the Weald (where the Dormouse has a national stronghold).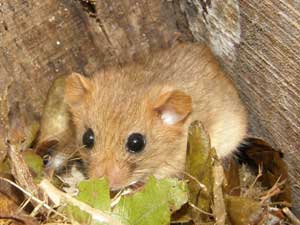 However, since the discovery, people have been 'coming out of the woods' from various parts of Brighton saying they have seen Dormice there for years, so clearly more survey work needs to be done!
Pru Gridley has to get a special mention again this year with by far the highest number of records - thank you Pru! And many thanks again for your interest in CityWildlife and for your records.
I am still working on a revamp of CityWildlife to make it simpler and easier to use - hopefully for a 'roll out' next year - so watch this space!
Have a really good Christmas - and don't forget you can start 2009 with a brisk walk in the countryside at various locations around Brighton and Hove with various Ranger-led walks on New Year's Day - see more information below - and don't forget to add your New Year sightings to CityWildlife!
Yours,
Matthew Thomas
Ecologist
For details of how to become a Nature Warden (open to all local residents interested in logging the city's wildlife), or to review the Council's
www.citywildlife.org.uk
site, please go to
www.citywildlife.org.uk
.
Round Hill is surprisingly rich in wildlife. Many of the old laundry drying grounds behind the houses in Richmond Road and Roundhill Crescent are a sheltered and rich wildlife environment.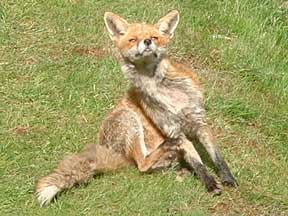 Let Me Introduce You to Another Website...
by Jan Curry
Trouble With My Waterworks
- by Jan Curry
Flocking To The Neighbourhood
- by Mike Unwin
Email Tales
- report by Vivien Eliades