Garden Picnic 2016
RH Garden Party at 58 Richmond Road
As shown below, The Round Hill Society's main summer event on 3rd July 2016 was very supported by local residents including those from neighbouring communities.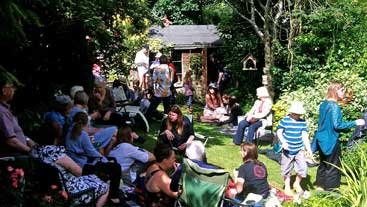 The success of the gathering was helped by both good weather and the magnificent setting of Jan and Rusty Curry's wildlife garden. The effort to show the garden at its best showed up in every corner where a revealing statue, stone pig or some other humorous surprise or anecdote competed with plants, vegetables or hens to catch the eye.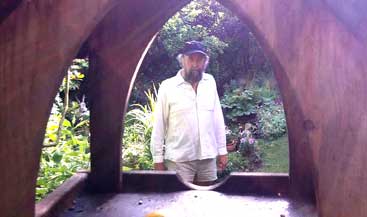 We booked The Mayor of Brighton & Hove well in advance to present certificates of appreciation to young members of the community. See the mayor's photos of the event.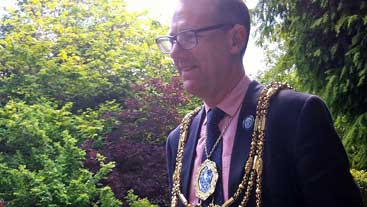 The Round Hill Society's Chair, Annie Rimington (shown below instructing the sun to remain out) explained the short formal part of the afternoon.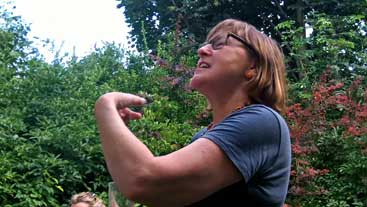 The certificates of appreciation went this year (the first year we've tried them!) to children who had helped in the stencilling of pavements where uncollected dog poo was a frequent cause of concern and complaint.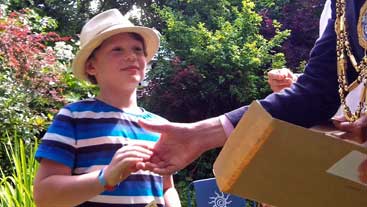 The certificates were printed to a high standard, presented by the highest authority in our city. The recipients were rightly proud of their own achievements.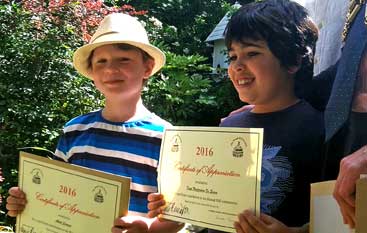 Members of Jan's and Rusty's family (including Jan & Rusty themselves during parts of the afternoon) , neighbours (e.g. Wendy from next door) helped to provide the music.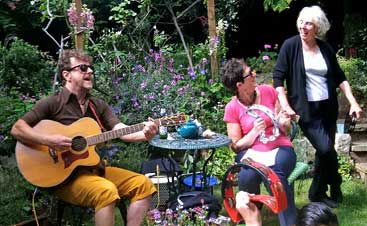 Towards the end of the afternoon, Rusty treated us to sea shanties (Blow The Man Down) and other traditional tunes (Early One Morning) on the harmonica. For many years, Rusty has used his harmonica to lead The Round Hill Society's December Seasonal Singing when we collect for local charities, so this was a different part of his repertoire.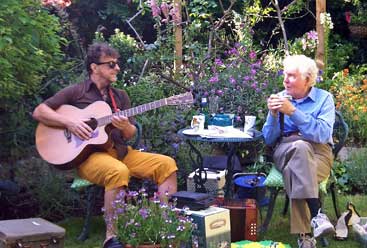 The music was held together by Michael Coates and Liz Ryder-Weldon of the Imaginary Friends duo. Their songs were appropriately chosen (catering too for older residents who remember The Beatles!) and well delivered. It is pleasing that this capable duo has documented their own enjoyment of the garden event on their Facebook Page.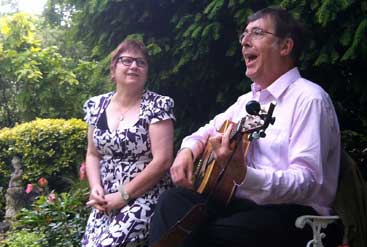 The presence of so many Round Hill neighbours created a great social occasion. A component of organisation also contributed to this enjoyable afternoon. I asked committee member, Barbara, who was tucked in the summer house looking after the offer of drinks and cakes for over three hours, if she had got to meet everybody. Her answer was that she could tell me which of our neighbours takes tea or coffee and how they like the one or the other served. Barbara's efforts raised £85 for Round Hill Society funds.