Round Hill Walks 2
Bus services in Brighton and Hove
Round Hill - Woodvale - Race Hill - Rottingdean - Round Hill

Circular Walk & Bus
Woodvale - an open space on Round Hill's doorstep undiscovered by many local residents and recreational walkers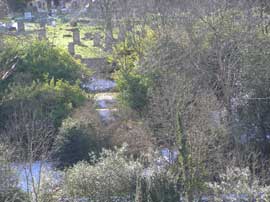 Maps:
Information:
Council's description of Woodvale
.
This large open space tends to be ignored by many familes planning walks, perhaps because it functions mainly as a Burial Ground for the Cremated, so the site's potential for respectful forms of recreation is under-publicized. It was noticeable that although The Level was cited as an open space within easy reach of Round Hill in responses to the Council's recent Open Spaces Questionnaire, Woodvale (many times larger in area) tended to be overlooked.
Woodvale is not as evident as The Level to those passing in cars and perhaps modern attitudes to death persuade most walkers among Round Hill's local residents to keep clear of crematoria unless their visits concern the deceased.
There are good views of Woodvale from Round Hill, for example: from the intersection of Princes Road and Mayo Road or from the other corner of Mayo Road where it joins Richmond Road next to the pub. Equally, there are spectacular views of Round Hill from Woodvale.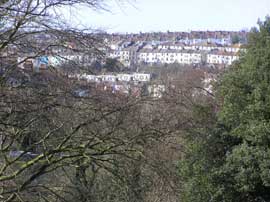 The crematorium grounds are in fact open to the public as well as to mourners 365 days a year. Monday to Saturday from 9.00 am, Sunday and public holidays from 11.00 am. The grounds are closed at 4.00 pm during the winter and 5.30 pm during the summer.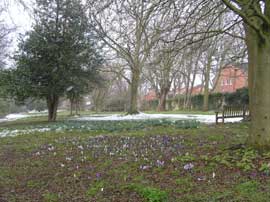 They are a haven for wildlife.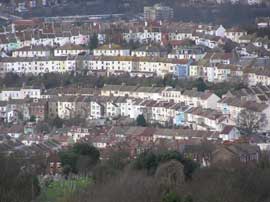 The grounds also offer excellent vantage points for taking long-distance or panoramic photographs of the Round Hill Conservation Area - with a good lens there's a good possibility that Round Hill residents will be able to take pictures of their own homes from inside Woodvale.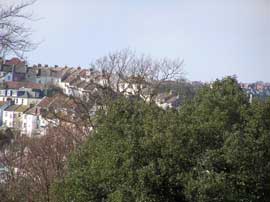 Through Woodvale to top of Bear Rd & Race Course
I use Woodvale as the start of a circular walk and bus trip, especially when I have visitors who are willing to experience a steep climb to the top of Sussex Downland on Round Hill's doorstep.

If the weather is not too wet or cold, Woodvale is an effective beginning for a walk. It offers a quick change of surroundings, leaving traffic and residential streets behind almost as soon as you reach the entrance of Woodvale opposite the Lewes Road Gyratory. The change of air is noticeable as you head east into the spacious grounds.
Look out for a small lodge 150 metres along the drive and a set of steps off to the left just beyond it. These lead into the burial grounds and gardens of remembrance, which are very well planted, attracting many species of bird as well as small mammals. There are made-up paths, light woodland and grassland, where walkers can enjoy tranquillity and a feeling of being far removed from the bustle of Lewes Road and Bear Road.

It is a fairly steep climb up through Woodvale to the NE entrance of The Downs Crematorium (continuing from Woodvale) on Bear Road just before Tenantry Down. The very last section, involving the top part of Bear Road, is an even steeper climb towards Warren Road at the NW perimeter of Brighton Race Course. This requires a small amount of roadside walking.

However, there are generous compensations when you reach the strip of land just north of the allotments at the top. In the summer, many species of Sussex butterflies can be seen - some years they are exceptionally prolific.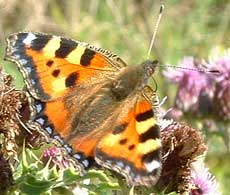 This attractive open space between the top end of Bear Road and the allotments is also noted for its fine views of Round Hill's period architecture and our conservation area's distinctive "green ribbons".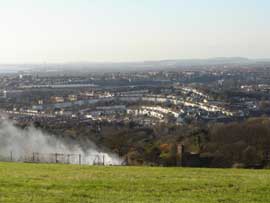 The bus stop for Rottingdean (2) [See timetable info for "Race Hill"] is on Warren Road just south-west of the Top of Bear Road at the highest level, just above where this 'long shot of Round Hill' was taken.



If at this stage, you should need shelter, toilets etc., the Garden Centre is at hand in the direction of the main stadium of Brighton Race Course. However, on the near side of Warren Road is the stop for buses to Rottingdean. A ride round the houses on top of a number 2 bus is another way to sit down and recover from the steep climb.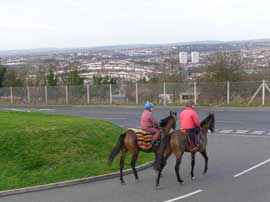 Bus to Rottingdean
Current timetable for bus no. 2

A pleasant way to do this circular trip is to attempt to arrive in Rottingdean at a time where you are able to share a pub lunch with your walking companion at the Plough Inn for example. Ask the bus driver to advise when you have arrived at the village green, a couple of stops before the terminus.






















A photo by the village duck pond is also mandatory.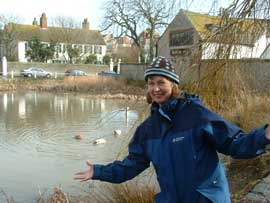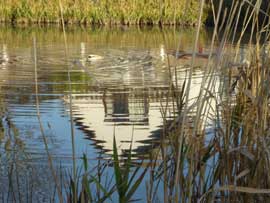 The rest of the trip involves a look round Rottingdean Parish Church.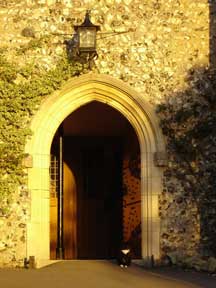 Do not miss the gardens of Kipling's House (Free admission) accessible from the village green.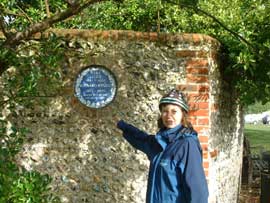 If you cannot afford a pub lunch, there are benches here where you can eat a picnic.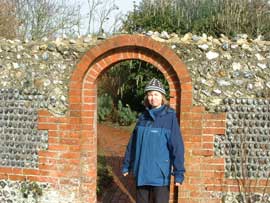 A wander up to the windmill completes this quick tour of the village.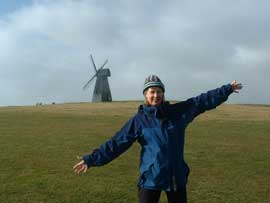 Then a stroll down to the beach offers opportunities for a paddle and (given the sun and the right time of day!) also for sunset photography.

















Buses back into Brighton
To complete the circle, there are several buses (12s,14s,27s) which go westwards along the A259 coast road to Old Steine, North Street or Brighton Station.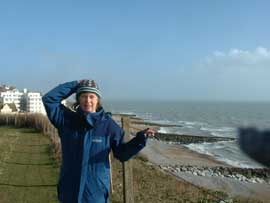 A change of buses at Old Steine or North Street (change to 26, 46, 50, 50A or 79 at weekends) or the train from Brighton to London Road completes the circle back to Round Hill.