Dog mess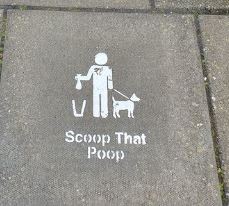 Thanks to the efforts of Dominic and Eva, we have a new pavement stencil to encourage collection of dog poo.
Dog fouling & what to do about it [2021]
Actions you can take yourself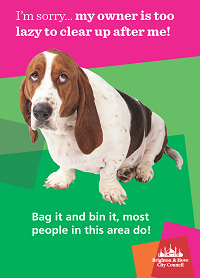 Failure to pick up after a dog has fouled a public open space (such as a pavement, road, park, field, or the beach) could cost the owner a fine of up to £1000.
Information on what to do about regular problems with dog waste is given here.
Click on the mini-picture to the left for a large PDF version which can be printed and displayed.
Local residents leave a message:
Highlighting unremoved dog poo
Pictured on The Cats Creep: Annie Rimington & 2 RH children using the CLEAN IT UP stencil. This leaves a message on pavements where the problem regularly occurs.
Neil Pringle from BBC Radio Sussex interviewed Sandy Hawkins from The Round Hill Society on the above idea to encourage owners to clean up after their dogs. The newspaper article focuses on the health risks (TOXOCARIASIS) posed - especially to young children with the habit of putting their hands in their mouth - by roundworm parasites found in mess from cats, dogs and foxes.
Both reports emphasize the need to find a good solution which does not prove counterproductive by leading to ill-tempered confrontation.
Letter to ward councillor [back in 2005]
Whilst walking around looking at the graffiti, I mentioned several other topics to the Council representative, one of which was the perennial problem of dog mess.

You know, it occurs to me that the problem is worse in the wintertime because the culprits are those dog owners who can't be bothered to take their dogs too far in the cold weather, so go for a quick walk round the block and don't take a scoop/plastic bag with them. The earlier nights mean that it's less easy to see the offending deposits on the pavements, so we inevitably tread in it and walk it into our homes. Well our nice man from the Council has arranged for dog bins to be put up in Round Hill (for the dogs' turds, not the dogs!) There's one on the corner of Ashdown Road and Richmond Road and another on the corner of Princes Crescent and Richmond Road. So now there's absolutely no excuse - please clean up after your dog.

I will reiterate here that it is an offence to allow your dog to foul the footpath or the roadway or to allow your dog on the highway without a lead.


by Vivien Eliades, March 2005

Reply to local resident's complaint about dog mess from Keith Taylor, City Councillor for St Peters & North Laine Ward
Thanks for your email. As a former dog-owner I completely share your exasperation and revulsion over irresponsible dog-owners failing to clean up after their pets.

I have spoken to Sue Watson, a Council Animal Warden who has agreed to visit the area to ensure there are adequate signs in place, and will add Wakefield Rd to her list of roads to patrol. The Council has the power to issue a fixed penalty notice which carries a £50 fine if they witness an offence in progress.

However, this is primarily a problem being caused by selfish pet owners, and it is they who need to be targeted to change their behaviour. We will
include mention of this problem in our next ward newsletter, and the Round Hill Society may be persuaded to do the same.

The Council has free dog-poo bags which are available at no cost from Bartholomew House.

The Council is trying to raise awareness on this issue, and just last week issued the following press release:
________________________________

"Don't fall foul of us!

Council animal welfare officers will be sending a strong message to supermarket shoppers in Hove on Saturday - clean up after your dog or face the consequences.

The wardens, accompanied by their canine friends, will be running a "supermarket sweep" at Sainsbury's in Benfield Valley, from 10am until 3pm, reminding dog owners of the importance of picking up their mess.

Animal welfare officer Sue Watson explained: "Winter always brings an increase in dog fouling complaints due to dark nights and mornings, laziness or a just 'can't be bothered' attitude.

"We will be spreading the message that it's important to clean up after your dog all year round - and will be giving advice and information to dog
owners as well as residents who may have a dog fouling problem in their area.

"If people can identify culprits we will happily investigate with the view to sending a standard letter, issue fixed penalty or prosecute, depending on each individual case."
_________________________________

Sue added that she will also be handing out biodegradable dog poo bags and advising on the right and wrong ways to clean up your dog's mess.

The officers will also be on hand to answer any general animal welfare inquiries"

I think it very important that we don't relent on changing this anti social behaviour, and would be happy to help further in this matter.

Regards

Keith Taylor
City Councillor for St Peters & North Laine Ward Convenor of Green Party
.
New by-laws introduced [1st January 2009]
Consultation ended on Friday 28th March 2008.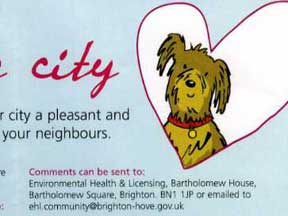 Failing to remove dog faeces -

To include all open air land that the public has access whether by payment or not.

• All streets, pavements, (including the bases of trees) roads,
promenades, under-cliff walk etc throughout Brighton & Hove All Brighton and Hove Council owned land including parks, open plan gardens, car parks etc
• All land belonging to Town & Parish Councils
• All rights of way that cross land owned by the primary and
secondary authorities
• All other land in the open air to which the public have access to
with or without payment other than the land listed in the exemptions below.

Land from which dogs are excluded.

• All children's playgrounds
• The following school playing fields
Varndean School
Varndean 6th Form
Dorothy Stringer High School
Belfour Infant and Junior School
Cardinal Newman
Blatchington Mill
Patcham Fawcett
St Bernadettes
BHASVIC
• Brighton & Hove Cemeteries
Borough Cemetery (Woodvale)
Lewes Road; Extra Mural Cemetery
Lewes Road; Borough Cemetery
Bear Road; Jewish Cemetery
Meadowview and Lawn Memorial Cemetery Warren Road
Hove Cemetery North and South
Portslade Cemetery
With the following exemptions (to any person attending a funeral or remembrance service or a person residing in premises of the specified cemeteries - these dogs must be kept on a lead at all times.)

• Squares, Gardens, Beaches, Walks
• Brunswick Square, Norfolk Square, Russell Square, Bedford Square, Clarence Square, Pelham Square, Regency Square (North End), Steine Memorial Gardens
• The beaches between the months of May to September

Keeping Dogs on a lead

• On all streets, roads and pavements
• The under-cliff walk
• Hollingbury Park & Waterhall Golf Course

Putting and keeping a dog on a lead when directed to do so by an authorised officer:-

To include all open air land in Brighton & Hove that the public has access whether by payment or not, if the dog is seen to be out of control, causing a threat to persons or other animals.

Exemptions: The Poo Control Order does not apply to the following land types:-
Woodland
Marshland
Moorland
Common Land
Agricultural Land
Privately owned gardens
Forestry Commission Land

This is in keeping with the spirit of the Dog Fouling of land Act 1996, and takes in to account the practicalities of how difficult it would be to physically enforce the control order on open, unfenced land. Assistance dogs will be exempt from the dog control orders.

Background to 2008 consultation
Last autumn, the council consulted residents and groups on proposals to help make our city a pleasant and safe environment for dogs, their owners, residents and visitors. The proposals included new rules on cleaning up after dogs, keeping them on leads and in small groups.

Following last autumn's consultation, the council has now drawn up a revised set of by-laws and is inviting comments before they are presented to the Council for approval in spring. The new proposals have taken on board the suggestions of many of those who responded to the autumn consultation.

Local Authorities have had powers to enforce legislation relating to the control of dogs for a number of years. Over time the legislation has become outdated, disjointed and confusing for members of the public. These new orders aim to simplify the legislation, and allow a greater flexibility in where the legislation can be applied and the range of offences that can be covered under the one order.

The procedure for making a Dog Control order is set out in regulation 3 of the Dog Control Orders Regulations 2006. The authority needs to balance the interests of those in charge of dogs against the interests of those affected by the activities of dogs, in particular consideration should be given to children to have access to dog free areas.

Penalties for committing an offence contained in the Dog Control Orders are a maximum of Level 3 on the standard scale £1,000.

Alternatively Fixed Penalty Notices can be issued for these offences and may be offered in place of prosecution.

Guidance has been issued by the government, stating that the level of fines that can be set for offences within a dog control order is £50 - £80, and where no fine is set by the local authority the fine is to be £75. It is therefore proposed that the fine for each dog control order made, should be set at the maximum of £80.

Legal References
Clean Neighbourhood and Environment Act 2005 (Sections 55 and 56), to replace the current bylaws relating to dogs and the Dogs (Fouling of the Land) Act 1996. The Clean Neighbourhood and Environment Act guidance suggests that a maximum of 6 dogs can be effectively controlled by any one person. It is proposed that this requirement is debated as part of the consultation process with all the relevant stakeholders.

The procedure for making a Dog Control order is set out in regulation 3 of the Dog Control Orders Regulations 2006

Dogs (Fouling of the Land) Act 1996