Wakefield Road in 1871
A related article: Wakefield Road in 1891 will give you a better idea of the early occupants of your house if you live in the continuous terrace on the east side.
Click on the bulleted links below if you would like to know
OR
House nos have changed since 1871 census
Records at THE KEEP (see foot of this page) show that numbers 2 and 3 on the East side of Wakefield Road were built in 1877.
The continuous terrace on the east side was re-numbered (sequentially beginning at No 2) on 15th September 1880.
Therefore the locations of numbers 1, 2 & 3 Wakefield Road recorded in the 1871 census do not relate to current numbers 1, 2 and 3 within the continuous terrace built later on the east side.
The occupants of the earlier numbers 1,2 & 3 on the west side include:
No 1 Katherine A Tournot - Annuitant (aged 59) and two daughters (governesses in mid 30s)
No 2 Richard Kennard - County Court Clerk (aged 49), wife (aged 52), mother (aged 76), also visiting Milliner (aged 29)
No 3 George Constable - Gardener (aged 58); two daughers: laundress & dressmaker
Then comes
East Side: late 1870s and 1880s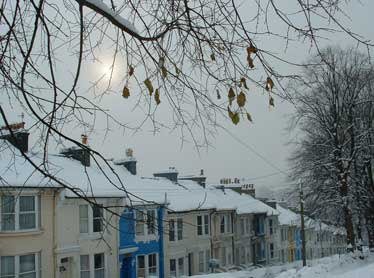 Photo: much more recent!
The continuous terrace on the east side of (now numbered 1 to 29 up to The Cats Creep) is made up of two and three storey rendered houses with canted bays and piched roofs.
Records at THE KEEP at the foot of this page show when most of them were built.
They have been re-numbered more than once. With properties being divided into flats, alphabetical are also used e.g. to define particular households.
The current Number 1 (the first house belonging to the SE terrace) begins some way off the bottom of Wakefield Road opposite the back steps up to The Laurels. However, there is no "number 1" in the 1880 Street Directory where 13 houses are listed with a gap between No 15 and No 20. No 1 is also missing from the 1887 street directory, but present in the 1891 street directory. Google Maps show today's number 1 as a much narrower house than the others in the continuous terrace. This is dictated by space limitations at the apex of Wakefield Road and Upper Lewes Road - a very small angle.
However, the absence of odds and evens on different sides of the street makes research trickier. I have yet to find a reference to Fern Villa, accessible from no 14 Wakefield Road, which I believe dates from 1879. Note that most of the land to the west of the Cats Creep belongs to number 24. The gardens of 25-29 are truncated.
West Side (1871 census) ROSE HILL PARK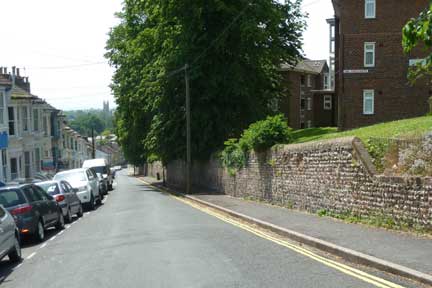 The Sylvan Hall Estate's own weblog records that the Colbatch Clark family bought the land in 1850. The northern section (Round Hill Park) also included semi-detached villas 68-80 east side of Ditchling Road.
Mapping the ROSE HILL PARK villas
"ROSE HILL" and "ROUND HILL" PARKS cover different areas -
Rose Hill Park, relating mainly to what is now Sylvan Hall, was bordered by Ditchling Road, Upper Lewes Road, Wakefield Road and most of the south side of Princes Crescent, covering a triangular area. The area north of what is now Bromley Road and round into Princes Crescent was due to be developed as The Round Hill Park
[ The ROUND HILL PARK villas are mapped on their own page ]
The side by side OS 25 inch 1892-1914 map is very useful for then and now locations, though it is not as good at naming them than the 1873-1875 map. With the latter, you will need to locate Round Hill by dragging the mouse, while swiping the mouse vertically to enlarge.

WAKEFIELD VILLA Richard Edwards (born Hastings)
(later renamed Woodfield Lodge) was located at the end of Bromley Road in the apex land between Princes Crescent and Wakefield Road. On the west side of Wakefield Road, the driveway to Wakefied Villa is clearly visible on the 1897 side by side map as is the shorter section of drive leading to 31 & 32 Wakefield Road - the cottages associated with Wakefield Villa. The latter are located roughly opposite the current No 1 on the east side of Wakefield Road, which has a noticeably narrower roof than the other houses in the continuous terrace leading up to the Cats Creep at circa No 29 or 30 (according to which directory you look in).
Occupants of Wakefield Villa in 1871 include Richard Edwards (a Retired Surveyor (aged 72), his niece (aged 33), his housekeeper; two general servants (aged 16 and 14).
Both the Pages 1871 Street Directory and the The 1878 Street Directory (in which six houses are listed) identify 4 Wakefield Road as "Wakefield Villa". The James Gray Collection contains
taken just before its demoltion, by which time it had been re-named first Woodfield Lodge and then 'The Rookery".
Looking down the familar walled west side of Wakefield Road, the same collection shows
which had been cottages for the gardeners of Woodfield Lodge. Although these cottages are set back a little from the street, the caption claims that these were the only houses on the west side of Wakefield Road. Taken from another angle, the collection provides:
The Sylvan Hall weblog mentions that the present day building known as "The Laurels" was built on the site of 31, 32 and 33 Wakefield Road. Within the latter site, these cottages would have been further down Wakefield Road. The steps from Wakefield Road (west side) which form a back entrance to The Laurels (main access is via Bromley Road from Ditchling Road) are nearer to Wakefield Place than the apex of Princes Crescent and the top section of Wakefield Road.

ROSEHILL VILLA Thomas MOSELY (born London)
listing is under Ditchling Road
(known as Hill Lodge by the 1900s) south of Bromley Road and to the east of Ditchling Road. See 1951 picture.
In 1871 the head is an 80-year-old Clergyman with 33-year-old daughter and 31-year-old son working as a Barrister. There are four servants, all in their 50s - one a butler, one a lady's maid, one a cook and one general domestic.

SYLVAN LODGE George L. CLOWSER (born Middlesex)
listing is under 1 Upper Lewes Road
(known as Sylvan Hall from 1923) a little set back from the junction of Upper Lewes Road and Wakefield Road and located at the end of Canterbury Drive on a site now occupied by flats called The Pines.
In 1871, the address of Sylvan Lodge is also given as 1 Upper Lewes Road. See | 1907 picture | 1976 picture | 1952 picture | viewed from driveway up from Upper Lewes Road.

ROSE HILL COTTAGE John Colbatch Onions (born Shrewsbury)
Listing is under Ditchling Road (The Cottage)
(also called "The Cottage"), a great deal larger than the name suggests, on the corner of Ditchling Road and Upper Lewes Road: in 1871, it housed 8 people: head of the household is 37-year-old Attorney John Colbatch Onions married to Sarah Jane Onions (also aged 37). There are four daughters and two sons, each bearing "Colbatch" as their middle name, as well as four domestic servants.
The history of Rose Hill Park
See full article by Chris Tullet on this site:
A winter's scene in old Round Hill (or to be precise Rose Hill Park)
Chris was one of the fourteen members of The Round Hill Local History Group who were key to the production of the book
ROSE HILL TO ROUNDHILL: a Brighton Community.
See Pages 17 to 20 information on Rose Hill including the memories of residents who had worked in the villas.
Chris Tullet's article mentions the Colbatch and Clark families, who developed Rose Hill Park in the 1840s, and records that the two families were to intermarry.
This is substantiated by the listing of "John Colbatch Clark" as living in Rose Hill Cottage on Page 2865 of the 1878 Post Office Directory, which also notes the Rev Thomas Moseley listed in the 1871 census as still the head occupant of Rose Hill Villa.
The Rev Thomas Mosley is already a widower in 1871 and would have reached the age of 87 by 1878.
Short Quiz
Questions which should be clarified after reading Chris Tullet's article are:
Why are so many retired C of E clergymen living on the Sylvan Hall Estate in 1871?
Who occupied Wakefield Villa (Woodfield Lodge) after it was renamed (a third time) "The Rookery" in 1931 before it was demolished in 1951?
Where is "ROUND HILL PARK" in relation to "ROSE HILL PARK"? Which areas relate more to Wakefield Road and the top of Ditchling Road?
What was a use of Rose Hill Villa important to women's employment opportunities at the beginning of the 20th century? Below is a picture clue.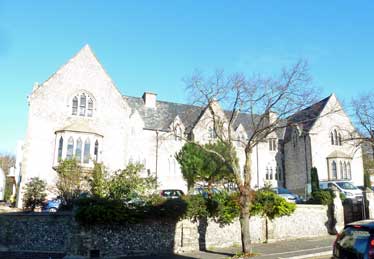 DIOCESAN TRAINING COLLEGE Ditchling Rd & Viaduct Rd
Wakefield Road records at The Keep
I do not find a record of any plans for "a No. 1" within the continuous terrace being built on the east side.
A "No. 1" does appear in the 1891 street directory well after sequential renumbering in 1880.
1866 May Wakefield Road 1 house / Dallimore
1871 Wakefield Road Proposed retaining wall
1877 Sep 2 - 3 Wakefield Road 2 houses / Stenning
1877 July 4 Wakefield Road 1 houses / Marshall / Dallimore
1877 June 5 - 6 Wakefield Road 2 houses / Scrase / Dallimore
1877 May 7 - 9 Wakefield Road 3 houses / Dallimore
1877 Aug 10 Wakefield Road and 11 Wakefield Road 2 houses / Piper / Dallimore
1878 May 10 Wakefield Road and 11 Wakefield Road Attics
1877 April 12 and 13 Wakefield Road 2 houses / Dallimore
1877 October Wakefield Road 1 house / Stenning
1878 May 12 Wakefield Road Attics
1878 April 16 Wakefield Road 1 house / Child / Dallimore
1878 May 16 Wakefield Road and 17 Wakefield Road Attics
1878 Feb 17 - 18 Wakefield Road 2 houses / Child / Dallimore
1878 Feb 19 - 20 Wakefield Road 2 houses / Sattin / Dallimore
1878 March 21 - 22 Wakefield Road 2 houses / Wood / Dallimore
1878 October 23 Wakefield Road 1 house and shop / Buster / Dallimore
1878 October 23 Wakefield Road 1 house / Buster / Denman
1879 March 24 - 29 Wakefield Road 6 houses / Stenning / Dallimore
1879 Apr Wakefield Road 1 house / Hayler / Dallimore - (Fern Villa?)
1880 Sep Re-numbering of Wakefield Road
1891 February 24 Wakefield Road Scullery
1929 Sep 14 Wakefield Road (now Fern Villa) photo of Marion Reeve
1936 Dec to 1968 April Purchase of Sylvan Hall, Hill Lodge, Woodfield Lodge, cottages in Wakefield Road and Chichester Diocesan College, Ditchling Road
Known occupants of Round Hill homes:
1871
1891
Details of the 15 laundries in Princes Road in 1891
Don't miss Sam Chittenden's play "CLEAN" based in Round Hill
Click here for Free Cen records (1891 & 1871) of Round Hill households (including the villas).