0000 The Planning Process
10 Multiple Choice questions on the planning process
Answer correctly and you can skip this page
Brighton and Hove City Council's
Planning Register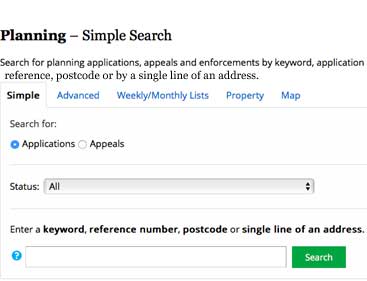 This is best searched using the application number (if you know it) since the results will return exactly what you are looking for. Alternatively, you can enter a postcode.
There is a Quick Reference Guide accompanying the Council's new Planning Register.
Access to The Planning Committee
THEIR AGENDA appears on the Council website 7-10 days before the date of the next committee meeting. That is the time to lobby members of the planning committee by email.
EMAIL PLANNING COMMITTEE MEMBERS DIRECTLY (best done 7-10 days before their meeting & NOT the day before!)
LIST OF APPLICATIONS TO BE DISCUSSED At this link, you can also review detailed outcomes via reports, Minutes.
SPEAKING RIGHTS - by prior arrangement with the Council, a person or persons objecting have a total of 3 minutes (between them) to put their views.
In addition, if their ward councillor (not a planning committee member) supports them, he or she can have 3 minutes as well to voice concerns.
Note that the applicant or a spokesperson acting for the developer also has 3 minutes to speak in support of a planning application
Before commenting on planning applications
consider:
Note that one of the most valid grounds for comment is
[A] whether the proposal complies with the Council's planning policies.&
Note that there is often tension between different policies (e.g. shortage of urban open space V the need to meet housing targets) so often the Council will adopt a "case-by-case" approach or give weight to policies which it has made its current priorities. If you know the policies, you will stand a better chance of making a strong case.
Brighton and Hove City Plan Part One [PDF] was adopted by Brighton & Hove City Council on 24th March 2016. This plan describes the Council's priorities in relation to different areas of the city as well as some city wide policies, several relating to sustainablility. Where more detailed policy is needed, it calls for new Supplementary Planning Documents. SPD14 Parking Standards is an example of a policy which was called for within the city wide CP9 SUSTAINABLE TRANSPORT policy of City Plan Part One [ see pages 171 and 180 Sections 4.126 amd 4.127 on car parking.
Brighton and Hove Draft City Plan Part Two [PDF] came out in July 2018 and is currently an emerging policy (though emerging policy can still carry some weight in decisions). The 10 week period of consultation ended on 13th September 2018. More information can be found on the Brighton and Hove City Plan Part Two webpage.
2005 Brighton and Hove Local Plan - review those policies from this older plan which have been retained since March 2016.
Supplementary Planning Documents SPD01 to SPD15
The following SPDs have been formally adopted, following public consultation, and are material considerations that can be taken into account when determining a planning application.
SPD14 COULD SUPPORT A CASE FOR CAR-FREE DEVELOPMENT
Detail can also be found in SPDs Supplementary Planning Documents - for example SPD14 is the place to look to find The Council's criteria for approving Car-Free housing, listed on pages 6 & 7. Note that on page 5, the Zonal Approach to availability of accessible public transport is described. The map showing Key Public Transport Corridors, which some new developments may fall within, is on page 22 of the document.
The planning policies of Local Authorities are meant to be compatible with the National Planning Policy Framework February 2019.
The Community Infrastructure Levy Regulations 2010 add to government policy on the use of Planning Obligations. Sometimes developers or their consultants quote government policy selectively in an attempt to undermine local policy, so it is important to check out the contexts for yourself and to look for exemptions.
Appeal inspectors may quote a mix of Local and National planning policies in deciding whether to uphold or dismiss appeals.
Participating in an Appeal
How do we know if an applicant has appealed against refusal?
If an appeal is launched, the Council normally contacts residents in the immediate vicinity of the application site by letter. Naturally, the Council would be keen for local residents to help them to get the appeal dismissed. If the appeal is upheld, the Council (i.e. we the rate payers) bears the cost.
To check if an appeal has been launched, look up the record of the application (e.g. BH2016/00XXX) within Brighton and Hove City Council's planning register. A tab will have been added if an appeal were underway. Here you will be able to find the appeal reference: e.g. APP/A1234/A/99/1234567.
Will my objections be carried forward to the appeal inspector?
The case officer will have forwarded the PLANS LIST from the Council Planning Committee meeting where the decision was "to refuse", which would include a summary of residents' original objections.
However, if you object to a planning proposal which is taken to appeal following refusal by your local Council, it is always a good idea to participate in the appeal.
What you need to do is to re-structure your original objections so that they clearly address the main arguments the appellant is making in their appeal statement. Read the actual appeal statement before forming your comments.
[1] go to the government's Appeals Casework Portal at acp.planninginspectorate.gov.uk
[2] enter the final 7 digits of appeal reference number (e.g. APP/A1234/A/99/1234567) ainto the search box on the right hand side of the web page (headed SEARCH FOR A CASE).
You have the right to view the appeal documents and comment on the appeal via the planning inspectorate's website.

In constructing their appeal statements for the attention of the government's planning inspector, applicants or their advocates will focus on supposed injustices, omissions, departures from national or local planning policies or inconsistent decision-making by Councils, and points in their favour which they claim have been overlooked.

From the objector's perspective, you need to counter these very points.
Is it sufficient to support the Council's reasons for refusal?
Honesty is the best policy i.e. to communicate genuine concerns. Do not feel defeated before you start. Bear in mind that this time the objections are being made not to the Council, but to the acp.planninginspectorate.gov.uk.
Do not assume that the Council and The Planning Inspectorate will respond to your objections in the same way. In the past, Round Hill residents have helped to get appeals dismissed on transport grounds (e.g. insufficient on-street parking space) when the Council's Highways department has not raised objections to 30 flats on a site where no provision for parking is possible.
Do not forget to review the Council's planning decision so that you know exactly what the grounds for refusal are. In most cases, these will reference genuine concerns. These arguments will be supported by references to actual planning policies. Lending support for the main reasons for refusal is clearly helpful if your aim is to get an appeal dismissed.
Is it possible to appeal against approval?
There is no 'right of appeal' for residents objecting to a planning application which is

approved

by The Local Authority. However, the Local Authority is expected to be fair.
The planning system does provide a The Local Government Ombudsman who is available to address procedural abuse by local authorities. This provides a safeguard which does not involve the expense and compllcation of the judicial process. Before taking this route, note that complaints must relate to the decision-making process. Disagreement with a planning decision does not provide a ground for complaint if the decision has been properly made. See planninghelp.cpre.org.uk for more information on
What can be done without planning permission?
See:
Conservation areas in Brighton & Hove - a residents' guide
Read the above if you are in doubt as to what requires planning permission and what doesn't in the Round Hill conservation area, where controls operate through what is called an Article 4 Direction
If a development has been in place for four years, it may automatically have "deemed consent". If not and the Council is willing to act, the developer can apply for retrospective planning permission and may be persistant enough to appeal against refusal. Councils (i.e. the rate payers) pay the cost of upheld appeals, so case offers need to second guess appeal inspectors (i.e. the weight of government policy) in recommending refusal.
Residents who report unauthorised development can remain anonymous. The Council will confirm whether a change counts as development.
Removal of planning conditions
Where can I check what planning conditions are in force?
Find the planning decision document for the most recent application from the developer on the Council's planning register. It should contain the planning conditions.
Can a developer apply for a planning condition to be removed or varied having once been granted planning permission?
This can be done under Section 73 of the Town and Country Planning Act 1990 by making a further planning application. The developer Carelet has made several applications to vary and remove conditions, including the replacement of timber windows with powder coated aluminium ones, changes to the layout of its Gatehouse to accommodate required lift dimensions, changes to refuse and recycling storage area and removal of the condition that their occupants should not be entitled to area J parking permits. Veolia has varied the hours their WTS and MRF are allowed to operate to include Sat Sun Bank Holidays, several more hours daily.
What has the Council the power to conserve?
See The Council's 2015
Strategy for the Conservation of Brighton's Historic Built Environment
note the commitment to the latter in policy CP15 Heritage of The City Plan (part one)
Check to see if application sites are listed
Do we need our own Neighbourhood Plan?
Freedom of information requests
e.g. has there ever been an attempt to monitor the escape of fugitive particles from The Waste Transfer Station? What scientific measures have been used in the past to monitor odour escape? Is it only noise which has been monitored in planning applications?
Do other neighbourhoods have similar concerns?
Check e-petitions on The Council's website. If you care about any local community concern sufficiently to take action, look to see if anybody else has posted an e-petition before posting yourself.