Cat Creep 2006 proposal refused
BH2006/01501 site E of The Cats Creep
affecting this much valued "green ribbon"
In June 2006 a proposal to develop part of one of Round Hill's much valued "green ribbons" to the Richmond Rd side of The Cats Creep steps, was refused by our local Council.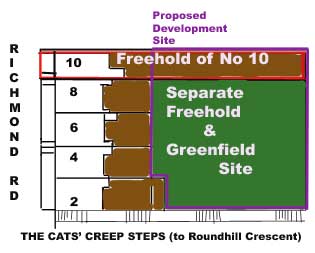 The greenfield site is likely to have been used by William and Sarah Tidey as a drying field for their laundry recorded in the 1891 population census as being at 10 Richmond Road.
The Tidey family later named their enterprise THE PRIMROSE LAUNDRY and in 1898 they moved it to 20 (now 22) Crescent Road where there were larger drying fields to the rear of houses on the west side of that street. This green space was shared with other laundries including the TIVOLI LAUNDRY at 28 Crescent Road.
Land adjacent to the Cats Creep is visible from public places - the Cats Creep itself (if you are tall) - but also many vantage points on the other side of the Lewes Road Valley (e.g. Woodvale and Tenantry Down). It also forms part of a largely unspoilt green ribbon, which gets a mention under the heading SPACES & VISTAS in Round Hill's Conservation Character Statement.

These spectacular views into the Round Hill conservation area reveal the deliberate symmetry of design when The Round Hill Park Estate was divided into plots in 1853
Click on picture of Round Hill Park Estate 1853 to enlarge Will open in an new tab. Then to further enlarge to see extra detail:
Hold down Ctrl and press + (Windows PC) or
hold down Command and press + (OS MAC).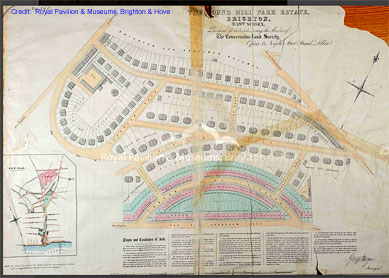 A victory for reason Brighton and Hove Council has refused the proposal for residential development on land east of the Cats Creep to the rear of 2 to 10 Richmond Road
Thank you to THE CATS CREEP CAMPAIGN led by residents in Richmond Road, Wakefield Road and Round Hill Crescent for helping to achieve this reassuring outcome.

This is good news, though in the light of the lucrative incentives to develop green plots and all the instances of garden grabbing in the South East, Round Hill residents cannot be complacent. This developer may try again. The reasons for refusal listed below contain information about Council Policy of use to objectors and developers alike. We must watch out for a revised application which could progress to a Planning Applications Sub-Committee.

Reason 1
The development would fail to preserve or enhance the character and appearance of the Round Hill Conservation Area. The loss of the green open space would fail to protect or enhance the historic street layout of the area and would seriously harm the quality of views into the conservation area. Furthermore the design and siting of the buildings fails to take into account the developed background into which the development is set. This is contrary to Policies QD1, QD2, QD4 and HE6 of the Brighton and Hove Local Plan.

Reason 2
The development would lead to an unacceptable loss of urban open space which is considered important in the context of the conservation area and for its high amenity value which is enjoyed by local residents. Furthermore the applicant has failed to demonstrate that the development is of national importance or essential to meet social, environmental and economical needs and that it cannot be located elsewhere. This is contrary to policies QD20, QD3 and HE6 of the Brighton and Hove Local Plan.

Reason 3
The development fails to provide for the travel demands that it creates. The development fails to provide sufficient on site parking and adequate vehicular or pedestrian access. Furthermore it cannot be demonstrated that the development would remain genuinely car free over the long term. This is contrary to policies TR1, TR19 and HO7 of the Brighton and Hove Local Plan and Supplementary Planning Guidance Note 4 (Parking Standards).

Reason 4
The applicant has failed to demonstrate that the new housing would be constructed to lifetime homes standard. This is contrary to planning policy HO13 of the Brighton and Hove Local Plan.

Reason 5
The proposed landscaping does not provide sufficient new tree planting to replace the existing species of trees on site. The loss of trees on this site would harm the appearance, character and amenity value of the area and Round Hill Conservation Area. This is contrary to policies QD15, QD16 and HE6 of Brighton and Hove Local Plan.

Reason 6
The proposal fails to demonstrate a satisfactory construction waste minimisation strategy, confirming how demolition and construction waste will be recovered and reused on site or at other sites, therefore reducing the need to dispose of waste at landfill. This is contrary to policies SU13 of the Brighton and Hove Local Plan and WLP11 of the East Sussex and Brighton & Hove Waste Local Plan.

Are the Natural and Semi-natural Greenspaces which define The Round Hill Conservation Area "surplus to local residents' requirements"? Thank you for telling the Council that they are not. We have won this round
This is what local residents argued

Existing open space, sports and recreational buildings and land should not be built on unless an assessment has been undertaken which has clearly shown the open space or the buildings and land to be surplus to requirements. For open space, 'surplus to requirements' should include consideration of all the functions that open space can perform The Government's Planning Policy Guidance PPG17 paragraph 10: read it in full.

a. Did the Council carry out or require an open space assessment before this application was even considered?
b. If so, did the Council conclude that this section of "green ribbon" at the heart of the conservation area was "surplus to residents' requirements"?
c. The Government's PPG17 provides Councils with a typology to help in the classification of different types of open spaces and their functions (e.g. Natural and Semi-natural Greenspaces contribute to amenity-value, health & well-being of residents in urban areas through biodiversity, wildlife habitats, green corridors). Has the Council documented these functions? Has there been any consultation with local residents under PPG17 paragraph 10?
d. Has the developer under PPG17 paragraph 10 consulted the local community and demonstrated that her proposals are widely supported by them? Click HERE to see what local residents are actually saying.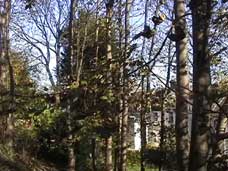 An application to build 5 units of residential housing (Erection of 3 houses, 1 flat and 1 maisonette) on land adjacent to the Cats' Creep, in-filling a large section of this attractive "green ribbon" and felling at least 19 trees, was registered with Brighton and Hove City Council on 19th May 2006.

Some residents in the area, who do not wish the above site to be deforested to make way for large three-storey, flat-roofed, bunker-like buildings, have formed a campaign group to oppose this development.
Above link shows application form, supporting documents, drawings etc.
Detailed letter of objection to Application No. BH2006/01501
Please note that not all the policies in the 2005 BRIGHTON & HOVE LOCAL PLAN have been retained. Many were dropped or replaced in 2015. Click here to see which of these policies can still be quoted.
Land to the rear of 2 to 10 Richmond Road (Erection of 3 houses, 1 flat and 1 maisonette)


I am writing to object to the proposed development involving the in-filling of a greenfield site on the previously undeveloped stretch of "green ribbon" which most Round Hill residents consider to be a defining feature of their Conservation Area.

I would request that Brighton and Hove City Council should apply the Government's Planning Policy Guidance PPG17 paragraph 10 (the procedure is outlined in PPG17 Diagram 1: Redevelopment of an Existing Open Space) before giving any further consideration to a proposal involving the most valued open space in Round Hill.

I consider this proposal to be contrary to Council policies on (QD1) quality of design, (QD2) neighbourhoods, (QD3) effective use of site, (QD4) strategic impact, (QD15) landscape design, (QD16) trees & hedgerows, (QD17) protecting nature conservation features, (QD20) urban open space, (QD25) external lighting, (QD27) protection of amenity, (QD28) planning obligations, (SU5) Surface Water & Foul Sewage, (HO4a) private amenity space, (HO5) outdoor recreation space, (HO6) car free housing, (TR2)public transport accessibility & parking, (TR5a) safe development, (TR6) pedestrian routes and (HE6) development within or affecting the setting of Conservation Areas.

A proposed use is suitable for the area.

Adjoining residents will suffer overshadowing, overlooking or loss of privacy.

The appearance and size of a new building is in keeping with its neighbours and surroundings.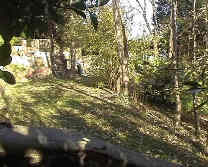 The applicant's attempts to present Application No. BH2006/01501 as suitable for the heart of the Round Hill Conservation Area depend on omission and misrepresentation.

Application No. BH2006/01501 should not have been registered

1. The Location of the site is given as LAND TO REAR OF 10 RICHMOND ROAD. Both the Application Form and the Supporting Documents have been worded to suggest that the proposal impacts mainly on the applicant's own home. Only in the Appendix 9.0 Consultation is full mention given of the existing terraced properties at 2, 4, 6, 8 and 12 Richmond Road and at 17, 19 and 21 Roundhill Crescent, which are directly affected by the proposal. You will doubtless receive comments from residents whose properties adjoin the development site, addressing issues such as overshadowing, overlooking or loss of privacy as well as the unsuitability of flat-roofed three storey bunker-like buildings in the part of the conservation area noted most for its Regency styles and Victorian architecture.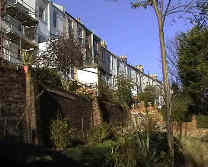 2. Although the Application Form lists 3 x 3 bedroom houses and 2 x 1 bedroom self-contained flats (i.e. 5 units), page 1 of the applicant's Supporting Documents states that this is a Planning Application "for four houses @ land adjoining 10 Richmond Road.", page 4 refers to "a proposal to develop 4 sustainable homes" and only on page 39 (Housing) is it first stated that the proposal is to provide a mixture of unit types, to include 3 new residential 3 bed town houses and 2 nos 1 bed apartments. That's five new homes, not four.

3. The worst inaccuracy, repeated throughout the application, is the false claim that the development site is "brownfield". The linking of this proposal just to the applicant's own existing property (when the proposed residential development extends the length of five existing properties in Richmond Road) is possibly an attempt to support this unsubstantiated claim. Local residents object to the attempt to trash the best "green ribbon" in our conservation area (see page 4 of the applicant's Supporting Documents) by equating this previously undeveloped stretch of land with derelict sites formerly used for industrial or military purposes such as those being re-developed at Brighton Station, Preston Barracks and the Lewes Road bus station. We could have been spared having to read a Design Statement, which repeatedly misrepresents this much-valued open space, if the Council had checked out the planning status of the development site and refused to register Application No. BH2006/01501. It should not be left to local residents to make the necessary checks. Under the Government's Planning Policy Guidance PPG3 Housing - 2000, Annex C: Definitions only the curtilage of the property at 10 Richmond Road (i.e. the area of land attached to the building on the same freehold, outlined below in red) is defined as previously developed.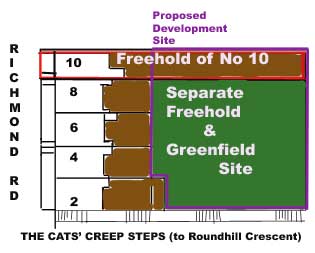 Land registry documents show the main area of the development site to be a separate freehold to the applicant's own house and garden (a much smaller freehold: see Title No. SX130989 from the Land Registry, Portsmouth Office). The main section of Round Hill's most attractive "green ribbon" has NEVER BEEN PREVIOUSLY DEVELOPED.

Government Policy Planning Guidance is quite precise PPG3 Annex C: Definitions in differentiating between brownfield sites from land which has NEVER BEEN PREVIOUSLY DEVELOPED i.e. greenfield sites.

Gardens are only considered to be 'previously developed' in the presence of a major structure such as a house on the same freehold. Many of the threatened plots in Round Hill (including Carelet's main freehold) are separate from the freeholds containing people's homes. Developers have been pretending that plots are gardens to houses (classed as 'brownfield') when there is nothing in their planning history (i.e. no change of use granted) which integrates the two kinds of freehold. If the ODPM's recommendation could conceivably be applied to Round Hill's most attractive green ribbon, it would also apply to Jan Curry's plot of land (part of the same green ribbon) which won the UK wildlife garden of the year (2002) award and has been featured on several TV programmes

Brighton and Hove Council should make the planning history of the whole development site available and apply Government Planning Policy Guidelines PPG3 Annex C: Definitions on this point. The schedule of restrictive covenants relating to Title No. SX130989 (the smaller of the two freeholds i.e. containing the owner's house and garden) also warrants further inspection before any new building of any kind is considered in the actual back garden (i.e. a very small section of the development site) of 10 Richmond Road.

4. A final reason why consideration of Application No. BH2006/01501 is premature, is the absence of an open space assessment, compliant with the Government's PPG17 paragraph 10 and involving consultation with local residents RE the amenity-value of the development site. Round Hill residents concerned by another development threat in November 2004 were assured by The Council's Design and Conservation Team Manager that (in line with Government Guidance paragraph 2.4. PPG17) the appearance, environmental quality, amenity and biodiversity of open spaces under threat would be properly assessed before a development proposal is considered. Note that one of the guiding principles applying to PPG17 paragraph 2.4, is that the value of open spaces, irrespective of who owns them, depends primarily on two things: "the extent to which they meet clearly identified local needs and the wider benefits they generate for people, wildlife, biodiversity and the wider environment. The Council's Design and Conservation Team Manager added that in the absence of an up to date open space survey (compliant with PPG17), such an assessment would be expected to be done by the housing developer. PPG17 Diagram 1: Redevelopment of an Existing Open Space shows the procedure involving local residents, which should be followed with all development proposals affecting open spaces, whether public or privately owned. Round Hill residents request that this procedure is applied to Application No. BH2006/01501 before any further consideration is given to it. The Open Spaces Questionnaire we were asked to complete earlier this year, invited feedback on public open spaces. The privately-owned stretch of "green ribbon" running between Richmond Road and Round Hill Crescent (within a conservation area lacking in any public open spaces) is Round Hill's most valued open space: the jewel in the crown. Failure to apply PPG17 paragraph 10 would devalue references to it in our Round Hill Conservation Area's Character Statement. The applicant attempts to align herself with Brighton and Hove Council's planning policies in characterizing the proposed development site as suitable for in-fill.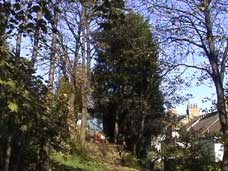 New buildings have satisfactory access for disabled people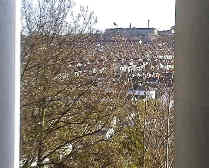 Access to the new properties would be via the steep steps of the Cats' Creep, a public right of way which would have to close during the construction period. The proposed access would not only rule out most disabled people, but could preclude anybody!

The applicant's Vision Statement reveals that she is targeting most of her residential accommodation at families who she hopes will be able to get by without the use of cars. Three out of the four proposed units (involving two large stepped flat-roofed blocks each with three floors) would be 3-bedroom houses, planned as "homes for young families". However, the limited access via steep steps, at times exposed to icy weather, would rule out almost everybody at some point in a normal life. It is not just the disabled who encounter problems in getting around. This proposal certainly rules out most with physical disabilities (ambulant disabled), sensory disabilities (blindness), some mental handicaps, ill-health (problems with breathing or balance e.g. heart conditions or strokes).

Unsustainable design would not only exclude the disabled……

This proposal cuts across far more than The Disability Discrimination Act
Mobility problems can also be experienced by people with a wide range of temporary conditions.

New roadways and accesses will be safe for pedestrians and other road users

Young families can expect to have at least one member who is sometimes pregnant. Pushing prams and carrying heavy shopping are other conditions that are likely to follow. Few families escape without one member experiencing an injury such as a broken leg. This proposal is based on the democratic assumption that all of the people can be in robust health all of the time. It makes no contingency for toddlers who are unstable on their feet or the wish of an elderly person to visit their grandchild.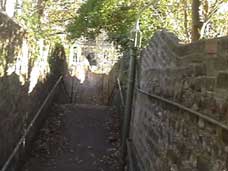 The consequences of unsustainable design could include homelessness, social exclusion, and inability to attend work or school. An injury or illness could be bad enough without being compounded by homelessness i.e. when a person is unable to access their own home. Similarly, residents do not want to be trapped in their own homes just at the time when it is important that they access fracture clinics, outpatients departments, GPs Surgeries or just the nearest Chemist's. Access problems from house to street could also lead to absence from work or school when it would otherwise be possible to attend.

There will be any increase in noise and disturbance, e.g. from the comings and goings of extra traffic

The new occupants of these luxury units would enjoy good views, but access to their homes would be difficult and problems would be compounded by the pressure on the already over-burdened infrastructures of Richmond Road and Roundhill Crescent. The new occupants would have no streetscapes of their own for their cars, their service vehicles and their visitors' cars. Both this and the relentless attempt to in-fill as much of the green ribbon as possible is a bad case of cramming, which would lead to access problems for all.

Do this access and the hilly terrain support the applicant's vision of pedal cycle use?

Neither access arrangements nor the steep terrain of Round Hill itself serves the applicant's purpose of promoting cycle-use to minimize the extra pressure on parking from occupants, their visitors and their service vehicles. Will the occupants use bicycles for transport to work, school, shopping etc? The applicant undertakes that she will attempt to promote cycle use, but how far will her influence extend?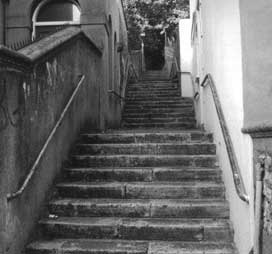 The applicant's proposed site for cycle storage assumes that the new occupants would carry their bicycles up a shorter section of the Cats' Creep steps to Richmond Road. However, the nearest local shops are The Bradley Stores on Upper Lewes Road at the corner of St Paul's Street, the Coop Food Store at 56-57 Lewes Road and several other useful stores and shops along Lewes Road. For direct access to these local shops as well as the centre of Brighton, new residents would need to carry their pedal cycles down several groups of steep steps to the flatter terrain at the bottom of the Cats' Creep where Round Hill Crescent meets Upper Lewes Road. The return journey carrying both bicycle and shopping is even more improbable. Walking these steps without resorting to car-use to serve every day needs is possible (a few Round Hill residents do) but unlikely.

The reality would be more car owners and further pressure on parking in Richmond Rd, Wakefield Rd, Princes Crescent and Crescent Rd.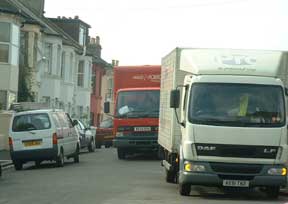 Use of the Richmond Road access, as suggested by the applicant, would probably involve Wakefield Road. There have been proposals to make this descent "one-way up". Currently, the junction at Wakefield Road and Upper Lewes Road is not a safe route for pedal cycles. The option of using Crescent Road and Ditchling Road to reach the dedicated cycle-tracks at The Level, involves mingling with inbound London traffic as well a gradient on the return journey which few cyclists will manage.

In reality, the transport implications of passing this proposal would be increased competition for parking, car-use and traffic volume in Richmond Road, Wakefield Road and the surrounding streets.

Delivery vehicles will block the road as those making deliveries will have to navigate the Cats' Creep steps

The large delivery vans pictured above have been temporarily abandoned while their drivers are making deliveries. Fortunately, the drivers have little distance to walk and no steps to climb. The red Parcel Force van is delivering to houses in the street where the vehicle is parked. The driver of the white van is collecting plumbing supplies from the wholesale outlet in Princes Road just round the corner.

Access problems for waste collection and providers of other services

Will waste collection problems via the Cats' Creep (e.g. accidental spillage) be mitigated by the applicant's recycling schemes? The applicant's measures to encourage recycling do not remove the risks and inconvenience of transporting waste up steps which already warrant more frequent attention from street cleaners.

Vehicles (e.g. Sainburys To You/Tesco/Waitrose, Parcel Force, Carpet Fitters' vans) delivering to the proposed homes east of the Cats' Creep could block the road regularly for periods of 10 minutes or more while orders are delivered to any one of the occupants. Service people will not welcome access via the Cats' Creep steps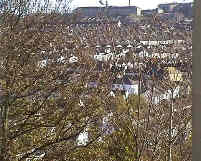 Trapped motorists who may be residents trying to get to work are likely to be displeased at having to wait. Shorter blockages of the road already occur when the refuse and recycling collection vehicles are making weekly and fortnightly collections from residents with streetscapes of their own. This causes quite a queue of vans and cars, which in turn delays collections as drivers do their best to avoid complete gridlock. More regular blockages for longer periods would inevitably result if this application were passed.

As the applicant is unable to make any provision for on-site parking, Development Control should highlight the Council's policy (HO6) on Car-Free Housing as well as transport policies TR2 (public transport accessibility & parking), TR5a (safe development) and TR6 (pedestrian routes). It would be both unreasonable and illegal to insist that residents occupying the proposed properties on this inaccessible plot should be disqualified from car ownership. Currently, there is no residents' parking permit scheme limiting on-street parking in Round Hill. The proposal is one with no effective transport provision for new residents. It is impossible to conjure up street space where it is already badly lacking.

The Proposed design is unsustainable: i.e. it fails to meet Brighton and Hove City Council's Sustainability Checklist SPG BH 21

QD1 (Quality & Design), QD2 (neighbourhoods), QD3, effective use of site, QD4 (strategic impact)

Surface Water & Foul Sewage (SU5)

Is it common practice for Councils to register a planning application when no proposal for foul-water drainage from the site has been finalised? It makes it very difficult to have a proper public consultation period when local residents do not know what is being proposed on such an important point.

Dawn Construction has not been able to finalise a proposal for foul-water drainage from the site. The suggestion that the existing drainage to no. 10 Richmond Road (the developer's current house) could be used, conflicts with policy SU5 by pushing the limits of a system designed for just one house in an existing terrace. A blockage (for which a number of home-owners could be responsible) would affect all new and several existing residents. While the existing owner of 10 Richmond Road may be happy to allow this unsatisfactory arrangement, a future owner of that property may not put up with it. The second suggestion of "pumping the waste up to the existing sewer in Richmond Road" hardly contributes to this proposal's environmental performance, which the applicant maintains is "excellent".

Development within or affecting the setting of Conservation Areas (HE6).

Round Hill residents who use the Cats Creep will know that this development site (just east of the steps) is at the heart of the most attractive "green ribbon" in the Conservation Area.

The two large blocks accommodating the five proposed units would cover the bulk of the development site i.e. the heart of the existing "green ribbon". 19 sycamore trees would be felled to make way for these stepped flat-roofed blocks. The proposed replacement of trees would involve containerized planting (to avoid root problems and limit tree size - there won't be much free space on this site) around the perimeter of the development site. The stepped roofs of the blocks will mirror the levels of the Cats' Creep so the attractive vista enjoyed by passers-by to the east of the steps will be lost to a three-storey construction, completely out of character with the period architecture of the houses in Richmond Road and Roundhill Crescent.

Development on this site will affect the amenity of everybody who uses the steps and could soon lead to the loss of one of Round Hill's main defining features as more developers follow suit.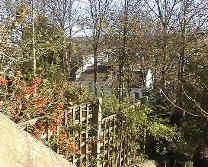 The applicant states on page 18 of her Supporting Documents that she has had a number of discussions with the Council's Arboricultural Service regarding the felling and replacement of existing trees. Her proposal involves felling at least 19 mature trees indigenous to the UK and replacing them (on what is left of the site after it has been over-developed) with non-native varieties, planted in containers to limit their growth.

Some Councils (e.g. Crawley) have SPG notes dedicated to Landscaping and Greening where they include exhaustive lists of native & non-native plants and trees suited to local soils. Round Hill residents will be shocked (when they see the Arboricultural Service's Report on Application BH2006/01501) if our officers have really advised that Japanese flowering cherry trees and other containerized ornaments (dotted around what little is left of the development site after building) would act as true replacements. The protection of the distinctive character of The Round Hill Conservation Area naturally involves the Council's Ecologist and Arboriculture Service, though relevant policies in the Local Plan involve several Council Departments. We hope that officers and departments preparing reports for Development Control will apply policies
QD15 (landscape design), QD16 (trees & hedgerows), QD17 (protecting nature conservation features) , QD20 (urban open space), QD25 (external lighting), QD27 (protection of amenity), QD28 (planning obligations), HO4a (private amenity space ) and HO5 (outdoor recreation space) and HO7 (car-free housing).

We also trust that many of these policies will be listed for the benefit of Members of the Planning Applications Sub Committee in order that they may prevent chainsaws and bulldozers from proceeding to replace a wildlife habitat with a bulky development surrounded by ornamental shrubs and trees which would be pathetic apologies for deforesting the area and driving the wildlife out.

The policies of Brighton and Hove City Council's Local Plan do not support overdevelopment in a conservation area as recommendations and decisions on other development proposals in Round Hill (e.g. Carelet; land between Roundhill Crescent and Upper Lewes Road) clearly illustrate.

The site adjacent to the Cats Creep has an existing use as one of the most precious OPEN SPACES in Round Hill. Both near views and views from afar contribute to many residents' amenity. This "Green Ribbon" is a defining charactersitic of Round Hill mentioned in the Conservation Area Character Statement. To convert the green ribbon (pictured below) into something resembling the tiers of a football stadium through construction of stepped flat-roofed accommodation blocks would leave no room for wildlife.














Sustainability Statement or a Catalogue of improbabilities?

The sustainability of this proposal appears to depend on a catalogue of conditions, which the applicant has undertaken to police. It is not clear what influence the applicant would be able to bring to bear on new home-owners, how long she will be around to direct their behaviours or whether her motivation would be the same once planning permission is granted. The privileged outlook of the south / south-east facing embankment of our conservation area means that these would without doubt be luxury homes. Site security would clearly depend on a lot more lighting. The buildings and the activities of the occupants (who are likely to want to add to their amenities) would not go unnoticed.

The Overview of the Sustainability Statement (page 28, Section 6.0 of the Supporting Documents is made up of inaccuracies and nice-sounding hopes lacking in realism. The applicant again states that her proposal is to bring a 'brownfield site' into active use, apparently not recognising that this is land which has NEVER BEEN PREVIOUSLY DEVELOPED. It is noticeable on Land Use and Ecology in her EcoHomes Pre Assessment (page 45), she has ticked "BUILDING ON LAND WHICH IS INHERENTLY OF LOW ECOLOGICAL VALUE" and then changed her mind. Further along from her proposed development site is the UK´s award-winning wildlife garden of 2002, which demonstrates the possibilities of this "green ribbon". If local residents had to name one stretch of land within their conservation area most worthy of a designation as a Site of Nature Conservation Importance, this "green ribbon" would be it.



Urban Dormitories for those who can afford them

The provision of luxury dwellings will not help the housing crisis. Homes on hillsides with spectacular views are unlikely to be purchased by those in greatest social need, not unless an area has been so over-developed as to become completely unattractive.

The urban jungle metaphor used throughout Application No. BH2006/01501 is an effort to persuade the Council that the area will remain attractive after in-filling has taken place and that the development will be practically invisible.

However, nobody believes that the new occupants will live in the trees. Elaborate reference to imaginative building materials and clever ways of saving energy cannot camouflage the footprint of this development proposal. The area covered by buildings would dominate the site, a large number of mature indigenous trees would be felled to be replaced by ornamental non-native varieties planted in containers, the use of external lighting alone is likely to displease any local resident interested in the night sky. See policy Q25 of the Local Plan, which protects against light pollution.

An overdevelopment without question, which would eradicate existing flora & fauna from most of the site. 19 trees would need to be felled.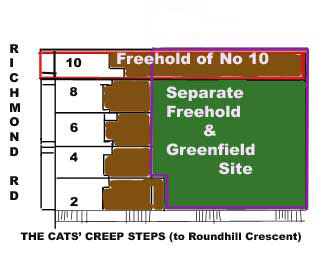 These large stepped flat-roofed 3-storey accommodation blocks (one containing two 3-bedroomed houses and the other one three-bed roomed house and two single flats) would have a ruining impact on this long-preserved strip of land adjacent to the Cats' Creep and will change the character of the conservation area for good. The proposed development goes far beyond the scale of the isolated dwelling quoted as an existing precedent. A crooked line of four houses (five units) would surely encourage other landowners to sell the remaining parts of Round Hill's green ribbons for speculative gain.

Development sympathetic to surroundings involves the provision of extra infrastructure to go with it.

Depending on borrowed infrastructure (as if the streets nearest to back-land developments were capable of supporting unlimited pressures) is THE LAW OF THE JUNGLE. All existing residents pay for the developer's gain. The proposed development has no streetscape of its own. Access via the steps of the Cats' Creep, used currently as a walkway (NOT a route for building supplies, furniture and provisions), would preclude many categories of resident and visitor. Families living in the houses would surely require cars parked either in or near Richmond Road or Roundhill Crescent.

Proposed buildings are incompatible with the period-look of the Conservation Area

The applicant's vision is motivated by a concern that a large part of Brighton's housing stock is around 100 years old. However, her proposal is merely to add to the housing stock and not to remove a single old building. She explains that it is costly to incorporate elements such as solar panels, PV's or recycling of water effectively in these old buildings, hence the justification for erecting new buildings. This argument would be easier to pursue if the applicant had not chosen to live in A HISTORIC CITY and in a part of that city (i.e. a conservation area) noted for its Regency-style, Victorian and Edwardian architecture. Although beauty is in the eye of the beholder, the designs of her proposed flat-roofed accommodation blocks (See photos in Supporting Documents and Drawings) are totally out of character with their architectural surroundings. Residents who have chosen to live in one of Brighton and Hove's best conserved period neighbourhoods are likely to find them ugly.

a Vision Statement or a blindfold?

On page 5 of the Supporting Documents, within her Vision Statement, the applicant writes:
The planned development is part of a swathe of land between Wakefield Road/Richmond Road and Roundhill Crescent. This section of land is mostly undeveloped, due to access difficulties. However, an existing house at no. 14 Wakefield Road set a precedent for building on the land between the 2 crescents. In-fill in this area is no new concept, other small back-garden developments have been built over the last few years, which have been tastefully achieved and which have enhanced the area's reputation as a lovely place for people with young families to live in.

Fern Villa, the house at 14 Wakefield Road, belongs to the period architecture of the area and not to the developer's handbook of modern flat-roofed designs. Fern Villa is not a case of in-fill. It was built in 1878, 99 years before Round Hill became a Conservation Area and probably before most of the houses in Richmond Road and Wakefield Road were completed.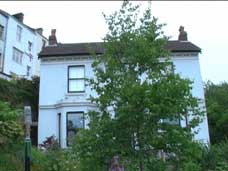 It is certainly not to be equated with developments "completed over the last few years". Where on this unique strip of unspoilt "green ribbon" has any in-filling taken place during the last century?

How could a proposal, described as an eco-development, be so blind to its surroundings?

It is misleading to claim that Fern Villa 14 Wakefield Road - a Victorian house contemporary with the other Victorian houses in Wakefield Road - sets a precedent for building on the land between the 2 crescents" and "In-fill in this area is no new concept.

The appearance and scale of the new residential development that the applicant proposes quite obviously creates a new and very unwelcome precedent, and this is why the overwhelming majority of local residents do not support her scheme.

I urge the Council to recommend refusal and Members of the Planning Applications Sub-Committee to refuse permission.