Playing out in Round Hill
Previous events
Sunday 2nd June & 30th June 2019
3pm to 5pm Mayo Road
The second street play was on a hot summer's day (30 June), though was a quieter affair than the first, which had also featured a plant sale and some baking. Thank you once again to those who participated in both.
The plant sale (2nd June) benefited from some generous donations. Circa £115 was raised to fund further community events.
Bike for Life was also present on 2nd June. It was great to see so many new and familiar faces! The cake stall made £45 and adult bike services £15 which wil alsol go towards supporting similar community events.
Sunday 28th October 2018
Halloween Street Play
Thank you to everybody who participated in our Halloween Play Street - the last of the year.
The weather was very variable. A short downpour of rain and air which had turned cold probably explains lower attendance this year, but there was still an opportunity to meet new faces and to catch up with both friends and acquaintances within Round Hill.
Barbara provided drinks and cakes and there were also biscuits with a halloween theme made by other volunteers.
More pumpkins appeared as the afternoon progressed and it was again possible to stage the "doughnut on a string" event.
Play Street will be back in Spring 2019.
| | | |
| --- | --- | --- |
| | | |
| Pictures by Kate Rice | Click to see more if you are a member of The Roundhill Community Noticeboard | This is a Facebook Group for people who live in Round Hill |
Eighteenth to Twenty-third Street Play event:
Sessions held in 2018 have included 22nd April, 27th May, 24th June, 22nd July, 16th Septemer and coming up 28th October.
Our last children's Street Play of the year has the popular Halloween theme and will take place from 3pm to 5pm on Sunday 28th October 2018.
As always we need volunteers to make these events happen (marshalling, baking, especially with the theme of horror in mind - though with delicious results. so please let Kate Rice know if you can help - even 30 minutes at one session is valuable.
We'd like to thank the whole community, and in particular the residents of Mayo Road for supporting Street Play, and allowing the road closure to keep the children safe.
Seventeenth Street Play event:
Sunday 29th October 2017
3pm to 5pm Mayo Road
Our final street play of the year was our ever popular Halloween event.
Barbara has got the pop-up cafe down to a fine art after providing it for many of The Round Hill Society's events - sometimes with assistance, though often without.
The main organiser, Kate Rice, would have looked very scary, but for her broad smile.
There were also some good costumes on people of all age groups, including young babies!
Although we didn't have the Mayor of Brighton and Hove this year, there was plenty of play.
Skateboards, scooters, bicycles and active kids had a presence this year along the whole length of Mayo Road.
The doughnut competition never fails to amuse.
This year, the doughnuts were somewhat bigger.
This set more of a challenge to those with small mouths.
There was less anticipation, this year, before the contest got going.
However, the activity stretched out over quite a long period.
It took people with bigger mouth sizes (did I spot an adult?!) to step in to help in the end.
Prizes were again given for the best carved pumpkin. The pumpkins were lined up in the usual location. There were sufficient categories to guarantee a number of prizes.
The standard of carving was particularly good this year.
The pumpkin (below), which had probably eaten too many Halloween treats, caused much amusement.
Did we have a category for "the greediest pumpkin"?
Well... eating seemed to be an appropriate theme, since greedy or vicious pumpkins replicate the behaviour of blood-sucking vampires.
Some of the shapes cut into the pumpkins were very exact, feeding speculation that there are possibly tool kits adapted to the texture of pumpkins which can assist in achieving beautifully carved shapes & sizes.
We were lucky with the weather this year. In spite of the end of British summer-time - i.e. the extra hour which moved the event later that it would have been - the light held pretty well.
This was good for photographs, all except for shots of illuminated pumpkins, which could have done with a bit more dark around them.
However, the candles in the pumpkin (below centre) were very well located to accentuate the eyes.
Many thanks to all children, parents, helpers and to Kate (the main organiser). A big thank you as well to the residents of Mayo Road and those who moved cars and agreed to the temporary road closure.
Events like these mark out our neighbourhood as having community spirit. Participation and cooperation are key factors if a residents' association is going to make a difference.
Sixteenth Street Play event:
Sunday 10th September 2017
3pm to 5pm Mayo Road
Participation, which was very low at the beginning of the event, picked up later.
However, rain and wind - as well as the absence from Brighton of a number of adults and children who usually take part - meant that Mayo Road was not brimming with life.
We take the rough with the smooth and know that better conditions will see more people out. Thank you to those who braved the weather this time to keep the show (quite literally!) "on the road" and also to residents of Mayo Road for your continued cooperation in moving cars.
Sunday 25th June 2017
3pm to 5pm Mayo Road
Fifteenth Street Play event:
See also Kate's pictures of the June 2017 event on The Round Hill Community Noticeboard Facebook Group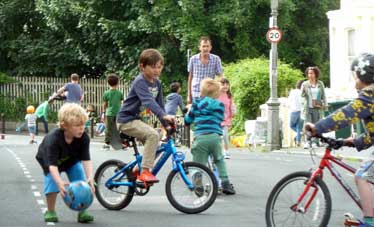 Sunday 25th June 2017 saw The Round Hill Society's 15th street play. It is always enjoyable to help with these events. Kate (the organiser) and Barbara (who bakes cakes and runs the refreshments stall) are the mainstays of Round Hill's Street Plays. Marshaling brings back memories of playground duty without quite the same responsibility because the role is to keep cars out of the play area. We had a completely clear street this time. For this we need to thank the residents of Mayo Road and adjoining streets whose cooperation is much appreciated. It is interesting to watch how children play when left to themselves (making up rules for one another, negotiation) and also to compare events when we lay on more structured activities (e.g. Halloween) and those when we (the adults) stand back a bit more. It is always encouraging when new families join events. Help in organising them is always appreciated and this is also a route to getting to know new neighbours.
Sunday 21st May 2017
2pm to 5pm Mayo Road
Fourteenth Street Play event: 21st May 2017 3.30PM to 5PM
Our next Street Play event will start slightly later than usual
and will take place at the Princes Rd end of Mayo Rd.
The Street Play session has been very slightly shortened since
Round Hill's first ever dog show will be held before it. See:
Pictures of Round Hill's First Dog Show
Thirteenth Street Play event: 30th April 2017
See Kate Rice's illustrated record of the event on The Round Hill Community Noticeboard - a closed Facebook Group, but already with more than 130 members.
In spite of some rain at the start of the event, there were still decent intervals which allowed play. "DR BIKE" drew a constant stream of children with bikes. His presence ensured that the arrival of rain after a month of dry weather did not keep everybody at home. Dr BIKE checks bikes out for safety and performs a quick service e.g. by dealing with things like squeaky brakes or rusty chains.
Unexpectedly and to everybody's delight there were at least two additional side-shows to DR BIKE - a small barbecue (toasted marshmallows?) and a (harmless!) rocket launching device - provided by adults clearly practised in contributing to the atmosphere of events and keeping young children amused.
Twelfth Street Play event: spooky Halloween again!
Our final street play of the year was our ever popular Halloween special held on Sunday 30th October, from 3pm to 5pm in Mayo Road.
Pictures and a 2-minute video of this enjoyable event are posted onThe Round Hill Community Noticeboard. Round Hill residents will need to join this Facebook Group to view the posts. There is content here from several different neighbours, including excellent photos of "carved pumpkins outside homes" on Hallowe'en Night itself. Once a member of the group, you can post as well as view. Since the group now has nearly 100 members, it is becoming a good vehicle for seeing what Round Hill neighbours are doing and hold to be important in their lives.
A big thank you to the many parents and Round Hill committee for their ongoing support at these events, and to the residents of Mayo Road and surrounding areas for moving cars and helping to negotiate the temporary road closure.
Report on our Eleventh Street Play event:
The Play Street event, held on Sunday 18th September, was again enjoyed (it seems) by all who attended (both children and adults). Thank you to the organisers and to those who provided cake and supported the event by participating. Attendance was a bit lower than normal, though after the long summer holidays, perhaps children have had plenty of play.
Also, although we have put the onus on the children to socialise and have stood back from imposing an adult's structure on their play, perhaps what is needed is a theme. Our next Play Street will have the theme of "Halloween", so we hope for ideas, creativity, and a good turnout.
Report on our Tenth Street Play event:
held on Sunday 17th July 2016 from 3pm to 5pm.
Picture by Kate, the organiser of the event, attended by our Mayor.
Kate has posted further pictures of this successful event on Round Hill Community Noticeboard:
* a Facebook Group which Round Hill residents can join on request
The turnout was moderate, perhaps due to the lure of the beach or competing events during the busier summer period.
Nevertheless, there were several scooters and bikes in evidence. Children were also creative with coloured chalk.
Sandy, Jan and Barbara looked after the refreshments table.
Towards 3.30 pm, together with his wife, our VIP guest Pete West - The Mayor of Brighton & Hove - joined the event both staying for at least one hour. Child participants and adults alike received badges (if they were standing in the right place!) saying I'VE MET THE MAYOR OF BRIGHTON AND HOVE. This was not the mayor's first engagement of the day. He's already had one at St Luke's Church and another in support of the Martlets - an abseil from Peacehaven cliff.
The Playing Out session again fulfilled its purpose by providing local children with an open space they could share in the heart of Round Hill, but also provided adult residents an opportunity to meet new neighbours and to re-issue coffee invitations (etc.) to existing friends and acquaintances. Thanks is again due to Kate for organising the event and to all those who turned out to participate &/or help.
Report on our Ninth Street Play event:
Thank you again to all who participated, to our main organiser (Kate), to caterers and marshals as well as residents who moved their vehicles temporarily from Mayo Road to provide a better-looking public open space for a couple of hours.
Pictures of our Ninth Street Play event: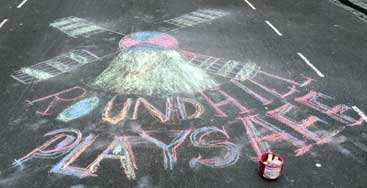 Kate, the organiser, has posted some pictures of this successful event on Round Hill Community Noticeboard:
* a Facebook Group which Round Hill residents can join on request
Round Hill lacks a decent public open space (like a village square), so the short playing-out sessions provide a precious slot in which useful contacts can be gathered, acquaintances can be made or consolidated, sometimes even marking the beginnings of new friendships. Within a short marshalling slot, my wife and I both consolidated existing friendships (inviting two of our local contacts for coffee the next day) and enjoyed several conversations with new people:
So within one hour, we had a significantly fuller knowledge of adult Round Hill neighbours through an event mainly organised for children.
Looking on at what the event meant to children, it was good to see them gaining in social confidence. We were amused at how those who experienced the occasional tumble from a bicycle or skateboard picked themselves up quickly, usually shrugging off any adult sympathy offered to them. I imagine that the kids gained socially too within a very short period in which public open space virtually on their doorsteps was available to share.
Scope for making these events even better?
Given that we had good support from caterers and other people too offering us cakes, the thought crossed my mind that we could take fuller advantage of the two-hour temporary road closure by putting out a few more tables and chairs for adult onlookers: the continental cafe effect - which could work on sunny days! To accomplish this, we would need more residents to offer support. The children do not seem to mind an adult audience and it also seems to be beneficial for them to play independently without too much adult interference - just supervision through the corner of the eye!
Did other users of Mayo Road feel disgruntled during these two hours? One passer-by, an adult with small child, asked if the sessions were a regular event. Fortunately, the query marked interest in participating in the next event rather than a complaint.
Click here or on the picture below for a short video clip
(two and a half minutes) of our April 2016 street play event.
Eighth PlaySafe event - Sunday 17th April 2016 on Mayo Road
Roundhill's eighth Street Play event, held on Sunday 17 April 2016, was enjoyed by all. A big "thank you" to Kate for organising the event, to Mayo Road residents for their coopertaion, especially Barbara for laying on cakes and drinks, to our marshals, to "Dr Bike" (for servicing and checking a lot of bicycles!), and of course to children and parents for taking part.
Seventh PlaySafe event - Saturday 31st October on Mayo Road
Click here for 1-minute video [.mov low resolution format]
Roundhill Halloween Street Play 2015
Ghoulish games, freaky fun and terrible treats guaranteed ...!!
Kate (Tom's mum) played the main part in organising this event, supported by other parents including Cath, Fiona and Pat (who came with a smoke-making machine).
Annie and Barbara played the main part in serving drinks and the terrible treats - delicious home made cakes and biscuits prepared by neighbours.
Bonnie, our Police Community Support Officer attended and helped in the marshalling at the south end of Mayo Road.
With her were Ted and Jane in strange costumes. They took over the marshalling at this end of the street from Fiona and Rob.
In the final hour of the session, the doughnut challenge got under way.
Some video of this may follow.
The pumpkin competition proved almost impossible to judge since there was a very high standard all round.
Most scary!!!
Most ghostly!!!
Happiest!!!
Hottest!
They were all winners
After picking out the pumpkins shown above, it became evident that a lot of effort had gone into smaller ones and some children were disappointed that their attention to detail had not been noticed.
In truth, it would have been possible to find categories and matching superlatives to make each child's entry a winner.
Kate sensibly intervened and made sure that all the children were rewarded for their efforts - a winning formation of pumpkins, scarier and more colourful than any of the All Blacks' line-outs seen the same afternoon in the final of the Rugby World Cup.
Thank you to the organisers and all children, parents and other residents who helped to make our second halloween Street Play a success.
______________________________
Sixth PlaySafe event - Sunday 13th September 2015 3pm-5pm
The rain held off on Sunday 13th September 2015 between 3pm and 5pm when Mayo Road was closed so that local children could enjoy a session of play. Although attendance wasn't massive, the east side of the street was pretty well lined at times with children and adults. A few of the adults had made cakes and coffee, tea & soft drinks were also given away free. Pete West, our local ward councillor was in attendance.
Thank you to the organisers (Kate, Boo, Cath, Barbara, Annie) and all the volunteers who marshalled the event.
Street Play will be back too for "Halloween" 2015. The PlaySafe sessions of course appeal to children and parents, though having a road closure for two hours also allows the setting up of tables and chairs so that residents in all age groups can share refreshments and get to know each other better.
Fifth PlaySafe event - Sunday 31st May 2015 3pm-5pm
Thank you to everybody who attended our last Street Play - both children and adults. Special thanks are due to the team who organise these events (mainly Boo, Cath or Kate) and to other residents who help with publicity, setting up and supervising.
Fourth PlaySafe event - Sunday 12th April 2015
Our fourth Playsafe event was not one of the most successful, so no illustrated report was felt appropriate. However, we have drawn lessons for the future (i) better communication needed with local residents (ii) more help needed in organising the event, especially in supervising on the day.
Reports on previous PlaySafe events
Third PlaySafe event - 31st October 2014
Second PlaySafe event - 29th June 2014
First PlaySafe event - 6th April 2014
Ten good reasons for playing out
REPORT ON FABULOUS END-OF-OCTOBER EVENT
..........................................31st October 2014

thanks to our organisers Boo / Cath / Kate, parents & children, and special thanks to Phil and family for doughnut frenzy and Sue and Nik the Brush for fabulous face painting.
HALLOWEEN DOUGHNUT FRENZY
Click here or on the picture below to see 55 sec video clip of the doughnut eating competition on Flickr
Posters by Ella
The organisers hope to keep these sessions going on a regular basis. See Street Play Facebook Page for Brighton and Hove as well as the national playingout.net website.
Our second PlaySafe Event
Our second PlaySafe session was a calmer affair than the first, as scooters were more in evidence than skateboards and the activities in the lower part of Richmond Road drew several children away from the steep incline of Princes Road.
The Prince Rd / Mayo Rd junction was also more tightly marshalled this time round to reduce the risk to speed-skaters who imagine themselves as child-versions of Eddie "The Eagle" Edwards. Nobody yet has landed on The Centenary Industrial Estate and we don't want it to happen!
PlaySafe gives similar opportunities for children who are in the process of learning social skills having perfected the art of balancing on scooters or other wheeled objects. The steep incline of many of Round Hill's streets does not favour safe play when roads are open to motor vehicles, but when Mayo Road (one of our less hilly streets) is closed to normal traffic, then it presents a relatively safe play space. The Round Hill Society would like to thank residents in Mayo Road and the lower section of Richmond Road, several of whom participated in the picnic event, for their co-operation in allowing the road closures for these occasional play sessions.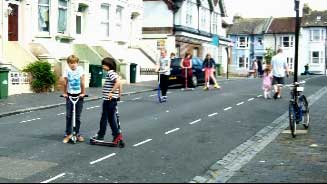 We would also like to thank Brighton and Hove City Council for assisting in this, and also for making it possible for The Round Hill Society to install the new planters at each end of Round Hill Crescent. Our chair, Annie, obtained the plants and organised a small group of local residents to assist with the planting.
Report on our 1st Playsafe session
NEW!!! - click here or on picture below for 2-minute video clip
[Thank you to Jade Roberts for the excellent quality of production]
If you have any ideas for organising the sessions differently, please make your suggestions known at https://twitter.com/RoundhillSoc.
Round Hill held its first Playsafe session on Sunday 6th April 2-4pm in Mayo Road. About 40 children attended watched over fairly discretely by parents and neighbours (seen in the background).
NEW!!! - click here or on picture below for 2-minute video clip
[Thank you to Jade Roberts for the excellent quality of production]
Thank you to all the residents (especially those in Mayo Road) who accommodated this event. It was much enjoyed by children and their parents. The Round Hill Society is fortunate now to have at least three committee members with school-aged children. A particular 'thank you' is due to Boo, Cath and Kate for getting the event together.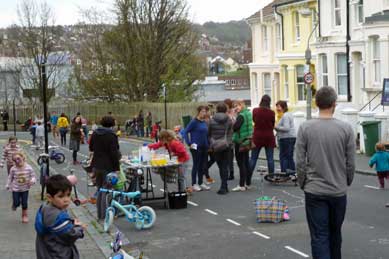 The Round Hill Society would also like to thank Brighton and Hove City Council's Transport Department, which cooperated in the two-hour road closure and producing high vis signs to warn motorists and keep the event safe. A big 'thank you' as well to Damian and the crew from City Clean for clearing the street.
We do hope that it will be possible to make this event a regular part of Round Hill life. It was good to see so openly that we do have children in Round Hill and to share with them some of the outdoor amenity of our public open space. A temporarily closed road, though not a recreation ground or village green, provided a canvas for several forms of play.
Most children interpreted this as an opportunity to get out their own sets of wheels: roller skates, skateboards, scooters and bicycles. There were also a few balls, which became the secondary attraction once children realised the potential of the sloping junction at Princes and Mayo Roads for skating and scooting.
Do let The Round Hill Society have your ideas on children's street games & play activities likely to work within the available space. One resident has already suggested a Park & Slide activity (involving a giant water chute down the length of a street) such as been held in Bristol!
Sunflower challege
If you managed to collect a free packet of sunflower seeds, which were being distributed by our organisers, do have a go at growing them. It's the right time of year to plant them if you want them to grow high. Do send photos to the email address on The Round Hill Reporter if you manage to grow any taller than yourself. It would be nice to see some sunflowers in front gardens if you've got one.
Chalk and face art
My article on The history of street games proved somewhat irrelevant. since traditional activities such as hopscotch and skipping were not much in evidence. However, one group of children chalked some attractive art on the roadway and there were also some good examples of face-painting.