Playsafe returns to Round Hill
For reports of past events see Playing out in Round Hill
Next event: Sunday 28th August Mayo Road PlaySafe
Back to school (uniform fancy dress for grown ups)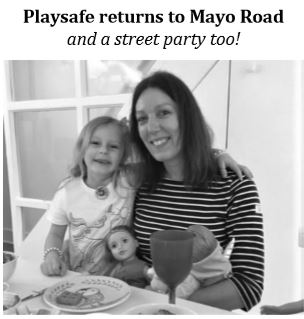 I would like to introduce myself; I am Laura-Kate (friends call me LK). I moved to Richmond Road, spring 2016. I can honestly say that this is the friendliest and most welcoming community that I have ever lived in. It is everything I hoped for as a place to bring up my daughter, who is now 5. I have met so many wonderful people, made lots of friends and received so much support here... so I decided I wanted to give something back.
Kate (Rice) with the help of other local parents organised popular Street Play community events for many years. As Kate's kids are now teenagers, I was delighted for the opportunity to take on this task. Unfortunately, then Covid hit, and it was deemed too risky to try and organise any community events. However, as rules are more relaxed, I'm excited to announce they are coming back. If Boris can party, then so can we!
With the support of Mayo Road residents, I have applied for four Street Play sessions throughout the year; as well as a Street Party on Sunday 5th June.
Thank you to all those who signed to say they are happy for us to temporarily close the street. If you have concerns or questions, please do feel free to contact me. These events cannot happen without YOU.
If you are interested in being part of the Street Party team or would like to offer your services as a marshal for our events please do get in touch.
I look forward to seeing many of you at the Roundhill Community events. It doesn't matter if you don't have children as we hope to incorporate other activities at the Street Play sessions such as book swaps, a dog show and plants sale.
For more info please follow our Facebook Group 'Round Hill Community Noticeboard UK ' or watch this website at 'roundhill.org.uk'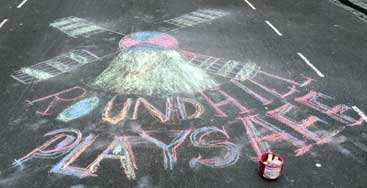 Dates for your Diary: 2pm to 4pm
Events to be held in Mayo Road
28th Aug - Back to school (uniform fancy dress for grown ups)
30th Oct - Halloween fancy dress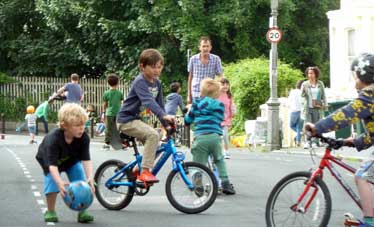 See 10 good reasons for playing out
See https://playingout.net/about/