Safer in Sussex Community Fund
its use to support a Neighbourhood Watch
This page seeks to identify the crimes in Round Hill which affect residents most. It also looks at the purposes of the Sussex Police and Crime Commissioner's Safer in Sussex Community Fund (SiSCF) and its possible use to support a Neighbourhood Watch in Round Hill.
The official Neighbourhood and Home Watch Network at https://www.ourwatch.org.uk/ will identify local examples of Neighbourhood Watches when we enter Round Hill postcodes into the search box. Try it.
Note that Florence Road, Southdown Avenue, and Aberdeen Road / Edinburgh Road / Inverness Road have existing Neighbourhood Watch schemes (but verified by a volunteer rather than the police). We could ask / learn how they are run.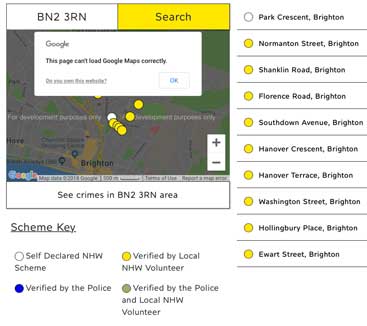 Thank you, Round Hill residents, for sharing concerns to include in a project / bid for funding to address community safety.
1. Community safety concerns of which we are aware
2. Residents' feedback on top three concerns
3. Suggestions on how we use the feedback:

Actions on poor street lighting and flytipping and dumping
4. Should we become a Neighbourhood Watch?
5. Background to possible bid for Safer in Sussex Community Fund award(s)
6. What kinds of projects have received awards to date?
7. Link to the Projects Page on the Saltdean Rottingdean Ovingdean Neighbourhood Watch website.
Note that residents in the above neighbourhoods have joined together to form a Neighbourhood Watch and are making use of finance they have obtained from The Sussex Police and Crime Commissioner's Community Safety Fund. Their projects include
[i] erecting street signs to announce the NW's presence,
[ii] tackling the problem of speeding vehicles,
[iii] discouraging cold calling, and
[iv] holding meetings to raise awareness of crimes (e.g. scams which might deceive people who are not informed about them).
[v] Junior Neighbourhood Watch. See Eastbourne example
Perhaps the Downs Junior school could undertake a similar project.
1. Concerns of which we are aware
Although we live in a lovely, congenial area, a few current problems might benefit from attention. Recently, the Round Hill Society has been made aware of some concerns about:
Theft of/ damage to bikes;
Dangerous driving and excess traffic speeds on residential roads;
Rat-runs causing excessive volume of traffic on Wakefield Road/ Princes Crescent;
The lack of pedestrian crossings on the busy Upper Lewes Road;
Drug dealing and discarded needles;
Doorstep crime;
Burglary;
Graffiti and tagging;
Fly tipping;
These concerns are in the context of noticeable reductions in neighbourhood policing and some frustration associated with reporting crime via the 101 facility.
What can we do to improve matters?
Following initial discussion at Round Hill Society meetings, and some research into what has worked in other urban areas, we are proposing to look at the feasibility of introducing a rejuvenated and amplified Neighbourhood Watch Scheme, a 21st century version, possibly in conjunction with a bid for funding for Community Safety initiatives from the Police & Crime Commissioner. Through such an initiative we would aim to strengthen our relationship with local police officers and develop a mutually supportive relationship. In the end we want to support each other and make our community as safe as possible.
We would like to know:
Do you think this idea is worth pursuing?
What are your priorities regarding community safety? Please name your top three.
Over to you!
2. Residents' feedback on top three concerns
Sounds great! As an active window twitcher I'm all for anything to deter the scallywags. I think awareness is key, they need to know we are all watching.
Yes! Priorities for me in this area are: drug dealing, graffiti (& other anti-social behaviour) and dangerous driving.
I agree an active 21st century neighbourhood watch sounds ideal. I'm thinking pro-active reporting to the council/police and cctv surveillance of homes and streets.
That's a really good summary Sandy. It seems as though almost every street has its own specific problem. I like the idea of a modern NW scheme but it can't be left to a handful of people to run it; needs mass participation really to make Round Hill a no-go area for people up to no good. My 3 priorities are anti social behaviour, tagging and litter/dumping.
I'd like better lighting up cats creak or whatever the steps are called. I know this might be a problem for the nearby houses but it's pretty scary up there and a couple of times people have defecated there. Yuk! Thanks for doing this.
I'd be keen on getting some streetlights where the motorcycle parking bays are, as this helps deter thieves, or perhaps move the MC parking bays to be next to streetlights!
My priorities... anti social behaviour, litter and junk dumped on the streets, speeding cars.
I'm definitely in. My priorities are firstly, street lighting - it's so dark walking home from work. Burglaries and fly tipping.
I think we need some sort of traffic calming, especially in Upper Lewes Road. The way it's laid out now makes crossing the road quite scary with drivers racing from either side to get to the next passing spot. When there's no traffic ahead cars sometimes race from one end to the other. Is it supposed to be 20mph or has that gone out the window? Apart from that, graffiti and general antisocial behaviour both seem to have increased in the last few years.
Fast driving (more aware now as a cat owner I guess!) Dog poo Overhanging foliage.
Cats creep - seen drug deals on a few occasions just from parking my car near on RHC. Anti social behaviour, burglary/theft.
Lighting is awful. Particularly round Mayo and up to the Ditchling Road.
Some illustrative photos of dumping on Upper Lewes Road.
I think neighbourhood watch is a great idea. My 3 priorities are street lighting, burglaries and fly tipping.
I do agree that we need to take some form of action of protecting our neighbourhood. Since the demise of our local policewoman who we could discuss concerns, I have notice deterioration in our streets. My three major concerns are: Graffiti and tagging, Drug dealing and discarded needles and Rat Runs.
Speeding rat runwise, fly tipping, bike theft.
Excessive speeding, lack of crossing on Upper Lewes Road and antisocial behaviour which includes fly tipping, drug dealing/needles.
How about bollards at the junction of Princes and Mayo? That's where I encounter the most speedy drivers ? Sorry to Supermarket vans but there are other routes.
3. Suggestions on how we use feedback
Some of the concerns mentioned by Round Hill residents are also addressed by members of the Neighbourhood Watch network:
See their Frequently Asked Questions and their table below:
Another good knowledge base is what Local Authorities are doing to address residents' concerns. Brighton and Hove City Council responds to many requests and complaints - thus contributing to community safety.
3a. Volunteers (i.e. Round Hill residents) are already checking street light performance
Brighton and Hove City Council has a web page on Street lighting with a link to Report a Faulty Street Light. Interestingly, our Council has been involved in a major New Street Lighting project. They are attempting to replace more than 18,000 lighting points, providing new energy efficient LED lighting in several parts of the city.
See Brighton and Hove City Council's street light work schedule (XLS 31KB) for streets affected. The upgraded lights will be more efficient and low maintenance, reducing energy consumption and carbon emissions by up to 61%, and eventually saving the council around £200,000 a year.
Local resident Dom Furlong writes: "I've spoken with the Acting Manager of the Street Lighting Team at the Council, Dan McParland. The Cats' Creep steps have four lights on them: one at the top, one at the bottom, and two on the actual steps. Dan's agreed to escalate the change over of the three orange lights on the Cats' Creep to white LED lights -- the fourth light's already been done. He said they couldn't add any more lights due to the private gardens on either side of the steps. This should slightly improve the lighting there but the LED lights are more spot-focused and not as diffused as the old-style orange lights. There is also the issue that if people are better able to see on the Cats' Creep, this may encourage drug-taking there. On balance, however, I think the white LED street lights should be an improvement and make people feel safer."
Note that Brighton and Hove City Council shows willingness to address concerns on an individual basis and provides the contact details [Tel: 01273292517 or Email: streetlighting@brighton-hove.gov.uk ] of its street lighting department.
Some common concerns [e.g. removal of historic cast iron columns; lights shining into properties] are addessed in the FAQ section: scroll to bottom of The Council's Street lightening improvements page.
One such concern is whether the appearance of the structures associated with the new LED lighting will be in keeping with the character and appearance of our conservation area? How well will the new designs blend in with our historic cast iron street light columns. See Brighton and Hove City's Council web pages: Local List of Heritage Assets and illustrated PDF on our historic street lights.
3b. Extra measures to prevent dumping?
Our community could perhaps do more to keep tabs on who is doing the dumping and police follow-up. If we could increase local awareness and obtain better liaison with the police through Neighbourhood Watch, that might help.
It is also worth publicising existing channels for reporting:
If you witness flytipping, know who is doing it, or see items left abandoned in public space, reporting options are:
Reporting not only deters dumping, but as the report goes to Cityclean it usually ensures that the offending items are fairly quickly collected.
4. Should we become a neighbourhood watch?
See: Setting up a neighbourhood watch scheme
The advantage of the Neighbourhood Watch model is that many groups around the UK have applied themselves to finding solutions for several concerns which we share in Round Hill. Also, it offers a structure which the police are used to working with. The signage used by Neighbourhood Watch groups is recognisable - we might get help in financing it - and probably a bit of a deterrent to thieves. Belonging to the Neighbourhood Watch network entitles residents to discounts from certain home insurance companies (e.g. 10% at the Coop). Feedback would be welcome on whether residents would be happy to adopt the umbrella of Neighbourhood Watch. We would then need to structure ourselves according to the guidance in Setting up a neighbourhood watch scheme and find residents to fill the necessary positions.
Each scheme has a coordinator who acts as the key contact point for the scheme. They liaise with the police (e.g. members of the Brighton Neighbourhood Policing Team), scheme members and the general public – for instance, people who are interested in joining the scheme – as well as non-member residents when necessary. A scheme may have more than one coordinator as long as members and police know who the key contacts are. The coordinator ensures a smooth flow of information and communication between the police and scheme members.
If we are handling a budget, expenses and bidding for fund money, there ought to be a Treasurer involved as well. Shoud it be difficult to find volunteers to cover roles such as 'Treasurer', The Round Hill Society could probably double up on certain roles. We have a 'Treasurer' and already address community safety at our meetings, but getting further residents giving time to this topic would be our ideal.
5. Background to possible Round Hill bid
Help to construct a bid to improve community safety in Round Hill.
Please let us know your concerns & ideas and willingness to participate in something akin to a neighbourhood watch.
It may seem small mitigation for the loss of "Bonnie" (our dedicated Police Community Support Officer).
However, the office of the Sussex Police & Crime Commissioner's Safer in Sussex Community Fund (SiSCF) does invite bids for awards of up to £5,000 from local organisations and projects which serve the purposes of reducing crime &/or improving community safety. The next round for bids is in early 2022.
The Round Hill Society would be pleased to hear from residents who may be interested in pursuing a project within our neighbourhood with the aim of reducing crime &/or improving community safety.
Awards of up to £5,000 are by Sussex Police & Crime Commissioner to local organisations and projects which serve the above purposes.
Click on graphic for information on
the Safer in Sussex Community Fund.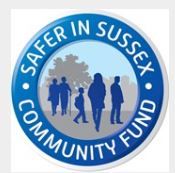 6. Kinds of projects which receive awards
Which kinds of projects have received the awards to date?
Click here for a list of organisations and projects in Sussex which have received money through the Community Safety Fund. Popular categories include:
NEIGHBOURHOOD WATCH / OBSERVATION / REPORT IT
EDUCATION AND SUPPORT
Safe Start, Safe Future (Safety Net) Brighton and Hove £8,000 - learning disabilities
Older People's Community Befrienders Worthing - Time to Talk Befriending - Brighton & Hove £4,200
Older People's Community Befrienders Worthing - Time to Talk Befriending - Adur & Worthing £5,000
OCCUPATION / LEARNING VIA RECREATION / REHABILITATION