Street Party Planning
Although www.streetparty.org.uk is a helpful site, it is also a good idea to seek assistance from a local resident who has organised a street party before. 8 people pulled together to plan The Round Hill Society's 10th Anniversary Street Party.
Roads we have closed off before include D'Aubigny Road, Mayo Road and on rarer occasions Crescent Road. If one of the organisers lives in the selected street, it helps with the availability of electric power, safe overnight storage, etc.
Plenty of help is needed.
Below is the checklist from The Round Hill Society's
10th Anniversary Street Party in D'Aubigny Road.
FRIDAY 10TH SEPTEMBER 2010
Receive portoloo, tables and chairs and secure them.
Get barriers and signs
And astroturf with van
Sacks of sand?
Logs / charcoal / firelighters
Balloons by end of school day
Collect beer and wine
Harveys ordered,
Dark Star can be cancelled if event clearly not on.

SATURDAY 11TH SEPTEMBER 2010

Clear road and place barriers and signs.
Find and place rubbish bins.
Ensure some parking space at the top of the street for acts to unload.
Put up bunting and gazebo.
Place 'grass' for circus skills.
Receive bouncy castle.
Set up. Need rota for staff, and adult/child sessions.
Put up big games.
Set up bar -
Leave booze secure at No. 8
Power for bouncy castle, caterer and bands

EARLY AFTERNOON 1.30-ish

Welcome stall-holders and establish them
Welcome caterer and help him set up.
Dance Troupe 3.30pm
Samba Band on from 4pm
Shenanigans from 6-7pm
Michael Coates + 3 from 7.30pm to 8pm
Blue Drops from 8pm to end
Move tables / chairs off street
Roll up grass
Dismantle bar
Secure refuse for night.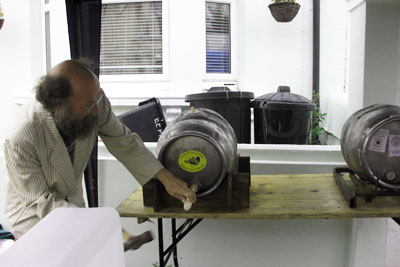 Cask ales from local breweries (Harveys and Dark Star) proved popular with party-goers and the Round Hill cellar was almost dry by the end of the evening.
STALLS:
Local history books
The Eco-Guide to Sussex
Bruce of Getafix bikes
Annie: face-painting
Samosas and falafel
wraps Baby clothes, books and records
Cakes - Pakistan Flood appeal
Children's clothes, toys, bric-a-bric
Fun in Action children's charity
Prints and frames pictures
Round Hill Society table Bound issues of The Round Hill Reporter
Bees and Brighton honey
STREET PARTY PLANNING GROUP
8 people
ACTS
Use of local musicians.
Establish a running order. Ensure everybody knows what they are doing and their time frame.